Joker: Robert De Niro In Talks To Join Cast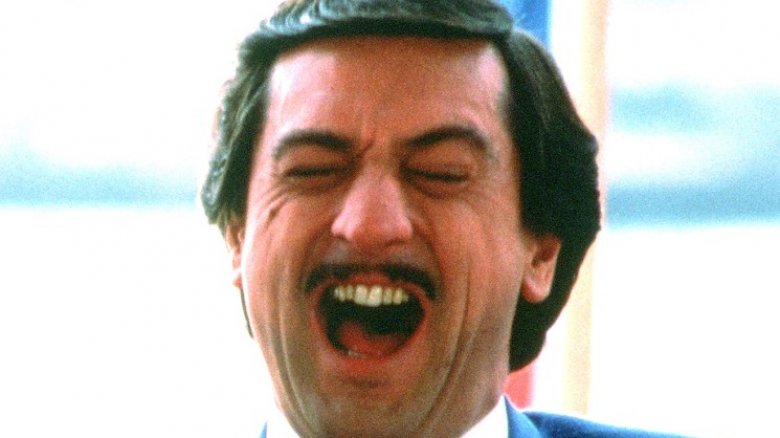 The rumors are becoming reality as Robert De Niro is officially in talks to join the cast of Joaquin Phoenix's Joker.
Reports of the legendary screen actor potentially signing on to the cast of the Warner Bros. Joker origin story have been circulating for weeks, and now Deadline and The Hollywood Reporter both are coming out with confirmation that the actor is indeed in talks to join the project.
As previously reported by That Hashtag Show, De Niro is being courted to play a talk show host by the name of Murray Franklin, whose character is being described as a prominent supporting role. 
The casting sort of seals the deal on comparisons that have already risen between this movie and Martin Scorsese's The King of Comedy, in which De Niro starred, with that 1982 movie purportedly being a major influence on the tone of Joker. While Scorsese was initially announced as a co-producer on Joker, he has since left the project.
According to the Deadline report, De Niro's character would not be a villain in the story, despite playing a fundamental role in the creation of the Joker. 
The movie as a whole will reportedly focus on a failed stand-up comedian named Arthur Fleck in the 1980s as he slowly comes to see himself as being abandoned by society. As a result, he loses his grip on reality, and ultimately sheds his former identity to become the notoriously villainous Clown Prince of Crime.
With a completely different movie focusing on Jared Leto's Joker also being in development as part of established Worlds of DC continuity, Joker appears to have real ambitions to distinguish itself from other comic book movie fare. 
For one, the production appears to be deliberately setting out to attract prestigious and decorated actors like De Niro and Phoenix to its cast, essentially adding a layer of dramatic legitimacy to what could otherwise be perceived a rather pulpy story. (On top of De Niro and Phoenix, the production is also seeking a notable actress to play the role of Joker's mother, having previously extended an offer to two-time Academy Award-winner Frances McDormand.) 
Second, the movie is being produced for a tiny budget, relative to the typical cost we've come to expect from a comic book movie. According to THR, Joker's budget hovers around the $55 million range, which almost guarantees a relatively grounded and character-driven approach to the material.
The movie is set to be the first to launch under a new banner for Warner Bros. and its DC Comics properties on film, previously rumored to be called "DC Dark" or "DC Black". Movies released under that banner are intended to exist outside of the continuity previously established by movies in the Worlds of DC universe. 
As weird as it may sound to have simultaneous movies about the Joker in the mix, it's increasingly looking like there might be something really special going on with the Todd Phillips-directed solo project. 
Should the Joker movie prove successful with critics and audiences, it could very well open up new possibilities for the kinds of comic book stories we'll see adapted for the screen. 
Apparently, Warner Bros. thinks audiences are smart enough about their comic book movies at this point to be able to support a coexisting alternate universe. We'll find out if that assessment stands up to scrutiny when the Joker origin story makes its mark next fall.
Joker will be out in theaters on October 4, 2019.