Joker Actor Marc Maron Describes Film As 'Intimate And Gritty'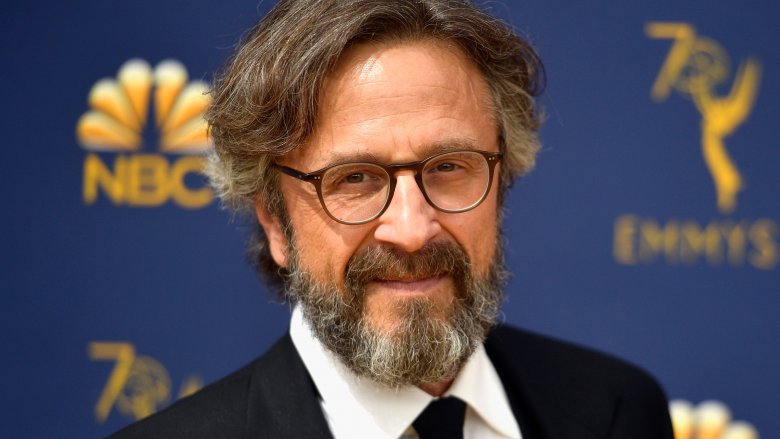 Getty Images
Todd Phillips' Joker will be dark and stormy — and that's no joke. 
Chatting in a recent interview with NME, Joker star Marc Maron, who brings to life a mystery character by the name of Ted Marco in the upcoming flick, talked openly about the tone of Joker and revealed what makes it so unique. Maron described the film, which stars Joaquin Phoenix as failed-comedian-turned-Clown-Prince-of-Crime Arthur Fleck, as "intimate and gritty" and noted that director Phillips has taken a distinctive perspective when it comes to translating the famous source material to the silver screen. 
"I think it's a very interesting approach to this world," said Maron, who admitted that he has been critical of films in the DC Extended Universe and Marvel Cinematic Universe in the past. What makes Joker different, in Maron's eyes, is that it doesn't feel like your average superhero (or super-villain, in the case of Joker) film. 
"I've been somewhat judgmental when it comes to comic book movies and I've got a little pushback in the press for being a hypocrite. Whatever I think, if you get a call and someone says, 'Hey do you wanna do a scene with Robert De Niro and Joaquin Phoenix?' your principals fall to the wayside," he shared. "If it's relative to what I think of Marvel movies then it's like, 'Yeah, of course I'm gonna do that.' Oddly, it's not that kind of movie. The approach that Todd Phillips has taken is more of an origin story and a character study of a mentally ill person that becomes the Joker. It's more of an intimate and gritty movie with a very specific scope. It's going to be really interesting to see how it comes out."
This seems to perfectly align with what Phoenix previously said of Joker: it's completely unique and exists as "its own world." Like Maron, Phoenix also praised Phillips' vision for Joker and shared that it's a totally fresh kind of comic book movie when he spoke with Collider in July of 2018. 
"I think [Phillips is] very impressive and he seems to have a very interesting understanding of this world and what he's trying to say. And so there is something very appealing about that and working with him on this particular project. It feels unique, it is its own world in some ways, and maybe, mostly, it scares the f****** s*** out of me or something. It might as well be the thing that scares you the most," said Phoenix. "I wouldn't quite classify this as like any genre. I wouldn't say it's a superhero movie, or a studio movie ... It feels unique, and I think more then anything, and probably the most important thing, is Todd seems very passionate about it and very giving, and so that's exciting. I think, underneath the excitement of these films, and the size of them, there are these incredible characters that are dealing with real life struggles. And sometimes that is uncovered and exposed, and sometimes it isn't, and so I always felt, like, there were characters in comics that were really interesting and deserve the opportunity to be kind of studied. And so I think that's what Todd sees appealing about this idea."
Circling back to Maron, he also shared that it was an absolute honor to work with with De Niro, who portrays a talk show host whose name we have yet to learn, and noted that the actor was extremely down-to-earth.
"It was great to meet him and it was great to see him work. I wasn't really beside myself because they do become people very quickly. When you're not shooting you are just hanging around. Still, he's Robert De Niro and the subtleties of how he does what he does is innate and amazing to watch. He's a nice guy and kinda shy, but it was a great experience and not too much of a mindf***," said Maron. "[I had] just finished wrapping the third season of GLOW, I did a week in New York and did a scene with Robert De Niro and Joaquin Phoenix. I couldn't believe it was happening, but once I got there I was like 'Here we go. Let's do the job.'"
As for sharing the screen with Phoenix, Maron said that he was "another story" — primarily because he was "pretty immersed in the Joker" and Maron didn't get a chance to chat with him much. "I was just like, 'I'm not gonna bother that guy.' That was fine. You just gotta respect people's process," stated Maron. 
Honestly, it's great to hear that Maron — whom most will recognize as Sam Sylvia from Netflix's GLOW, from his many stand-up specials, and from his podcast WTF with Marc Maron — has somewhat softened his harsh stance on comic book movies. Sure, Maron joked that he completely dropped his principals when given the opportunity to appear alongside De Niro and Phoenix for Joker, but there's a truth here: Joker seemingly won't be a "normal" superhero film like the ones Maron isn't a fan of. 
For those out of the loop, here's a snippet of what Maron previously said about comic book and superhero films during a past episode of WTF with Marc Maron (via Pajiba): "When I have a big actor in here, specifically recently maybe Josh Brolin or Paul Rudd, and I seem slightly condescending to superhero movies and you think that's rude, I want to tell you this, honestly and from the heart: I will continue to do it. I will continue to condescend to grownups who defend, almost maniacally, the integrity and need and greatness of superhero movies. Look, I'm all for entertainment. I'm glad you enjoy it. I don't go. I'm not even saying that I wouldn't enjoy it. What I am saying is that the consolidation and leveling of the culture's taste to infantile intent and product is something that's been coming for a long time. It's great for movie companies. They can guarantee to make millions on franchises that were fundamentally designed for children. So the fact that you're a grown-a** f****** person and you've kind of justified it in your periphery and your f****** worldview that these are great and you just can't get enough of them, great. That's good for you."
He continued criticizing DCEU and MCU movies, arguing that the superhero genre "pushes away and pushes aside real dialogue and real human stories" so much that "now you've got to go to Siberia ... go to the Laemmle to see a movie that is grown-up themed that is actually provocative and proactive in terms of making you think and making you move forward with your life and seeing things differently."
There's a chance Maron still feels this way about certain superhero movies, and that's okay. After all, not every comic-to-film adaptation is a home-run, and they aren't all everyone's cup of tea. However, there is something to be gleaned from Maron's past comments compared to his recent remarks to NME about Joker: if someone who once so staunchly opposed comic book movies is now praising one, it must be a film unlike anything we've seen before. 
Also starring Zazie Beetz, Bill Camp, Frances Conroy, Brett Cullen, Dante Pereira-Olson, Douglas Hodge, and Shea Whigham, Joker will open in theaters on October 4.