Mark Hamill Talks Voicing Chucky In Child's Play Remake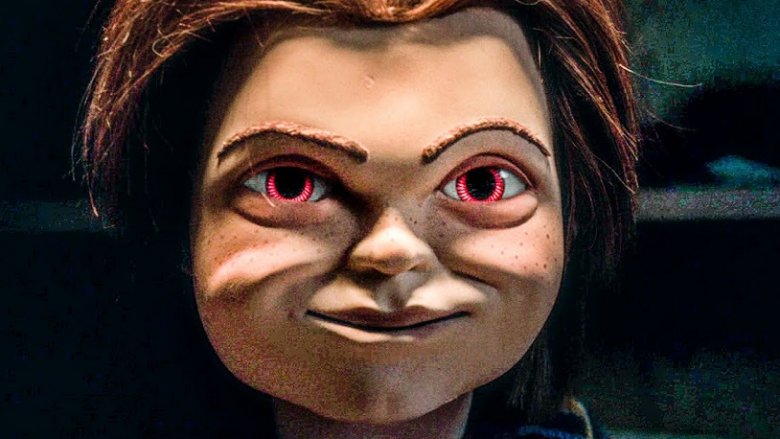 It turns out that even the best in the business can feel the heat when they're up for an iconic role.
At a recent press conference, the great Mark Hamill gave some insight into how he landed the part of Chucky in the upcoming remake of Child's Play, his approach to the job, and the responsibility he felt to fans of the franchise. (via Den of Geek)
Hamill is, of course, best-known for playing the part of Luke Skywalker in the original Star Wars trilogy and the recent sequels. But to fans of a certain stripe, he'll always be best-loved for portraying the Joker in the groundbreaking '90s show Batman: The Animated Series — and while he's far from the only brilliant actor to fill the shoes of the Clown Prince of Crime, many consider him to be the best to have ever done it (including us).
Interestingly, Hamill said that he only felt the pressure of voicing the Joker after he was cast — because during the audition process, he was convinced he wouldn't get the job. He said that being cast in Child's Play gave him a little touch of déjà vu, in that he suddenly realized that he had an enormous fan base to please. 
"When I agreed to [do Child's Play], and it sunk in that they wanted me to do this, I felt intimidation like I hadn't felt since I did the Joker," Hamill said. "I thought, when I auditioned for the Joker, there's no way they're going to cast this icon of virtue, Luke Skywalker, as the Joker. Forget about it. So I had no performance anxiety because I knew they couldn't hire me. It's only when they hired me that I really thought, 'Oh no, I can't do this because so many people have expectations of what he's supposed to sound like.'"
Of course, you could say the same thing about Chucky — perhaps even more so, as the killer doll has never been voiced by anyone other Brad Dourif. "I'm a huge fan of Brad's interpretation... I love Brad," the actor said. "It's a great responsibility, so I'm anxious to see how people react because it's not the Chucky that we all know from before."
To most fans, the idea of Hamill as Chucky can only provoke one response (the immediate opening of wallets). But Hamill revealed that he may have passed on the role, had the project been simply a beat-for-beat remake. In the new movie, the sinister doll is a sentient AI rather than the vessel for a deceased serial killer — a modern re-jiggering which Hamill found to be compelling.
"I got a letter from Lars [Klevberg, the film's director]," Hamill said. "He [had] already laid out his vision for the film, before I read it. And then they sent me this script and I thought the crucial element that was different from the original, which I love... [is that] Chucky has a different origin. So it's not the soul of a serial killer, but someone deliberately goes in and alters his operating system and takes off the safety measures... He was really like an innocent child, really, just learning from what goes on around him... I thought that was crucial."
Dourif's interpretation of the character, wickedly nasty as it could be, was always shot through with a strong streak of dark humor. Hamill described his work on the remake as a bit of a balancing act, and — ever the professional — he made sure to give the filmmakers plenty of material with which to construct their ideal performance.
"We always try and be guided by the script," he said of voice actors in general. "It was a really sort of open collaboration, because I would try maybe five [takes] in a row, and do slightly different nuances. The interesting thing is to see them assemble it and what choices they made... it's really like giving them jigsaw puzzle pieces that they can assemble later to their liking."
With a voice performer of Hamill's caliber putting in the work to make Chucky as freaky as he can possibly be, we have every hope that Child's Play will absolutely do justice to the original, while at the same time being distinctly its own thing. (And if the film's recent advertising campaign in which Chucky brutalizes the hapless inhabitants of the Toy Story universe is any indication of the type of dark humor we can expect, well, that would certainly be a plus.)
In addition to Hamill, Child's Play stars Aubrey Plaza (Community) as well-meaning mother Karen Barclay, Gabriel Bateman (Lights Out) as her son Andy, Brian Tyree Henry (Spider-Man: Into the Spider-Verse) as a police detective who finds himself in the middle of the weirdest case of his life, and Tim Matheson (The Good Fight) as Henry Kaslan, the CEO of the company that manufactures the "Buddi" line of dolls. The flick opens on June 21, and you'd better believe we'll be there, popcorn in hand.