Chucky Kills The Toy Story Universe In New Child's Play Posters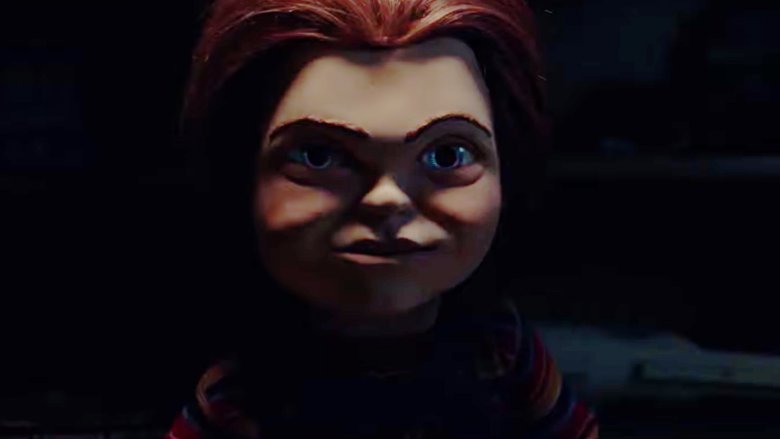 The Child's Play reboot did not come to play nice.
A series of posters for the new flick — which opens the same day, June 21, as Toy Story 4 — depict its killer doll Chucky mercilessly dispatching several of the stars of Pixar's beloved franchise in one of the most deviously clever marketing campaigns in recent memory.
The one-sheets began dropping on the official Twitter account for the reboot in late April. Of course, due to copyright issues (and really, who in their right mind would ever go up against Disney in that respect), the posters can't feature explicit likenesses of the Toy Story crew — but their designers definitely wanted to make sure that we all got the idea. They're also conspicuously modeled after the first teaser poster for Toy Story 4, which featured Woody tipping his hat against a very similar background.
The first to be released, on April 30, came with the caption "There's a new sheriff in town. Meet your new best friend on June 21." It appeared to show Woody, the lovable cowboy who has entertained children of all ages for 24 years, in sorry shape after being stomped on by an almost-out-of-frame Chucky. Mark Hamill, who voices the murderous doll in the new film, retweeted this image with the caption "Woody?..... or wouldn't he?" followed by a knife emoji. (As if we needed another reason to love that guy.)
Next up: Slinky, who on May 21 found himself on the menu at Chucky's cookout. The caption: "On June 21, find out what's really cooking," followed by three emojis: fire, hot dog, and knife. We've heard of giving your competition a good-natured roasting, but this seems decidedly less than good-natured. Poor Slinky.
Finally, just yesterday, the latest to meet his grim fate was revealed: Buzz Lightyear, whom Chucky apparently blew away with his own ray gun. Somehow, this just seems like the most cold-blooded killing of all. Buzz may be a bit of a hardhead, but he's always shown himself to be capable of doing the right thing in the end, and he's ultimately always there for his friends. Unfortunately, in this image captioned "Playtime is never over. Your friend till the end hits the big screen on June 21," the Space Ranger came up against a bigger problem than he could handle — one intent on sending him to straight to the Great Beyond, and... well, beyond.
Okay, as unbelievably messed-up as these are, we've got to give major props to whoever came up with this campaign. It wouldn't surprise us at all if some of the same parties involved also happened to be involved with the marketing for Deadpool, which had the single most hilarious and awesome campaign in the history of cinema, but we're just speculating here.
The trailers for Child's Play have teased a pretty dark vision of the iconic '80s flick, with a major twist: rather than being inhabited by the spirit of a deceased serial killer (an ultra-'80s trope if ever there was one), the new Chucky — part of the awesomely-named "Buddi" toy line — will be powered by an AI that goes rogue. This will make him capable of interfacing with all manner of smart devices, opening up lots of interesting opportunities for mayhem and giving an ever-so-slightly more believable quality to a talking, spree-killing doll. (The ghost of a serial killer? Nope, we've never run up against one of those. A "smart" device that seems to want to do anything other than what you want it to? All. The. Time.) The trailers have also teased that the young boy gifted with the doll, Andy (who will be slightly older in this version than the original) will assemble a gang of neighborhood kids to help combat its threat, giving the proceedings an It/Stranger Things kind of vibe. 
At any rate, dark is all well and good, but these posters have us hopeful that the new version of Child's Play will have a sense of humor about itself — preferably one of the pitch-black variety. The film is directed by Lars Klevberg (Polaroid) from a script by rookie feature screenwriter Tyler Burton Smith; it stars Aubrey Plaza (Legion) as harried mom Karen Barclay, Gabriel Bateman (Lights Out) as Andy, Tim Matheson (The Good Fight) as Henry Kaslan, the founder and CEO of the company that produces the Buddi dolls, and — we really can't stress this enough — Mark freaking Hamill as Chucky. We'll be there with bells on when Child's Play releases on June 21.
UPDATE: We had a feeling this wasn't over. On June 13, the Child's Play Twitter account posted the following image, along with the caption, "Mashed. Baked. Fried. Whatever you want, Chucky has you covered." It's a slightly different aesthetic from the previous posters, but it's certainly no less screwed up.