Men In Black: International Tracking For $40 Million Dollar Opening Weekend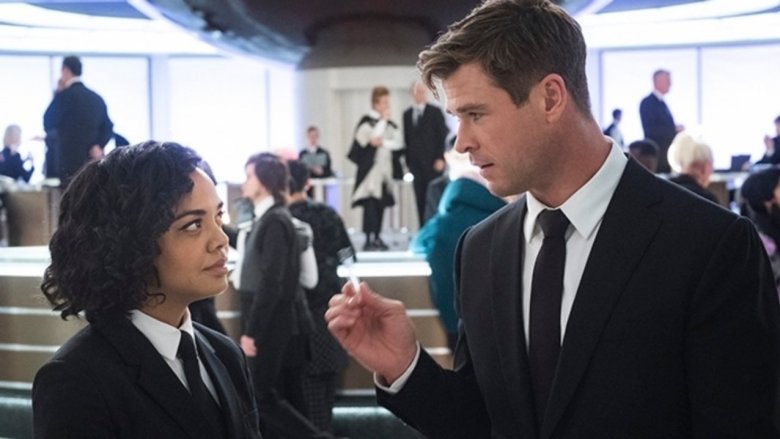 Here come the Men (and Women) in Black... to clean up at the box office.
Industry analysts are pegging Men in Black: International for a $40 million dollar opening frame when it debuts the weekend of June 14 — which would be a respectable haul, albeit a slight dip from previous entries in the series. (via Variety)
The sci-fi/comedy is the first Men in Black adventure not to focus on the characters of Agents K (Tommy Lee Jones) and J (Will Smith), introducing a new set of sharply-dressed alien hunters and moving the action overseas for the first time. It'll also be the first to be directed by someone other than Barry Sonnenfeld, as F. Gary Gray (The Fate of the Furious, Friday) takes over the director's chair.
We will still, however, be treated to a familiar and amazing comedic pairing. The flick focuses on Tessa Thompson's Agent M, who becomes aware of the shadowy organization after witnessing the neuralyzing of her parents as a young girl. Dedicating her adult life to tracking down the MiB, she successfully infiltrates one of their facilities, pointing out to Agent O (Emma Thompson, reprising her role from the previous films) that the fact she was able to do so makes her a perfect candidate for recruitment.
She's subsequently dispatched to London, where she partners up with Agent H (Chris Hemsworth) to address the threat posed by a mysterious group of shape-shifting aliens known as the Hive. As anybody who has seen Thor: Ragnarok can tell you, Thompson and Hemsworth have brilliant onscreen chemistry, which the trailers for Men in Black: International decisively demonstrated has not diminished one iota.
The movie simply looks like a gargantuan blast of buddy comedy fun, seasoned generously with the franchise's trademark stunning visual effects and creature designs, and it wouldn't surprise us if its early tracking were lowballing its opening weekend potential. While it's true that the previous Men in Black flicks scored opening weekend totals north of $50 million dollars, there were a number of factors at play working in those films' favor.
The 1997 original banked on the truly insane star power of Smith (who was fresh off his iconic turn in 1996's Independence Day) and Jones (near the tail end of a hot streak that included 1993's The Fugitive, 1994's Natural Born Killers, and 1995's Batman Forever). It also opened on Wednesday, July 2, giving it an early jump on the July 4 weekend.
2002's Men in Black II was likewise released in advance of the July 4 weekend, and also had the advantage of being a hotly anticipated sequel. 2012's Men in Black 3 (which swiftly abandoned the Roman numeral convention, for some reason) arrived a full decade after its predecessor, but it opened on Memorial Day weekend, giving audiences eager to see Smith and Jones saddle up for one more go-round ample time to get their butts into theater seats.
International may not have those two iconic stars, but there's no way it won't benefit mightily from the presence of two of the most ridiculously likable stars of the Marvel Cinematic Universe, the highest-grossing film franchise of all time by about six miles. Beginning in earnest with Thor: Ragnarok, Hemsworth has made the Asgardian God of Thunder into one of that franchise's most complex and entertaining characters, and Thompson's performance as Valkyrie in that film drew raves across the board. Her profile has also doubtless been raised considerably by her (admittedly brief) appearance in Avengers: Endgame, which continues to make roughly all of the money, and has proven itself as the only serious challenger to James Cameron's Avatar to claim the all-time international box office title.
Interestingly enough, its stars aren't the flick's only significant connection to the MCU. It was scripted by Art Marcum and Matt Holloway, who penned the screenplay for 2008's Iron Man, the Marvel juggernaut's inaugural entry and — by any reasonable measure — one of the greatest superhero films ever made. With that kind of pedigree, it would not shock us if Men in Black: International were to not only exceed box office expectations, but become a bonafide franchise-starter in its own right. 
We're certainly hoping that this proves to be the case, because frankly, we want as much Hemsworth and Thompson as Hollywood is willing to give us. Sure, it looks like we'll be seeing plenty more of them in the MCU; Hemsworth recently renegotiated his Marvel contract, making a fourth solo outing for Thor (and, possibly, an appearance in Guardians of the Galaxy Vol. 3) likely. Thompson's Valkyrie, meanwhile, was left in charge of New Asgard at the conclusion of Avengers: Endgame, and it's been speculated that she may even become the next to wield Mjolnir and assume Thor's duty to protect Midgard (that's Earth, for the four of you who weren't already aware).
But the Men in Black series, with its inspired premise and diligent world-building, is ripe for rejuvenation — and we can't think of a better duo for the job. We're going to go out on a limb and predict that the new flick will shatter expectations and handily surpass that $50 million dollar mark in its opening frame; we certainly know that we'll be in the theater, popcorn at the ready, on June 14.