Disney Announces New Star Wars Movies Release Dates, Moves Avatar Sequels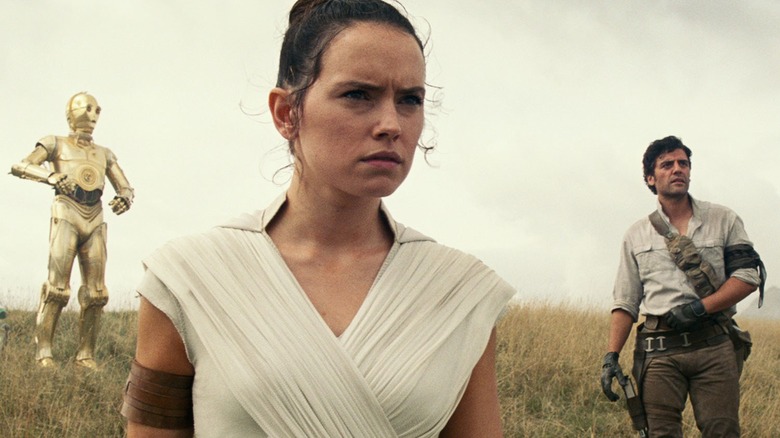 The Mouse is getting its House in order.
Disney has announced new release dates for a slew of its higher-profile properties, including some that were acquired when the entertainment megalith acquired the film and television assets of Fox. (via The Hollywood Reporter)
Perhaps the most significant portion of today's announcement: the release dates that have now been officially set for three new Star Wars movies, although it's not clear exactly which ones. Star Wars Episode VIII: The Last Jedi director Rian Johnson is known to be working on a fresh trilogy, as are Game of Thrones creators and showrunners David Benioff and D.B. Weiss. Although details are not yet known, each new trilogy will feature characters and settings separate from the current nine-film "Skywalker Saga" which began with Star Wars Episode IV: A New Hope in 1977 and will conclude with this December's Star Wars Episode IX: The Rise of Skywalker. Just last month, Lucasfilm president Kathleen Kennedy made it clear that she expects the new creative team to be in it for the long haul, saying, "We are looking at the next saga. We are not just looking at another trilogy, we're really looking at the next 10 years or more... We're all sitting down to talk about, where do we go next? We've all had conversations about what the possibilities might be, but now we're locking it down." As of today, one thing that we know for sure Lucasfilm has locked down are those release dates: December 16, 2022; December 20, 2024; and December 18, 2026.
In the "unfortunate, but not completely unexpected" category, we have news concerning director James Cameron's next four (count 'em, four) movies in the Avatar series, which Disney assumed stewardship of following the Fox deal. The flicks are getting pushed back yet again after suffering the same fate multiple times over the last decade; Avatar 2 was originally slated for release all the way back in 2014 before being pushed back to 2016, then 2018, and finally to December 2020. Brace yourself: it's not happening. The movie has been delayed once again, with Disney now having settled on an oh-so-firm release date of December 17, 2021. Avatar 3 has been shuffled from the slot now occupied by Avatar 2, to December 22, 2023; Avatar 4's planned 2024 release will now take place on December 19, 2025, and Avatar 5 has been kicked out of that spot, all the way back to December 17, 2027. Got all that? Great. Clear that date over eight and a half years in the future on your calendar, because the conclusion to the Avatar quintilogy is going to be a bang-up affair.
In other news which fits perfectly within the same category, let's talk New Mutants. The final Marvel project to be produced at Fox Studios sports a production history which could generously be called a trainwreck; it, too, has endured multiple changes to its initially planned April 2018 release. The latest of these, and the first to occur on Disney's watch, was reported just last month amidst the revelation that the filmmakers were looking at reshooting up to 50% of the film, and that those reshoots had yet to be scheduled. All that was known at that time was that, according to an inside source, the flick would be hitting theaters on a date "far away" from its most recently announced release date of August 2019, but now, the Mouse House has it locked in, and it's not so far away after all: New Mutants will be hitting the big screen (and not debuting on Hulu or Disney+, as some have speculated) on April 3, 2020. For sure this time.
As for the Fox X-Men series proper, it should surprise you not at all to learn that it is officially no more. All three Untitled Fox Marvel projects which had been pegged for release in 2020 and 2021 have been dropped from the schedule, along with one notable spin-off: Gambit, the X-Men solo feature that Channing Tatum has been trying mightily to get made for what seems like an eternity. Fox had most recently slated that film to drop in April 2020, but Disney has removed it from the calendar, almost certainly the final nail in the coffin of a troubled production that has seen directors such as Gore Verbinski, Rupert Wyatt, and Doug Liman come and go. Curiously, no mention of Deadpool 3, the one holdover from that bygone universe: Disney CEO Bob Iger has confirmed that it is still happening, and that it will still be rated R. Either Deadpool himself showed up at Iger's home with a few encouraging words and a katana, or the man just knows a cash cow when he sees one.
Other announced release date changes are much more of the reshuffling/repositioning variety. The Brad Pitt-starring sci-fi feature Ad Astra, originally slotted for release in May of this year, has been pushed to September in a possible bid for awards consideration; director Kenneth Branagh's YA adaptation Artemis Fowl has been shuffled from August 2019 to May 2020; and the Emma Stone starrer Cruella, a live-action take on the 101 Dalmatians villain in the vein of the insanely profitable Maleficent,  has received the plum Christmas Day slot in 2020.
It's a lot of tinkering and a lot of fat-trimming, but Disney has certainly wasted no time getting down to the business of recalibrating itself in the wake of its Galactus-like absorption of yet another huge multimedia company. And the important takeaway here is: more Star Wars! Also, Avatar, probably.