New Castle Rock Trailer Is Filled With Stephen King Easter Eggs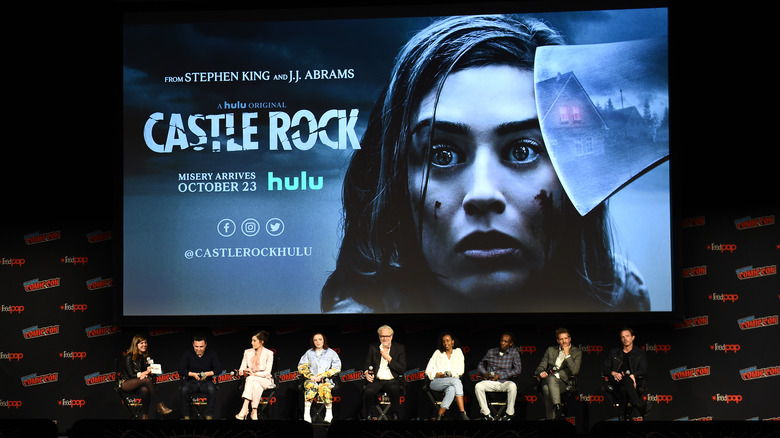 Ilya S. Savenok/Getty Images
Is this Hulu or the White House lawn on Easter Sunday?
Hulu dropped the first full-length trailer for its forthcoming psychological horror series Castle Rock on Tuesday, giving Stephen King fans across the world the biggest treat they could ever ask for: a tidy, terrifying basket full of Easter eggs.
Set to rock-and-roll crooner Ricky Nelson's "Lonesome Town," the footage stitches together the corners of King's multiverse with subtle nods and smart references — starting with lead actor Bill Skarsgård, who previously played the dimension-hopping demonic entity Pennywise in director Andy Muschietti's film adaptation of It, as a creepy inmate at Shawshank Prison. (Yep, the Shawshank Prison from the Academy Award-winning film based on King's 1982 novella Rita Hayworth and Shawshank Redemption.)
Other nudges at King's body of work include Sissy Spacek, the actress who scared an entire generation of moviegoers with her performance as the telekinetic and telepathic high school outcast Carrie White in the silver screen translation of King's novel Carrie, as well as glimpses of Juniper Hill Asylum — the mental hospital in Maine that has appeared in It (the bully Henry Bowers went there in his adult years), Insomnia (Charles H. Pickering was admitted after trying to burn down a home for battered women), Needful Things (Nettie Cobb was a Juniper Hill parolee), Gerald's Game (Raymond Andrew Joubert, a.k.a. Space Cowboy, was a patient), The Sun Dog, The Tommyknockers, Bag of Bones, 11/22/63, Nightmares and Dreamscapes, and The Dark Half. 
There are plenty more references stuffed into the trailer, and much more yet to be uncovered once Castle Rock debuts on Hulu later this month. While we're not shuddering in fear trying to discover what secrets Skarsgård's character hides and what darkness swirls through the fictional town of Castle Rock, Maine, it looks like we'll be hunting down hidden messages, too.
Also starring André Holland, Melanie Lynskey, Jane Levy, Scott Glenn, Castle Rock will premiere on July 25.