Pet Sematary: What Critics Are Saying About The Remake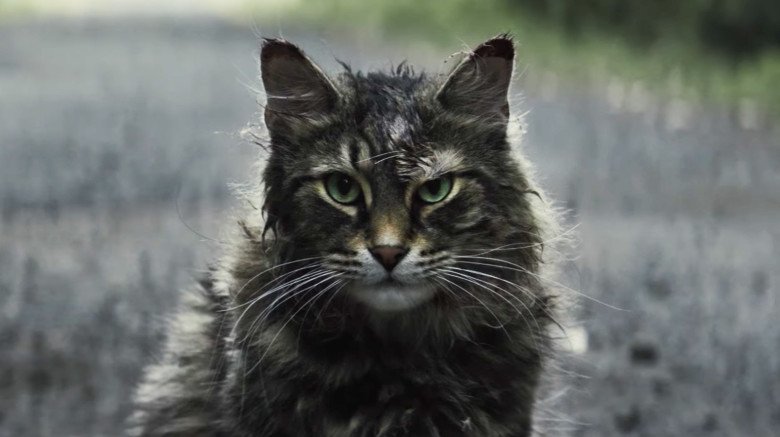 Contains spoilers for Pet Sematary
In almost all relevant instances in life, the old adage about the original being the best proves true. It's why fast food joints tend to stick to the classic recipes that made them famous. It's why a lot of people, after witnessing botched procedure after botched procedure, are shying away from plastic surgery and learning to love the face and body they were born with. However, film studios have turned a blind eye to the truth and continued green-lighting countless remakes and reboots of iconic movies, seemingly confident that the upcoming reimaginings will break the norm and come out shining as even better than their predecessors. 
Such is the case for Paramount Pictures and its forthcoming Pet Sematary remake, a fresh take on the 1989 horror film based on Stephen King's chilling novel of the same name. Directed by Kevin Kölsch and Dennis Widmyer from a script by Jeff Buhler, the new Pet Sematary had its world premiere at the South by Southwest (SXSW) film festival on Saturday, March 16 — where audiences completely loved it.
Critics have shared their first reactions to the Pet Sematary remake, with nearly everyone heralding it as a huge improvement on the '80s classic. 
The film hits the majority of the same beats as the original: Dr. Louis Creed (Jason Clarke) and his wife Rachel (Amy Seimetz) move themselves and their children Ellie (Jeté Laurence) and Gage (Hugo Lavoie and Lucas Lavoie) from the hustling-and-bustling Boston to rural Maine, settle into a home that rests by a mysterious burial ground, and learn from neighbor Jud Crandall (John Lithgow) that the "pet sematary" can actually revive dead things, though they don't ever return to life looking or acting the same. Both the original Pet Sematary and the remake see the Creeds' cat, Church, get hit by a truck and later resurrected in the burial ground where people bury their pets — but the 2019 refresh takes a big creative liberty in another aspect. (Turn back now if you don't want to read any details about the plot of the Pet Sematary remake.)
Where the '80s film featured the family's toddler son Gage die in a road accident, the remake has their daughter Ellie be the victim. This was revealed in one of the film's trailers, so it technically isn't a spoiler, but we thought we'd warn you in advance in any case. The Creeds then make a life-changing decision that sparks a "perilous chain reaction that unleashes an unfathomable evil with horrific consequences."
That switch-up — having the older Creed child instead of the younger one be the core figure that holds the story together — paid off immensely, and is just one of the many reasons people are digging Pet Sematary. 
"#PetSematary has the kind of serious balls any good adaptation should have," wrote Collider editor Haleigh Foutch on Twitter. "The themes and encroaching dread of King's novel are alive and well, but there are enough clever deviations to give diehard fans some welcome surprises. Big ups all around, but Seimetz is a legend. #SXSW." 
The folks at Bad Feeling Mag tweeted, "THEY DID IT. #PetSematary is a truly disturbing reimagining of @StephenKing's most terrifying novel. THAT change makes so much sense now. #sxsw." 
A published review written by the outlet's own Gabriel Sigler reads in part, "This new version of Pet Sematary retains the tragic themes at the heart of King's novel, while building out that world in a number of surprising and welcome ways ... That crucial change (clearly show in the trailer, so not really much of a spoiler) pushes the film into a number of new and completely unexpected directions. It shows that Kölsch and Widmyer, working with a script from Jeff Buhler, have really thought out their approach to this material, and how to make it even more meaningful." 
Sigler then went on to praise the Pet Sematary remake as being a rock-solid, respectful adaptation of King's work that will impress audiences with its complexity: "Pet Sematary is legitimately frightening, deeply unsettling, and often laugh out-loud funny. It's the rare film that truly understands the appeal of classic Stephen King, and embraces the deep primal fear of death that is interwoven through all of the best horror stories. Pet Sematary respects the essence of the original, and updates it in a number of welcome new ways, making this one of the best King adaptations yet."
Collider's Perri Nemiroff tweeted, "#PetSematary is *vicious* and I LOVED it. Super brutal visuals and was thrilled to see Widmyer & Kölsch fully embrace the deeply unsettling themes of mortality from the book. And WOW Jeté Laurence. They really pushed it with this adaptation & it worked for me – big time." 
She also wrote a full-length review of the film for Collider, in which she praised the new Pet Sematary as one of best Stephen King adaptations ever. 
"Pet Sematary evokes the feeling that Widmyer and Kölsch knew exactly what they wanted to achieve with this adaptation and fully committed with confidence. I applaud them for the vision and dedication, and I also applaud the studio for letting them just go for it," Nemiroff wrote, giving the film an A- on a scale from A+ to F-. "Again, Pet Sematary isn't striving to be an easy communal crowdpleaser. Just like the source material, it's a movie with a real thoughtful mean streak that'll chill you to the bone, and ensure you remain sufficiently on edge well after it concludes."
Megan Navarro of Blood Disgusting wrote in her review, "Directors Kevin Kölsch and Dennis Widmyer, the minds behind the brutal Starry Eyes, weren't messing around. Everything you thought you knew about this story still won't prepare you for the abject terror and intimate relationship with grief that they've prepared ... Pet Sematary doesn't dare bother following the footsteps of its predecessors. Kölsch and Widmyer don't bother retreading the story we know and instead give us something far more satisfying in its own right. Instead, they give us a story so bone-chilling, so substantial, and even with a little bit of humor to alleviate the brutal blow of abject terror ... Forget King's novel or the '89 film, there's room in the genre space for them all to coexist. Go in fresh, and let the exhilarating tale of primitive dread and anguish wash over you. It's shocking, heartbreaking, freaking scary, and even funny. It's worth it."
Many noted that Pet Sematary kicks things into overdrive in the third act, which feels bonkers in a good way compared to the darkly funny first half. 
"Lots (and lots) of thoughts on the new #PetSematary to come, but for now, what I will say is this: holy hell do I respect how bananas it gets in the third act. Absolutely not what I was expecting AT ALL," Daily Dead News managing editor Heather Wixson shared on Twitter after seeing the film. Added film critic and journalist Rafael Motamayor, "#PetSematary is a hoot and a half! Super dark, twisted, gory, and surprisingly funny! More of a dark comedy than the original movie, and it all works once the f***ed up third act kicks in. The cast is fantastic. Jeté Laurence is a revelation! What a way to end #SXSW."
Fandango managing editor Erik Davis likely said it best when he joked that the current most-loved cat in film, Goose from Captain Marvel, should step aside and make room for Church from the new Pet Sematary. "#PetSematary delivers a solid sense of dread from start to finish. It earns its well-timed jump scares, and terrific sound design and gnarly effects add extra layers of creepy. I think King fans will dig it. Move over Goose, it's Church's turn," Davis tweeted. 
In all, it truly sounds like the Pet Sematary remake will surpass everyone's expectations and leave them shaking in their boots when it debuts in theaters in early April. This is good news for everyone: Kölsch and Widmyer will yet again prove their prowess in directing horror films, studio Paramount will probably rake in a huge profit thanks to positive word of mouth, horror fans at home will be pleased that they have another satisfying spook-fest to add to their collection of favorites, and King enthusiasts will be able to rest easy knowing this adaptation of his work really, well, worked. And that last one is no easy feat, as most films based on King's novels are either full-on fantastic (the It remake) or unbelievably terrible (The Dark Tower from 2017), with no in-between. 
Of course, these are just a selection of reactions to Pet Sematary and don't represent everyone's opinions on the film. Formulate your own thoughts and come to your own conclusions about the remake when Pet Sematary arrives in cinemas on April 5.