Twilight Zone: Zazie Beetz, Betty Gabriel To Appear In Episode Of Revival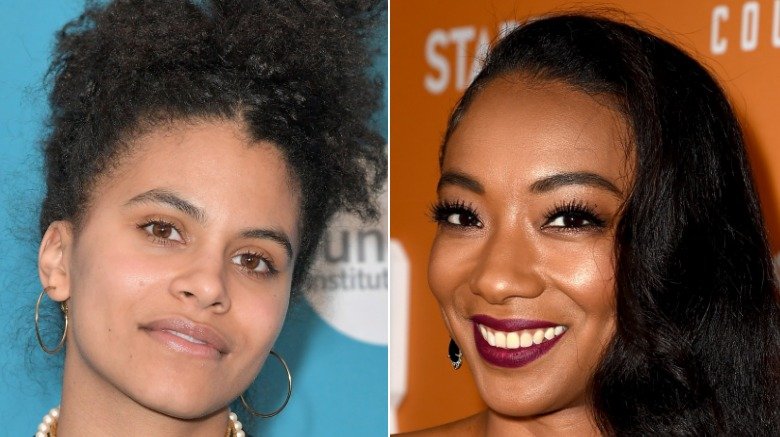 Getty Images
A pair of talented actresses are about to slip into The Twilight Zone.
Zazie Beetz and Betty Gabriel are the latest to sign on for an episode of the CBS All Access revival of the classic anthology series, which will be produced an hosted by Academy Award winner Jordan Peele. Their episode will appear early in the soon-to-debut first season, according to Deadline.
The Twilight Zone will arrive loaded with a borderline-unreasonable amount of acting talent. Beetz and Gabriel are in stellar company in being sucked into the show's nefarious vortex; already announced to appear are (excuse us while we take a deep breath) Ginnifer Goodwin (Once Upon a Time), Luke Kirby (Glass), Seth Rogen (Future Man), Greg Kinnear (House of Cards), Kumail Nanjiani (Silicon Valley), John Cho (Searching), Ike Barinholtz (Bright), Taissa Farmiga (American Horror Story, The Nun), Sanaa Lathan (The Affair), Jessica Williams (Fantastic Beasts: The Crimes of Grindelwald), DeWanda Wise (She's Gotta Have It), Adam Scott (The Good Place), Rhea Seehorn (Better Call Saul), Alison Tolman (Castle Rock), Jacob Tremblay (The Predator), and Steven Yeun (The Walking Dead).
Beetz popped up in a handful of little-seen flicks before making a splash as Vanessa, the sometime girlfriend of Donald Glover's "Earn" Marks, on the hit FX series Atlanta (for which she scored an Emmy nomination). She parlayed that into a standout appearance as Domino in 2018's Deadpool 2, and producers haven't stopped knocking on her door since. She currently has no fewer than seven projects in various stages of production, including Todd Phillips' Joaquin Phoenix-starrer Joker and Fargo creator Noah Hawley's sci-fi feature Lucy in the Sky; she'll also be lending her voice (alongside Yuen, Mark Hamill, J.K. Simmons, and Ant-Man and the Wasp's Walton Goggins) to Amazon's animated superhero series Invincible, which was created by The Walking Dead's Robert Kirkman.
Gabriel appears to be fashioning herself as something of a modern-day scream queen. She appeared in a breakout role in 2016's The Purge: Election Year before following that up with an absolutely chilling performance as doomed housekeeper Georgina in Peele's 2017 masterpiece Get Out. She's since popped up in the sci-fi/horror sequel Beyond Skyline, the brutally effective Unfriended: Dark Web, director Leigh Whannell's Upgrade, and on the small screen in HBO's hit series Westworld.
Other than the fact that the duo will appear together in an entry that will stream relatively early in the season, no details were made available as far as the episode's plot or the roles they'll be taking on. This is par for the course, as The Twilight Zone's production team has done an admirable job of keeping such details close to the vest. This much we do know: Lathan will star in an episode titled "Rewind"; Scott will lead the episode "Nightmare at 30,000 Feet," a reimagining of the original William Shatner-starring episode "Nightmare at 20,000 Feet" (apparently, planes fly higher these days). Cho, Tolman, Tremblay, and Rogen will appear together in an entry titled "The Wunderkind," while Yuen and Kinnear will co-star in "The Traveler"; finally, Goodwin will lead the episode "Point of Origin."
Of course, other than their titles, we know next to nothing about what these episodes have in store for us save for "Nightmare at 30,000 Feet," which will follow the plot of the original — but, as we've been able to gather from brief images shown in the unnerving teaser trailer released last month, not too closely. But with Peele's guiding hand and creepy onscreen narration (not to mention this ridiculous stable of actors), it's a safe bet that this latest revival will accomplish what the well-liked '80s version and the short-lived 2002 reboot could not — live up to the towering legacy of Rod Serling's iconic original.
The Twilight Zone will drop its first two episodes on CBS All Access on April 1, with additional episodes available for streaming every Thursday beginning on April 11. In case you needed any further incentive to check out the streamer, take note: it has every episode of the original series ready for viewing right now.