What Critics Are Saying About Bright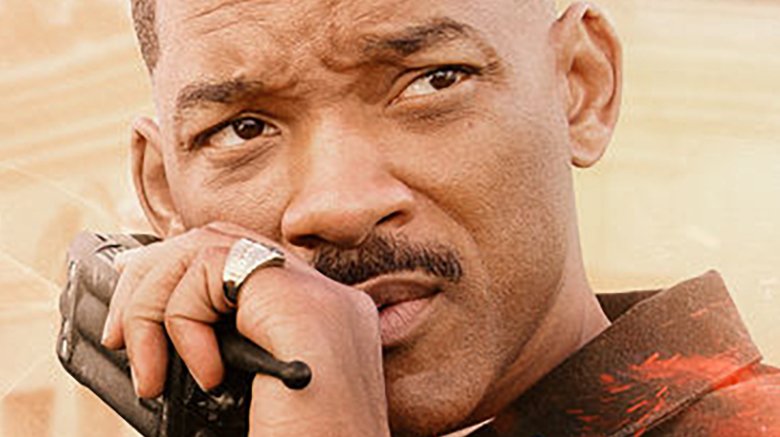 Netflix
The reviews are in for Netflix's big-budget original flick Bright, and the results are pretty dim. 
Starring Will Smith as an L.A. cop named Wade–who partners with Joel Edgerton's Jakoby, a blue-skinned, smushed-face orc–Bright takes place in a world where humans co-exist with fairies, elves, and other mythical and monstrous creatures. The central premise sees Wade and Jakoby embark on a high-stakes mission to track down a powerful wand that nearly everyone around them is willing to kill (and possibly even die) for. Suicide Squad filmmaker David Ayer helms the film, which critics have largely slammed as yet another misstep for the director, calling it "embarrassing" and a "disaster." 
Todd Gilchrist of The Wrap wrote that Bright is "astoundingly bad in virtually every way," and that Ayer seems to have repeated many of the same mistakes he made with Suicide Squad. "Bright shares in common several of the shortcomings of Ayer's previous film [Suicide Squad], including conspicuous evidence of desperate efforts to cobble its under-explained and yet somehow overcomplicated mythology into something coherent," Gilchrist argued. Not even Smith's "irrepressible charisma" was enough to outweigh the film's "unrelentingly muddy production design, the poorly conceived characters, and a profoundly stupid racial metaphor that somehow amplifies stereotypes of actual ethnic groups." He concluded that Bright is "another genre disaster that's only impressive in how arrogantly the filmmakers presume audiences will want it to be expanded into a franchise."
The Hollywood Reporter critic John DeFore shared the same feeling, viewing Bright as "plenty embarrassing." He also found fault with the movie's screenplay, written by American Ultra scribe Max Landis, which left much to be desired. DeFore's review reads in part, "Will Smith and Joel Edgerton play it mostly straight here, doing their part to sell the dopey premise, but the screenplay offers viewers little reward for our own suspension of disbelief. The supernatural elements are so poorly explained and implemented, they make us wish we were watching some generic reality-based policier instead." 
Collider's Vinnie Mancuso also wasn't impressed with how the story played out, particularly because Bright, as he writes, "is a movie that spends far too much time explaining itself." As a result, the core narrative is "not much more than empty gunshots and blood splatter with a faerie tale twist," an unfortunate end product since the plot is really "a simple bit of fun buried beneath a heavy dose of explanation."
Scott Mendelson of Forbes was yet another critic who took aim at Landis' screenplay. "[It] feels like an undeveloped first draft," he wrote. "The back-and-forth banter between our two heroes drones because no one ever rewrote the picture after the sale was made, or because Netflix wanted a feature film that could be comprehended/enjoyed even if said viewer was playing on their smartphone during a viewing." And though Mendelson did give praise to Smith and Edgerton's performances, he ended his review of the film with a bite: "Bright is such a would-be mockbuster that it almost acts as an act of subversive sabotage for the major theater chains. Better luck next time."
IndieWire's David Ehrlich was perhaps the harshest of all, pegging Bright as "the worst movie of 2017." Ehrlich described the film as "so profoundly awful that Republicans will probably try to pass it into law over Christmas break"; a "fresh slice of hell that somehow represents new lows" for both Ayer and Landis, whose Suicide Squad and Victor Frankenstein were torn apart by critics; and a "dull and painfully derivative ordeal that that often feels like it was made just to put those earlier misfires into perspective."
Emily Yoshida of Vulture had more mixed feelings, writing that Bright carries with it some "legitimately fun touches," but that the film's handling of racism and discrimination is questionable. "I'm not entirely sure what real counterpoint orcs and elves could contribute to the extremely real history of racially charged police violence in Los Angeles," Yoshida stated. "I also don't think Bright has anything more coherent to say about the state of the world than, say, The Hobbit.
On the flip side, The Guardian's Steve Rose was quite positive in his coverage, noting that the film shouldn't be written off completely and that it "deserves credit" for attempting to bring its apparent "Middle Earth meets District 9 meets End of Watch" elevator pitch to life. "For all its flaws, Bright is still a headlong leap into a bracingly different new world," Rose wrote. "Cinema could do with more of that."
Bright stars Noomi Rapace as Leilah, Lucy Fry as Tikka, Édgar Ramírez as Kandomere, Ike Barinholtz as Gary Harmeyer, Kenneth Choi as Agent Coleman, Happy Anderson as Montehugh, Andrea Navedo as Captain Perez, Brad William Henke as Dorghu,  Brandon Larracuente as Mike, Alex Meraz as Serafin, and Dawn Olivieri as Sherri Ward. The film will be available to stream on Netflix starting this Friday, December 22. Shortly before this batch of reviews came out, Netflix ordered a Bright sequel.