Small Details In Better Call Saul Only True Fans Understood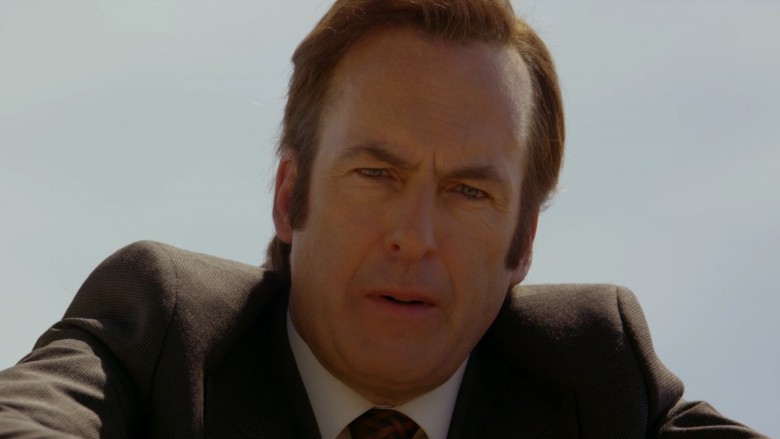 When Breaking Bad, one of the most acclaimed and awarded TV dramas of all time, ended its five-year run in 2013, fans at least had Better Call Saul to look forward to. Co-created by Breaking Bad's Vince Gilligan and Peter Gould, the semi-comedic spinoff featured Bob Odenkirk reprising his role as sketchy bus-bench lawyer Saul Goodman ... or rather small-time public defender and nail salon-inhabiting lawyer Jimmy McGill as he became Saul Goodman. Set a few years before the events of Breaking Bad, Saul adds substantially to the Breaking Bad universe of Albuquerque's seedy criminal world. That also means it's loaded with references to its parent series, not to mention clues to Jimmy/Saul's past, present, and future.
Saul was right about his future
Near the very end of Breaking Bad, as Walt's criminal empire is crumbling and threatening to take down everybody associated with it, a panicked Saul (Bob Odenkirk) tells Walt (Bryan Cranston) that he's no longer his lawyer, but rather "Mr. Low Profile." "If I'm lucky," he goes on. "A month from now, best-case scenario, I'm managing a Cinnabon in Omaha." And while Better Call Saul is a prequel series to Breaking Bad, it starts with a brief update on what happened to Saul after the events of Breaking Bad: He's posing as a mustachioed man named Gene, who manages a Cinnabon franchise at a mall in Omaha, Nebraska.
The car makes the man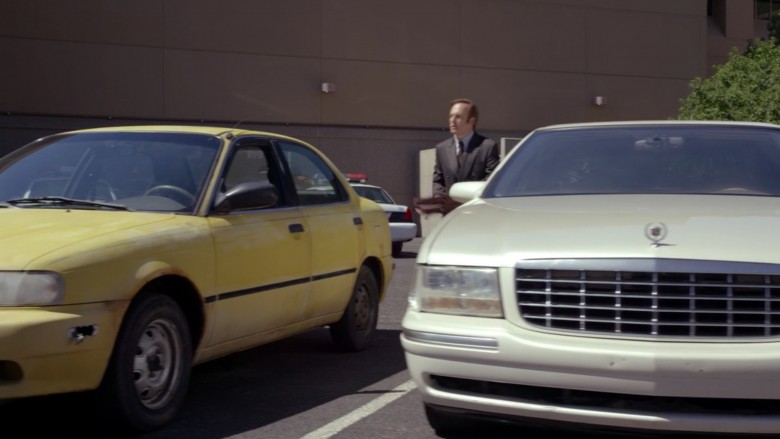 As Better Call Saul begins, Jimmy is tooling around Albuquerque in a tiny yellow Suzuki Esteem that has seen better days. In the pilot, he parks it outside the courthouse next to a big fancy Cadillac. That moment of unfair comparison must have stuck in Jimmy's mind because after he "becomes" Saul Goodman, he winds up driving a Cadillac nearly identical to that one. The idea that he needed to drive a Cadillac to be a legitimate lawyer was further driven home in the Better Call Saul episode "Marco." Jimmy's old scam partner, Marco (Mel Rodriguez), finds out Jimmy's a lawyer and assumes that he's "riding around in a white Caddy, making bank."
That nursing home looks familiar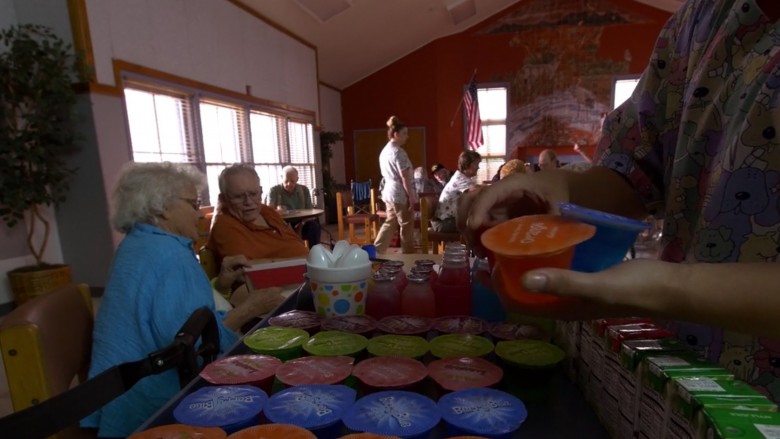 In the Better Call Saul Season 1 episode "Alpine Shepherd Boy," Jimmy tries to attract aged clients needing their wills drawn up by studying the behavior of TV's Matlock, and then going where everyone loves Matlock: a nursing home. He glad-hands the elderly in a Matlock-esque linen suit and passes out gelatin cups emblazoned with his name and the slogan, "Need a will, call McGill!" The name of that nursing home is Casa Tranquila, and it's the same place where bell-ringing Breaking Bad bad guy Hector Salamanca (Mark Margolis) lived.
There's graffiti left by a familiar criminal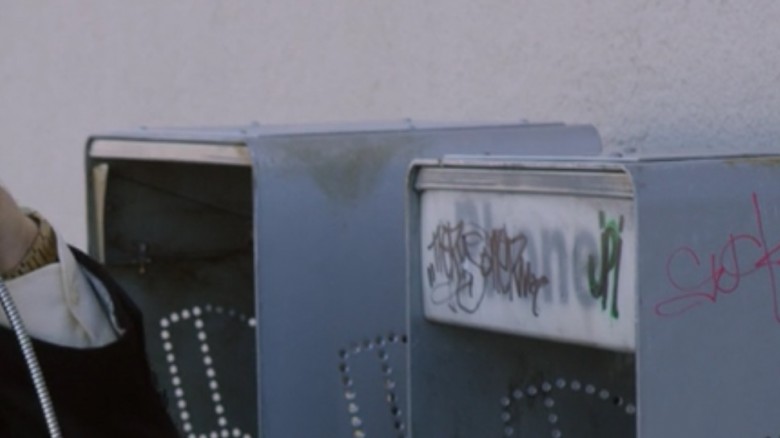 Before he was a meth-making young adult on Breaking Bad, Jesse Pinkman (Aaron Paul) was a trouble-making teenager. He would have been in that period of his life during the time frame Better Call Saul takes place in. Which is to say that the graffiti tag on the outside of a phone booth Jimmy uses on the third episode of Better Call Saul that spells out "JPi" was almost certainly left by a young thuggish Jesse. Saul co-creator Peter Gould more or less confirmed it, saying that the idea wasn't in the show's script, but that "sometimes folks in the art department or on the set add a little something."
Lots of people live on Juan Tabo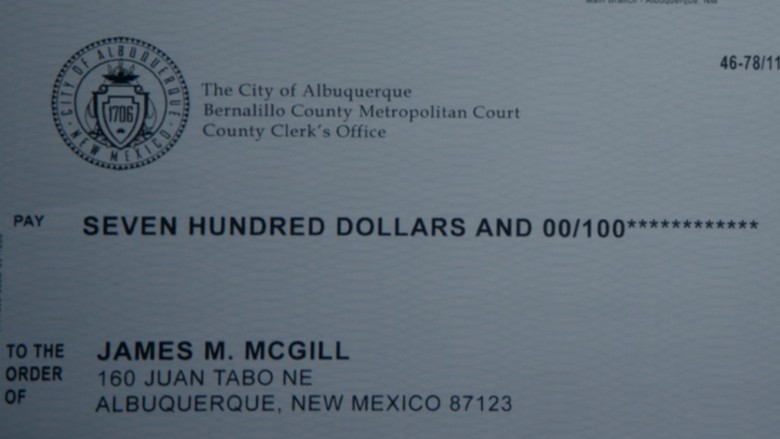 When Better Call Saul begins, Jimmy is working as a public defender—the "attorney that will be provided for you if you cannot afford one" as guaranteed in the Miranda rights read upon arrest. He isn't paid as much as he'd like by the city of Albuquerque for his services: $700, according to his paycheck. Also on that check: Jimmy's address of record, which is 160 Juan Tabo NE. That same street was previously mentioned on Breaking Bad. When Walt sends Jesse to kill fellow meth-maker Gale, it's to Gale's home at 6353 Juan Tabo, Apartment 6. That means Gale lived down the street from Jimmy, who was sleeping in the back room of the nail salon that he kept as his office. (In real life, the building at 160 Juan Tabo NE really is a nail salon.)
Belize is a very important country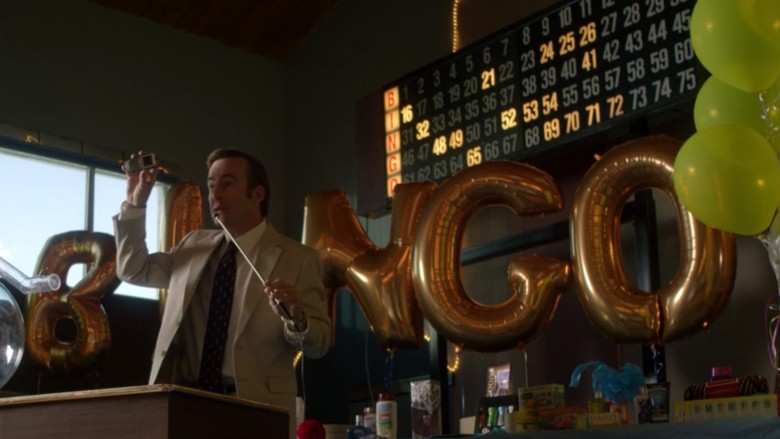 By the end of the first season of Better Call Saul, Jimmy is still trying to attract elderly clients by volunteering at a retirement home, working as a bingo caller. A bunch of B numbers in a row make Jimmy slowly lose his cool. As he does so, he keeps having to vamp for B words: "'B' as in 'betrayal,'" "'B' as in 'brother,'" and "'B' as in 'Belize.' Beautiful place. So I've heard. I would love to go there, but let's face it, that's never going to happen." So far, so good for Saul, because on Breaking Bad, "send him to Belize" was a code phrase Saul and Walt would use that meant "have them murdered."
Bank on this reference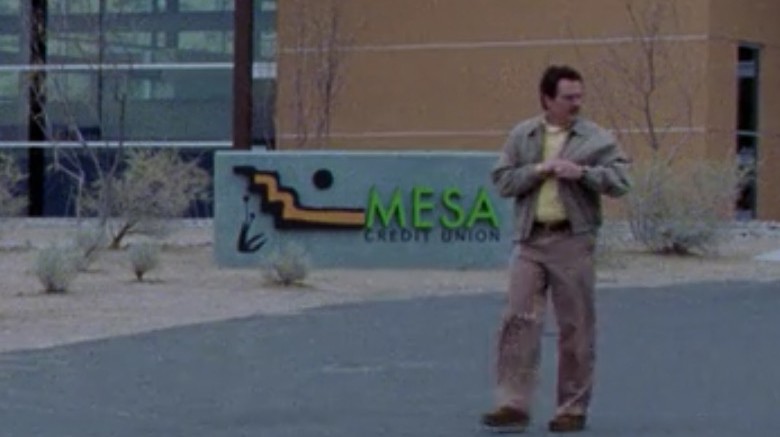 Prior to the broadcast of the fifth episode of the second season of Better Call Saul in 2016, the show's official Twitter account teased that Hamlin, Hamlin, McGill would "welcome a familiar business as a new client." The client that lawyer Kim Wexler (Rhea Seehorn) brought in turned out to be Mesa Verde, a massive local financial institution. It also happens to be the same credit union where Walter White started the events of Breaking Bad. He goes there in the pilot episode to withdraw his life savings in order to buy the RV that would become his mobile meth lab.
Mike always packs a lunch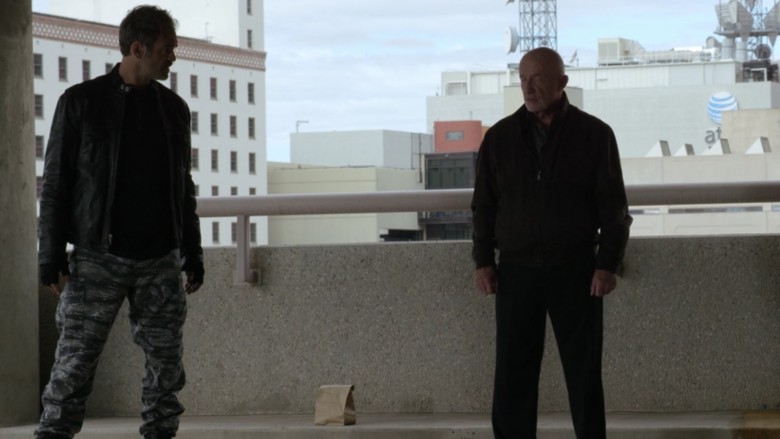 In the Better Call Saul Season 1 episode "Pimento," Mike Ehrmantraut (Jonathan Banks) takes a job as a heavy on a drug deal. One of the other toughs (Steven Ogg) is perplexed that Mike brought along a sandwich—pimento cheese, of course—instead of a gun. But that's just the way Mike rolls. Back on a Season 4 episode of Breaking Bad, Mike and Jesse Pinkman (Aaron Paul) are on a stakeout together. Mike offers Jesse a pimento cheese sandwich.
The origin of Saul's ring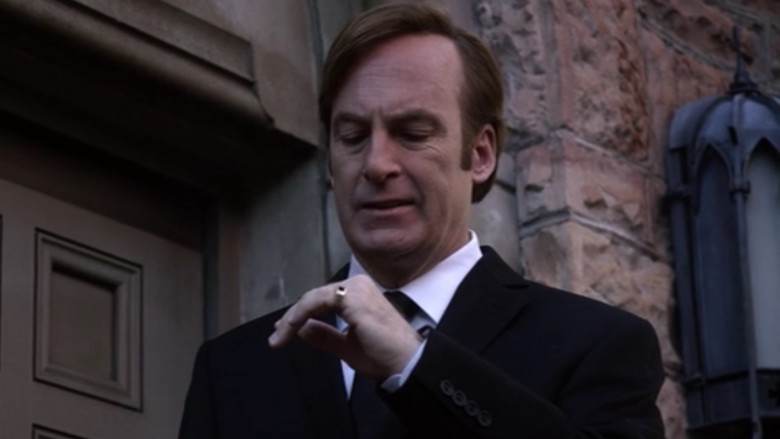 After his old con partner and best friend Marco dies, Jimmy attends the funeral on the Better Call Saul episode "Marco." The mother of the deceased gives Marco's ring to Jimmy, which he reluctantly places on his pinkie finger. This is the same ring that could be occasionally spotted on Saul's pinkie on Breaking Bad. The reference on Saul goes a little deeper. After the funeral, Jimmy and another mourner smoke a cigarette outside the church, and the other guy recognizes the ring. One of the times it's most prominent on Breaking Bad is when Saul holds up a plastic bag containing a cigarette loaded with ricin, which Walt eventually uses to kill Lydia.
The news of Gus's return was hiding in plain sight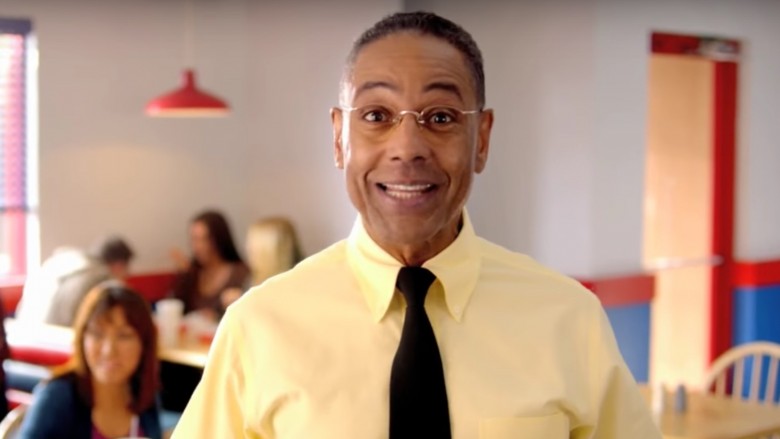 Many Breaking Bad characters have shown up on Better Call Saul as younger versions of themselves. Perhaps the most memorable criminal from Breaking Bad was ruthless meth kingpin/fried chicken purveyor Gus Fring (Giancarlo Esposito). He's set to show up in Season 3 of Better Call Saul, but that's old news to hardcore Saul fans, who had figured that out at the end of Season 2. How? The clues were in the season's episode titles: "Switch," "Cobbler," "Amarillo," "Gloves Off," "Rebecca," "Bali Ha'i," "Inflatable," "Fifi," "Nailed," and "Klick." Take the first letter of each title, rearrange them, and it spells out "F-R-I-N-G-S-B-A-C-K." When the code was cracked, Better Call Saul co-creator Peter Gould said, "I guess we really underestimated the genius and hard work of our fans."