Shazam! First Reactions Call Film 'Unlike Anything DC Has Done Before'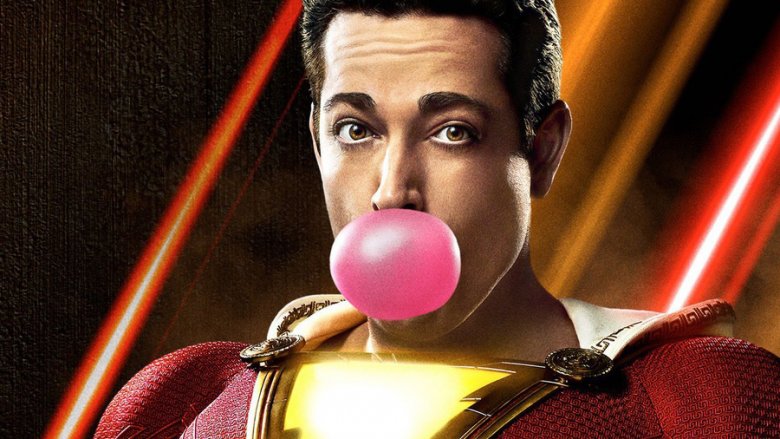 With the same kind of nonchalant coolness Billy Batson tells a woman passing by that he's a superhero, the caped vigilante has swooped in and completely shaken up the fabric of the DC Extended Universe with his solo movie, Shazam! – a film electrifying, hilarious, heart-warming, and vivid enough to mark a brand-new era of the franchise in which it lives. 
At least, that's what first reactions to Shazam! are saying. 
Members of the media who attended pre-release screenings of Shazam!, DC's forthcoming superhero feature starring Asher Angel as a teenage orphan named Billy Batson and Zachary Levi as the adult crime-fighter he magically transforms into after obtaining mystical powers from an ancient wizard, got the all-clear to post their thoughts on the movie on Thursday, March 7. Response has been overwhelmingly positive — with people praising Shazam! as vibrant and fun, family-friendly and packed with awesome fight sequences, a game-changing entry into the DCEU, "full of heart and pure childhood wish fulfillment," and "unlike anything DC has done before."
Some critics did note that the David F. Sandberg-directed adventure may have leaned a little too far into the funny side of things at times, getting a tad bit cheesy at turns, and that there are minor faults to be found with the interplay between the hero and the villain (Mark Strong's twisted inventor-slash-industrialist Dr. Thaddeus Sivana). Still, even with these tiny issues, so many people have fallen in love with Shazam! — applauding Levi's performance, gushing about how likable it is, and calling it their favorite DC movie yet.
"DC is finally building a solid run: #Shazam is a delight! Its familiar origin structure is forgivable because of all the new it brings to the table — primarily it's gleeful, childlike enthusiasm, & heartfelt perspective on family. It's also the role Zachary Levi was born to play," CinemaBlend events editor Eric Eisenberg tweeted. 
Entertainment Tonight reporter, host, and producer Ash Crossan also wrote that Levi shone bright in Shazam!: "#Shazam was damn near PERFECT in my book. My FAVORITE DC movie (DCEU? What are we saying now?) by far. Pure of heart, incredibly funny, full of in-jokes and references. Brought me a childlike joy to watch. This role was MADE for @ZacharyLevi... & Jack & Asher & the entire cast." 
Jim Vejvoda of IGN exalted Shazam! as "DC's most joyful & sweet movie since the era of Christopher Reeve's Superman," describing it as "a funny yet earnest coming of age story about a boy who learns that, well, with great power comes great responsibility." He also wrote that the film "doesn't reinvent the superhero movie wheel," though it is "undeniably fun." 
In a second tweet, Vejvoda note how "liberated" Shazam! feels in comparison to the rest of the DCEU: "#Shazam is as liberated a comic book movie for DC as Deadpool was for Fox-Marvel;, not in the latter's profanely meta way but in a similarly hilarious, lovable, and oddly sweet manner. It makes you understand why Shazam the character has endured for eight decades."
Film critic Courtney Howard had much admiration for Shazam!, highlighting several of its best qualities in her tweet-sized reaction to the film. "#Shazam is a super-powered BIG & I LOVED every second of it. A colorful, vibrant, vital addition to the DCEU," she wrote. "Vivid character-driven action, heartrending central relationships & fully earned, totally satisfying emotional moments. Super hilarious. Super thrilling. Super awesome!"
Slashfilm's Peter Sciretta had particular love for the fun, feel-good vibe of Shazam!, though he was one critic who mentioned that the film does take things one step too far in certain regards. "#Shazam is parts Home Alone, parts Big, a crowd pleasing family-friendly joy-filled wish-fulfillment superhero film which gets a bit over the top and cheesy at times. It's fun and funny, and I was surprised at how much it wears it's heart on its sleeve," he tweeted.
Germain Lussier of Gizmodo and iO9 felt similarly: "Shazam! is another win for DC. Sure, the humor & action you'd expect from a superhero film are there, but #ShazamMovie stands out because of the emotional, family story at its center. I had some small issues with the hero/villain aspects but the family stuff is dynamic & powerful."
"I absolutely loved #Shazam! It's my favorite DC film yet. Zachary Levi as Shazam was perfect casting and the kids absolutely steal the show," wrote Geeks of Color founder and Collider social media director Dorian Parks. "It's an amazing family movie with dope fight scenes and great humor! You guys are going to love it."
Added Legion of Leia founder Jenna Busch, "Finally allowed to say that #Shazam was fantastic! Full of heart and pure childhood wish fulfillment. It's funny and the tone is exactly right. @zacharylevi is perfect in the role, and so is @asherangel, who I'm convinced is @maisie_williams' brother!"
Fandango's Erik Davis wrote that Shazam! delivered on its promise to be a perfect blend of a classic '80s movie and an iconic superhero flick: "#Shazam is big, goofy, lovable, and unlike anything DC has done before. Definitely in the vein of Tom Hanks' BIG, but with superhero action & lots of Batman and Superman references. I dug this film so much I wanted to give it a bear hug at the end. DC's movies keep getting better."
Previously, Levi shared that Shazam! would be "Superman meets Big." He told Entertainment Tonight early last year, "I am just out of my mind excited! I get to do my version of Big, basically. It's like Superman meets Big, and that's just so fun. I get to be a superhero that's excited about being a superhero, and I think that's refreshing. It's not glum, and like, 'Oh, I have to save the world again.'"
All in all, Shazam! sounds like an absolute smash and one of the best DC offerings of all time. Will its stellar performances, goofy antics, well-rounded story, and capital-C cool action scenes be enough to best other franchise installments like Aquaman and Wonder Woman, both of which made big bucks at the box office and won over fans and critics with ease? Can it truly mark the turning point for the constantly struggling DCEU? Only time will tell. 
Lucky for you, there isn't too much time left until Shazam! soars into theaters. The film, also featuring Jack Dylan Grazer as Billy's best friend Freddy Freeman and Djimon Hounsou as the Wizard who grants Billy his abilities, Shazam! will open wide on April 5.