Arrow: Cast Reacts To Series' Cancellation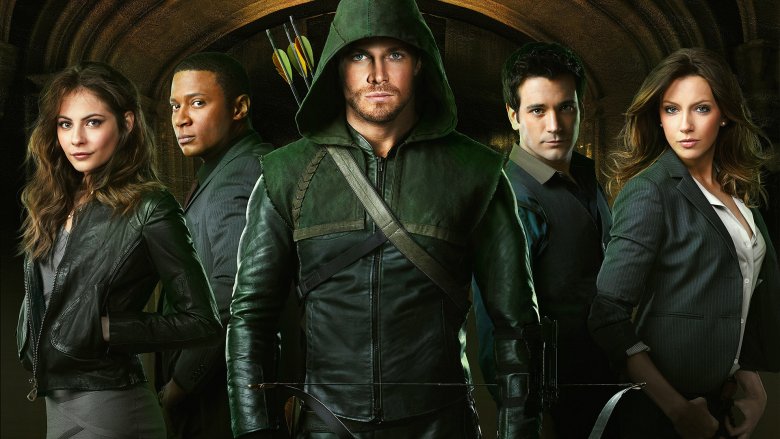 Soon to be gone, never to be forgotten.
The cast and crew of the long-running CW series Arrow took to social media to express their thoughts on the series' cancellation and their hopes for the eighth and final season, which is set to air this fall. Star Stephen Amell also posted a lengthy Facebook video in which he thanked the show's fans for their years of support.
Amell began by saying "I'm gonna have to turn off the comments, because one of them is going to make me cry," before pouring his heart out to his Facebook followers. "I just want to let everyone know that after a ten episode run... in season 8, Arrow will be concluding," the star said, becoming visibly emotional at times. "Toward the end of season 6, I approached [producer] Greg Berlanti... and said that I thought, both personally and professionally, that at the end of my commitment this coming season it would be the best for me to move on. I've always been a fan of television shows that not only don't overstay their welcome, but end in a manner that really packs a punch. And so it had always been my hope that we would know when we were gonna finish this journey, and not limp to the finish line."
He went on to elaborate that he and Berlanti essentially hatched a plan to have Amell return for a curtailed season 8, and that he was hopeful that through the remaining series in the Arrowverse, the "mythos" of Oliver Queen (if not the actual character) could "live on." The star then took a second to collect himself before saying, "Even though I knew that this was coming, it's still a very emotional time... a large part of this decision [is] because I'm now a father and a husband, [and] to say that it has been a real sea change over the past seven-plus years would be a vast understatement." 
Amell then went on to offer his thanks to the producers, cast and crew, all of whom he had high praise for, before addressing his social media followers directly. "I have made countless friends, I have been able to tell so many stories, I've been able to facilitate great moments for people because they're a fan of the Green Arrow... something tells me even when I'm done, I won't be gone. If you've watched the Arrowverse, you should understand that."
Amell followed up with a Twitter post calling Arrow "the greatest professional experience of [his] life" and offering his thanks to the show's fans.
Playing Oliver Queen has been the greatest professional experience of my life... but you can't be a vigilante forever.

Arrow will return for a final run of 10 episodes this Fall.

There's so much to say... for now I just want to say thank you.

— Stephen Amell (@StephenAmell) March 6, 2019
Next to chime in was David Ramsey, who has held down the role of John Diggle/Spartan since Arrow's first season and has also appeared in each of the other three major Arrowverse series. "[Arrow's] fans have been the best any actor could've asked for," he said. "Let's end on a high, shall we?"
What an awesome ride! @arrow fans have been the best any actor could've asked for! Thank you for helping me bring John Diggle/Spartan to life!!! Love all of you! Can't wait for you to see what we have in stock for you. Let's end on a high, shall we? #ARROW pic.twitter.com/CDfjpCTNqA

— David Ramsey (@david_ramsey) March 6, 2019
Colton Haynes, who was introduced as Roy Harper/Arsenal late in Arrow's first season and has appeared in upwards of seventy episodes, called his experience on the series "an incredible ride" and offered fans his heartfelt thanks in an Instagram post.
Echo Kellum has likewise appeared as Curtis Holt/Mr. Terrific in over seventy episodes beginning with the season 4 episode "The Candidate." He called the cancellation "the end of an era" and punctuated his remarks with "#8SeasonsAndAMovie" in a nod to the show's longevity.
Wow! End of an era. #Arrow made so many of my dreams come true. So thankful to have played my part on this amazing series. Gonna be sad to see it go. #8SeasonsAndAMovie

— Echo Kellum (@EchoK) March 7, 2019
Juliana Harkavy has appeared in over fifty outings as Black Canary between seasons 5 and 7; she posted an amazing cast pic to her Instagram, calling her work on the show "the greatest adventure of [her] life" and offering a few choice words for the fans. "Thank you for your passion, your love, and your support," she wrote. "We love and appreciate you more than you'll ever know."
Next up was Madison McLaughlin, whose run on the series was comparatively short; she appeared as Evelyn Sharp/Artemis in only 11 episodes, but apparently, her time among the cast was marked by enough belly-laughs as to become... problematic. "Pretty sure I had to change my underwear from laughing too hard," she wrote in a Twitter post.
family ❤️ big time love for this whole crew. my time on arrow was always fun and supportive and also pretty sure I had to change my underwear from laughing too hard (thx a lot @ embett and echo) (joe and rick are funny too) pic.twitter.com/G8aH1NcyBc

— Madison McLaughlin (@MadisonMcLaugh) March 7, 2019
Finally we have Rick Gonzalez, whose run as Rene Ramirez/Wild Dog has so far lasted for over 60 episodes between seasons 5 and 7. "A big hug to all the fans for the love," he wrote in a tweet. "It's our job to give you an amazing last 10 episodes."
Thankful and grateful to have had the chance to bring #WildDog to life on #Arrow. Thank you to all the writers and producers and cast and crew for welcoming me with open arms. And a big hug to all the fans for the love. It's our job to give you an amazing last 10 episodes. ❤️🙏🏼

— Rick Gonzalez (@officialrickg) March 7, 2019
Yes, it was a sad day for fans and cast members alike — but as Amell noted, the character that gave the Arrowverse its name will likely continue to loom large over the remaining series, if only in spirit, for as long as the shared universe continues. And therein lies the silver lining: The Flash, Legends of Tomorrow, and Supergirl don't appear to be slowing down, and there will be plenty of opportunities for new characters to help carry on the legacy. The Ruby Rose-led Batwoman (which has a pilot in production) seems like a slam dunk to be ordered to series, and after Tyler Hoechlin's expanded role as Superman in last year's Elseworlds crossover event, talk has heated up around a potential series centered on the Man of Steel as well.
Plus, hey, it's not over just yet: we still have Arrow season 8 to look forward to. When it's all said and done, there's one thing we will never forget about Oliver Queen: he didn't fail his city.