Captain Marvel: New Videos Offer A Closer Look At Superhero Epic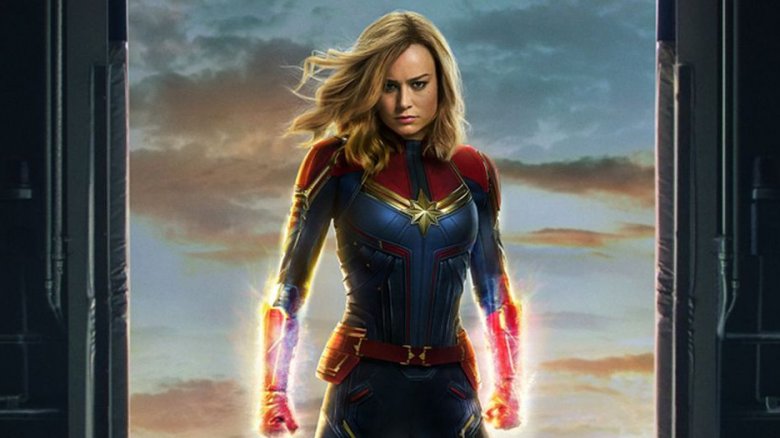 If you can't get enough Captain Marvel news (like us), the film's official Twitter has you covered.
A trio of new videos were posted to the account today, with the first serving as a bite-sized behind-the-scenes featurette focusing on Brie Larson's preparation for her role as an Air Force fighter pilot (who happens to have cosmically-imparted superpowers). 
The clip features co-directors Ryan Fleck and Anna Boden discussing how their star was received by the actual Air Force, who took time out to make sure that Larson would have an accurate frame of reference for what it's really like to pilot an F-16 by taking her for a spin in one. "The Air Force was welcoming and amazing," says Boden. "It was important for Brie to go up in the F-16 and discover who Carol Danvers is." 
Larson herself also sat for the clip, and heartily seconded Boden's opinion. "The core of her is the Air Force," she says. "That spirit, that sense of humor mixed with total capability in whatever challenge comes her way, is really what Air Force pilots are like." We see the actress, grinning from ear to ear, going for the kind of ride that most of us will (perhaps thankfully) never have the opportunity to take; the clip concludes with a few choice scenes from the film (which we've already seen in previously released trailers), illustrative of Danvers' "total capability."
Watch @BrieLarson take flight in this behind-the-scenes look at Marvel Studios' #CaptainMarvel. #MondayMotivation pic.twitter.com/PlgoI6bbNb

— Captain Marvel (@captainmarvel) February 25, 2019
The second clip, a scant 25 seconds in length, showcases Captain Marvel's extreme badass-ness while referring to a line spoken by Nick Fury (Samuel L. Jackson) in one of the trailers: "I know a renegade soldier when I see one." The lightning-quick series of shots focuses heavily on the concussive energy blasts which are a hallmark of Danvers' insane level of power.
On March 8, discover your power. Get tickets to Marvel Studios' #CaptainMarvel now: https://t.co/siieRjt6RZ pic.twitter.com/fwXn8Lmj3B

— Captain Marvel (@captainmarvel) February 25, 2019
Finally, clip #3 gives us another look at the already-iconic brawl on a moving train with a Skrull soldier disguised as an elderly woman, shows us how Danvers effortlessly takes out a room full of bad guys with little more than a flick of her wrists, gives us an interesting shot of her headpiece (which allows a portion of her blonde locks to fly free with a mohawk-like motif) dematerializing, and concludes with the good Captain (in street clothes) giving Fury an assist with an attacker. Oh, and also, punching some sort of aircraft right the hell out of the sky.
In 10 days, witness the rise of a hero. Marvel Studios' #CaptainMarvel is in theaters March 8. Get tickets: https://t.co/siieRjt6RZ pic.twitter.com/sAcky5uT5S

— Captain Marvel (@captainmarvel) February 26, 2019
Like the old saying goes: you've already struck oil, Marvel, you can stop drilling. It would be difficult to overstate how incredibly psyched we are for this movie, and we're not alone: as we reported earlier this month, industry analysts are pegging Captain Marvel for an opening weekend north of $100 million dollars, and we're going to go out on a limb and say that this is a conservative estimate. In fact, we've been blatantly contradicted by Forbes, which has adjusted its opening weekend estimate closer to a whopping $150 million dollars worldwide as buzz around the flick continues to grow. For the sake of comparison, if Forbes' sources happen to be right on the money, that would place Captain Marvel at #7 all-time on the list of the MCU's highest-grossing opening frames, behind a half-dozen box office-shattering blockbusters: Iron Man 3 ($174,000,000), Captain America: Civil War ($179,000,000), Avengers: Age of Ultron ($191,000,000), Black Panther ($202,000,000), The Avengers ($207,000,000), and Avengers: Infinity War ($257,000,000). 
We're hardly the first to opine that Marvel Studios' first female-led solo film is long overdue, and there's no denying that this will be a significant factor in the flick's box office reach. But it certainly doesn't hurt that, if all of the many trailers, posters, and supplemental videos that have so far been released are in the least bit indicative, this movie is going to leave the world with a severe dearth of ass left to kick. Just to recap, in the unlikely event that this is the first you're hearing of it: Captain Marvel stars Larson as ex-fighter pilot Carol Danvers, who returns to Earth with a severe case of amnesia after years spent battling the nefarious, shape-shifting Skrulls alongside the Starforce, a sort of Black Ops offshoot of the Kree, the alien race referred to in several MCU properties up to this point. In order to help fend off a Skrull invasion of Earth in the mid-'90s, she must try to piece together her past, while also developing a close working relationship with future S.H.I.E.L.D. director Fury.
Buckle up, true believers: the flick hits theaters on March 8.