Jared Leto's Joker Movie, Harley Quinn And Joker Film Reportedly Scrapped At Warner Bros.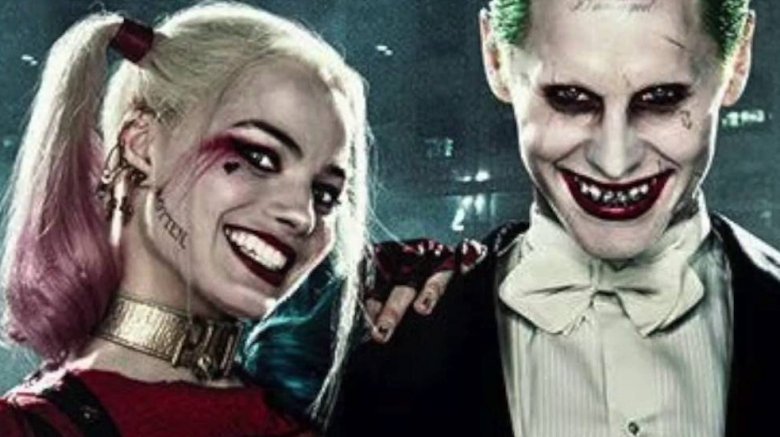 If Warner Bros. was the Wicked Witch of the West, it just snatched up the Joker and his little girlfriend, too. 
A report published by Forbes on Wednesday, February 13 claims that the studio, home of the DC Extended Universe, may have completely done away with two in-development projects: the Jared Leto-starring Joker movie, and the Joker and Harley Quinn team-up film. 
Though entitled "Why the Future of DCEU Movies Looks Brighter Than Ever," the Forbes piece suggests some bleakness — with the "Mad Love-type" duo project and the standalone Joker feature meant as a starring vehicle for Leto's Suicide Squad iteration of the character having "fallen by the wayside" at Warner Bros.
Crazy, Stupid, Love writer-directors Glenn Ficarra and John Requa joined the Joker-Harley two-hander in October of 2017, when it was reported that Warner Bros. hired them to write and direct the untitled film that was, at a certain point in time, believed to eventually be called Harley Quinn vs. The Joker, as talk of a project carrying that title cropped up in July of 2017. Leto was set to reprise his role as the Joker, naturally, and was expected to be joined on screen by Australian actress Margot Robbie, who would step back into her gig as the fast-talking, no-nonsense-taking Harley Quinn. Imagined as an "insane and twisted love story" that was described by one source as "When Harry Met Sally on benzedrine," the film was supposed to get on the fast track to development when it was first announced. However, Warner Bros. must have pumped the brakes, because it's been well over a year since word of the Joker and Harley movie first got out. 
As for that Leto-led Joker pic, Variety confirmed in July of 2018 that Warner Bros. and DC Entertainment were getting the wheels turning on a project that would "expand on the world created by Suicide Squad and tie into future installments of that property." According to the outlet, setting up a Joker solo flick that would stand separate from the Joaquin Phoenix-starring Joker origin story film (confusing, we know, but bear with us) was the "next goal" after establishing plans for a film that would place Robbie's Harley Quinn in the spotlight. (Warner Bros. was successful in that endeavor, selecting Cathy Yan to direct Birds of Prey (and the Fantabulous Emancipation of One Harley Quinn), which released a tiny teaser ahead of principal photography beginning.) The Leto Joker movie would exist outside of whatever director Todd Phillips does with his Joker, said not to be a part of the standing DCEU and feature "no overlap" with Leto's version of the character. 
This information was couched in a portion of the Forbes report that discussed James Gunn's vision for the Suicide Squad sequel. Fired from his position as director of Guardians of the Galaxy Vol. 3 in July of 2018, just days ahead of that year's San Diego Comic Con, Gunn boarded the second Suicide Squad movie as its writer in October, apparently granted freedom to do with the property whatever his heart desired. TheWrap indicated that Gunn would deliver a "completely new take" on Suicide Squad, but no additional information was provided at that time. Not long after that, word got out that Warner Bros. was eyeing Gunn to take on even more responsibility with the Suicide Squad sequel: become its director. 
Reports have maintained that Gunn has big, slate-clearing plans for the second installment in the Suicide Squad cinematic canon, with this recent Forbes piece claiming that he's erasing all the names on the Suicide Squad team roster – including Harley Quinn. Now, it seems that the "soft reboot" Gunn intends to carry out for Suicide Squad 2 has spread to the Joker-and-Harley-Quinn corner of the DCEU. 
But is that all bad? Is there no silver living to Warner Bros. scrapping one project centered on the once-in-strange-love pair and a movies all about Leto's version of the Clown Prince of Crime?
We say nay. There is something good to be found in the situation, should it prove true, and that's the knowledge that Warner Bros. is being selective with the films it chooses to develop. 
Currently, the studio has a whopping six Joker movies in the books — including the Leto standalone and the Joker-Harley ensemble pic. Chipping two away from the production slate offers so much more breathing room and allows for the studio to give more attention to the other projects brewing behind closed doors. Ditching the Leto-starring Joker movie makes it easier for Warner Bros. to make Phoenix's film the best it can be. Cancelling the purported Harley Quinn vs. The Joker flick gives the studio the chance to ensure that Birds of Prey is as shiny and satisfying as possible. If Warner Bros. has to sacrifice a few films to make others better, more well-rounded, and more enjoyable for fans, we're all for it. Quality over quantity. 
We can't be all that shocked that Warner Bros. has reportedly tossed these two films to the trash, as the studio has been undergoing some shake-ups for a few months now. In September of last year, The Hollywood Reporter published a piece detailing that Superman actor Henry Cavill and Batman star Ben Affleck were looking to exit the DCEU as Warner Bros. began overhauling its superhero properties, which WarnerMedia CEO John Stankey criticized as needing to "do better." The outlet also noted that Warner Bros. CEO Kevin Tsujihara and Warner Bros. Pictures Group chairman Toby Emmerich were "looking to reinvigorate the studio's DC Universe, which is still playing second fiddle to the Marvel Universe in terms of box office and critical acclaim." 
Both Gunn's apparent start-from-scratch approach to Suicide Squad 2 and Warner Bros.' purported cancelling of the Leto-topped Joker movie and the Joker and Harley Quinn team-up film appear to reflect the studio's apparent focus on ensuring the DCEU looks, feels, and performs every bit as well as the films in the Marvel Cinematic Universe do. Whether these efforts will yield the desired results, only time can tell.