Jared Leto's Joker Is Really Getting His Own Movie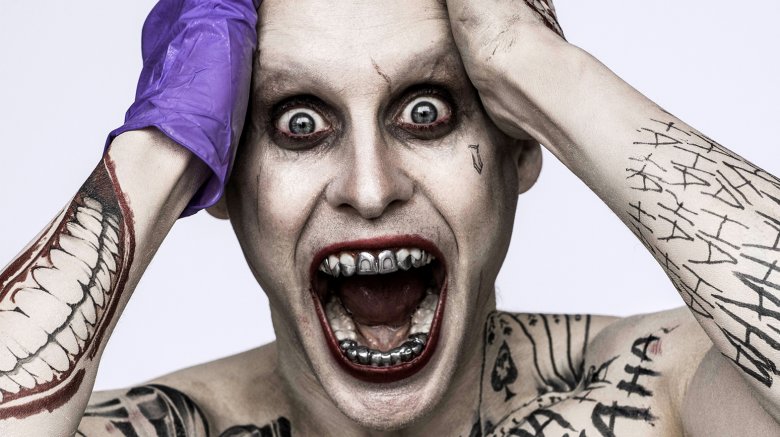 DC/Warner Bros.
The joke's on, Jared Leto.
According to a report by Variety, Warner Bros. and DC Entertainment are firmly moving forward on a Jared Leto-starring Joker standalone movie.
The Suicide Squad Joker spinoff is not to be confused — though it definitely will be — with the also-in-development Joker origin story, which will reportedly star Joaquin Phoenix as the Clown Prince of Crime as he comes up as a bullied kid who grows into a failed career as a stand-up comedian.
That movie, produced in part by Martin Scorsese, will be directed by Todd Phillips of The Hangover series and written by 8 Mile and The Fighter writer Scott Silver. No director or writer has yet been attached to Leto's Joker movie.
For months, reports have been circulating that WB and DC were quietly in the process of splitting their superhero movie releases between a shared universe and a separate, currently unnamed brand of standalone movies, allowing for different filmmakers to take alternate approaches to characters that already exist within the shared universe. 
The news of Leto's Joker movie going forward all-but-confirms the strategy.
Beyond the development of just this movie, the idea of two separate branches of DC superhero movies opens the doors for a number of "Elseworlds"-style alternate universe pictures to happen, with possibilities including the Superman: Red Son movie we first heard was being considered almost a year ago.
No plot details have yet been released for Leto's Joker movie. According to the Variety report, the film will help expand the world first glimpsed in 2016's Suicide Squad, potentially connecting to other spinoffs from that film like its upcoming sequel, or the Harley Quinn-centric Birds of Prey.
There is also no word yet as to when Jared Leto's Joker movie will be going into production, and whether it is intended to precede or follow Suicide Squad 2, in which Leto is expected to appear.