Is Taika Waititi Directing Guardians Of The Galaxy Vol. 3?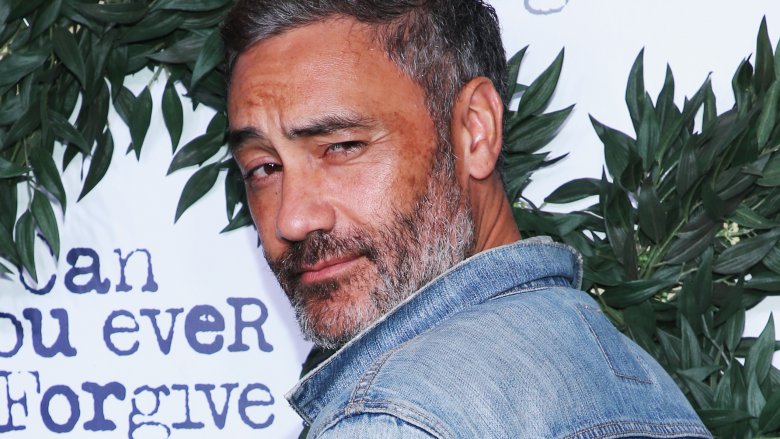 Getty Images
Will Taika Waititi shift to another corner of the Marvel Cinematic Universe for his next big feature?
During FX's Television Critics Association presentation on Monday, Thor: Ragnarok filmmaker Waititi addressed rumors that he would step in to replace James Gunn as the director of Guardians of the Galaxy Vol. 3. 
The Walt Disney Company and Marvel Studios, Disney's subsidiary, have been searching for someone to take over for Gunn after he was ousted from his directorial post when controversial past tweets of his resurfaced and began circulating around the web. Having written and directed the first two installments in the Guardians of the Galaxy film franchise, imbuing each with a signature sense of humor and fizzy fun, Gunn is a tough guy to replace — but many Marvelites are of the belief that Waititi, who did something revolutionary with the trilogy-saving Thor: Ragnarok, could be the perfect person to fill his shoes. 
Unfortunately, that won't happen in this lifetime. 
Waititi confirmed that he definitely isn't directing Guardians of the Galaxy Vol. 3, but he is still in contact with the bigwigs at Marvel and is discussing potential future projects. 
"I'm still hanging out with those guys [Marvel] and talking about new stuff," Waititi explained after making it clear that he won't serve as Gunn's Guardians successor (via Deadline). "I want to do another movie with them."
At the FX TCA panel to preview his upcoming series What We Do in the Shadows, the small-screen adaptation based on the indie vampire mockumentary horror comedy he co-wrote, co-directed, and starred in with his frequent collaborator Jemaine Clement, Waititi went into more detail regarding his reasoning for not directing the third Guardians movie. He affirmed that he "didn't really" meet with anyone at Marvel to come to the decision, and added that he has always felt that the franchise belongs to Gunn and wouldn't want to potentially tarnish the series with his creative vision — no matter how fantastic it is or how innocent his intentions are.
"For me, those are James' films," said Waititi. "Going into something like that with his stamp all over his films, would be like going into someone's house and saying 'Hey, I'm your new dad, and this is how we make peanut butter sandwiches now.' It feels kind of awkward."
Following Gunn's firing, there was major back-and-forth regarding whether Disney would wind up re-hiring him for Guardians Vol. 3. 
The film's cast — including Chris Pratt, Zoe Saldana, Dave Bautista, Bradley Cooper, Vin Diesel, Karen Gillan, and Pom Klementieff — publicly asked the House of Mouse to do just that. In a letter shared in late July of 2018, they wrote that they had "been encouraged by the outpouring of support from fans and members of the media who wish to see James reinstated as director of Volume 3, as well as discouraged by those so easily duped into believing the many outlandish conspiracy theories surrounding him." 
A few days later, Variety published a report noting that Disney was "not planning on rehiring" Gunn. Just a week after that break, Deadline claimed that "back channel conversations" were happening between Disney and Marvel brass, and that "the Marvel contingent [was] trying to persuade Disney to explore a compromise that might bring Gunn back into the fold for Guardians 3, something that clearly would be best for the franchise." The discussion was reportedly motivated by the cast's open declaration of loyalty to Gunn, and though the decision would be a divisive one and an 11th hour long shot, it seemed at the time a possibility. 
Alas, it wasn't long after that report came out that Variety confirmed Disney and Marvel weren't turning back on their decision to fire Gunn as the Guardians of the Galaxy Vol. 3 director. According to the outlet, Gunn and his United Talent Agency representatives fought hard for the filmmaker "to be given a second chance." The Walt Disney Studios chairman Alan Horn, who stated at the time of Gunn's firing that the "offensive attitudes and statements discovered on [his] Twitter feed" were are "indefensible and inconsistent" with Disney's values, agreed to meet with Gunn and his reps "only as a courtesy to clear the air with Gunn." Sources indicated that the meeting was "civil and professional," but niceties didn't sway Horn. Though Marvel Studios head Kevin Feige wasn't able to attend the meeting, and was reportedly campaigning to rehire Gunn, he was said to have stood by Disney's choice not to reinstate Gunn. 
As of August 2018, a month post-Gunn-firing, Disney brass were reported as feeling "no pressure" to tap a director to take Gunn's place and were happy to wait for the schedule of an "A-list" filmmaker (perhaps someone as decorated as J.J. Abrams or Christopher Nolan) to clear so they could proposition them to direct Guardians Vol. 3. Rumors began swirling, with names like Jon Favreau (Iron Man), Joe and Anthony Russo (Avengers: Infinity War, Avengers: Endgame), and Waititi fluttering about as potential Guardians Vol. 3 directors. 
Variety further claimed that Disney, despite its apparent desire for a member of Hollywood's filmmaking elite to replace Gunn, would likely hire a director with an "offbeat sensibility" for Guardians of the Galaxy Vol. 3 — and, more importantly, someone who hasn't yet directed a Marvel film. That meant Favreau, the Russos, and Waititi were out for the count. 
Sad as some fans may be that Waititi won't replace Gunn, and devastated as some still are that Gunn can't finish up the trilogy he started, both filmmakers are getting a happy ending. 
Waititi has What We Do in the Shadows premiering on FX on March 27, is completing his World War II satirical comedy-drama film Jojo Rabbit, and will unleash the episode of the live-action Star Wars series The Mandalorian that he directed on Disney+ later this year. 
"It was amazing," Waititi said of working on his episode of The Mandalorian, written and executive produced by Favreau. "Favreau is a genius ... it's fun doing something in the Star Wars universe. It's a strangest to see a stormtrooper, and then when you're doing a scene with 50 or 60 of them, it's amazing ... Star Wars is very different to the Marvel style. The tone of the first films really should be adhered to, it's what the fans like. You can't disrespect it. Definitely my tone is in there."
As for Gunn, there's a chance he could be moving from the MCU to the DCEU to direct Suicide Squad 2. A report published by Deadline in late January claimed that Gunn, who boarded the Suicide Squad sequel to help rework the script, is being eyed to helm the whole thing. 
Where Guardians of the Galaxy Vol. 3 stands now, it's currently without a director (duh) or a release date. But that's no issue: the film reportedly won't get in front of cameras until February 2021, leaving Disney and Marvel with plenty of time to select Gunn's replacement.