Could Marvel Rehire James Gunn After All?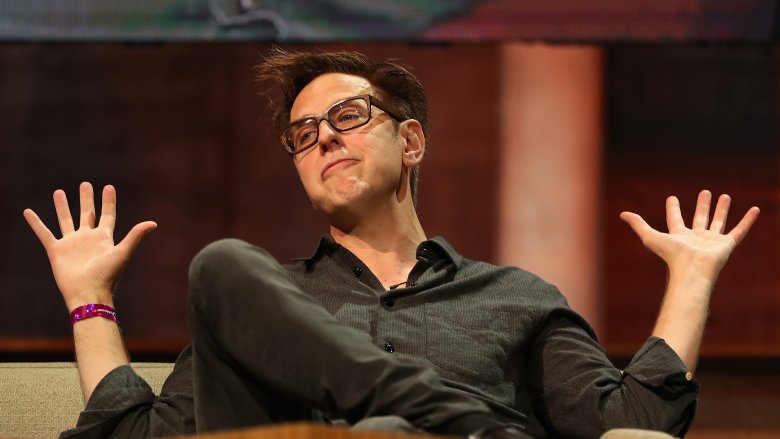 Getty Images
Don't go crazy celebrating yet, but there might be good news for fans of explosion-heavy redemption stories and awesome mix tapes.
Nothing is set in stone, but there's a chance that James Gunn could return to helm the third Guardians of the Galaxy film after all. According to a story posted by Deadline, back channels are buzzing with chatter that the House of Mouse is reconsidering their abrupt firing of the director. This comes after weeks of fan outrage and a letter of support from the cast of Guardians calling for Gunn to be brought back into the fold. 
On July 20th, it was announced that Gunn had been fired as the director of the untitled Guardians sequel after a series of offensive, decade-old tweets were brought to light. The tweets ran the gamut of traditionally offensive material, covering rape, incest, and pedophilia. The director had apologized for the jokes years earlier, but Disney called the posts "indefensible and inconsistent with our studio's values" in a statement announcing Gunn's firing.
In the weeks that followed, however, Gunn has reportedly found no shortage of offers from rival studios. A story from The Hollywood Reporter quoted an anonymous studio head as saying of Gunn, "I'd work with him in a heartbeat." 
It only makes sense that other studios would be champing at the bit to hire Gunn, after his offbeat take on the Guardians of the Galaxy — previously obscure characters to anyone who wasn't a die-hard comic book fan — brought them into the public eye and secured a heavy payoff for Marvel, earning them over a billion dollars across the two films and nabbing a pair of Certified Fresh ratings on Rotten Tomatoes. 
Pressure from the cast of the films has led Disney to take pause recently, with sources claiming that the company was considering using Gunn's already submitted script for the upcoming threequel. But it now appears that the threat of losing Gunn to a rival studio (read: Warner Bros?) paired with Dave Bautista's recent threats to leave the franchise if Gunn isn't brought back, may play a role in them backpedaling — and putting James back in the director's chair. 
Of course, take all this with a massive grain of salt — for now, this is all rumor and speculation, so don't go scheduling any galaxy-saving dance-offs just yet.
Stay tuned for more updates on the continuing behind the scenes drama as it unfolds.