TV Shows That Were Too Disturbing To Finish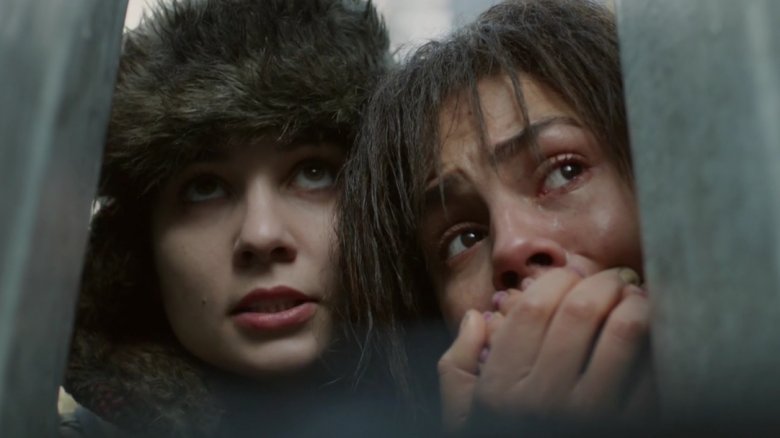 In the era of "Peak TV," with more shows on than the average person can keep up with, it makes sense that we'd abandon a series that we're just not into and movie on. We might tune out of a comedy because we just don't find it funny, or give up on a drama because we don't care about the characters. But sometimes, we have to abandon a show because it's just too darn disturbing. Whether you find something too scary, too gory, or too disconcerting, giving up on a TV show because it makes you feel cruddy is totally okay.
The TV shows on this list are all dramas, though they run the gamut from supernatural horror, to psychological trauma, to criminally psychotic thrillers. Not all of them feature blood and gore, but they all do offer up a general creepy feeling — a disconcerting ambiance that might be too much for some of us to handle. If you give up on any of these shows because they're too disturbing to watch, we totally understand.
The Walking Dead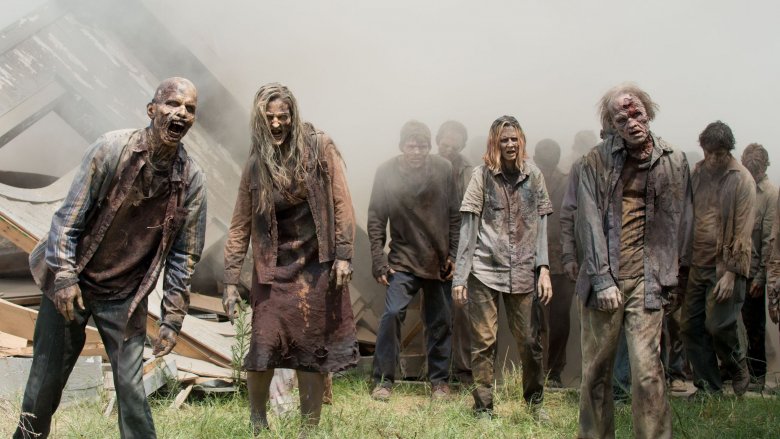 Plenty of folks have given up on AMC's zombie apocalypse drama just because it's so dang gross. Based on the graphic novel series by Robert Kirkman, Tony Moore, and Charlie Adlard, The Walking Dead is much more vividly distressing on the screen than it is on the page. The blood, brains, and especially the intestines that are featured in full close-up as the walkers chow down on some human flesh often reach truly disgusting levels. The moments when a person gets eaten or even just bitten can be pretty nausea inducing.
But the zombie bites and resulting blood aren't the only things that make the series one of those shows that's not for everyone. The kill-or-be-killed levels to which some of the humans will go to claim territory, get revenge, or demonstrate power can get downright bothersome. The zombie apocalypse makes the world a brutal place, and the humans who remain don't do much for each other to ease the pain and suffering. As an example, a lot of fans finally abandoned the show after Negan's (Jeffrey Dean Morgan) brutal bat-to-the-head murder of fan-favorite Glenn (Steven Yeun). His departure may have led some fans to bid farewell to the show for good, and his disturbing death didn't help much.
Hannibal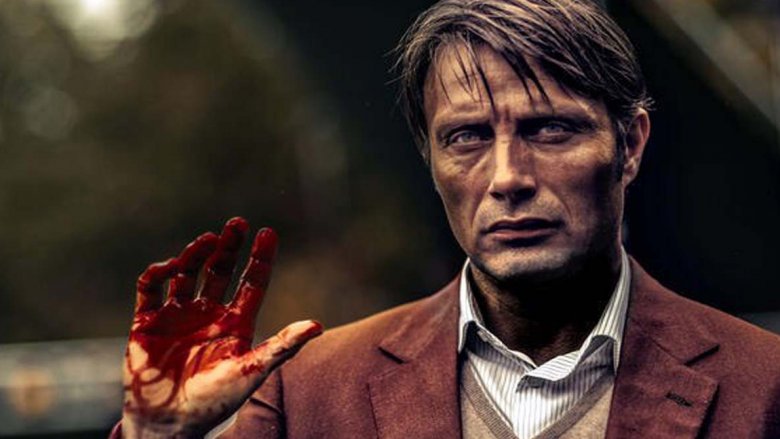 What's more disturbing than human cannibalism? Good old-fashioned people eating other people. Who knows what we'd succumb to if we had no other choice, trapped without food, like the plane crash survivors in the movie Alive, or In the Heart of the Sea's desperate souls set adrift? But Hannibal the cannibal? Yeah, he eats people because he likes it. Also, he's a psychopath.
NBC's Hannibal aired for three seasons and was so bloody and disturbing that one newspaper op-ed led to its disappearance from one of the network's Utah affiliates. The Salt Lake Tribune's TV Critic chronicled the show's various horrors: "The naked body of a woman impaled on antlers. Bodies carved up so that their backs are splayed like grotesque angel wings. Characters dining on human body parts. People buried alive, covered in compost and fed sugar water so they grow fungus all over their bodies. Victims with their eyes gouged out. Victims being shot as blood splatters in slow motion. A victim whose throat is slashed and blood gushes from her wound." 
So yeah, if you had to give up on this one in order to save your stomach — or your soul — we understand.
13 Reasons Why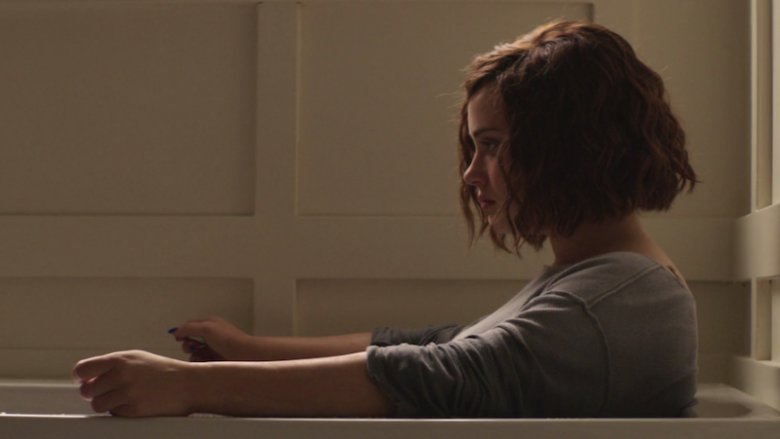 Netflix's 13 Reasons Why follows the story of Hannah Baker (Katherine Langford), a teenage girl who has committed suicide and leaves behind cassette tapes for a fellow high school student named Clay Jensen (Dylan Minnette). Based on the novel of the same name by Jay Asher, the series has had two seasons so far and is set for a third. But while the first season earned rave reviews for its acting and storytelling, the second hasn't been received as favorably, in part because the series seemed to be doubling down on its most disturbing aspects.
The show has been criticized for a number of things, from glorifying suicide, to suicide blame, to inappropriate depictions of sexual assault. The first season featured a graphic suicide and multiple rape scenes. The second season went even harder, depicting a brutal gang attack. If people don't tune in for Season 3, it won't be hard to understand why.
American Horror Story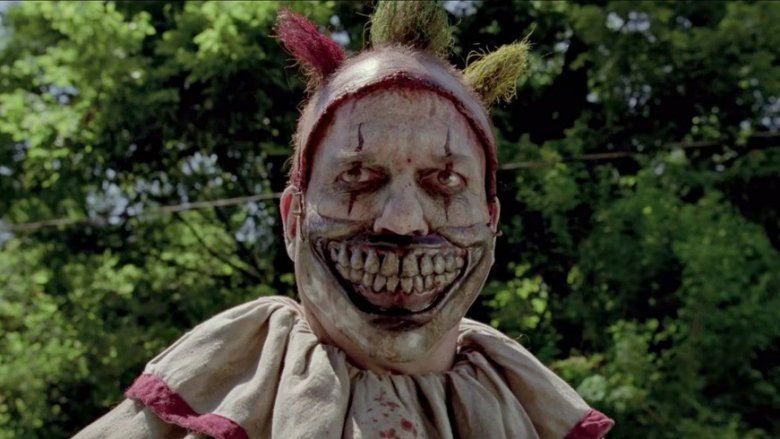 Ryan Murphy's FX drama American Horror Story is an anthology series, so if you don't get into it one season, you can always tune in for another, even though some of them may vaguely connect. The question is, however, whether you'll want to. If one season disturbs you enough to quit, chances are the others will as well, since every new season and setting feels like it's trying to out-creep the last one.
Like Stefon from SNL might say, American Horror Story has everything. There are haunted houses, creepy clowns, scary witches, and any number of weird time periods in which the supernatural and downright murderous events take place. For some, the most disturbing season was Asylum, the series' second outing. Taking place in an old mental institution, Asylum might just hit closest to home, because it depicts actual horrendous things that were done to the mentally ill and psychiatric patients back in the day.
Sharp Objects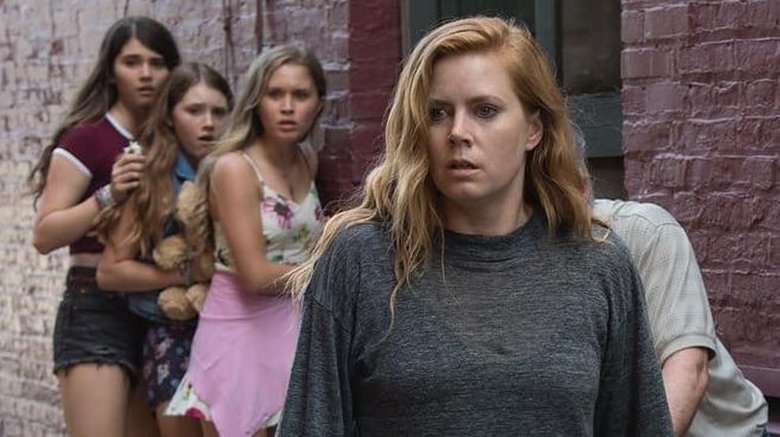 Mothers are supposed to take care of their children, right? But what if they don't? HBO's limited series Sharp Objects, based on the novel of the same name by Gone Girl scribe Gillian Flynn, isn't likely coming back for a second season. But even if you couldn't make it through the first because of how discomforting it was, you'd definitely be forgiven.
Amy Adams stars in the series as Camille Parker, a crime reporter who returns to her hometown to try and solve the murder of two young girls. The premise alone is pretty disturbing, but Camille's self destructive behavior adds a whole other layer that might be a bit triggering for people who have experienced similar issues. The series features alcoholism, cutting, sex addiction, self harm, and brutal murders. Patricia Clarkson co-stars as Camille's mother, whose cringe-inducing relationship with her daughters adds an even more bone-chilling creep factor that may be just too much for some viewers.
Bates Motel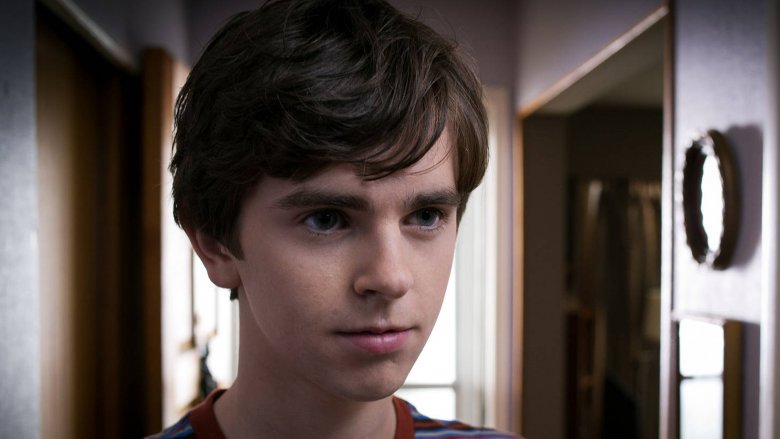 Creepy family dynamics also come into play in FX's Bates Motel, a psychosexual prequel to Alfred Hitchcock's classic film Psycho. As you probably remember (if you haven't seen it, 60-year-old spoilers ahead), the villain of Psycho, Norman Bates, turns out to have murdered his mother, kept her decomposing body in the basement, and puts on her clothes to murder his hotel guests.
In Bates Motel, Mama Bates is very much alive and played by Vera Farmiga, with an 18-year-old Norman played by Freddie Highmore. But their relationship sure is a strange and disturbing one. The sexual tension between Norman and Norma is evident and super creepy, and Norman's growing mental illness sets the two on a path of cover-ups and destruction. The series ran for five seasons, but if you don't make it that far, just give Psycho a watch — it's just as disturbing, but only takes one sitting!
Penny Dreadful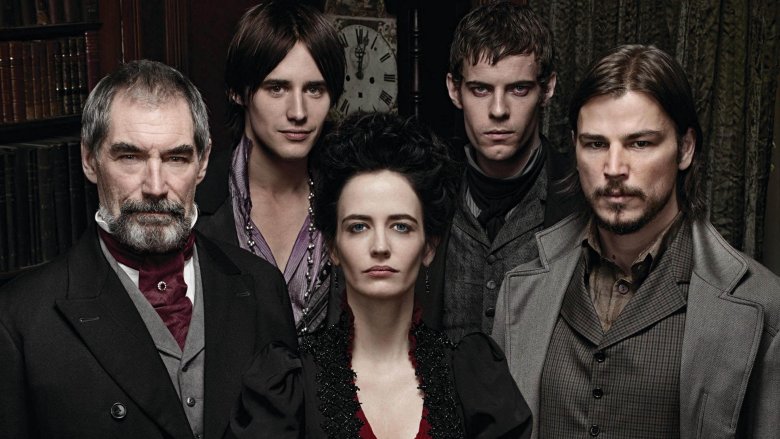 Remember all of those old-timey monster movies from when you were a kid? They were just scary enough to give a little chill, but still hokey and quaint enough that they were good for a laugh. Well, Showtime's Penny Dreadful takes those characters you loved growing up and twists them into a disturbing Gothic horror TV series.
The show features a handful of beloved literary characters, like the mysterious Dorian Gray from Oscar Wilde's The Picture of Dorian Gray; Mina Harker, Van Helsing, and Count Dracula from Bram Stoker's Dracula; Victor Frankenstein and the Creature from Mary Shelley's Frankenstein; and Dr. Jekyll from Robert Louis Stevenson's Dr Jekyll and Mr Hyde. But while a movie like The League of Extraordinary Gentlemen brought all of these characters together and made it fun, Penny Dreadful aims to scare and disturb. The series visits the hellscape that was 19th century mental institutions, uses seances and the supernatural, and features tons and tons of blood. So it's totally understandable if you'd rather watch Sean Connery romp around in League or even Hugh Jackman's action take on Van Helsing. At least those won't make you feel nauseous... well, not for the same reasons, we'd wager.
Black Mirror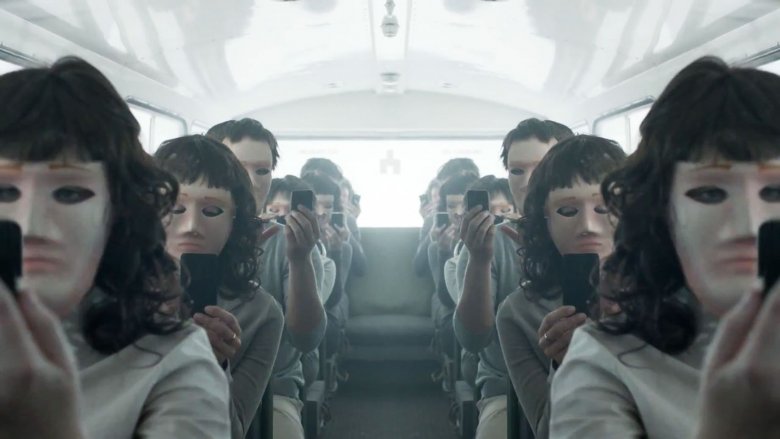 Created by Charlie Booker, Netflix's Black Mirror is much like The Twilight Zone or The Outer Limits, telling an assortment of stories in an anthology format. So, if one episode of Black Mirror freaks you out, it's quite possible that the next will as well, but it could have a totally different vibe.
The most disturbing thing about Black Mirror is how close to home it feels. While other shows on this list are set in supernatural environments or focused on singular disturbing characters, many of the episodes of Black Mirror feel like they could actually happen, or will happen in the future, to any of us in the audience. By focusing on technology and how its presence in our lives shapes the ways we eat, breathe, and live, the series is able to predict some of our worst nightmares and offers up scenarios that have terrifying results. It's understandable if the premise of the show is too much to handle. Just don't shut it off and then pick up your phone — they'll find you in there as well.
Dexter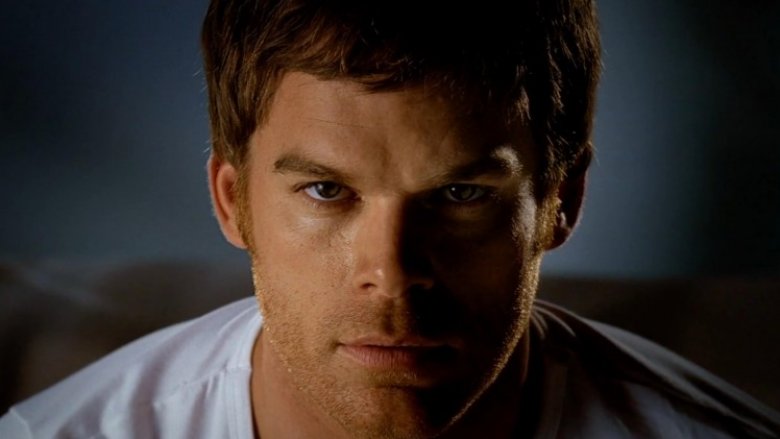 TV series about serial killers are bound to be disturbing. Showtime's Dexter stars Michael C. Hall as Dexter Morgan, a blood splatter analyst for the Miami Metro Police Department. Specializing in blood patterns is already pretty vexing, but Dexter has a second, secret career: he moonlights as a vigilante serial killer who hunts down murderers who aren't caught by the lumbering criminal justice system.
Being a series about a serial killer who kills serial killers, it was pretty evident from day one that Dexter would be unsettling. But Hall managed to make the lead character so likeable that some audiences were willing to look past all of the blood and dead bodies. There is a huge twist in the fourth season of the series, however, that some fans called a step too far, killing off a beloved character and leaving her baby sitting in her blood. Naturally, some viewers gave up there; this one was just too disturbing to finish.  
Mindhunter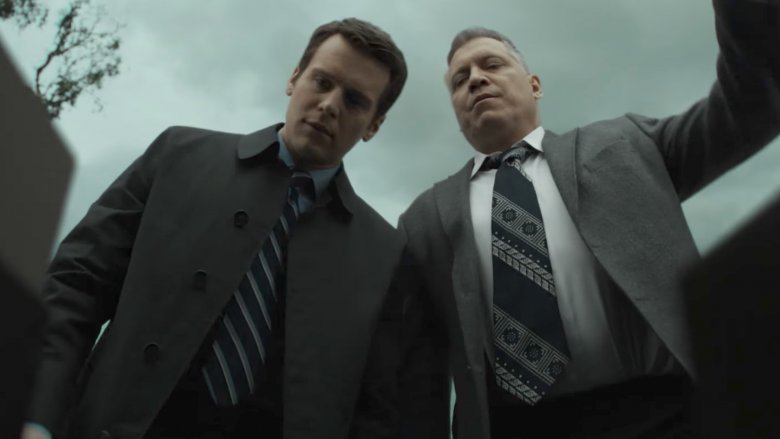 Sometimes, truth is stranger than fiction. There's always a good chance that anything with real-life roots could be more disturbing than any story a writer could come up with. Netflix's Mindhunter is based on the true crime book Mindhunter: Inside the FBI's Elite Serial Crime Unit written by John E. Douglas and Mark Olshaker. It's set in 1977, during the early days of criminal profiling and criminal psychology.
The series stars Jonathan Groff and Holt McCallany as FBI agents Holden Ford and Bill Tench, who, along with psychologist Wendy Carr (Anna Torv), originate the FBI's Behavioral Science Unit. They interview already convicted and imprisoned serial killers to learn things like motive, methods, and strategy. The results of these conversations are downright disturbing, particularly the crimes committed against women. If you've ever wondered what a serial killer thinks, feels, and wants, by all means tune in... but your interest may not last very long.
True Detective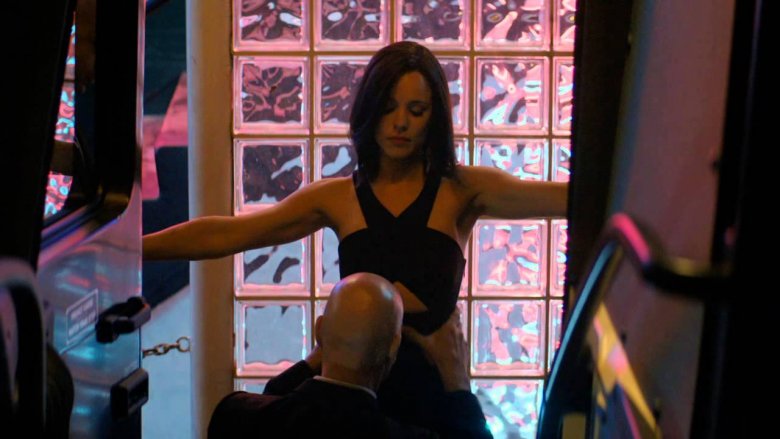 Like Mindhunter, Dexter, and Hannibal, HBO's True Detective earns its disturbing label for highlighting just how wretched human beings can be to one another. The first season starred Matthew McConaughey and Woody Harrelson as Louisiana State Police homicide detectives Rustin "Rust" Cohle and Martin "Marty" Hart. In 1995, they investigated the murder of prostitute Dora Lange, and must revisit the case 17 years later. Season two stars Rachel McAdams, Colin Farrell, Vince Vaughn, and Taylor Kitch, and tells the story of three cooperating police departments investigating connected murders.
The drama sure is a downer — the characters' lives aren't exactly enviable, for sure. But it's the crimes they investigate that might make it a little hard for some viewers to handle. There's gang rape, creepy cult murders, and women being treated generally like crap. Season 1 of this series was called some of the best television in years, while season 2 received mixed reviews. The third season, starring Oscar winner Mahershala Ali, has garnered more positive reactions.
The Haunting of Hill House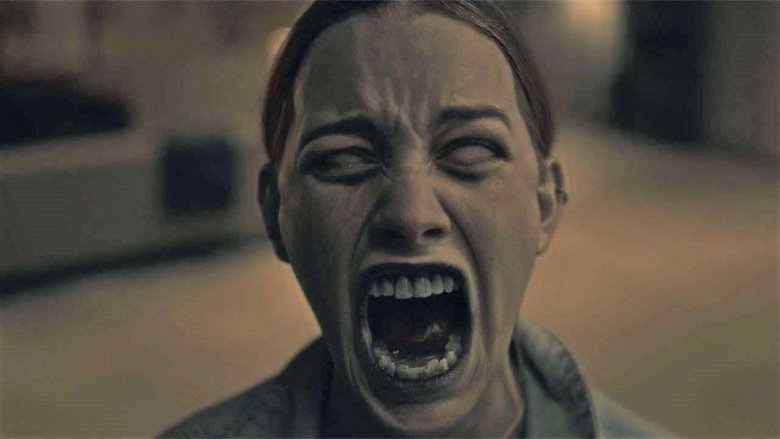 After tuning in for so many shows about serial killers and potentially being turned off, you might think it a good idea to revisit some good old ghost stories. But if you're looking for a fun romp and not to be scared out of your wits, don't turn to Netflix's The Haunting of Hill House. The show offers up both jump scares and an imposing creepy feeling of impending dread.
Based on the 1959 novel of the same name by horror fiction master Shirley Jackson, the series follows a set of siblings whose lives are forever damaged by their time spent living at the notorious Hill House. The story jumps back and forth between multiple time periods, and its nonlinear nature contributes to the unease it creates. But if you can make it through the disturbing stories of ghosts, murders, hauntings, and general horror, you might be all set, as a second season of the series has yet to be announced.