What Critics Are Saying About True Detective Season 3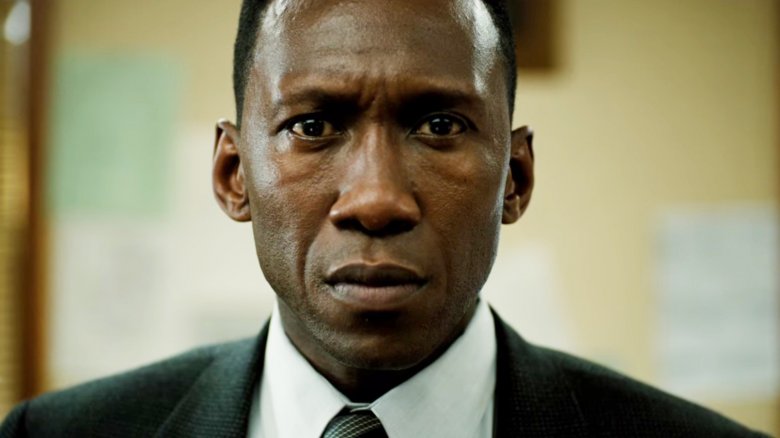 At long last, we've finally cracked it — the case of whether True Detective would continue falling sharply and violently from season to season or if it would miraculously, as if by some restorative incantation performed by series creator Nic Pizzolatto, fall back into good graces. 
The third installment of the crime drama anthology isn't due to debut on HBO until January 13, but today, a little over a week out from its premiere, the network lifted the review embargo for the first five of the season's eight total episodes. 
Critics were quick to publish their thoughts on the new season — and it seems they're all in agreement that after a spellbinding, practically flawless freshman season and a weirdly awful (the drop in quality was intensified by just how great the first turn was) sophomore one, True Detective has returned to form with an intriguing plot centered on a missing children's case, an incredible performance by Mahershala Ali as Northwest Arkansas detective Wayne Hays, and scrumptious visuals that have become signature to the series.
"Whether or not you believe the first season to be an untouchable classic or an overrated but well-acted cop show, Nic Pizzolatto's new episodes are a big step up from a second season as muddled and meaningless as that water stain above Vince Vaughn's bed," wrote IndieWire's Ben Travers in his review. "With strong performances all-around — and a flat-out remarkable turn from Mahershala Ali — HBO's third season benefits from reliable genre elements, a compelling central story, and aesthetics as lush as they are eerie ... The first five episodes are stirring entertainment, steadying a very rocky boat and teasing an end that feels far more likely to exceed expectations than spoil a strong setup."
Variety's Daniel D'Addario had praise for director Jeremy Saulnier and actor Ali, and argued that True Detective season 3 is even better than what many were hoping it would be — even if it isn't as flashy as other dramas on the market.
"Tightly directed (in its first episodes by Jeremy Saulnier) and plotted, and with a performance at its center that steers away from calling attention to itself, the new True Detective transcends hype and amounts to 2019's first pleasant small-screen surprise," D'Addario wrote. "The new season of Detective may not hit the operatic highs of those more bombastically edited series, but it's a compelling and worthy example of a tradition that goes back even further than the first season of Detective. Like a good investigator, the show is methodically working a case. It's digging through the kind of clues that were embedded in past seasons' trajectories and in the mystery genre more broadly, and it produces clear evidence that a crime story, done simply and well — without elaborate thematic digressions or stuntiness — can punch above its weight even in a crowded TV landscape. Taking the best of what's come before and reinventing it in streamlined, unfussy fashion, True Detective, season 3, cracks the case."
Todd VanDerWerff of Vox made an important point in mentioning that True Detective will have been off the air for "three years, four months, and five days" by the time season 3 premieres. After watching the five episodes available to members of the media, VanDerWerff realized the true reason for the series' lengthy hiatus. 
"I'm ever more certain that True Detective didn't just disappear for a long time to try to wash off some of the stink of season two. It disappeared so that Pizzolatto could come up with a story as compelling as the one he told in the show's first season. And I think he's done it," his review reads in part. "I've been telling people that season three, at least so far, is my favorite season of True Detective ... The five episodes I have seen take the best stuff about True Detective and finally wed it to a story that proceeds in a mostly satisfying fashion."
The Hollywood Reporter critic Daniel Fienberg mostly enjoyed what True Detective season 3 has to offer in its first five episodes, but still had a few gripes with the material, particularly whether its narrative can hook viewers and hold them through to the end. Additionally, he felt that the new installment isn't quite as tasty as the first (and isn't necessarily as great as others have claimed it to be) but does rectify the mistakes the second season made. 
"At the very least, the new True Detective season is a three-tiered showcase for Mahershala Ali, who stays consistently mesmerizing even if the mystery around him does not," he wrote. "It sometimes takes shows five or 10 years to show you their best and worst sides, but True Detective arrives for a third installment seeming to have already established its peaks and valleys. As a vehicle for actors and mood, few shows are better, and with Ali front and center, the new season is easy to get interested in, despite a lackluster mystery that may make it a struggle to stay interested."
As with nearly every critic who has seen the new season of True Detective, Fienberg had wonderful things to say about Ali's leading turn: "The marvel of Ali's performance is that he's always holding something in and you rarely lose track of the anger or confusion being sublimated. It also has the effect of making you pay more attention to Ali and his reactions than to his scene partners, who are all solid, if underdeveloped."
Liam Mathews of TV Guide felt that the strength of True Detective's third season is that the series is "pivoting to reliability," that it's "no longer trying to be a sensation" but is instead focused on being a solid show. 
"True Detective season 3 ... won't break out in the way the first two seasons did. It's not really trying to, though. It's quiet and brooding," he wrote. "While it has much more in common with season 1 than season 2, it seemingly by design lacks the swing-for-the-fences excess of season 1. It's just a well-made, well-acted, intelligently plotted, thematically rich mystery show."
For Mathews, the magic of the new season rests in Ali's performance: "He's a master of stoicism that lets just enough pain through. He's alternately intimidating and tender, a good man haunted by demons. No disrespect to McConaughey, but it might be the best performance on any season of True Detective. It's certainly the most authentic."
So there you have it, gang. You can all exhale now: True Detective is good again. 
Catch the new season on HBO on Sunday, January 13 at 9 PM ET.