Aquaman Poised To Sink Competition With $70M Opening Weekend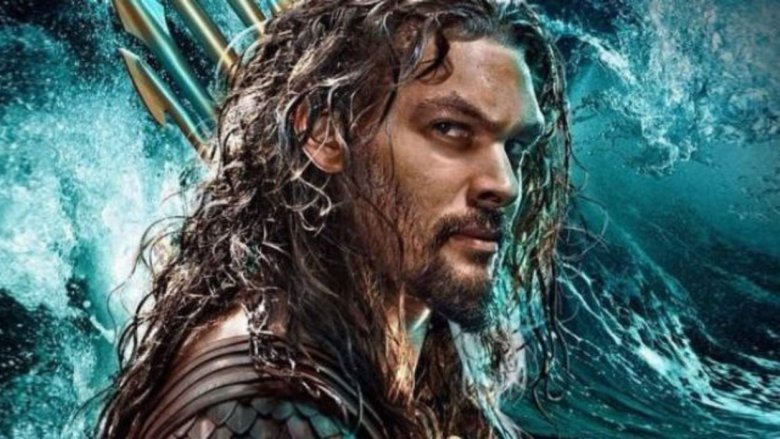 In its opening weekend, Aquaman stands ready to deep-six the competition.
The sixth entry in the DC Extended Universe is tracking for a titanic $70 million dollar haul, relegating Mary Poppins Returns and the Transformers spin-off Bumblebee to also-ran status. The flick has already scored $13.7 million dollars in preview screenings, and it has cleaned up in over 40 overseas markets to the tune of $300 million dollars, per The Hollywood Reporter.
While the films of the DCEU have famously struggled to find their footing (2017's excellent Wonder Woman notwithstanding), Aquaman looks to constitute no less than a resounding victory for studio Warner Brothers. The month-long period leading up to Christmas is a traditionally sluggish time for the box office, but the first solo outing for the iconic hero stands poised to rake in more cash over this frame than virtually any movie without Star Wars in the title. (Perhaps not coincidentally, this is the first year since 2014 that hasn't seen an entry in that series show up in December.) It looks to potentially double the performance of the critically adored Sony/Marvel offering Spider-Man: Into the Spider-Verse, which opened wide last weekend to a $35.4 million dollar domestic haul — the best ever for an animated feature in December.
As for that competition, they're not exactly tracking for chump change. The Emily Blunt-starring Mary Poppins Returns, which opened Wednesday, raked in nearly $5 million dollars on its first day, and looks to be on track for a five-day total in the neighborhood of $30 million dollars. Meanwhile, Bumblebee — which opens today, and has shocked nearly everyone by garnering some of the best reviews of the year — is looking at a total between $18 and $22 million dollars in its first weekend.
All together, the three films are lined up to put a sizable exclamation point on what industry analysts are guaranteeing will be Hollywood's best year ever. Helped along by the explosive success of blockbusters Black Panther and Avengers: Infinity War, the year-end worldwide box office total will come very close to — or perhaps even reach — the unprecedented $12 billion dollar mark.
Directed by horror master James Wan (of the Saw and Conjuring series) from a script by David Leslie Johnson-McGoldrick (The Conjuring 2) and Will Beall (Gangster Squad), Aquaman stars Jason Momoa as Arthur Curry, a half-human, half-Atlantean warrior who must defend the surface world from an attack by his half-brother Orm (Patrick Wilson) while also fending off the villainous, vengeful Black Manta (Yahya Abdul-Mateen II). The cast also includes Amber Heard as fellow warrior and love interest Mera, Dolph Lundgren as her father Nereus (King of the Atlantean tribe known as the Xebel), Nicole Kidman as Arthur's mother Atlanna, and Willem Dafoe as his mentor Nuidis Vulko.
So far, the flick has earned mostly favorable reviews, with critics praising its insane production design, awesome action sequences, and fun-loving vibe anchored (ahem) by Momoa's buoyant (ahem) performance. Its eye-popping overseas run is looking like a mere warm-up act for what is certain to be a box office-busting stateside release, which of course means that Warner Brothers has already put a sequel into early development.
After the notoriously grim (and largely disappointing) spectacles that were Man of Steel and Batman V. Superman: Dawn of Justice, Aquaman appears to be at the forefront of a major course-correction for the DCEU, one which will see future offerings — such as next year's Shazam! and the currently-in-development Plastic Man — injecting a great deal more levity into the superpowered proceedings. It's even been suggested that, with films based around its marquee heroes (again, Wonder Woman notwithstanding) falling flat with audiences, Warner Brothers and DC have essentially stumbled onto the formula which built the Marvel Cinematic Universe into an unstoppable box office juggernaut. Marvel Studios was famously forced to launch its self-produced slate of films using what were then considered to be C-list characters, as the rights to their most popular properties were tied up with other studios. With Bats and Supes failing to propel the DCEU to similar levels of success (and the status of their respective actors, Ben Affleck and Henry Cavill, up in the air), perhaps it's time for DC's "C-listers" to take center stage; as long as talented filmmakers are allowed to imbue the material with their unique personal visions (per the Marvel formula), this could be a recipe for massive success, with Aquaman leading the way.