Mary Poppins Returns Sings And Dances To $4.8 Million Domestic First Day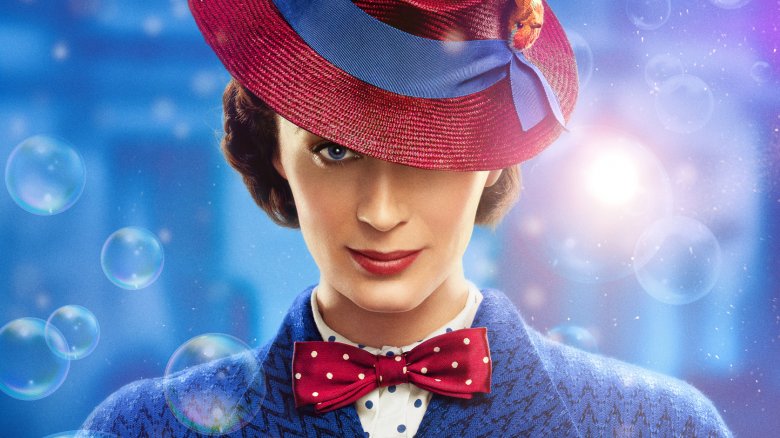 When Mary Poppins Returns twirled into theaters, it had a supercalifragilisticexpialidocious first day. 
The 54-years-later sequel that stars Emily Blunt as the magical, musical nanny Julie Walters originated back in the 1960s danced its way to $4.8 million domestically across 3,900 theaters on Wednesday, December 19 (via Variety). 
Directed by movie-musical maestro Rob Marshall, who previously helmed Chicago and Into the Woods, Mary Poppins Returns has industry analysts predicting that a wave of beaucoup box office bucks will head Disney's way. Experts expect the film to pull in $55 million from North American locations from Wednesday to Sunday; by Tuesday, Christmas Day, Mary Poppins Returns could end up sitting on $75 million. That's more than half of the film's reported cost of production ($130 million, not accounting for the cash shelled out for marketing) and certainly kicks the fantasy flick off to a marvelous — dare we say practically perfect — start. 
It's easy to see why Mary Poppins Returns is pulling in profits with ease. There's Blunt in the lead role, plus Lin-Manuel Miranda and Meryl Streep joining her as lamplighter Jack and Mary's goofy cousin Tospy, respectively; the story that picks up 20 years after the original and brings viewers back to Cherry Tree Lane and into the lives of the Banks children, who are now adults, played by Emily Mortimer and Ben Whishaw; and brand-new tunes written by Marc Shaiman and Scott Wittman. All that, plus the fact that the film features a sequence that blends live-action footage with traditional hand-drawn animation just like the original Mary Poppins did, has people buzzing and critics cheering.
With the December box office missing a Star Wars movie for the first time in a few years, studios have had to work hard to fill the gap and hoist up the collective profit. In trying to compensate for the lack of Star Wars, Hollywood made the bold move to debut five films on the very same day — December 21, right around the time a space-faring saga installment would have debuted. Disney has Mary Poppins Returns, Warner Bros. and DC Films have Aquaman, Paramount Pictures has Bumblebee, Universal Pictures has Welcome to Marwen, and STX Films has Second Act. These are all targeted toward unique audiences, of course, but there is some overlap between the first three — meaning that Mary, Aquaman, and Bumblebee will battle for the box office from now until Christmas. 
Or will they? Will there be much competition between the three, really? Sure, the trio of flicks have already earned wonderful reviews, but Bumblebee is only expected to buzz to between $35 million and $45 million by Tuesday. And yeah, Mary taking in $75 million in its first five days out is incredible, but Aquaman might rain on her parade when it drums up $120 million or more from December 21 to December 25.
Though these are just predictions for now, and while figures could end up changing before the Christmas stretch wraps up, it's great to hear that the major box office players are slated for strong openings. More than that, it appears that film studios' ambitious decision to pump out a handful of films in the same small release window literally paid off. And we're sure movie-lovers are pretty chuffed that they have so many awesome films to choose from this holiday frame. It's a win-win-win!