Spider-Man: Into The Spider-Verse Swings To Record-Breaking $35 Million Debut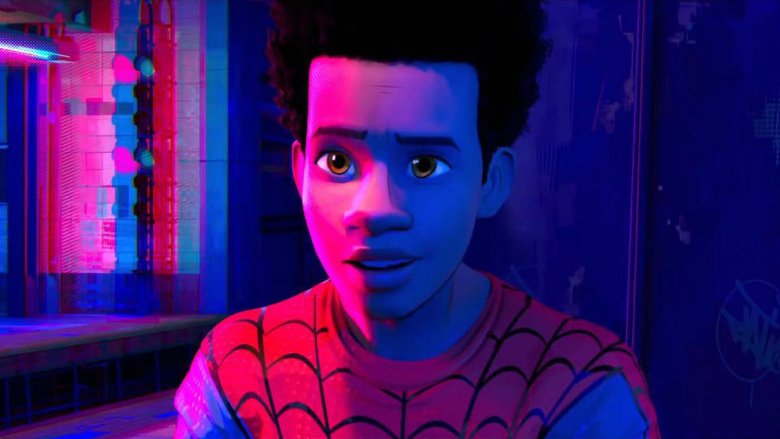 The many members of the spider-filled multiverse tasted sweet stateside success this weekend. 
After launching wide on Friday, December 14, Spider-Man: Into the Spider-Verse swung to a $35.4 million domestic debut, setting a new record and earning the best opening for an animated film released in December (via The Hollywood Reporter). This figure also accounts for the $3.5 million the Sony flick yielded during pre-release previews across North America on Thursday, December 13. 
Directed by Bob Persichetti, Peter Ramsey, and Rodney Rothman from a script co-written by ex-Solo: A Star Wars Story director Phil Lord, Into the Spider-Verse is expected to continue along this path of profit-pulling, performing well over the upcoming holiday frame that begins on Tuesday, December 25 — Christmas Day — and lasts through to New Year's Eve. According to Sony's distribution chief Adrian Smith, the film is "positioned nicely to play" during what's considered the "biggest moviegoing week of the year."
Internationally, Into the Spider-Verse debuted in 44 markets and took home $21 million in its first three days out. That pull includes revenue from top-performing territories Korea ($3.3 million), the U.K. ($2.9 million), Australia ($2.3 million), Russia ($2.3 million), France ($1.5 million), and Germany ($750,000). 
Just as Sony anticipates the film — which features Shameik Moore as the voice of Miles Morales, a half-Puerto Rican and half African-American teenager who meets a handful of other Spider-People from alternate dimensions after becoming the Spider-Man of his specific universe — won't lose steam in the U.S. as the final days of 2018 roll on, the studio also doesn't expect it to fizzle out overseas. Per Deadline, "exit polls and word of mouth are strong," and the feel-good superhero pic is playing extremely well with families. Once school-aged children and teens start their holiday breaks and parents take time away from work over Christmas, revenue might even increase since the whole gang will have the chance to head out to the theater together.
Floating on a cloud of anticipation from audiences eager to see the vibrant pic and incredible early reviews from critics who praised it as the most visually satisfying and narratively moving Spider-Man film to date, Into the Spider-Verse made a comic-book-appropriate BOOM! when it finally splashed onto screens — and that's not an easy thing for an animated movie to do in the middle of December. 
Over the past few years, this window of time — just after Thanksgiving, just before Christmas — has been reserved for a Star Wars installment, but with Solo: A Star Wars Story having bowed in May and Episode IX not arriving until next December, the calendar was clear for Spidey to stick. As THR notes, without a Star Wars movie swirling up stacks of cash in cinemas, the total box office revenue for this December thus far is less than half of what it was in 2017. But even so, Hollywood is on track for a record-breaking year, with box office receipts totaling $11 billion at the time of this writing. Superhero movies — like Avengers: Infinity War, Black Panther, and Deadpool 2 – helped make that possible, and there's no denying Into the Spider-Verse will boost the box office total by a few percentage points before the end of the year. 
Spider-Man: Into the Spider-Verse is out in multiple territories across the globe now. The film has yet to open in almost a dozen markets, including China, Spain, Mexico, Brazil, and Japan.