What Critics Are Saying About Spider-Man: Into The Spider-Verse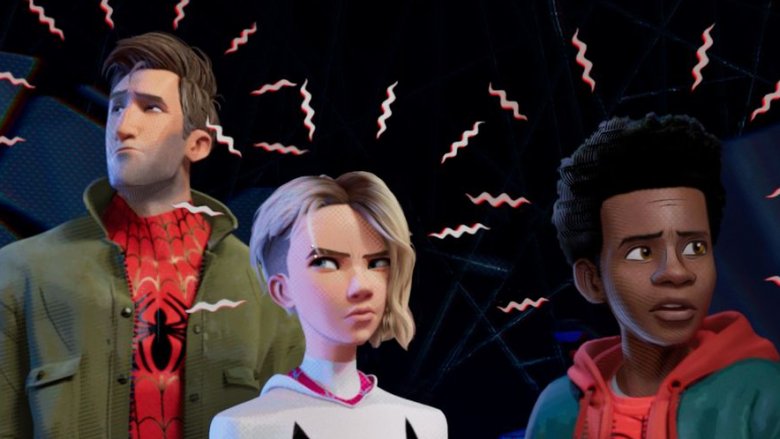 Sony Pictures
The Spider-Verse is the place to be. 
Though Spider-Man: Into the Spider-Verse hasn't yet swung into theaters, Sony has screened the Spidey-filled animated film for members of the media, who began publishing their official reviews on Wednesday morning. 
The verdict? To the surprise of virtually no one, critics are completely taken with Spider-Man: Into the Spider-Verse. 
Nearly everyone is commending the film for its electric color palette and dynamic visuals; its introduction of Miles Morales (voiced by Shameik Moore) and a gaggle of other Spider-People like Spider-Gwen (Hailee Steinfeld) and Spider-Ham (John Mulaney), as well as the inclusion of the original friendly neighborhood hero Peter Parker (Jake Johnson) in a new light; and its ability to imbue freshness into both the superhero genre and its titular web-slinging vigilante, who has undergone more than his fair share of resets in the last decade. 
Filmmaking trio Bob Persichetti, Peter Ramsey, and Rodney Rothman also pulled praise for their direction, as did Rothman and Phil Lord for their script that tells an "emotional coming-of-age story" that inspires audiences and subverts the notions they might hold about what a standard superhero movie should look and feel like. 
Variety's Peter Debruge wrote that Spider-Man: Into the Spider-Verse has a certain sense of brilliance in that it carries an "uncanny ability to simultaneously reset and expand all that has come before, creating an inclusive world where pretty much anybody can be the superhero ... even you!" He added, "Spider-Verse views Miles' non-white background as a non-issue. Again, the takeaway here is anybody can be Spider-Man — and that's a revolutionary idea for a generation of kids eager to identify with Marvel's most popular superhero." 
Elsewhere in his review, Debruge also noted that Spider-Man: Into the Spider-Verse presents itself in a "playful, pop-culture-savvy comedic package," which "effectively expands Sony's hold on the Spider-Man character to include a potentially infinite number of spin-off projects." Debruge did mention that the "action tends to feel clunky and over-stylized" at turns and that the film does fall into a few clichés, but overall, he feels that "in this universe, where audiences are suffering from the very real phenomenon of superhero overload, ambition and originality are to be encouraged." 
David Ehrlich of IndieWire delivered "tragic news for anyone who's sick of superhero movies" in his review: "Spider-Man: Into the Spider-Verse completely reinvigorates the genre, reaffirms why it's resonating with a diverse modern audience that's desperate to fight the power, and reiterates to us how these hyper-popular spandex myths are able to reinvent themselves on the fly whenever things get stale." Ehrlich boldly called Into the Spider-Verse "the superhero movie we need" — since, in his opinion, it's a "delirious postmodern spectacle to remind us that these movies will exist for as long as people need to see themselves reflected in them."
USA Today's Brian Truitt touched on that same idea, writing that Into the Spider-Verse "acts as a loving tribute to [Stan Lee's] life lesson that there's a little hero in all of us," even those who don't feel particularly extraordinary. 
"It's a slightly insane, hilariously daring and often touching mashup of everything that makes super-flicks so darn popular with the introduction of a Spider-Man who's ready-made for today's generation of kids," Truitt wrote. "What makes Spider-Verse an essential entry in the superhero canon is the richness of its good guys. Little girls can see themselves in Gwen and Peni [voiced by Kimiko Glenn], out-of-shape dudes will get behind 40-something Peter's hearty appetite and snarkiness, and Miles stands as the most universal of them all, a multicultural kid navigating self-confidence and identity issues with entertaining moxie. In Lee's timeless words, with great power comes great responsibility — and also, in this case, a great Spider-Man adventure for everybody."
Brian Bishop of The Verge saw the potential in Spider-Man: Into the Spider-Verse to establish a fantastic foundation for Sony's iteration of Spider-Man — one that could rival Marvel's own version brought to life by Tom Holland. 
"Spider-Man: Into the Spider-Verse is incredibly exciting because it eschews all of that. It's innovative, irreverent, and dynamic. It's hilarious but exceptionally earnest, with a lead character worth caring about. It's the kind of cinematic ride that invites more franchise installments," Bishop stated in part in his review. "Sony is clearly looking for a way to launch its own distinct take on Spider-Man that can stand up to the live-action MCU version, and that franchise now has its first installment ... There have been a lot of Spider-Man movies over the last 16 years, but Spider-Man: Into the Spider-Verse is unique in a way none of the others can match."
Screen Rant's Molly Freeman also discussed how Spider-Man: Into the Spider-Verse both acknowledges the many Spider-Man movies that preceded it and stands separately as its own incredible feature. 
"Into the Spider-Verse provides a fresh new spin on the typical superhero origin story, especially the Spider-Man origin; not only because Miles is an inherently different character than Peter Parker, but because of the introduction of the multiverse," she wrote. "Both Miles and Into the Spider-Verse demonstrate a unique style and a great deal of heart, qualities that undoubtedly set this superhero and his origin movie apart from other Spider-People/Spider-Man stories." Freeman capped off her review, "Ultimately, Spider-Man: Into the Spider-Verse offers nearly two-hours of stunning and altogether captivating animation that's beautifully rendered to bring the superhero origin story of Miles Morales — and the Spider-Verse — to life in a never-before-seen manner."
David Griffin of IGN was just as impressed with the film: "Spider-Man: Into the Spider-Verse hits all the marks to be an all-around moviegoing blast. Miles Morales has a memorable big-screen debut thanks to a compelling story and strong performances from its heroes and villain. Alongside Peter Parker, Miles' journey from everyday teenager to a genuine city-saving superhero is one of the best Spider-Man movie stories ever ... Taking a bold departure from the Pixar animation style we've come to expect from mainstream animated films, Into the Spider-Verse delivers a dynamic visual experience unlike any other."
All these reviews are wonderful for various reasons — but it was Vox senior culture reporter Alex Abad-Santos who best captured why critics have fallen for Spider-Man: Into the Spider-Verse. 
"The new animated movie is a sleek and soaring, a wonderful paean to the spirit of Stan Lee and Steve Ditko's legendary webslinger, embodying the relentless hope and optimism of its hero in such a classic way. But it also unearths exhilarating new ground — by way of spectacular deviations from the norm that the Marvel Cinematic universe and live-action filmmaking don't always allow for — that makes it feel like something tremendously innovative, while still traditionally Spidey," he wrote. "With its risky visual storytelling and tender script, Into the Spider-Verse earns the greatest honor that one can bestow on a Spider-Man movie: It somehow makes you want to see more Spider-Man movies. Including at least a few more for Miles Morales alone."
Approaching its December 14 debut date with a cloud of buzz surrounding it — and a long list of sparkling reviews now tacked to its back – Spider-Man: Into the Spider-Verse is sure to dazzle when it opens wide.