Spider-Man: Into The Spider-Verse Scores $3.5 Million In Thursday Previews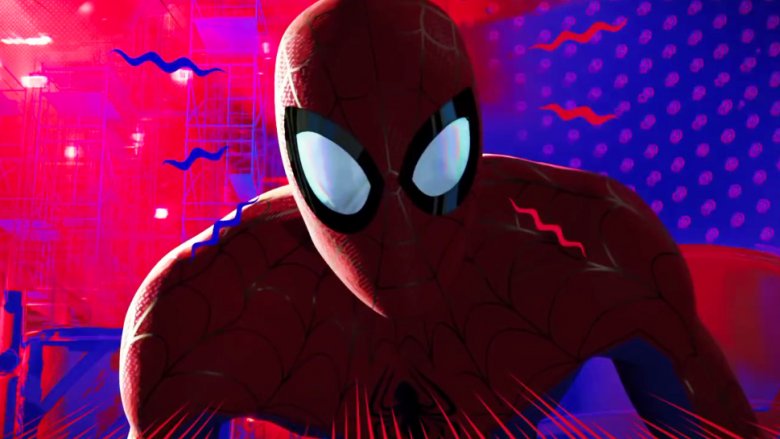 Spider-Man: Into the Spider-Verse swung high at the domestic box office, soaring into a successful first night out. 
Directed by Bob Persichetti, Peter Ramsey, and Rodney Rothman, the Sony-released animated feature pulled in an impressive $3.5 million across 3,321 theaters in the U.S. and Canada when it opened for Thursday previews on December 13 (via Variety). 
The web-flinging flick is set to launch in 492 additional locations throughout North America on Friday, when it's expected to kick off its $30 million-plus domestic opening weekend. That figure is one Sony is banking on, but industry analysts predict that Into the Spider-Verse, featuring the voice-acting talents of Shameik Moore as Miles Morales and Jake Johnson as Peter Parker, will earn even more — upwards of $39 million stateside based on this sizable head-start. 
Such a pull would see Into the Spider-Verse earning back a large chunk of its production budget, a reported $90 million. It would also add a lump of cash to the great big heap of dough Sony's six past Spidey flicks have yielded. Into the Spider-Verse's predecessors — which include Sam Raimi's original Tobey Maguire-topped Spider-Man trilogy, the Amazing duology starring Andrew Garfield, and Tom Holland's Spider-Man: Homecoming — have amassed a total $4.9 billion internationally, with Homecoming accounting for $880 million alone. 
That Into the Spider-Verse is turning heads and profits at the box office doesn't come as much of a surprise given the deafening buzz that has surrounded the film since Sony dropped the very first trailer for it. Its eye-catching animation, A-list voice cast (that also features Hailee Steinfeld, Brian Tyree Henry, Lily Tomlin, Mahershala Ali, and John Mulaney), and story that follows the half-Puerto Rican, half-African-American teen Miles discovering that he isn't the only Spider-Man in the world were huge selling points from the start, but it's clear that Into the Spider-Verse has turned out to be more magnificent than anyone initially anticipated. And now it has the financial backing to further prove it. 
Applauded by many critics as "the best Spider-Man film ever made," Spider-Man: Into the Spider-Verse is in theaters now.