Miley Cyrus Joins Black Mirror Season 5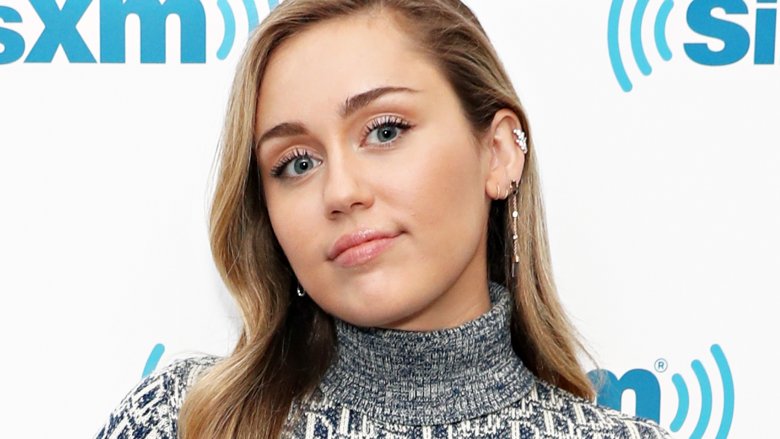 Getty Images
A recent studio collaboration with Mark Ronson and now a gig on one of Netflix's best original series? She really does have the best of both worlds. 
During an appearance on Howard Stern's Sirius XM show on Wednesday, December 12, Miley Cyrus addressed ongoing rumors that she would appear on the upcoming fifth season of Black Mirror. Speculation arose after her older sister, Brandi, let slip on the December 11 episode of her "Your Favorite Thing" podcast that Cyrus had filmed an installment of the Charlie Brooker-created dystopian drama in Cape Town, South Africa. 
The naturally inquisitive guy he is, Stern asked Cyrus whether Brandi's comments were legitimate. Turns out, the "Nothing Breaks Like A Heart" singer really is going to appear on Black Mirror season 5. 
"If you guess it, then I will shake my head 'yes,' or 'no,'" Cyrus said to Stern (via The Hollywood Reporter). He then shared with the audience that Cyrus had nodded her head, confirming her casting. 
Coming across somewhat hesitant to reveal any more details, Cyrus hinted that she wasn't allowed to discuss why she was really in South Africa. It's also worth noting that she has yet to actually say the words "Black Mirror" aloud, as she apparently hasn't been given the all-clear to openly talk about her involvement with the series. Likewise, Netflix hasn't commented on Cyrus' ties to Black Mirror. 
Everything considered, though, it sounds like Cyrus is going to swing into Black Mirror like a wrecking ball. (Sorry, we couldn't resist.)
Cyrus has had a whirlwind few years, going from delivering a "cringe-worthy," crass, and highly controversial performance with Robin Thicke at the MTV Video Music Awards in 2013 to embarking on an outrageous, provocative stage tour in 2014 to settling down, refocusing, and seemingly rebranding in 2016, when she became an advisor the 10th season of the reality singing competition show The Voice. She later stepped up as a full-on coach on the series, then released her sixth studio album, Younger Now, marking a turning point in her personal and professional life and a return to her roots. 
In that period of time, Cyrus took a step away from acting — the medium of entertainment that put her on the map in the first place, when she starred as Miley Stewart/Hannah Montana on her very own Disney Channel series, Hannah Montana. Cyrus took turns on the big screen — playing Ronnie in 2010's The Last Song, Lola in 2012's LOL, and Molly Morris/Brooke Stonebridge in 2012's So Undercover — and portrayed Missi on two episodes of Two and a Half Men in 2012 and starred as Lennie Dale on five episodes of Crisis in Six Scenes in 2016. But Cyrus hasn't appeared in a fiction project on a screen of any kind in two years, and she's evidently looking to change that with Black Mirror. 
Cyrus got candid with Stern in admitting that working on Black Mirror changed her entire outlook on her work, which she normally "hates" when looking back on it. 
"I hate everything, but it was the first time I've left somewhere feeling really proud of my work," she shared, adding that the character she portrays is one with "a lot of different sides" and one that taught her an important lesson while the recent Woolsey Fire ravaged California's Los Angeles and Ventura counties and destroyed her home in Malibu. 
"There's a lot of dimension to it, and actually it was while the devastation of Malibu was happening, and it was a really weird learning experience for me because I was so far from home and the show is already really dark, and it's already kind of eerie when you're there the whole time," Cyrus explained. "But I learned a lot about myself, and I think I was able to use that and put that into it."
For our part, we're excited to see what Cyrus will bring to Black Mirror. She's certainly had a stunning transformation in the last two years, and it seems like she's more in tune with herself than ever before. Though she's long ditched her wild-child persona of the early 2010s, maybe we'll see some of that boldness shine through in her performance on Black Mirror — sans-super-NSFW outfits, of course.
Netflix has yet to confirm when the fifth season of the "worst-case-scenario dystopian nightmare" come to life will arrive, but the streamer may have accidentally leaked the premiere date earlier this month, having deleted a tweet that indicated Black Mirror would return on December 28.