Tyrese Gibson Begs Dwayne Johnson Not To Delay Fast And Furious 9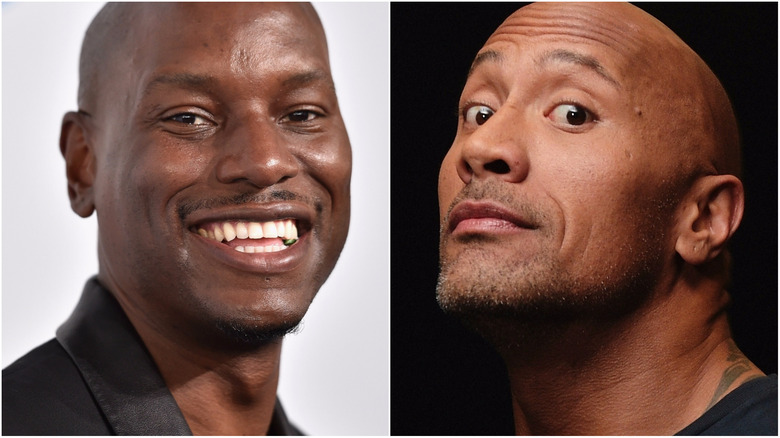 Getty Images
Tyrese Gibson really wants Dwayne Johnson to slow down with his Fast and the Furious spinoff.
It all started a few days ago when Johnson posted a photo on Instagram in which he's sitting at a table and signing papers along with a caption that he couldn't elaborate due to "national security purposes." It sounds like something his Fast and the Furious character Luke Hobbs would say, and we know there's been talk of a spinoff centered on Hobbs and Jason Statham's Decker Shaw.
That prompted Gibson, who plays Roman Pearce in the franchise, to post a since-deleted comment. "If you move forward with that Hobbs movie, you will have purposely ignored the heart to heart moment we had in my sprinter," Gibson wrote. "I don't wanna hear from you until you remember what we talked about. I'm on your timeline cause you're not responding to my text messages. Fast family is just that, a family. We don't fly solo."
Apparently, Gibson is worried that a Hobbs movie would delay production on Fast 9, which is currently slated to arrive April 19, 2019. But Gibson didn't stop there. He posted a lengthy explanation and begged Johnson to call him back.
"I have never and will never have a problem with this major movie star he's my brother," wrote Gibson, who also admitted he didn't like Baywatch. "I'm simply trying to reach him cause he won't call me back about this solo Hobbs movie.  I want you to shoot it just not right now cause the Fast 9 release date has already been announced and we can't let our loyal fans or our loyal Fast and Furious fans down on any level from pushing the date... Didn't you see how HUGE [The Fate of the Furious] was? It's because we announced and KEPT our release date bro."
He added, "I never ever go public with private family issues. We do this on behalf of the families, the cast, the crew member who have been down and loyal to us for 15 years. Everyone matters. When we shoot we all eat, we we show up as a FAMILY display our love, our funny stuff, our storylines and HEARTS in every frame. Me and the cast laugh because it seems like [Fast and the Furious] is like a holiday at this point. You [can't] push the release date of a holiday, bro."
Gibson ended with this: "This is not a rant. I'm no Rock hater and I don't want this life I love my own... I'm doing this for the Fast family I'm loyal and I apologize for being loyal, but damn it, I am."
In another post, Gibson did say, "Once you hit me back, I will delete every post." Take a look at them below.
This is just the latest drama behind the scenes of the Fast and the Furious. Michelle Rodriguez has also threatened to leave the franchise unless the next movie "shows some love" to the female characters.