Ewan McGregor Says There Are 'No Plans' For Him To Return As Obi-Wan Kenobi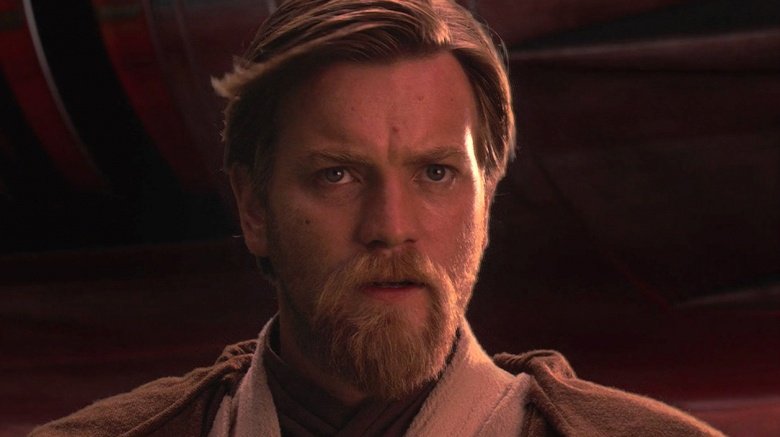 That Obi-Wan Kenobi every Star Wars fan has been dreaming about? Ewan McGregor says it's in a standstill state for now.
During a recent appearance on The View, McGregor revealed that he isn't aware of any concrete plans for a standalone movie centered on Obi-Wan Kenobi, the character he played in the Star Wars prequel films after Sir Alec Guinness portrayed the Jedi master in the original trilogy. 
"There's no plans as such to do it, as far as I know. I've been asked this question for years and years. I'd be happy to do it," said McGregor. "There must be a good story to tell as they're doing spin-offs — there's likely to be a good Obi-Wan between me and Alec Guinness."
McGregor then reiterated that he's totally down to reprise his role if given the opportunity. 
"I've answered 'yes' so many times that it looks like I'm sort of touting for work at Disney's door, you know what I mean?" he joked. 
There have been countless reports on the purported status of the Obi-Wan Kenobi solo film, with The Hollywood Reporter noting in August 2017 that Disney and Lucasfilm had taken the first steps to developing the project but hadn't set a lead actor or established a writing room to start crafting script. The House of Mouse apparently got in touch with English filmmaker Stephen Daldry, known for The Hours and Extremely Loud and Incredibly Close, to direct the movie, but he still hasn't been confirmed for the gig as of August 2018. 
That break came after McGregor told Premiere that he wanted Obi-Wan to get a movie (or two) of his own, set in the years between Revenge of the Sith and A New Hope. 
"I've always thought there was a story to tell between my last [movie as Obi-Wan] and Alec Guinness' first one," the actor said. "I hope that they're going to explore different genres under the Star Wars banner, and one of those could be an Obi-Wan Kenobi feature film. Or two! The Obi-Wan Kenobi Story Part 1 and Part 2!"
Thereafter, Entertainment Weekly reporter Anthony Breznican revealed to Rebel Force Radio that he heard rumors that Disney and Lucasfilm aren't "done with Obi-Wan quite yet," and that he "wouldn't be surprised to see an Obi-Wan thing happen beyond Episode IX." 
Breznican also mentioned the popular gossip that suggests Obi-Wan might appear "in the saga films." At the time Breznican dished up the gossip, only The Force Awakens had debuted. Because Obi-Wan wasn't in The Last Jedi, next December's Episode IX is the final Skywalker saga entry in which the Force-sensitive fighter might pop up — if these rumors are to be believed, that is.
Though he's definitely keen to return to the galaxy far, far away, McGregor has time and again stated that nothing has been set in stone. He previously told Entertainment Weekly in April 2017 that he didn't get any "official offer" to reprise his role as Obi-Wan and that he hadn't met with Disney or Lucasfilm about the project.
"I've always said that I'd be happy to do it if they wanted to do it. It would be a good segue between the last episode of the prequels and the new episodes," McGregor added. "I think they've got films to make until the 2020s, so I don't think it's going to happen soon if it happens at all."
More recently, in January 2018, the actor said that the Obi-Wan Kenobi movie was simply "talk," and that he doesn't know anything more than Star Wars fans at home do. It wasn't long after that that the talk was said to have turned into action, with reports claiming that Disney and Lucasfilm were planning to get the project behind cameras in spring of 2019 for a 2020 debut.
Disney and Lucasfilm stretched the Star Wars universe earlier this year with Solo: A Star Wars Story, which had a disappointing box office debut and divided critics, some of whom called the film a "fun romp through space" and some who called it "a distinct disappointment." So, if the companies do actually give an Obi-Wan Kenobi the official green light down the line, will it suffer the same fate as Solo? Or could it swoop in, lightsabers a-glowing, and change the way we view character-centric Star Wars standalones? Help us, Obi-Wan Kenobi. You might be our only hope.