Why These Two And A Half Men Actors Left The Show Before Its End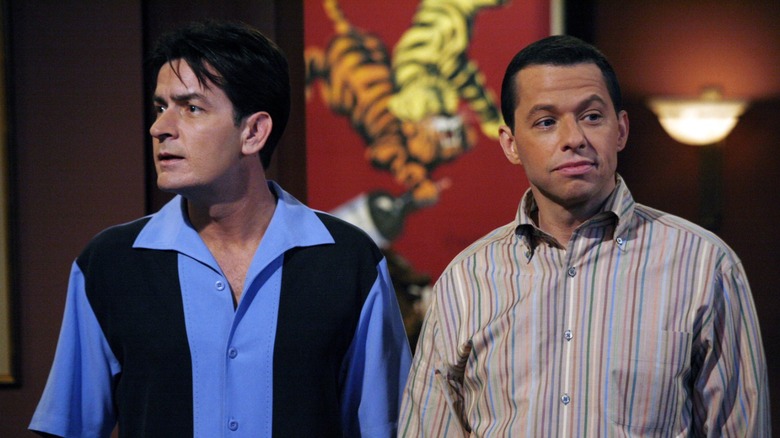 CBS
First hitting television screens in 2003, "Two and a Half Men" became one of the most successful sitcoms of the 2000s. The show stars Charlie Sheen as the playboy bachelor, Charlie Harper, who lives in a mansion on Malibu beach and is happily enjoying his single life until his brother and nephew come to live with him. Played by Jon Cryer and Angus T. Jones respectively, Alan and Jake Harper disrupt Charlie's carefree world and force him to take a more involved role in his family.
Developed by "The Big Bang Theory" creator, Chuck Lorre, "Two and a Half Men" largely deals with Charlie's continuing escapades, Alan's attempt to find a new partner after his divorce, and Jake's maturing into a teenager and young adult. Having run for 12 seasons and more than 260 episodes, the show featured an ensemble cast that dramatically changed throughout the years. In fact, even a few of the main cast departed the show in controversial circumstances. Here's the reason why each of these actors left "Two and a Half Men" despite it being one of the most popular shows on TV.
Mimi Rogers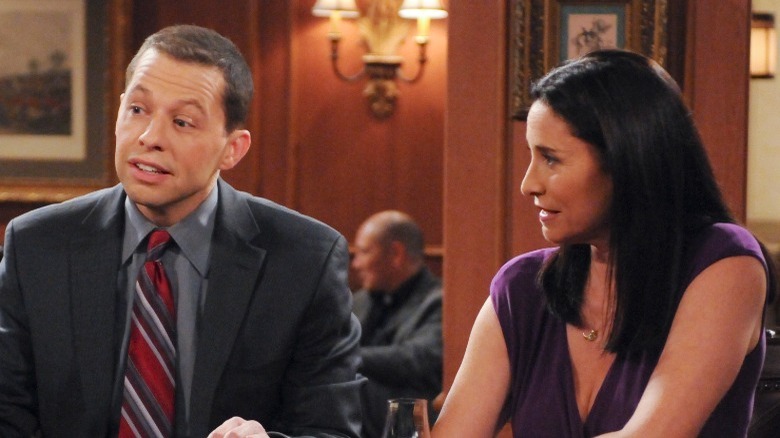 CBS
Mimi Rogers first joined the cast of "Two and a Half Men" in 2010, where she played Robin Schmidt from Season 9 onward. As the mother of Walden Schmidt (Ashton Kutcher), she usually has his best interests at heart and is not afraid of using tough love to make him see sense, such as when she forced him out of his own company during the events of the episode, "Slowly and in A Circular Fashion." In total, Rogers appeared in six episodes of the sitcom, with her final appearance coming in the second episode of Season 12.
The actor seemingly didn't leave the show due to any particular reason outside of the fact that her role in "Two and a Half Men" was always intended to be a guest stint. When her casting was first reported, CBS only confirmed that she would appear in two episodes of the sitcom. This suggests there was no intention for Robin to have a significant part to play in many episodes. Following her final appearance in "Two and a Half Men," Rogers had a regular role in "The Cleaners" in 2014 and also portrayed Honey Chandler in the police procedural, "Bosch," between 2014 and 2021.
Tinashe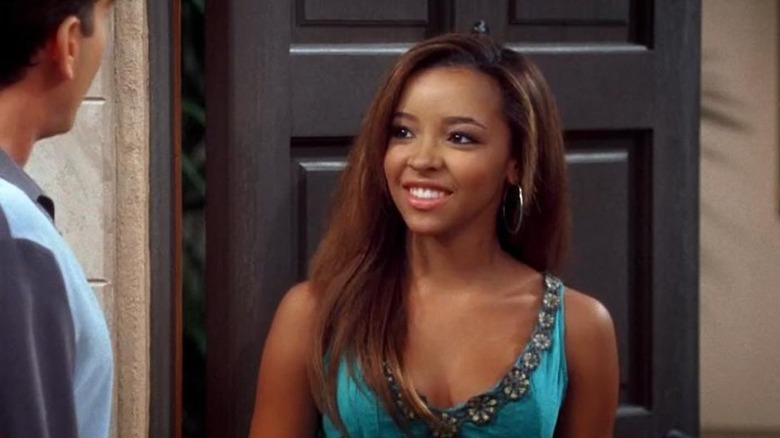 CBS
When thinking of Tinashe, most people won't remember her for her brief time on "Two and a Half Men." After all, the entertainer is best known for her musical career as a solo artist and with the girl group, The Stunners. However, she has also had roles in the likes of "Out of Jimmy's Head" and "Avatar: The Last Airbender." She joined the CBS sitcom in 2008 as a teenager, acting as a love interest named Celeste for Jake in three episodes starting in the sixth season.
The pair eventually quickly start to date when she moves near Charlie's beach house with her father. However, the relationship doesn't last and by Season 7 the two have broken up after Celeste catches Jake cheating on her while he believes she is out of town. According to Tinashe, the decision to leave the show was her own as she chose to concentrate on her career in music.
"When I was on 'Two and a Half Men' that was a crucial turning point because I was about 16 years old and that was when I really decided to go for music fully," she told NME. "I felt I needed to focus on one or the other for people to really take me seriously. So I decided that I was going to 100 percent do music and let people know that that was really what I was about."
Cloris Leachman
CBS
Making her first and only appearance in the Season 3 episode, "Madame and Her Special Friend," Cloris Leachman played Norma Seabury in "Two and a Half Men." A rich widower who lives in the same area as Charlie, she goes on a date with Alan, and the pair end up going to bed together. The reason why Leachman left is that her character died while she and Alan were being intimate. At the end of the episode, it is also revealed that Charlie had slept with Norma and that she had gifted him a piano.
Following her appearance in "Two and a Half Men," Leachman appeared as Margaret in the 2016 series, "The Eleventh," and had a guest role in "Bob's Burgers" providing the voice of Meryl. She was arguably best known for her part as Maw Maw in "Raising Hope" between 2010 and 2014. Leachman died in 2021 at the age of 94, with family confirming that her death had occurred while she was asleep on January 27.
Miley Cyrus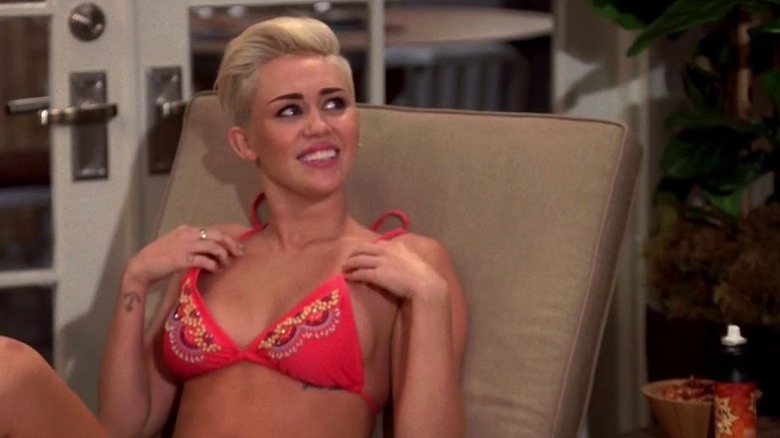 CBS
Although Miley Cyrus is one of the world's biggest pop stars and a hugely successful musician, she has also had a long career as an actor. She first came to public attention for her role in the Disney Channel series, "Hannah Montana," and has continued to have roles in everything from "Black Mirror" to "Human Resources" and even an uncredited cameo in "Guardians of the Galaxy Vol. 2" as the voice of Mainframe. Cyrus joined the cast of "Two and a Half Men" in 2012, playing the character Missi in two episodes of Season 10.
Making her debut in "You Do Know What The Lollipop Is For," Missi ends up being one of Jake's few serious girlfriends but the pair eventually split up because of Jake's career in the army. But the door was definitely left open for a possible return and rumors suggested that she could become a permanent fixture of "Two and a Half Men" as a replacement for Angus T. Jones. Cyrus even expressed an interest in coming back to the show, saying to ET (via The Things): "I hope at some point I could come back and do this because it's been a really good time. So I think it's a really fun episode, and it sets up, if I ever wanted to come back here again, it would just set it up so nice."
Robert Wagner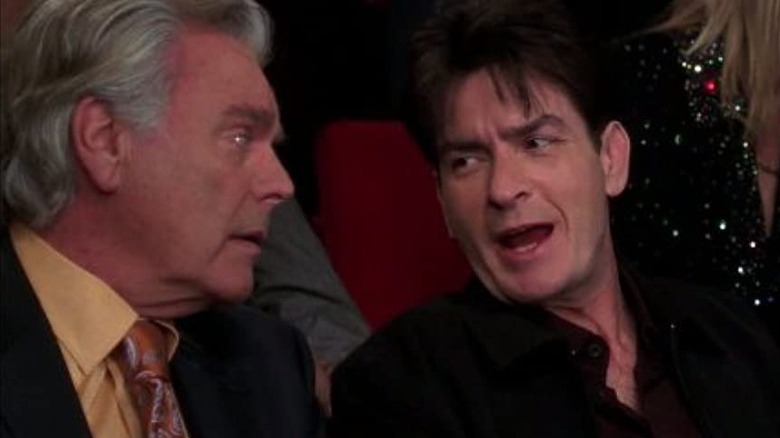 CBS
During his earlier career in the 60s, 70s, and 80s, Robert Wagner was best known for his roles in action series such as "It Takes a Thief" and "Switch," although he continued to find success in more recent times as well. The actor found wider recognition for his portrayal of Number 2 in the "Austin Powers" films and also had a recurring part in "NCIS" as the father of Anthony DiNozzo. Wagner joined "Two and a Half Men" in the fourth season and made five appearances in total throughout Seasons 4 and 5.
Playing Teddy Leopold, otherwise known as Nathan Krunk, Wagner is often seen with Evelyn Harper (Holland Taylor). Soon after his introduction, he becomes her fifth husband and wins the favor of Alan and Charlie after hiring escorts for them while they party in Las Vegas. In the episode, "Fish in a Drawer," Leopold is found dead soon after his marriage to Evelyn under strange circumstances and it is eventually revealed that he is a conman and had a heart attack while having sex with his criminal partner, Courtney (Jenny McCartney). This obviously meant that Wagner departed the show as his character was no longer around, with the actor going on to have roles in "Date My Dad," "Happy Divorced," and "The League." His last screen credit came in a 2019 episode of "NCIS."
Jennifer Taylor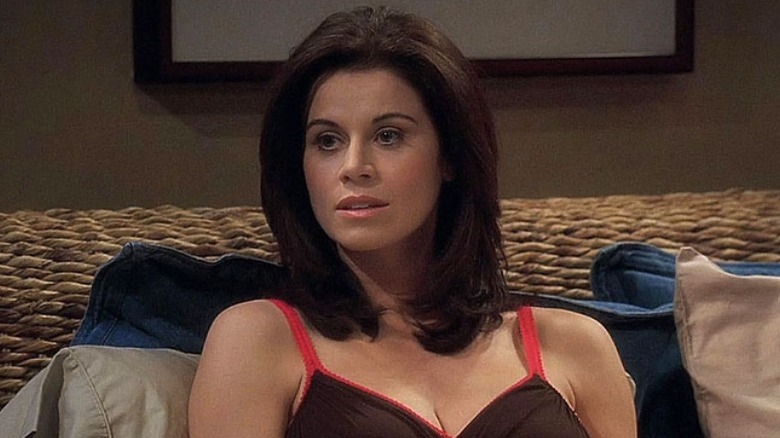 CBS
Fans of "Two and a Half Men" will recognize Jennifer Taylor as she had a recurring role in the sitcom as Chelsea Melini. Appearing in Season 6 (after playing two other characters you never noticed earlier in the show), she begins to date Charlie and the pair quickly develop a strong relationship. Taylor went on to appear in a total of 32 episodes of the show after her character goes from having a one-night stand with Charlie to becoming engaged to the playboy character.
Whether the pair will actually get married forms much of the overall story arc of Season 7. The relationship ultimately breaks down when Charlie becomes jealous of the attention Chelsea gives to a lawyer called Brad (Steven Eckholdt). Needing space to determine whether Charlie is the right person for her, Chelsea postpones the wedding and the pair begin seeing other people before breaking up for good.
Taylor was seemingly not interested in leaving "Two and a Half Men," explaining in an interview with Medium that she loved her time on the show. She went on to say she "had hopes for so much more" and was upset by "the way that it ended so abruptly." But it seems like Chuck Lorre had simply run out of use for Chelsea and wanted to move in a new direction. The actor had no regrets about being part of the series, saying, "I was so grateful to be on that set every day that I was there. Every second was a gift and a blessing. I didn't have any expectations."
Jane Lynch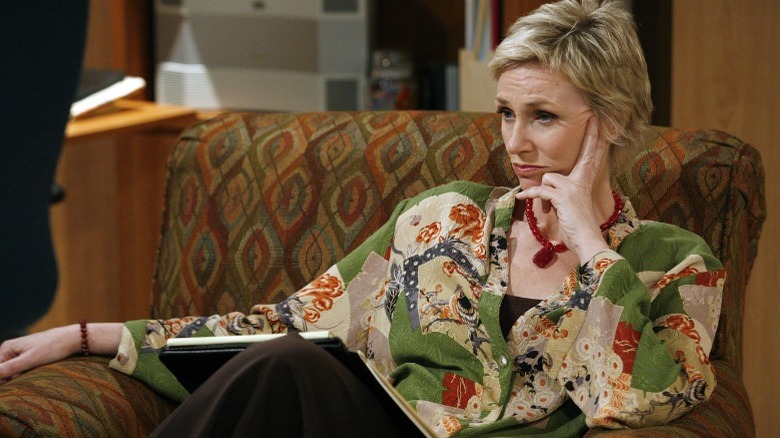 CBS
Jane Lynch will be instantly recognizable to many television viewers as the antagonist Sue Sylvester in the hit musical series, "Glee." But before she landed that hit role, Lynch was cast in "Two and a Half Men" as Linda Freeman, a therapist that works closely with the Harper family. When first introduced, Freeman is only treating Jake but in later seasons she takes on both Alan and Charlie as clients, helping them deal with their various issues and personality flaws. In total, Lynch appeared in a total of 15 episodes, although the vast majority of these were in the first half of a dozen seasons.
From Season 7 onward, Freeman's role in "Two and a Half Men" became much more sporadic. Yet, she would still appear in guest roles to help the trio deal with important life decisions or problems they suffer from. Her performance in the sitcom led to her being nominated for a Primetime Emmy Award, Lynch's first major nomination. However, the actor was looking to transition into a new direction of her career as revealed in an interview with Vanity Fair that gave an explanation for why she began to appear less in the sitcom.
"[That] was kind of where my career was, which was doing guest spots and some recurring spots and pilots here and there," she said. "I was about to settle into a different phase where I started getting work because of my name, as opposed to just, 'Oh, there's this person we know, they can do it.'"
Graham Patrick Martin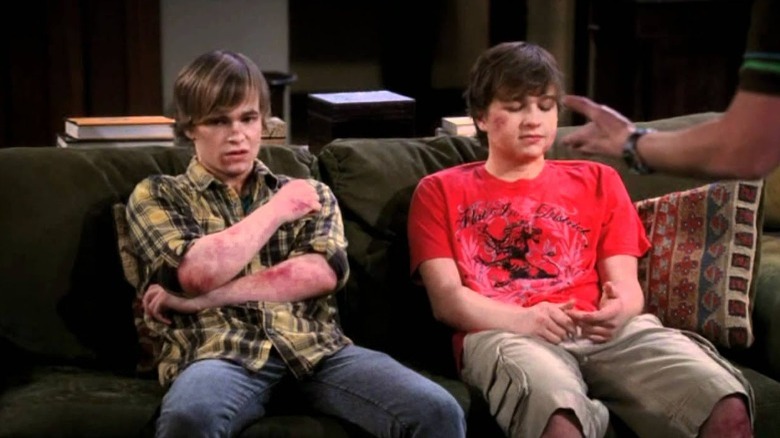 CBS
Graham Patrick Martin was a young actor who landed a role in "Two and a Half Men" as Eldridge McElroy. The son of Lyndsey (Courtney Thorne-Smith) and Chris (Judd Nelson) McElroy, Eldridge is the best friend of Jake and makes his first appearance during the Season 7 episode, "Keith Moon Is Vomiting In His Grave," before returning in "I Called Him Magoo." Over the course of Seasons 8 and 9, he makes more frequent appearances, acting as something of a bad influence on Jake by helping him engage in vices such as drinking and smoking marijuana.
The exact reason why Martin left "Two and a Half Men" in 2012 has never been detailed either by the actor or producers. His final appearance came in the 2012 episode, "Oh Look! Al-Qaeda!," when he and Jake join the army. After this point, he is hardly ever mentioned again so it's unknown what happened to him. At least part of the reason why the actor may have departed may be due to the fact that he landed a regular role as Rusty Beck in "The Closer" spin-off, "Major Crimes," a part he had from 2012 until 2018. He has since appeared in "Catch-22," "NCIS: Los Angeles," and "The Rookie."
Patton Oswalt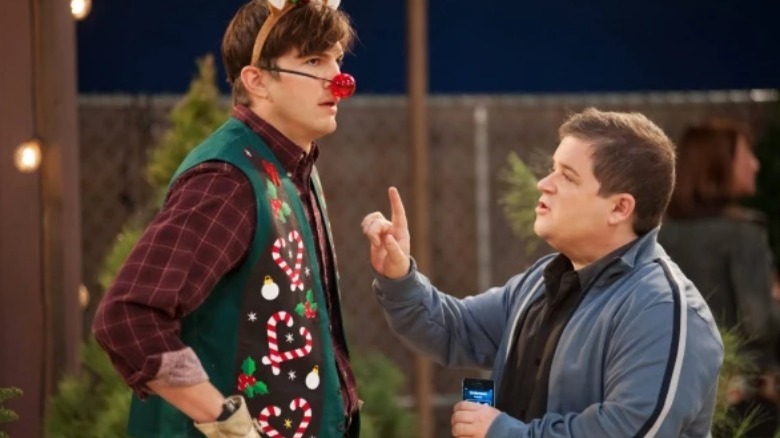 CBS
Stand-up comedian and actor, Patton Oswalt, best known for his stand-up specials and roles in films such as "Ratatouille" and "The Secret Life of Pets 2," had a recurring role in "Two and a Half Men" between Seasons 9 and 10. He played a character known as Billy Stanhope, a former friend and business partner of Walden who returns to start up a new company that they later sell to Mark Zuckerberg for more than $1 billion. However, the pair continue to have a fractious relationship, especially considering that Stanhope is dating Bridget Schmidt (Judy Greer) — Walden's former wife and a primary antagonist in later seasons of the sitcom.
In total, Oswalt featured in just five episodes of "Two and a Half Men," with his final on-screen appearance coming in "Run, Steven Staven! Run!." There were seemingly no aggravating factors surrounding the actor's departure, with contemporary reports at the time Oswalt's casting was announced revealing that he was initially only signed for a single episode. This would suggest that this part was only ever intended to be a guest spot for a few episodes rather than a regular part.
Melanie Lynskey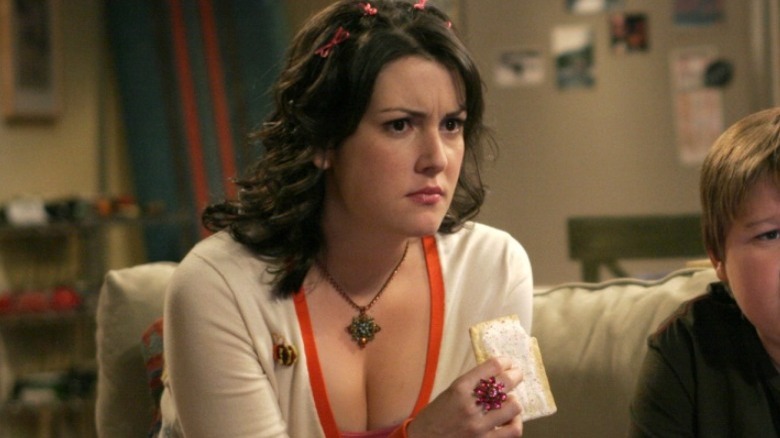 CBS
Outside of the two main characters who left "Two and a Half Men" in controversial circumstances, Melanie Lynskey is perhaps the only other actor who departed the sitcom on bad terms. The New Zealand-born actor portrayed Rose in the show, an obsessed stalker who pursues Charlie for much of the show's run. Intelligent and manipulative, Rose is a major player and ultimately responsible for the disappearance of Charlie in Season 8. However, she simply transfers her obsession onto Walden in his absence.
Despite appearing in more than 60 episodes, Lynskey's role diminished in later seasons to the extent that she only showed up sporadically. The reason behind this is that the actor had expressed an interest in leaving the show. But her shift from series regular to guest was messy. Lynskey felt undervalued and was paid the bare minimum the studio could legally get away with.
Meanwhile, Lynskey  also wanted to try other projects and felt that she was not the right person for the job in "Two and a Half Men." Fortunately, she was able to renegotiate her contract with CBS and ensure that she was able to commit to other work outside of the television series.
Charlie Sheen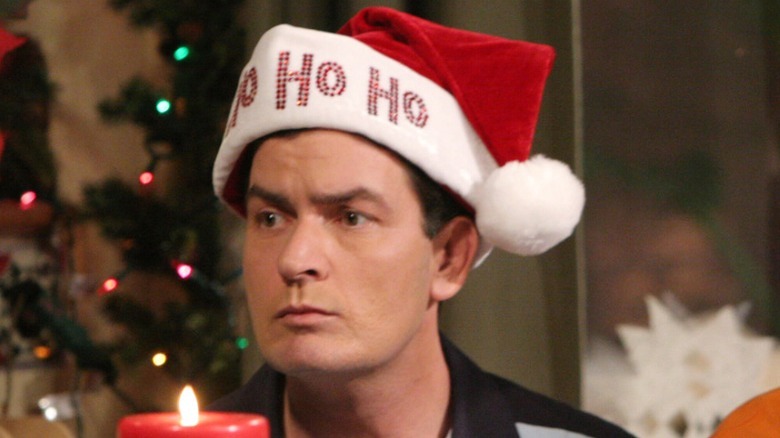 CBS
As the main star of "Two and a Half Men," Charlie Sheen was the face of the show and also one of the best-known stars on television. His popularity and importance to the series led to him being paid an impressive $1.8 million per episode during his final season — three times as much as his co-star, Jon Cryer. That was apparently a price worth paying by CBS as Sheen was undoubtedly the star of the show and put in performances that won him wide praise.
Yet, behind the scenes, everything was not as rosy as it may have appeared. Production on the sitcom had to shut down several times so that the actor could enter rehab programs due to his substance abuse issues. Meanwhile, he also faced a string of legal troubles, including allegations that he had physically abused his then-wife, Brook Mueller. His behavior on set also became erratic, with Warner Bros. Television claiming he had started to forget his lines, say inappropriate things during filming, and failed to turn up to rehearsals.
Sheen was ultimately fired from "Two and a Half Men" after conducting several interviews in which he verbally attacked series creator Chuck Lorre, calling him "a stupid, stupid little man," threatened him with violence, and continued a tirade of abuse for more than a week. Sheen has since expressed regret for his comments and behavior, saying that he would choose to do things differently if given the chance.
Angus T. Jones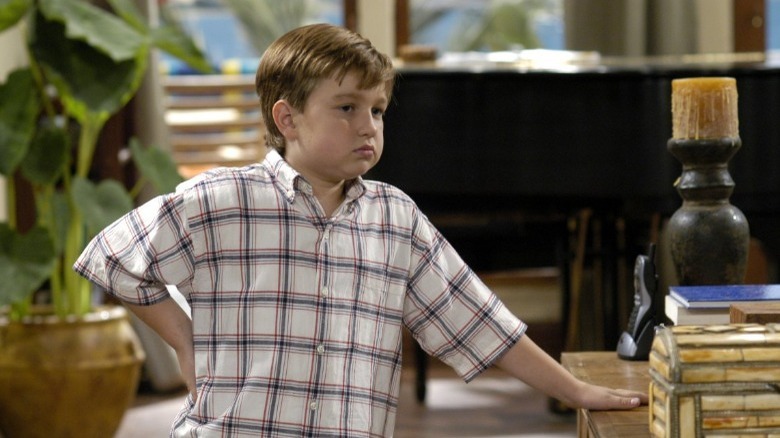 CBS
Despite being one of the main members of the cast of "Two and a Half Men" throughout most of its run, Angus T. Jones was only a child when he first landed the role of Jake Harper in the television sitcom. Prior to landing this gig, he had only had minor roles in the likes of "Simpatico," "Dinner with Friends," and a single episode of "ER." So it is undeniable that the CBS show was his big breaking in the world of acting. In fact, by the time he was 17 in 2010, he was the highest-paid child actor with a contract that would see him paid $300,000 an episode.
Jake spent most of the early seasons as the butt of jokes due to his bad habits of overeating and laziness combined with his seemingly low intelligence. However, by later seasons he had started to mature and was given storylines that involved using drugs and becoming sexually active. The actor made headlines in 2012 when a video interview with Forerunner Chronicles featured him calling "Two and a Half Men" filth and advising fans to stop watching it. This apparently stemmed from a shift in his religious beliefs after joining a Seventh-Day Adventist church. A year later he was effectively dropped from the series and revealed that he had felt like a hypocrite for appearing in the sitcom.