The Transformation Of Ashton Kutcher From That '70s Show To Now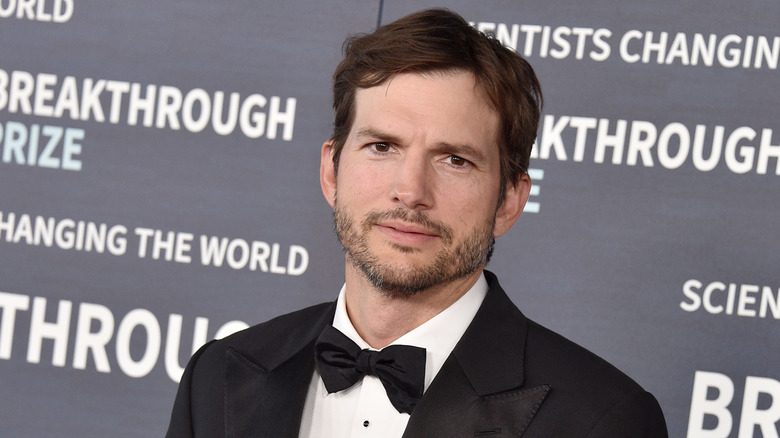 Gregg Deguire/Getty Images
Ashton Kutcher began his acting career with the huge television hit "That '70s Show," playing Michael Kelso in 183 episodes between 1998 and 2006. However, before Kutcher became a TV star, he was just a college student named Christopher at the University of Iowa. It was while he was a student that a scout approached him and he began modeling.
In 1997, Kutcher won the Fresh Faces of Iowa modeling contest, which sent him heading to New York where he signed with a modeling agency. Although he may have once planned on being a biochemical engineer, Kutcher wound up dropping out of college and moving to California to pursue a career in acting. At 19 he landed the role of Michael Kelso on "That '70s Show" in his first week of auditioning.
While Kutcher never truly found a place on the A-list, he has been successful with both movies, television, and as a producer. There is more to Kutcher's success than a career in the entertainment industry. He has a big life and wears many hats while exploring his various interests. Kutcher is an investor, philanthropist, humanitarian, husband, father, brother, and son. While Kutcher has transformed before our eyes from the goofy yet attractive Kelso, he has kept his charm and reputation for being one of the nicest guys in Hollywood.
That '70s Show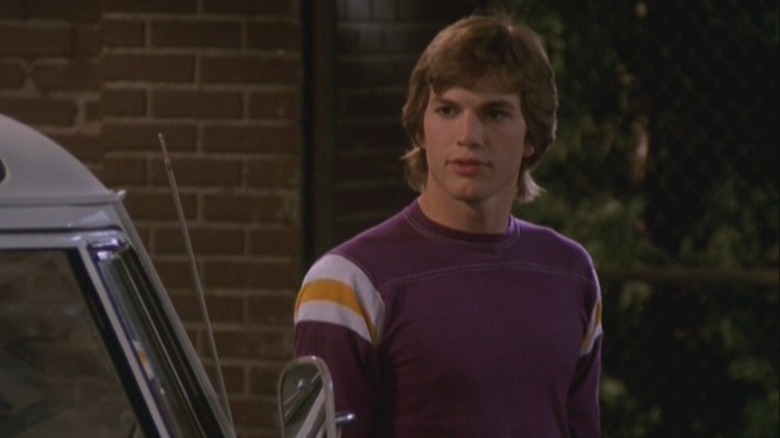 Fox
At just 19-years-old Ashton Kutcher was cast as Michael Kelso in "That '70s Show," a comedy about a group of six high school kids growing up in Point Place, Wisconsin, during the '70s. The group spent most of their time in Eric Forman's house, where they would often hang out in the basement and play pranks on each other. Over eight seasons, millions tuned in to watch Eric, Donna, Kelso, Hyde, Jackie, and Fez. Although a comedy, the series did occasionally confront some hardships in life, like the downturn in the economy during the '70s, changing family dynamics (highlighted by Donna's parents' divorce), and unplanned pregnancy.
The series was a hit for FOX, and the show made the cast rich and famous. By the end of the series, both Topher Grace and Kutcher were making between $250,000 and $300,000 per episode, adding up to as much as $8 million per season. Kutcher parlayed the popularity of this series into a film career and began producing before leaving "That '70s Show" before the last season. Playing Kelso changed Kutcher's life, making him a television star, a heartthrob, and an active Hollywood producer. This career stability has given him a foundation of relative financial freedom to explore projects and causes he cares about.
Movies Ashton Kutcher made during his run with That '70s Show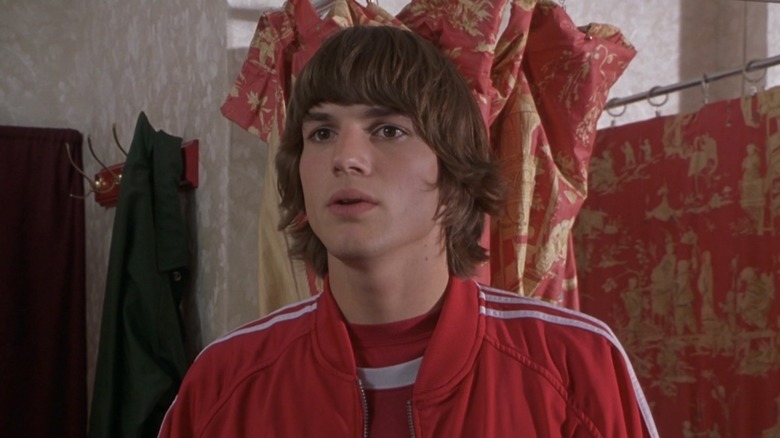 20th Century Fox
Ashton Kutcher began making movies shortly after landing the role of Kelso on "That '70s Show" in 1998. At first, he had a couple of minor supporting roles, but in 2000, Kutcher landed a lead role as Jesse in "Dude, Where's My Car," a stoner comedy about two friends who wake up after a night of partying, unable to remember where they left their car. While the film wasn't a critical success, it was profitable.
Three years later, Kutcher co-starred with Brittany Murphy in "Just Married," discovering romantic comedies just might be his niche. The two young actors dated briefly after filming wrapped, and while it was a short-lived romance, their natural chemistry helped make the movie commercially successful. In 2004, Kutcher played Evan in the sci-fi thriller "The Butterfly Effect." While the film wasn't exactly a blockbuster, it too was profitable. In 2004 Kutcher starred with Amanda Peet in the rom-com "A Lot Like Love," the highest budget film he had made yet. Although it still made money, it didn't have as high of a margin as his earlier films.
Kutcher was in 11 movies while starring in "That '70s Show" and making a handful of guest appearances on other television shows, keeping him busy while making the jump from television to film. Although Kutcher hadn't been in any big blockbusters or won any esteemed awards, it was becoming clear Kutcher was a reliable box-office draw with a faithful fanbase.
Ashton and Demi's relationship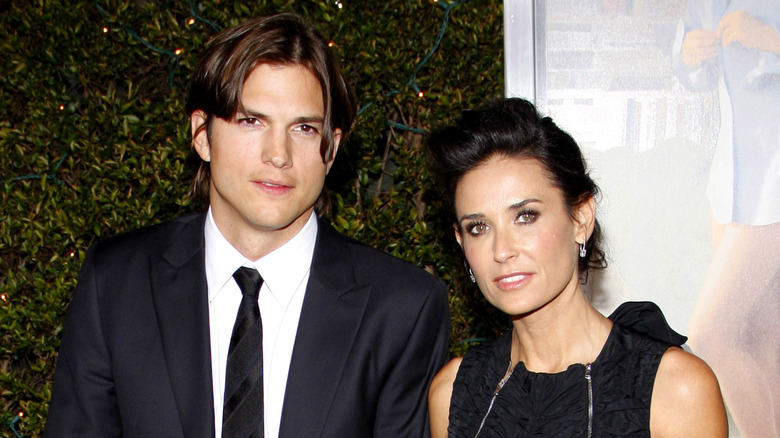 Tinseltown/Shutterstock
Ashton Kutcher and Demi Moore met at a dinner party among friends and started dating in 2003, when he was just 25 and she was 40, and they were married in 2005. As reported by Us Magazine, Moore addressed their age difference directly in her memoir "Inside Out," saying, "He was 25. I was 40. But I'm telling you: we couldn't feel it. We were totally in sync from our very first conversation."
Kutcher embraced family life and being a step-father to Moore's three daughters from her previous marriage to Bruce Willis. By all accounts, they were a happily blended family, though the incessant tabloid coverage was difficult to live with. In a June 2023 red carpet interview, Moore's youngest daughter Tallulah Willis — who was 8 years old when Moore and Kutcher married — said she had never realized how famous her parents were until then. "It was really hard, and I'm still unpacking." Moore and Kutcher separated in 2011 amid rumors he had been unfaithful and divorced in 2013, two years after separating.
In 2018, Kutcher's wife, Mila Kunis, said on the WTF with Marc Maron, "It was, like, a normal life. ... Yeah, he was younger, but he loved those kids," defending her husband's previous marriage and acknowledging they were a normal family. Although Moore and Kutcher didn't remain friends after their divorce, Kutcher has stayed in touch with Moore's three daughters. When Kutcher visited WTF with Marc Maron, he said, "I love them and I'm never going to stop loving them and respecting them and honoring them and rooting for them to be successful in whatever they are pursuing."
Acting projects Ashton Kutcher took on after the end of That '70s Show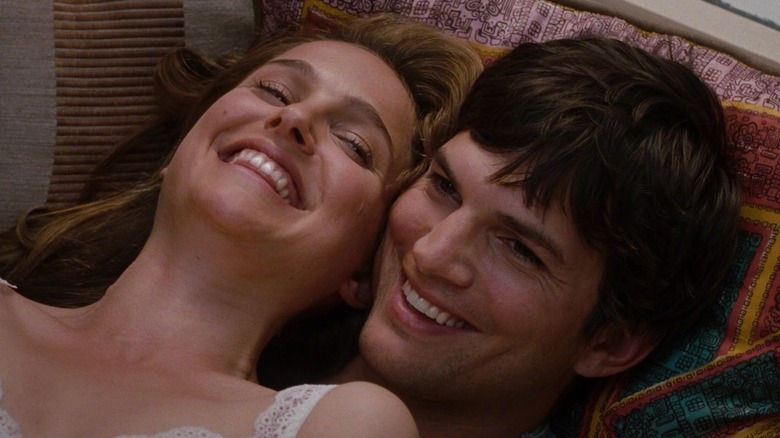 Paramount Pictures
After leaving "That '70s Show" in 2006, Ashton Kutcher continued making movies. Between 2006 and 2014, he was in 11 movies. He tried out different genres, from drama to action films and even a biopic. His first project following "That '70s Show" was a drama written and directed by Emilio Estevez about Bobby Kennedy's assassination. "Bobby" starred Demi Moore, Anthony Hopkins, and Harry Belafonte alongside an excellent supporting cast.
Kutcher then branched out from comedies and rom-coms into action when he played a hot-shot coast guard rescue swimmer with Kevin Costner in "The Guardian." Unfortunately for Costner and Kutcher, the movie wasn't the blockbuster the studio had expected, but it earned a return on the $70 million budget. Kutcher followed up this disappointment with a reliable rom-com two years later, "What Happens in Vegas," in which he co-starred with Cameron Diaz. Although the comedy was predictable, it was funny and commercially successful.
Kutcher appeared in the ensemble rom-com "Valentine's Day" in 2010 as a florist who gets dumped by his girlfriend after he proposes. In 2011 Kutcher starred with Natalie Portman in "No Strings Attached," a film about two people who first met as teenagers at summer camp only to become involved in a casual, friends-with-benefits situation years later. In 2013, Kutcher took a risk, playing completely out of his wheelhouse when he took on the role of Steve Jobs in the film "Jobs." This biopic, which follows the college dropout who started Apple from his parents' Los Altos garage, was a big swing for Kutcher, although it was met with mixed reviews.
Ashton Kutcher's many projects as producer
Ashton Kutcher began his career as a producer in 2003 with his rom-com "My Boss's Daughter" and his MTV series "Punk'd." In 2004, he was an executive producer for his sci-fi thriller "Butterfly Effect" while still working on "That '70s Show." After leaving the television series, Kutcher took on multiple projects as an executive producer through his production company, Katalyst Films. In 2007, The New York Times wrote, "Mr. Kutcher and Jason Goldberg, his partner in Katalyst Films, a burgeoning production company, are two of the busiest television producers in Hollywood."
Although "Punk'd" is still one of Kutcher's most successful projects, he was also behind "Beauty and the Geek" and the Netflix series "The Ranch." Kutcher's production company, Katalyst Films, has also co-produced several projects over the years. Although only three of his production projects have been multi-season endeavors, Katalyst Films doesn't seem to be slowing down anytime soon, and neither does Kutcher.
Ashton Kutcher and Mlia Kunis' relationship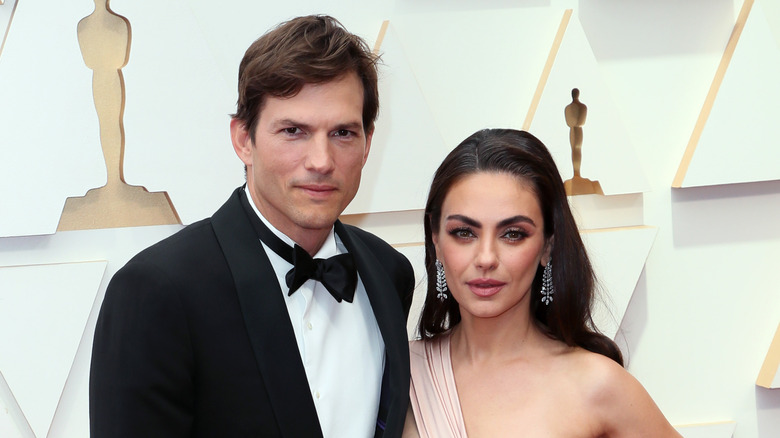 David Livingston/Getty Images
In April 2012, Jackie and Kelso got back together! According to Elite Daily, Ashton Kutcher and Mila Kunis reconnected at a Golden Globes party shortly after they both became single after their respective long-term relationships ended. They had their first off-screen kiss after the Golden Globes, but since they were both so freshly out of relationships, they kept it casual, like their similarly themed rom-coms, "No Strings Attached" and "Friends With Benefits." Kunis has even joked on WTF with Marc Maron that they "lived our movies out. We were just like, let's just hook up. Let's have fun. We're both single."
Of course, we all know how this story normally goes — someone catches feelings, and the fun is over. However, for Kutcher and Kunis, the feelings were mutual, and they moved in together in April 2012. In December 2012, Kutcher finally filed for divorce from Demi Moore after being separated for nearly a year. In February 2014, their engagement went public when People reported Kutcher had asked Kunis to marry him.
In May 2014, Kunis announced on The Ellen Show that they were expecting their first child, but the couple opted to keep the due date and the sex of their child private until after their daughter was born. They were secretly married in July of the next year and welcomed a son in November 2016. Kutcher and Kunis are fairly private about their family life, but they share a passion for philanthropy and speak glowingly about each other, although often with a healthy dose of humor. In recent years the two have even appeared in some projects together, including a popular 2021 Super Bowl ad for Cheetos, a promo video for comedian Matt Rife's 2023 world tour, and a cameo appearance on Netflix's "That '90s Show" (more on that later).
Ashton Kutcher's return to television
In 2011, Ashton Kutcher returned to television with the comedy "Two and a Half Men," joining the cast as Walden Schmidt after Charlie Sheen left the show. In 2012, Kutcher was on the Forbes list as the highest-paid actor on TV after signing on with "Two and a Half Men," with The Hollywood Reporter writing that he was pulling in $700,000 per episode. Kutcher was a show regular in over 80 episodes of the series until the series ended in 2015 after 12 seasons.
In 2016, Kutcher starred in Netflix's "The Ranch" as Colt Bennett, a former semi-professional football player who moves home to Colorado to help on the family ranch. Kutcher was reunited with his former "That '70s Show" castmate Danny Masterson as his brother Jameson "Rooster" Bennett, who was later written out of the show. Kutcher was also an executive producer on the project. The streaming series has won three Emmys for cinematography and co-stars Sam Elliott as Colt's father, Beau.
Once some actors make it to the big screen, they never want to go back to television, but Kutcher isn't one of those actors. He embraces his roles and seems to genuinely like working on television, both as an actor and a producer. Maybe this is because of his down-to-earth midwestern values, or perhaps he is just more interested in specific projects and characters than in prestige.
Ashton Kutcher's success with technology investments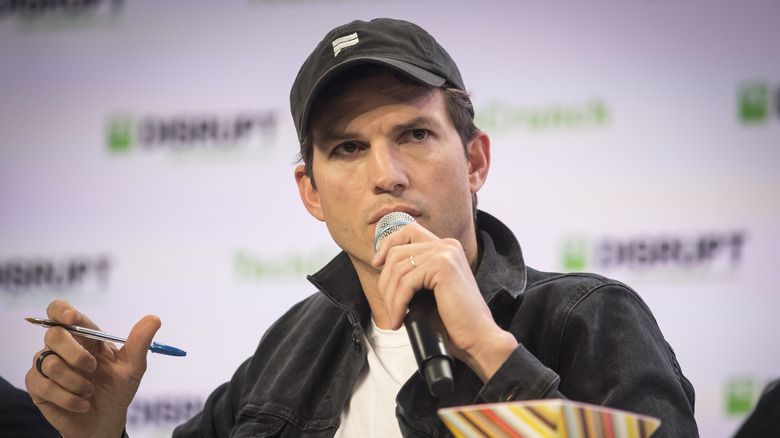 Bloomberg/Getty Images
Ashton Kutcher has been called Hollywood's largest investor in Silicon Valley, as he has invested in numerous start-ups, including Airbnb, Pinterest, Shazam, Skype, Spotify, Warby Parker, and Uber. Kutcher has built a reputation as an investor with an exemplary track record for success. In 2010 Kutcher joined forces with music executive Guy Oseary and investor Ron Burkle, founding A-Grade Investments. Forbes notes that during the six years they had been in business at the time, they "turned their $30 million fund into a cool $250 million."
As reported by Forbes, Kutcher and Oseary founded a new VC firm, Sound Ventures, in 2012, where they will invest $100 million from Liberty Media. At the time, Kutcher told Forbes, "If we don't make a dollar, but we change the world in a meaningful way because we solve real problems and we support great people and do our best to help, the returns are going to be the exhaust of that." Obviously, Kutcher's acting career has provided handsomely, but his interest in tech investment isn't just about the bottom line. He enjoys investing in the future and feeling like he contributes positively to our society.
He told Vox he enjoys investing in the future and seems to enjoy contributing positively to our society. Recently, that focus on the future has turned his attention to the recent advancements in artificial intelligence; in May 2023 he raised nearly $250 million for a fund dedicated to financing AI startups.
Ashton Kutcher's philanthropic work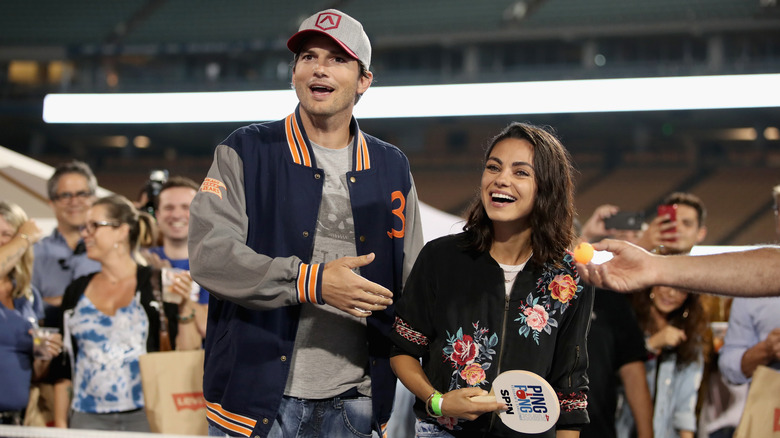 Christopher Polk/Getty Images
Another way Ashton Kutcher makes a positive contribution to society is through his philanthropic work. He is known as one of Hollywood's most generous stars, donating and giving his time to many charities. Over the years Kutcher has given time, money, and taken part in charity events to raise funds for a variety of institutions. These include Habitat for Humanity, Girls Educational & Mentoring Services, Boys & Girls Clubs of America, Raising Malawi, United Nations Children's Fund, St. Jude Children's Research Hospital, Stand Up to Cancer, and many, many more.
Kutcher shares this passion for charity work with his wife Mia Kunis. The couple helped raise over $30 million for Ukrainians after Russia invaded their country in February 2022. Kutcher and Kunis raised this money with their "Stand With Ukraine" GoFundMe campaign. This was of personal importance to Kunis, who left Ukraine with her family and headed for the United States when she was just a child. In an Instagram video, Kutcher said, "Our work is not done. We're going to do everything we can to ensure the outpouring of love that came from you all as a part of this campaign finds a maximum impact with those in need."
Ashton Kutcher's nonprofit Thorn and his fight against human trafficking
People notes that when Ashton Kutcher and Demi Moore were married, they started the DNA Foundation to stop child sex trafficking. After the couple divorced, they renamed the foundation Thorn: Digital Defenders of Children. The nonprofit builds software given to law enforcement for free to identify victims of sex trafficking and the people participating in the sale and exploitation of children. Kutcher has been devoted to this cause for over a decade, and the efforts he makes through Thorn are making a difference. This technology helps identify sex trafficking victims and speeds up the rate at which law enforcement can protect the victim.
The 2021 impact report from Thorn shows their software, Spotlight, identified 3,977 victims in 2021, for 24,366 during the lifetime of the software. Over 2,700 law enforcement agencies are now using the technology provided by Thorn. The work Thorn is doing helps protect children from their abusers and removes damaging content from the internet. Kutcher is the co-founder and chairperson of Thorn. In 2017 Kutcher testified on Capitol Hill about child sex trafficking, and in 2022 he raised more than $1 million for Thorn while running the New York City Marathon. His dedication to this cause is a perfect example of his transformation from a young actor to a human rights advocate.

If you or anyone you know has been a victim of sexual assault, help is available. Visit the Rape, Abuse & Incest National Network website or contact RAINN's National Helpline at 1-800-656-HOPE (4673).
If you or someone you know may be the victim of child abuse, please contact the Childhelp National Child Abuse Hotline at 1-800-4-A-Child (1-800-422-4453) or contact their live chat services.
Ashton Kutcher has continued acting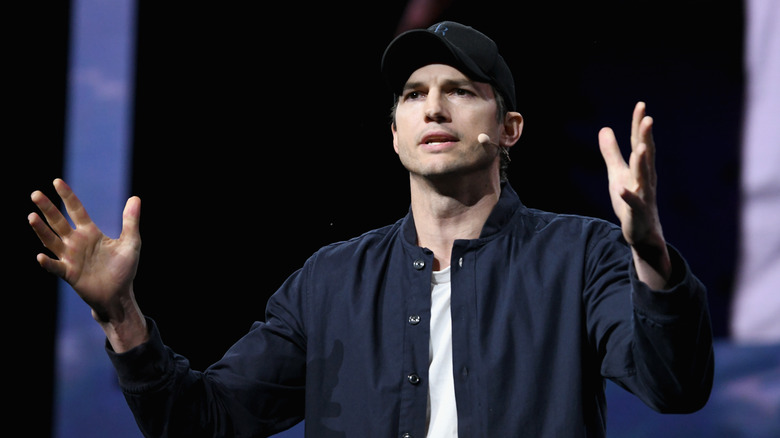 Michael Kovac/Getty Images
Although it may seem like Ashton Kutcher has stopped making movies, he hasn't, although his focus did shift to television for the period starting 2011, when he joined the cast of "Two and a Half Men," until 2020, when Netflix's "The Ranch" ended. If you check out Kutcher's IMBd, you will see that he is appearing in a few feature-length projects. As reported by People, Kutcher is set to return to rom-coms with Reese Witherspoon in Netflix's "Your Place or Mine," a movie about two best friends who live on opposite sides of the country embark on a "life-changing" house swap.
He co-starred alongside B.J. Novak in "Vengeance," a murder mystery in which a New York podcaster (Novak) travels to Texas to investigate a woman's death. Novak wrote, directed, and produced the film. He also voiced a character in the animated series "Stoner Cats" alongside Mila Kunis, Jane Fonda, and Seth MacFarlane. Beyond that, in 2015, Kutcher filmed director James Franco's "The Long Home," co-starring Josh Hartnett, Timothy Hutton, Garret Dillahunt, Tim Blake Nelson, Giancarlo Esposito, and Courtney Love. However, the film has been in limbo ever since Deadline reported that a distribution deal with Great Point Media had been announced in 2017.
Kutcher's Vasculitis diagnosis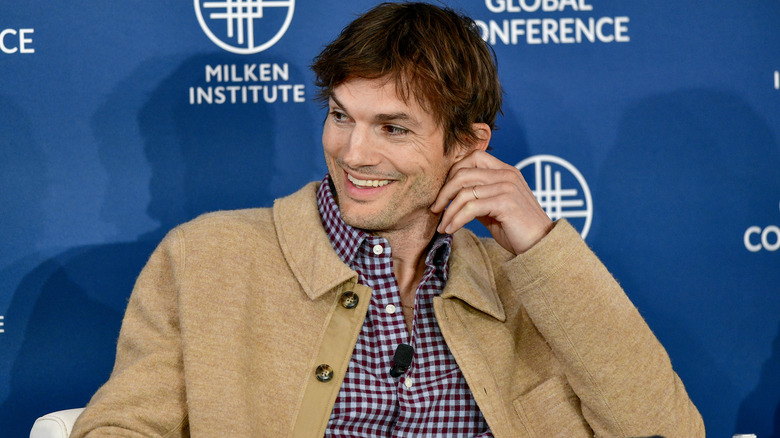 Jerod Harris/Getty Images
The reality series "Running Wild with Bear Grylls" features the British adventurer dragging various Hollywood celebrities along on his perilous treks, and the celebrities in turn open up about their lives and careers. In an August 2022 episode featuring Kutcher, he kayaks through the Costa Rican jungle, climbs a rope across a deep ravine, and most notably, reveals that two years earlier he was diagnosed with vasculitis, a rare autoimmune disease that targets the blood vessels. "[It] knocked out my vision," he told Grylls while the two trudged through a thicket of dead tree branches, "it knocked out my hearing. It knocked out, like, all my equilibrium." It took nearly a year for Kutcher to recover from his symptoms, he said. "Talk about strength through adversity," Grylls marvels.
Vasculitis is not only a rare disease, but it's also notoriously difficult to diagnose, as the symptoms often mimic those of other disorders. There are nearly 20 variations of it, and the symptoms will vary depending on where in the body the disease takes hold. There is no clear cause and no cure other than treatment. For some, vasculitis is a one-time illness, but for others, inflammations can be chronic. But Kutcher's experience has helped shine a light on the tricky disease, and more attention will hopefully lead to better understanding and treatment.
Kelso returns in That '90s Show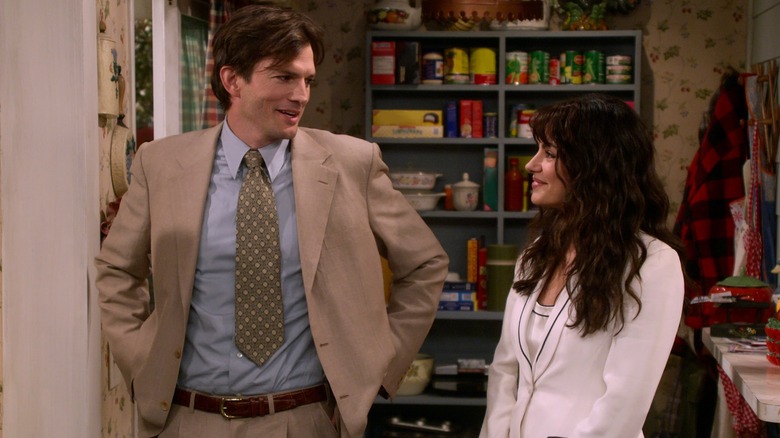 Netflix
In spring 2023, Netflix premiered a decades-later sequel to "That '70s Show" titled, naturally, "That '90s Show." The 10-episode series returns us to Point Place, Wisconsin circa 1995, in the midst of grunge rock and D.A.R.E, where Red (Kurtwood Smith) and Kitty Foreman (Debra Jo Rupp) are saddled with their teenage granddaughter, Leia (Callie Haverda), for the summer. Comedy hijinks and pot-smoking abound, along with a side of romance, as Leia falls hard for Jay (Mace Coronel), a hot lunkhead who naturally turns out to be the teenage son of Jackie and Kelso.
While Haverda and Coronel and the rest of the spin-off's young cast are fine company, the real appeal here is of course the nostalgia of seeing the stars (and set) of "That '70s Show" again. Smith and Rupp anchor the series, while Topher Grace, Laura Prepon, and Wilmer Valderrama pop up in a handful of episodes. Kutcher and Kunis, as the perpetually divorcing and remarrying Kelsos, however, only appear in the pilot. Kunis was adamant that she and her husband would appear in the revival, since they both owe their careers to the original series. The series is a full-circle moment for both the actors and their characters, even if Kunis thinks that Jackie should be married to Fez instead.