The Entire Two And A Half Men Story Finally Explained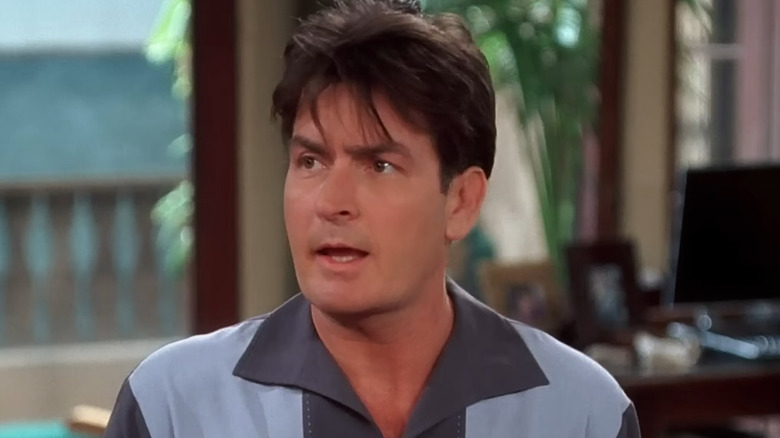 CBS
While it might not be remembered in quite the same spirit as TV classics like "Cheers," "Seinfeld," or "Friends," "Two and a Half Men" was a pivotal sitcom that lit up the small screen of the early 2000s and lasted for 12 seasons on CBS. Initially, the show starred Charlie Sheen, Jon Cryer, and Angus T. Jones as main characters Charlie, Alan, and Jake Harper, respectively. However, Sheen was cut from the series after Season 8 (per Reuters). This brought about a plethora of changes, including Ashton Kutcher's introduction as new lead character Walden Schmidt. While there are many fans who believe the show lost a significant quantity of its magic after Sheen left, "Two and a Half Men" still remains one of the rare sitcoms that was allowed to end on its own terms and complete its story.
Throughout its 12 year run on television, "Two and a Half Men" aired 262 episodes, in which an abundance of events take place. But at the same time, all these happenings weave themselves together into one overarching storyline. From Alan's initial arrival at Charlie's house to the shocking finale that sees Charlie return for his swan song, we're breaking down the entire story of "Two and a Half Men."
Charlie lives the ultimate bachelor life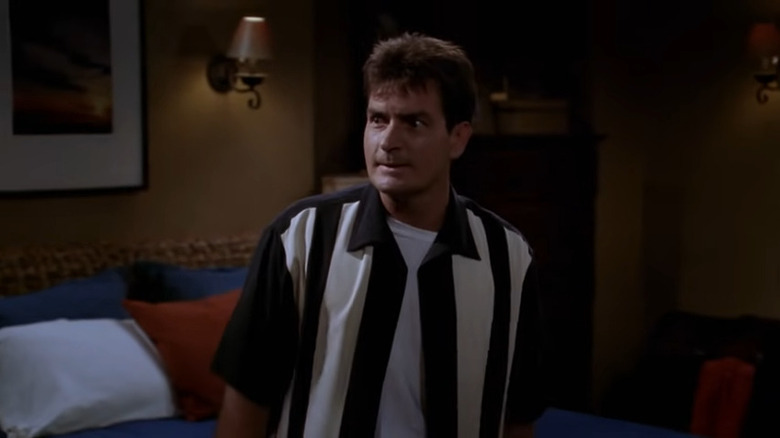 CBS
To some, Charlie Harper is nothing more than a man. To others, he's a myth and a legend. Not only does he live the dream of doing near diddly-squat on a daily basis, he also indulges in hedonistic pleasures in a beautiful Malibu beach house that's not too far from Steven Tyler's pad. As a proud bachelor and successful jingle musician, money isn't ever short for the eldest Harper brother, who believes in the three S's of life: spending, sleep, and sex.
While he appears to have it all, he does lack something valuable that money simply cannot buy: meaningful relationships and connections with others. Charlie has never had the best rapport with his mother, Evelyn (Holland Taylor), and he doesn't really stay in touch with his brother, Alan, or nephew, Jake. Apart from his stalker, Rose (Melanie Lynskey), and housekeeper, Berta (Conchata Ferrell), everyone else in Charlie's life appears to come and go. Even though Charlie proclaims to love following the way of the lone ranger and constantly reminds Alan about how great his life was before he moved in, it's clear something is missing from his existence when the audience first meets him.
Alan moves in with Charlie after his divorce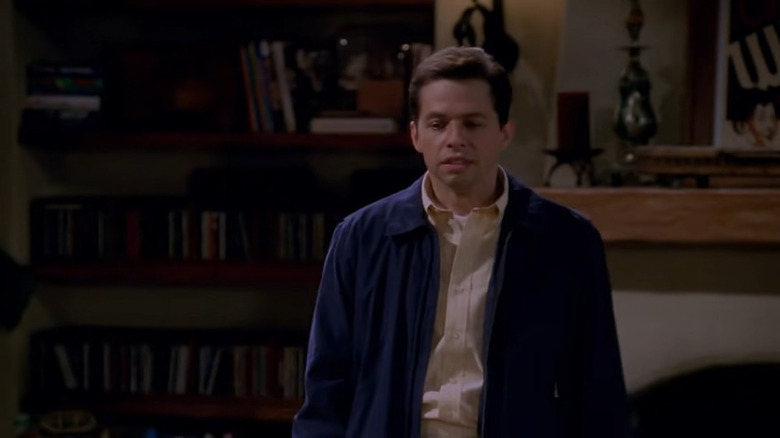 CBS
Alan Harper's world crashes down around him when Judith (Marin Hinkle) divorces him in Season 1. While their marriage doesn't sound like the happiest relationship around, Alan is still devastated when Judith leaves him, and it dents his already fragile self confidence. At the same time, he is concerned about the effect the divorce will have on his young son, Jake. Ironically, Jake doesn't seem to be too fazed by his parents' split.
From the moment Alan moves in with Charlie, the two brothers have a clash of cultures. Alan is neurotic and controlling, swiftly attempting to change how his brother runs his household and the shenanigans that take place in the evenings. At one point, he even musters complaints about Berta's cleaning and work ethic — something that doesn't go down well with the housekeeper or Charlie. After some time, though, Alan calms down and admits to his brother that he is jealous of his life.
As the polar opposite of Charlie, Alan struggles to make ends meet. It doesn't seem like he's ever been an especially successful chiropractor, even when he was married. His financial difficulties are compounded further by alimony payments. To make matters even worse, Charlie has a fling with Alan's attorney, Laura Lang (Heather Locklear), who doesn't take too kindly to being used and dumped. Thus, she does everything in her power to raise his alimony responsibilities. Ouch!
Alan marries Kandi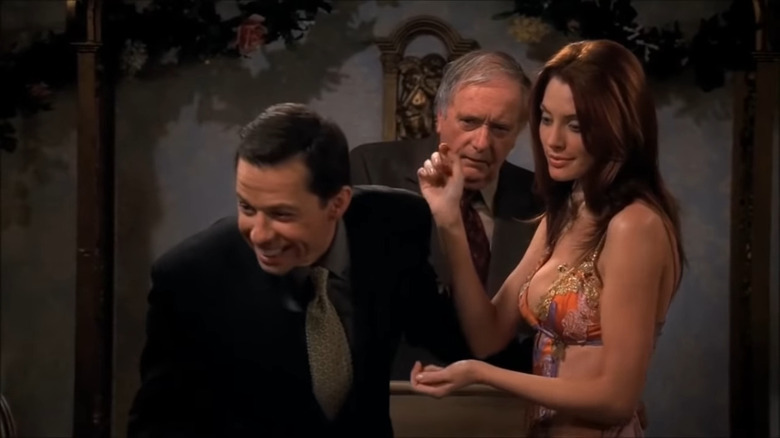 CBS
Alan's love life dramatically improves after he hangs out with Charlie. While he isn't quite the playboy his brother is, Alan loosens up and meets more women. But he also has a tendency to fall in love too easily, which means there are a few women whom he believes to be "the one" after nothing more than a first date or interaction. In Season 3, Alan meets the 22-year-old bombshell Kandi (April Bowlby), who used to date Charlie. At this point, however, Charlie is in a serious relationship with Mia (Emmanuelle Vaugier). Unimpeded, Alan swoops in and begins a hot and heavy affair with Kandi.
No one believes the romance will last — they even create a betting pool for how long the couple will be together — as these two have nothing in common besides their physical relationship. However, Alan asks Kandi to move in with him (at Charlie's house, of course) and even gives her a job as his assistant. The two briefly split after Kandi has a night out with Judith, but they patch things up and get back together. After Charlie proposes to Mia, Alan and Kandi attend the planned wedding in Las Vegas. When the wedding is called off, Alan and Kandi take advantage of the situation and marry instead. At the ceremony, Alan also announces that he's moving out of Charlie's house.
Alan moves back in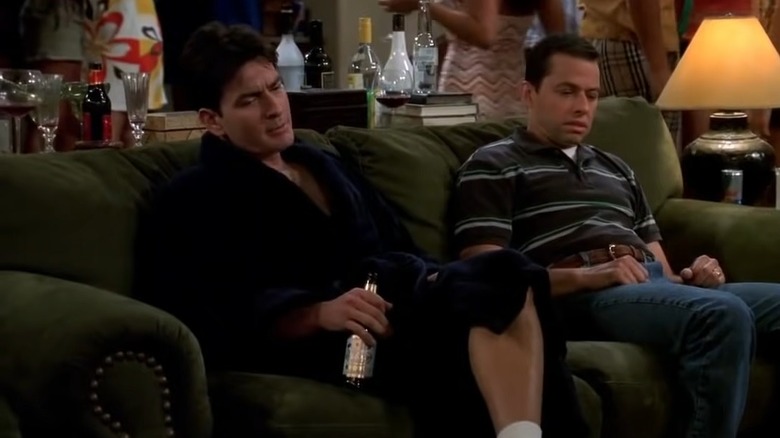 CBS
Charlie nurtures a burning resentment towards his brother at this point. After all, he called off his wedding to Mia because she wanted Alan to move out — only to find out moments later that Alan planned on leaving anyway, making the obstacle into a total non-issue. To further rub salt in his wounds, Alan won $500,000 at the slot machines. As a result, Alan and Kandi buy their own condo at the beginning of Season 4 and move out of Charlie's house.
Drowning his sorrows in booze and beauties, Charlie reverts to his previous lifestyle and parties harder than ever. It doesn't take long for Alan to come knocking on his brother's door again, though — four months, to be exact. In a case of history repeating itself, Kandi has kicked Alan out of their home and kept their dog and the rest of his winnings. Broke and homeless, Alan goes back to the only place he knows.
However, it isn't like Charlie is waiting for him with arms wide open. He eventually admits to Alan that he didn't marry Mia because she wanted Alan out of the house. While Alan is taken aback at this revelation, which shows his brother truly cares, he also points out that Charlie must have been looking for a reason to not get married, and this made for the perfect excuse.
Charlie gets engaged to Chelsea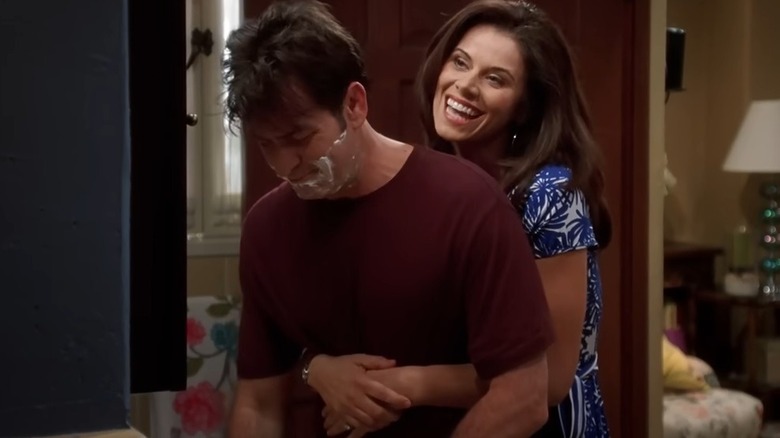 CBS
Mia is shown to be Charlie's first true love, and it's evident he never gets over her completely. However, he receives a second chance at happiness with Chelsea (Jennifer Bini Taylor), who debuts in Season 6. Unlike other girls who come and go on the show, Chelsea challenges Charlie to be and do better. She has firm expectations of him, which she makes clear throughout their relationship, such as expecting him to sleep over at her apartment and to spend time with her cat, Sir Lancelot. While the two have their ups and downs, like most couples, they eventually become engaged. Chelsea even moves in with him.
Their relationship is truly tested when Mia reappears in Charlie's life, however. While he admits to still having feelings for Mia, he turns down her advances to stay with Chelsea. Instead of this choice emboldening and strengthening the couple, though, this event kicks off a series of new problems between Chelsea and Charlie. The two eventually split, and Charlie marries another woman, though the marriage is soon nullified due to it being illegal. Later, Chelsea and Charlie try to make it work again, but she struggles to get over the fact that he slept with her best friend, Gail (Tricia Helfer), and plans to do the deed again.
Charlie chases after Rose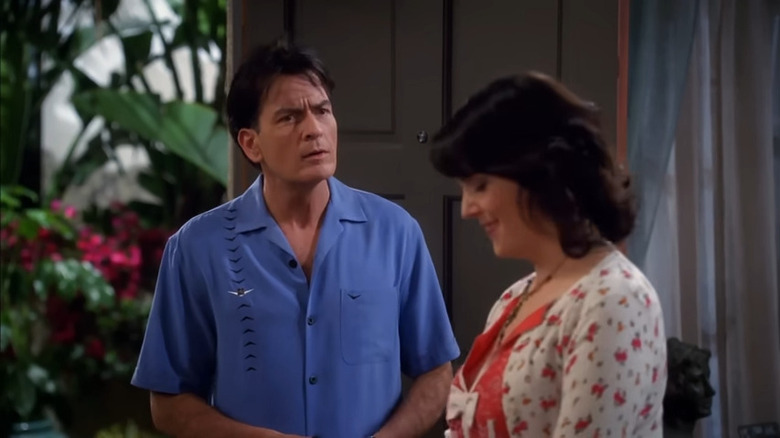 CBS
At this point, viewers are served a major plot twist. Who ever thought that Charlie would fall for his stalker? Rose lurks throughout "Two and a Half Men," staring through the window or sneaking her way into Charlie's home when he isn't looking. Eventually, no one even blinks an eye when she appears out of nowhere; in fact, they welcome her as if she's part of the family or a close friend.
In Season 8, Charlie realizes he actually cares for Rose. Things escalate when Rose tells Charlie she's engaged to a man named Manfred Quinn and is about to get married. He doesn't believe the legitimacy of her claims, though, so he follows her to the church, where he sees the ceremony taking place. What Charlie doesn't know is that Manny is a mannequin, and simply part of Rose's game to make him fall for her. A few months after the wedding, Charlie sees Rose again, and they begin what he thinks is an affair. However, Charlie wants more, begging her to leave Manny for him. Eventually, the two run away to Paris, where it's later revealed they get married.
Charlie is presumed dead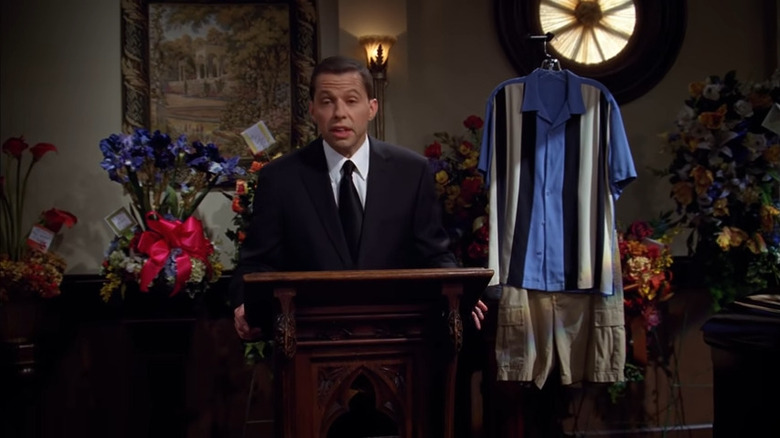 CBS
Season 9 of "Two and a Half Men" kicks off on a shocking note: Charlie Harper is dead. After marrying Rose overseas, he perishes from being struck by a train — reportedly, anyway. Considering this is all down to Rose's word, there are a few suspicions about the validity of the claim, or if Charlie was pushed. Of course, it's discovered in Season 12 that Charlie is still very much alive and none of this is true.
After Charlie's "passing," it's revealed he left his house to Alan. While this might appear like a nice final gesture towards his brother, there's one major problem: Charlie has multiple mortgages on the house and Alan cannot afford to pay all the bills. So, Alan and Jake need to do the unthinkable: move in with Evelyn.
Even though Charlie's funeral is a big scene in Season 9, Episode 1, "Nice to Meet You, Walden Schmidt," there aren't many people mourning his demise. In fact, the event turns into an outright roast and complaining session about his questionable behaviors. Only Alan seems to truly struggle with the passing of his brother.
Walden buys Charlie's house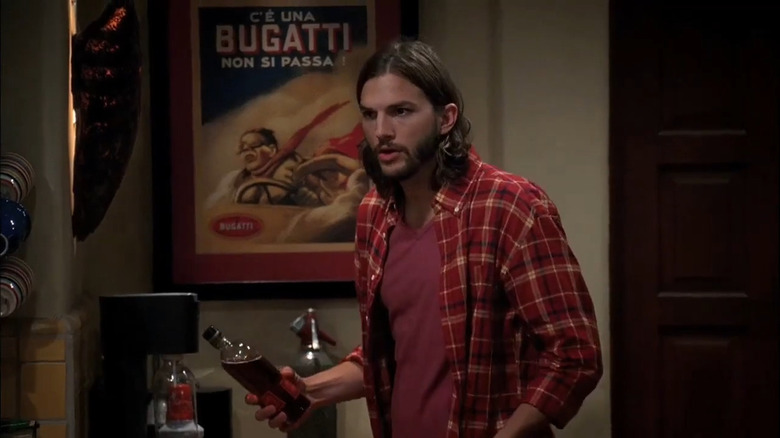 CBS
While Alan can't afford to keep Charlie's house, Walden Schmidt can. Alan and Walden quickly strike up a friendship, as they bond over all the hardships they've suffered in recent times. Before long, Walden reveals he's a billionaire and buys Charlie's old house. He even decides to leave everything as it is — a move that must have gone a long way towards keeping the production budget down.
Alan doesn't move back in straight away, though, as he's still staying at his mother's place with Jake. However, after helping Walden to get a second chance with his then-wife, Bridget (Judy Greer), Alan is invited to temporarily stay at the house. Poor Walden doesn't know this is the equivalent of inviting a vampire in, since Alan has no plans of ever leaving again. Eventually, Alan does move in with Walden permanently — not paying rent, of course.
Jake joins the army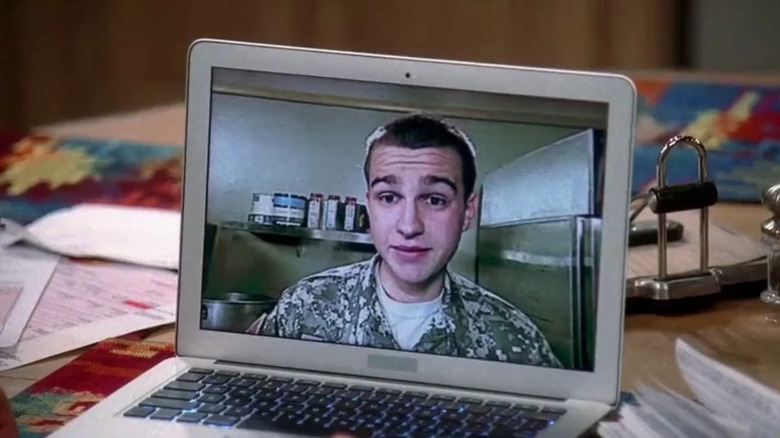 CBS
"Two and a Half Men" offers audiences the opportunity to watch Jake Harper grow up before their very eyes. He transforms from an adorable child to an awkward teenager to a man in full. In later seasons, though, Jake isn't anywhere near as present as he is in the beginning.
In the Season 9 finale, "Oh Look! Al-Qaeda!," Jake and his best friend, Eldridge McElroy (Graham Patrick Martin), announce they're joining the army after they finish high school. The two teenagers believe the experience will be like the military video games they love ... until they actually go to boot camp, and find out it's anything but fun.
Throughout Season 10, Jake makes sporadic appearances on the show whenever he gets a break from his military service. For the most part, Jake, Alan, and Walden communicate via video call, as the young army recruit provides hilarious recollections of what he's up to. At the end of Season 10, Jake announces he'll be stationed in Japan for a year. This goes a long way towards explaining actor Angus T. Jones' absence from Season 11.
Jenny moves in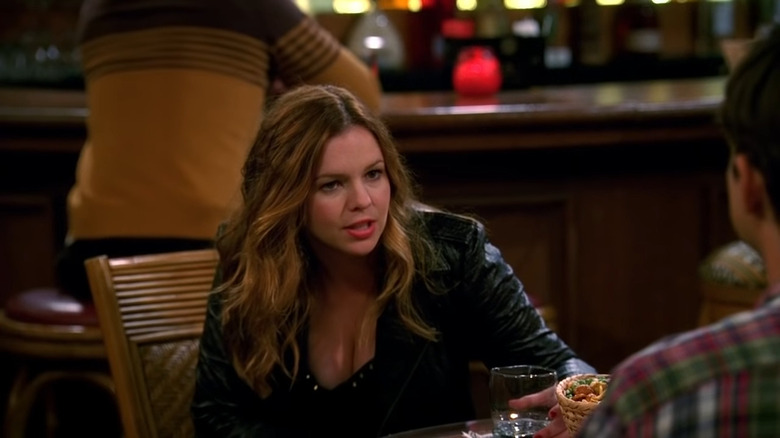 CBS
Jake's departure in Season 10 leaves a gigantic hole in the story. However, Jenny Harper (Amber Tamblyn) steps in to fill the void. Jenny is Charlie's illegitimate daughter, and she might as well be the second coming of her father. She loves partying and the horizontal tango just as much as Charlie, has plenty of flings with various characters, and generally lives on the wild side of life.
When she arrives on the Malibu beach house's doorstep, Alan is shocked to find out that Charlie knew all about Jenny and never told him. What particularly angers him is that Jenny received money from Charlie, but his brother never gave him any cash when he needed it. He seems to conveniently forget he lived with his brother rent-free for all those years in this burst of anger, but hey — the sudden emergence of previously unknown relatives has that effect on people.
At one point, Jenny leaves Walden's house to live with Evelyn for a while. But, much like her uncle, she finds her way back to the house when no one is looking. Jenny's adventures take a backseat in the final season of "Two and a Half Men," as she isn't featured as much in that slate of episodes as she is in the prior season.
Walden and Alan adopt a child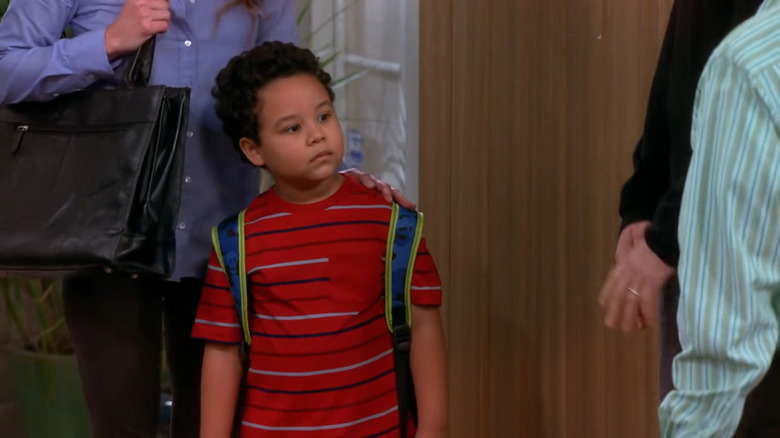 CBS
In Season 12 of "Two and a Half Men," Walden decides he wants to be a father. However, a lawyer soon reveals to him just how difficult it is for a single man to adopt a child. So, Walden proposes to Alan, who accepts the terms of this arrangement. After the two are married, they meet with social worker Ms. McMartin (Maggie Lawson) about the possibility of adopting a child. Matters aren't helped when Alan has a fling with Ms. McMartin, introducing the looming threat of the charade's exposure. In the end, though, Walden and Alan actually are approved and adopt a boy named Louis (Edan Alexander).
Not long afterwards, Walden and Alan divorce. At the same time, Alan proposes to his on-again-off-again girlfriend, Lyndsay (Courtney Thorne-Smith). Happy for his friend but sad about losing a housemate, Walden offers Alan the opportunity to stay at the beach house permanently. Alan declines, but reminds Walden they'll always be friends, and he'll still be around.
While this all sounds heartwarming, one has to assume that if there were a Season 13 of the show, Alan probably would have somehow figured out a way to move in again. History makes it clear that no other option would have been possible for the show long-term.
Charlie returns for the finale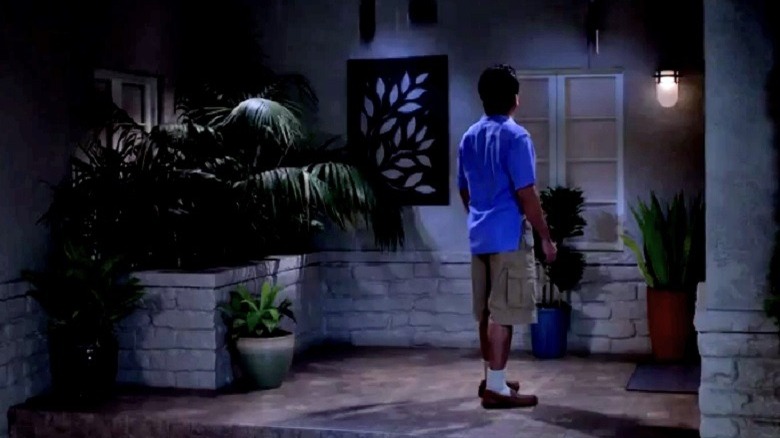 CBS
Given all the controversy he became involved in, it was always unlikely that Charlie Sheen would return for the series finale of "Two and a Half Men." In fact, the producers invited Sheen to make an ending appearance, but he turned down the opportunity. That doesn't mean Charlie Harper is absent from the last episode, though.
In the final episode, entitled "Of Course He's Dead," Rose finally reveals that Charlie didn't die, and is very much alive. She explains how she caught him cheating and pushed him in front of a train, but a goat saved him. Afterwards, she brought him back to America, where she kept him captive and brainwashed him. In a final twist, she makes it clear that he is not quite himself anymore and decidedly dangerous.
Using angles that don't show Charlie's face, the series sees Charlie return to his Malibu beach house. Before he can interact with any of the other characters, though, a piano falls from the sky and crushes him to death. The camera pans out to show showrunner Chuck Lorre say, "Winning," before a piano falls on him too. It's one of the most bizarre endings to a sitcom ever filmed, but it's also totally on-brand.