Things You Forgot Happened In Two And A Half Men
CBS
When Two and a Half Men first aired on CBS in 2003, the show made its intentions clear. This was to be a formulaic comedy series you could count on to deliver a specific and time-tested flavor of mind candy. Predictable plots? Check. Misogynistic world view? Check. Jokes in poor taste? Definitely, check. And yet, the series lasted a record-breaking 12 seasons, making it one of television's longest-running sitcoms when it ended in 2015. (The Simpsons takes the trophy, however, first airing in 1989 and recently renewed through 2023, according to Deadline.)
Clearly Two and a Half Men found its dedicated audience, and the network had a hit on its hands. But even if you were among the fans, you may have difficulty recalling some of the series' most pivotal moments as it followed the hapless Harper brothers, played by Charlie Sheen and Jon Cryer, for more than a decade.
Charlie Harper was considered a trustworthy babysitter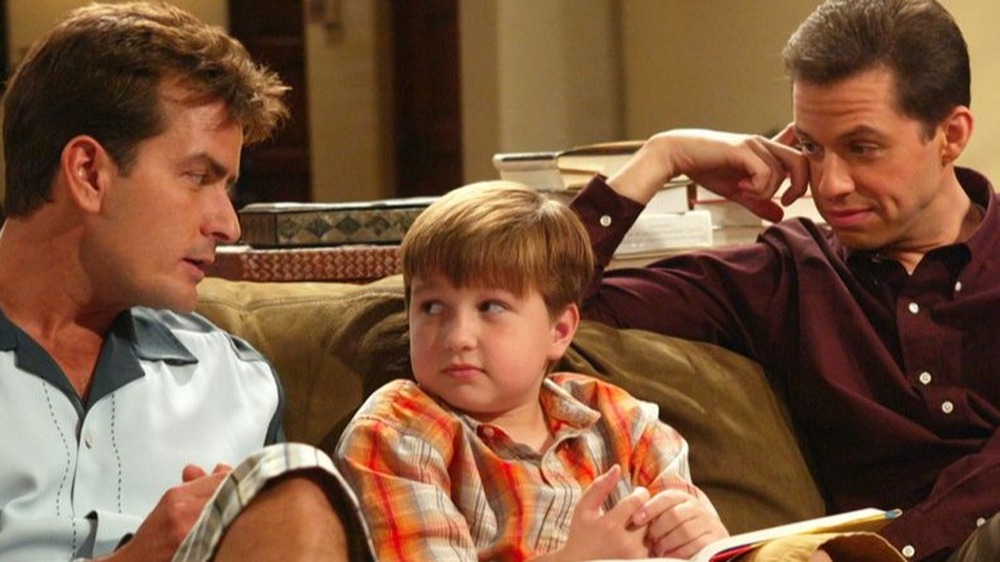 CBS
In the pilot episode, Alan Harper (Jon Cryer) splits from his wife, Judith (Marin Hinkle, now famously Mrs. Maisel's mother on the Amazon Prime series), and moves in with his playboy brother, Charlie (Charlie Sheen). The games begin as the brothers attempt to lead clashing lifestyles, while supporting characters — Alan's 10-year-old son Jake (Angus T. Jones), the brother's mother Evelyn (Holland Taylor), devoted stalker Rose (Melanie Lynskey), etc. — make that both easier and more difficult to varying degrees.
Though we don't know Charlie well yet, Alan's decision to leave Jake in his uncle's care is questionable at best, even in this opening episode. Predictably, Charlie invites his poker buddies over and allows his nephew to play, joining such esteemed guests as Thomas F. Wilson (formerly the world's worst bully, Biff, of the Back to the Future films). Alan moves his son out of this den of debauchery only to quickly move them both back in, thus setting the stage for 261 more episodes.
Eddie Van Halen showed up to shred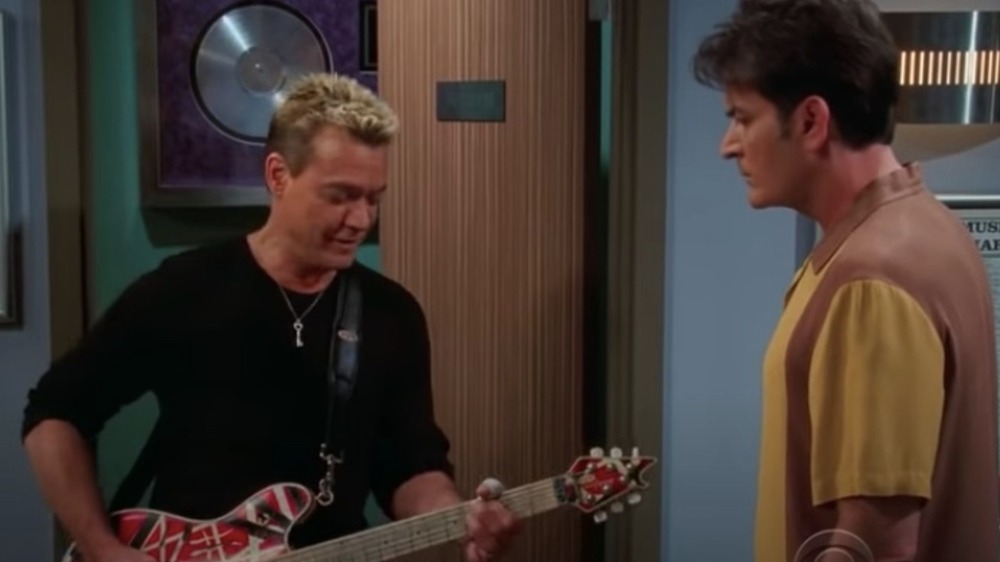 CBS
Old Biff was far from the only famous face to grace the set of Two and a Half Men over the years. Case in point: In the show's fifth season, Austin Powers alum Robert Wagner and model-actress-media mogul Jenny McCarthy had roles in the CSI: Crime Scene Investigation crossover episode, "Fish in a Drawer." A murderous plot took the sitcom to new heights and concluded with a CSI episode three days later.
Throughout the series, we saw Aerosmith's Steven Tyler play a neighbor, Van Halen founder Eddie Van Halen shred on guitar, and country singer Brad Paisley in a role opposite his real-life wife, Kimberly Williams-Paisley. Plus, there were many more cameos too numerous to count: Mom's Allison Janney in season 4. Family Guy's Emily Osment in season 10. And, who could forget body builder-turned-actor-turned-politician Arnold Schwarzenegger as Lieutenant Wagner in the series finale?
Two and a Half Men died a crushing death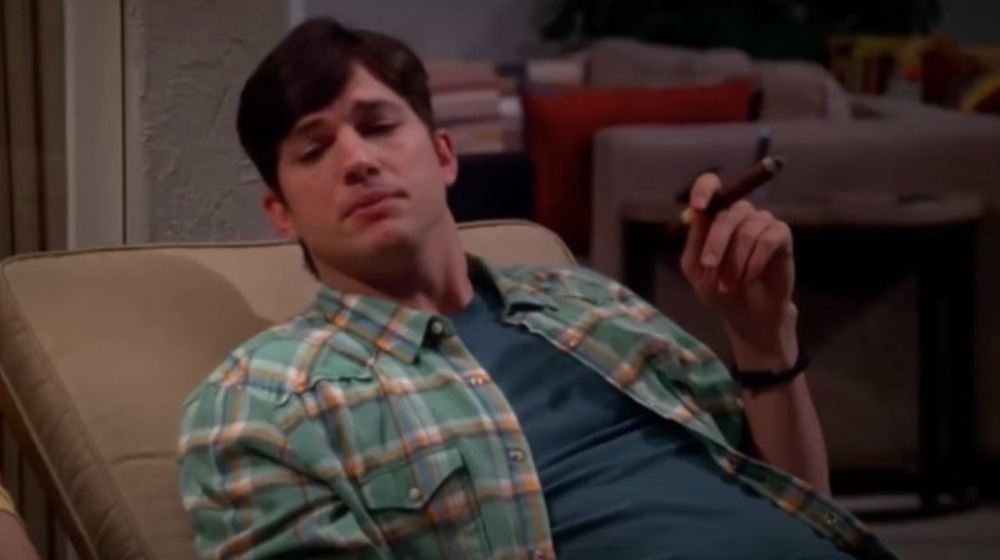 CBS
Even die-hard fans know Two and a Half Men jumped the shark when Angus T. Jones left the show on religious grounds. Or was it when Charlie Sheen was fired and Ashton Kutcher written in as Walden Schmidt? Or when Amber Tamblyn joined the show as Charlie's personality clone, er, illegitimate daughter? Maybe it was the time when Alan and Walden, two straight men, decided to marry, so Walden could adopt a child.
In any case, by the last season, the show was gasping out its final plotlines, limping along to its inevitable end. The finale revealed that Charlie, long-believed killed in a train accident back in season 9, was actually alive and homicidal, seeking to murder Alan and Walden. By that point, it kind of made sense that before he could do his dirty work, Charlie was crushed to death by a piano falling from the sky.