Netflix's Chilling Adventures Of Sabrina Unveils First Poster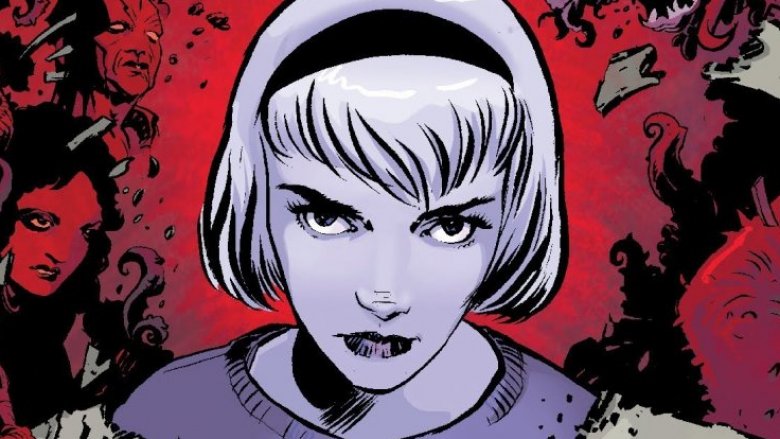 Sabrina Spellman is making her way toward Netflix, bob haircut-first.
The streamer has just released the first official poster for its upcoming Archie Comics-based series Chilling Adventures of Sabrina. 
Roberto Aguirre-Sacasa, the show's executive producer and the mind behind the smash-hit CW series Riverdale, shared the one-sheet on Twitter, adding in the caption, "Here we go! So exciting.....#Sabrina #Chilling."
Shown below, the poster features the silhouette of the titular witch Sabrina, played in the series by Mad Men alum Kiernan Shipka, and her icy white blonde hair and blood-red lipstick. Positioned in the center of Sabrina's face is Salem, her trickster black cat and extra-devious sidekick. In the comic book canon, Salem isn't just a sharp-toothed, sarcastic feline, however; in actuality, the shorthair cat is downright evil, a former witch named Salem Saberhagen whom the Witch's Council sentenced to an eternity spent living as a cat as punishment for his attempts to overthrow the world's leaders and claim power for himself. (Yeah, a lot of wildly criminal stuff has gone down in Archie comics.)
For those staying up to date with all things Chilling Adventures of Sabrina, this poster displays a look similar to the one Shipka sported in a previously released set photo: same blonde bob, same black headband, same lipstick-slathered smirk. 
Initially meant to be a companion series to Riverdale, Chilling Adventures of Sabrina has been described as tonally similar to classic horror movies The Exorcist and Rosemary's Baby – not exactly comparisons one would automatically expect Netflix to draw when discussing a show that roots itself in the Archie Comics lore. Based on the logline — Sabrina's an empowered and sometimes stubborn teenager embarking on her journey to become a full-fledged sorceress, who must balance life as a normal sophomore at Baxter High while fending off evil forces and protecting the world's mortals from being slaughtered left and right – Chilling Adventures sounds like it will be just as dark and terrifying as it claims to be, even if its first poster is a little on the twee side. 
Also starring Ross Lynch as Sabrina's boyfriend Harvey Kinkle, Jaz Sinclair as Sabrina's best friend Rosalind Walker, and Miranda Otto and Lucy Davis as Sabrina's aunts, Chilling Adventures of Sabrina is already set up for two seasons on Netflix. No release date has been announced yet.