Sabrina Showrunner Shares First Look At Netflix Show's Salem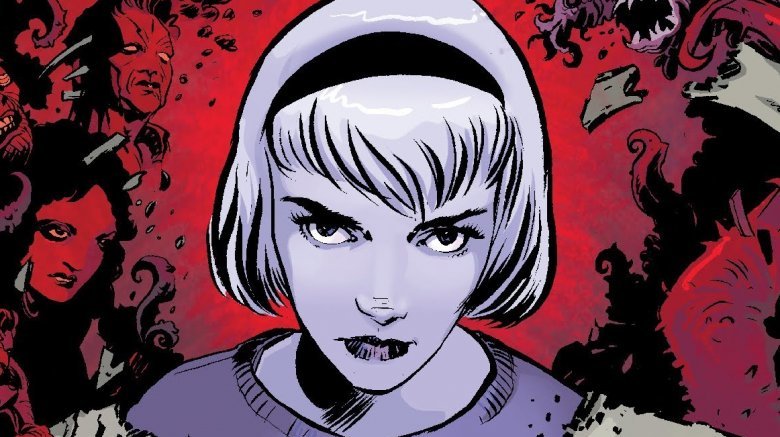 Sabrina Spellman's familiar has officially made it to Greendale. Roberto Aguirre-Sacasa, the creator of Riverdale and its upcoming Sabrina the teenage witch-focused Netflix spin-off, recently shared an image of her famous sidekick Salem on his Twitter page, featuring the classic black cat standing in front of some very witchy candles.
The show will feature Mad Men's Kiernan Shipka as Sabrina Spellman, telling her dark origin story in Riverdale's neighboring town of Greendale and following her as she tries to balance being half-witch and half-mortal while fighting against the evil forces threatening her, her family, and the world. Easy's Jaz Sinclair also stars in the series as Sabrina's best friend Rosalind Walker.
Although Sabrina is probably most famous for her Melissa Joan Hart-starring sitcom, the comics' version of the character is actually much darker than the funny show let on. Fittingly, the comics' Salem is also a bit more than wise-cracking, sarcastic cat– he is so evil, in fact, that he at one point tried to execute the Book of Revelation.
The untitled Sabrina series is set to be based on the Archie comics graphic novel The Chilling Adventures of Sabrina, which was written by Aguirre-Sacasa. The series was initially put into development at The CW in September, but it moved over to Netflix with a two-season, 20-episode straight-to-series order in December. The show is reportedly set to shoot its first series of episodes from February to June and its second from June to October.
Details on why Netflix chose to nab the Sabrina from series from The CW are still being kept under wraps, but the streamer has had a lot of success streaming the first season of Riverdale. The series' popularity on the streaming platform also gave The CW great returns for the teen-oriented program, raising the ratings 60 percent for its second season when it premiered this fall. It's unclear whether or not the Sabrina show will be set in the same universe as Riverdale. 
Aguirre-Sacasa penned the script for the pilot episode of Netflix's Sabrina series, which The Age of Adaline's Lee Toland Krieger is set to direct. Executive producers for the series include Berlanti, Aguirre-Sacasa, Krieger, Sarah Schechter, and Archie Comics CEO Jon Goldwater. The show does not have a premiere date yet.
Ladies and gentlemen, meet #Greendale's latest resident. All hail, Salem! #sabrina, #netflix pic.twitter.com/XZ1dNPgvja

— RobertoAguirreSacasa (@WriterRAS) February 9, 2018