Shows That Had An Almost Completely Different Cast By The Time They Ended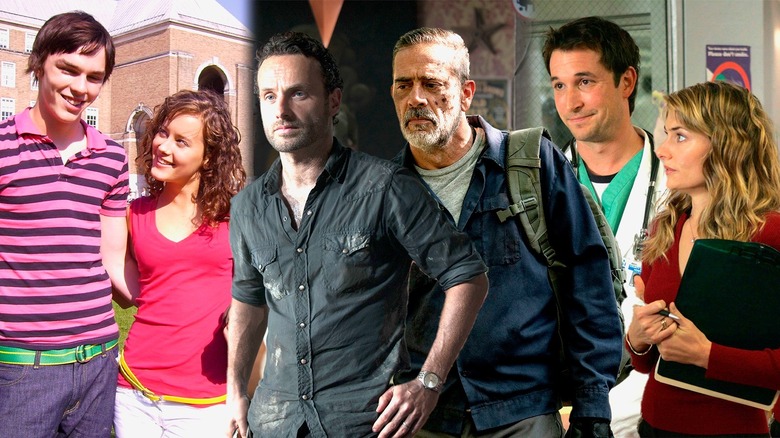 Static Media
Cast changes during the run of a TV show are common, particularly when a show has been on the air for more than a handful of seasons. Shows like "Friends," "Cheers," "Seinfeld," "The Big Bang Theory," and others, which ran for many years and kept most of the core cast from the pilot on board until the series finale, are definitely the exception. Whether it's because an actor became a movie star, contract negotiations went poorly, a character met their demise, or any number of other reasons, it's just not especially common that an actor sticks with a television show for its entire run.
While cast changes are basically the norm for most shows, there does tend to be a small core group that hangs around until the series ends. Some even leave for a couple of seasons but then come back. For a show to end with little to none of the actors that were on board from the beginning is also pretty rare. Now, this excludes legacy shows that run for decades upon decades like soap operas; the actors who were on a show when it started in the 1960s or '70s have long since moved on to other things by the 2000s or so — unless you're Susan Lucci. But among other genres of television shows, these are the rare examples where the curtain came down on an almost entirely different group of actors than were there when the curtain was first raised. 
ER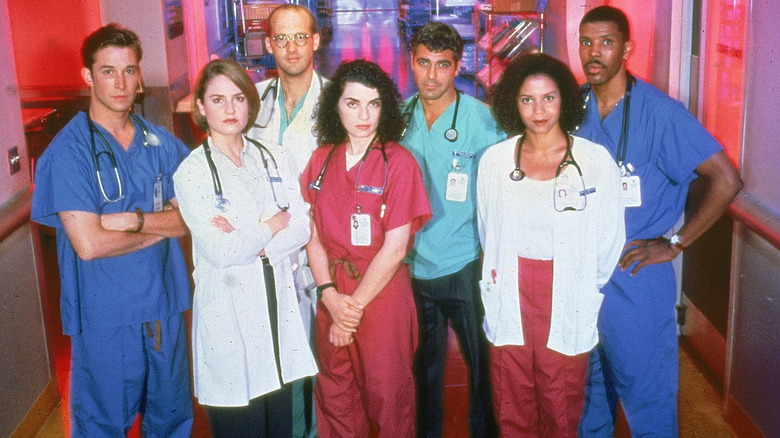 Hulton Archive/Getty Images
Though "Grey's Anatomy" has since blown past it, "ER" was once the longest running primetime medical drama of all time in the U.S. — and at 15 seasons, its second place position seems pretty well-secured. Debuting on NBC in 1994, the initial main cast was a mix of relatively new faces along with several veterans of both the big and small screen. At the time, Anthony Edwards was probably the most recognizable name and face in the cast, having previously starred in "Top Gun" and "Revenge of the Nerds," though George Clooney would eventually stake his claim as the most famous member of the show's first lineup by a considerable margin.
Along with Clooney and Edwards, the actors that comprised the main cast when "ER" first started were Sherry Stringfield, Noah Wyle, Eriq La Salle, and Julianna Margulies. Stringfield was the first to exit at the end of Season 3, with subsequent cast members dropping out at various points until Wyle was the final original actor to leave, after Season 12. The regulars of the last few seasons consisted of Maura Tierney, Linda Cardellini, Scott Grimes, John Stamos, David Lyons, and Angela Bassett, with none having been on the show any earlier than Season 6. All of the originals, however, did make guest appearances throughout the final season.
Being Human (UK)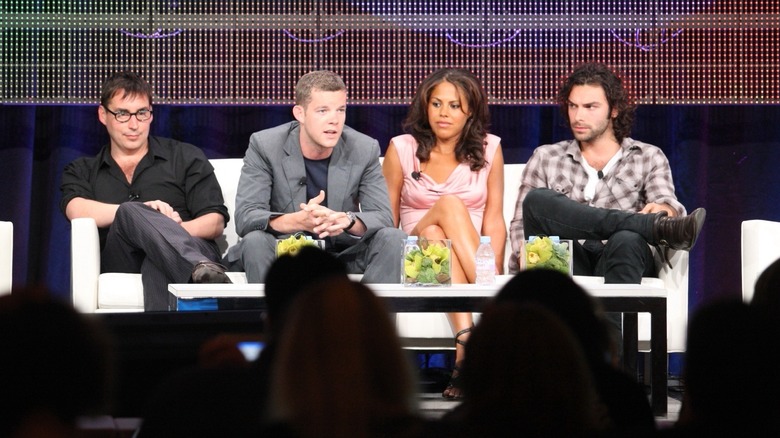 Frederick M. Brown/Getty Images
Syfy's "Being Human" — a drama about a ghost, a vampire, and a werewolf who are roommates trying to live as regular human twentysomethings — maintained a pretty consistent main cast across its four seasons. But the same definitely cannot be said for the BBC original of the same name on which it was based. The U.K.'s "Being Human" started out with Lenora Crichlow, Russell Tovey, and Aidan Turner comprising the main cast as Annie, George, and John, respectively. Sinead Keenan was recurring at first as Nina, but would join the other three as a regular by Season 3. 
Then, in a span of just a couple of weeks during the prepping of Season 4, three of the four main cast members either quit or started down that road. Turner left to join the cast of "The Hobbit," followed by Keenan also deciding to leave the show, on top of Tovey staying on but shifting into a lesser recurring role. This left only Crichlow as the sole original to return as a main cast member for Season 4, though she too would be gone at the end of the season along with Tovey. Damien Molony and Michael Socha joined the regular cast for Season 4  — Socha was recurring in Season 3 — to fill the gaps in the roster as Hal and Tom. They were joined by Steven Robertson and Kate Bracken as Dominic and Alex, filling out the entirely new cast of regulars that closed out "Being Human" in its fifth and final season in 2013.
24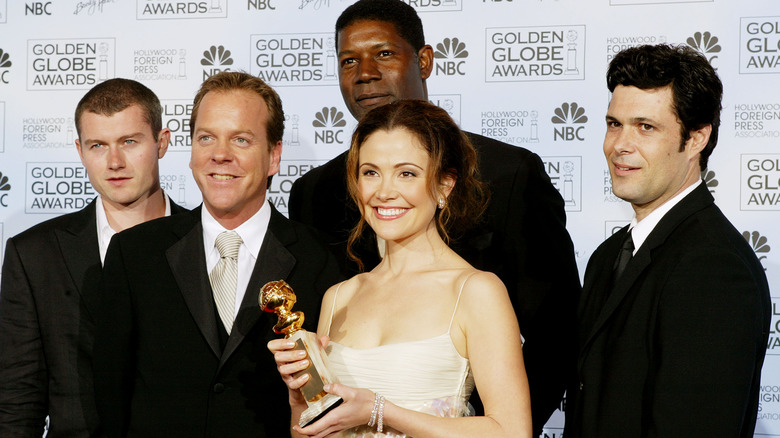 Kevin Winter/Getty Images
The political action series "24" set itself apart through its innovative real-time setup, with each season lasting the titular amount of episodes and each episode taking place roughly within a single hour of the day that comprised a given season. Kiefer Sutherland starred as federal agent Jack Bauer, who typically spent most of each season having hunches and taking actions that were doubted by everyone around him until he was inevitably proven right by the last episode or two. The formula was both a ratings success and a critical one, taking home a whopping 20 Emmy Awards across its nine seasons. 
In the first season of "24," Sutherland was joined by a main cast that included Leslie Hope, Elisha Cuthbert, Sarah Clarke, and Dennis Haysbert as Jack's various allies and loved ones. Hope didn't last beyond the first season, and the others were all gone by the end of Season 5. Mary Lynn Rajskub's Chloe O'Brien was the only returning main character from a previous year, besides Sutherland, to be part of the main cast for the final season, subtitled "Live Another Day." Everyone else made their "24" debut for the show's last hurrah — in addition to a return appearance by Carlos Bernard as Tony Almeida. 
Even the final regular season, Season 8, was comprised of an almost entirely new cast other than Sutherland, Rajskub, and two others who hadn't been with the show longer than the previous season — including the late Annie Wersching. 
Mad TV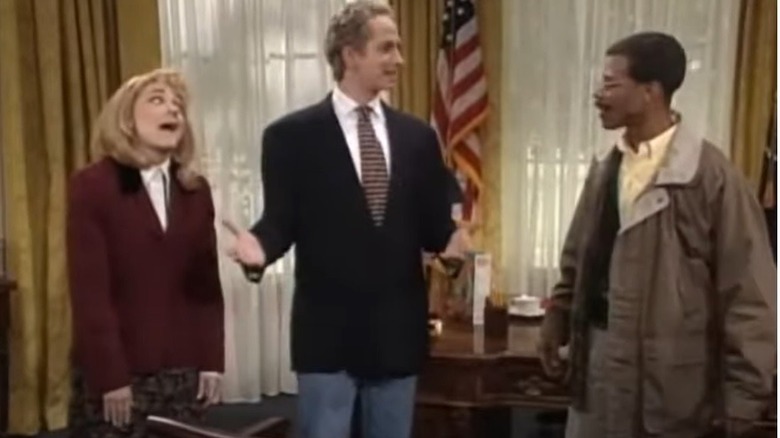 Fox
Though "Saturday Night Live" has had a rotating cast throughout its nearly 50-year run, the majority of sketch shows are formed by a specific group of people who mostly stay with the program until its end. This describes "Monty Python's Flying Circus," "The Kids in the Hall," "Mr. Show," "In Living Color," and "The State," to name a few.
However, it's worth noting that none of those shows lasted longer than six seasons. It definitely becomes more difficult to keep a core cast together on a sketch show much longer than that, as the various members begin to go off and do movies or other TV shows. The only other sketch show besides "SNL" to stay around for an extended period was "Mad TV," which lasted an impressive 14 seasons between 1995 and 2009 (plus a 2016 reboot season). The original cast of regulars — Orlando Jones, Nicole Sullivan, Debra Wilson, Phil LaMarr, Craig Anton, Mary Scheer, Bryan Callen, David Herman, and Artie Lange — only remained fully intact for two seasons, with Jones, Lange, and Callen all gone before Season 3. Wilson hung on the longest, leaving in 2003 after eight seasons.
By the final season of the original run of "Mad TV," the cast consisted entirely of performers who had only been there for the previous few years. The 2016 reboot season featured an entirely new cast, though veterans like Will Sasso, Bobby Lee, and Ike Barinholtz appeared as hosts, as did originals Sullivan and Wilson.
Degrassi: The Next Generation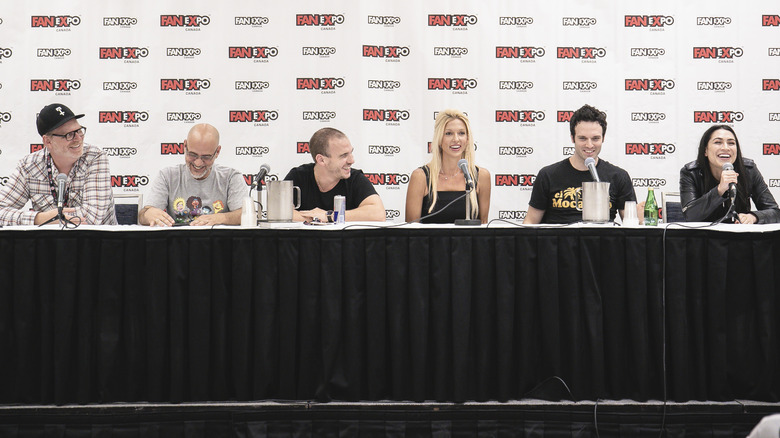 Brian De Rivera Simon/Getty Images
Though there is an entire "Degrassi" franchise that includes multiple TV series, television movies, and novels, it's easy to make the case that "Degrassi: The Next Generation" is the most popular offshoot of the franchise — and not just because it's where rapper Drake got his start. In fact, from Season 10 on, the show's title was simply shortened to "Degrassi" to further hammer home the idea that it wasn't just some offshoot of another show. 
The teen drama did have an actor who stuck around from Season 1 all the way to Season 14 — Stefan Brogren, who played Archie Simpson. But he was one of 12 series regulars that were there from day one, with three others — Miriam McDonald, Shane Kippel, and Cassie Steele — only sticking it out until Season 9. While a number of actors came and went throughout the show's run, Season 8 saw the addition of three actors — Aislinn Paul, Melinda Shankar, and A.J. Saudin — who would be among the regulars that closed "Degrassi" out in Season 14. The rest of the 20-plus series regulars who were part of Season 14's cast came aboard in Season 9 or later.
A number of the characters introduced in the final few seasons of the show were being set up to star in follow-up series "Next Class," and many stayed for all four of its seasons — with Stefan Brogren joining them as well. 
Misfits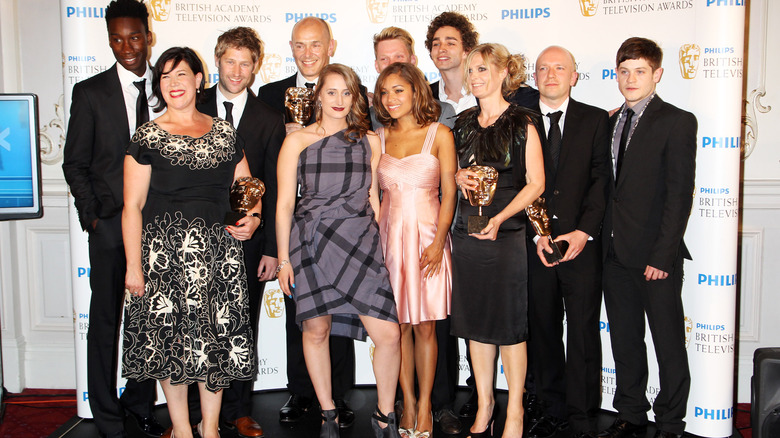 Dave Hogan/Getty Images
A fun mix of dark humor and sci-fi — and leaning heavily into a very U.K. flavor of both genres — "Misfits" ran for five seasons between 2009 and 2013 on E4 in England. The show focuses on five troubled teenagers who are doing court-ordered community service work when they all gain superpowers during an electrical storm. For the first two seasons, the five superpowered characters in question were played by Nathan Stewart-Jarrett, Lauren Socha, Iwan Rheon, Antonia Thomas, and Robert Sheehan, the last of whom was only recurring by Season 3.
By Season 4, only Stewart-Jarrett remained from the original cast. Joseph Gilgun had come aboard as Rudy in Season 3, and he would be joined by Karla Crome, Nathan McMullen, Natasha O'Keeffe, and Matt Stokoe. They would form the new regular cast that closed the show out in Season 5 — minus Stewart-Jarrett, who was gone after the fourth season. It's not entirely known why such a major cast exodus happened on "Misfits," but to its credit, the show did manage to stick it out for almost two full seasons after losing its entire original cast. 
There had previously been plans for an American remake of "Misfits" to air on Freeform, but there haven't been any official updates on its progress since the casting announcement way back in 2017.
Skins (UK)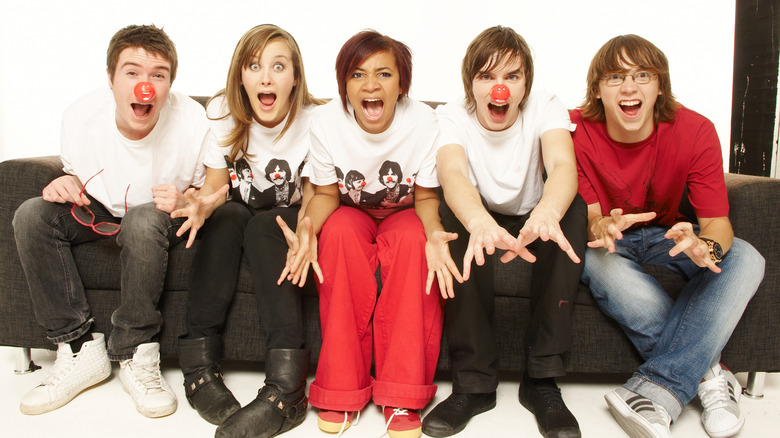 Comic Relief/Getty Images
Though MTV's American adaptation only managed one season in 2011, the original U.K. version of edgy teen dramedy "Skins" lasted for seven between 2007 and 2013. One of the reasons for its longevity is that the show smartly only followed one group of characters for a single "generation" that comprised two seasons, and would then do a full refresh with an entirely new group for the next one. Contrast this to so many other teen-focused shows that seem to focus on kids in high school who barely age for an entire decade.
The first six seasons of "Skins" was divided up into three generations of two seasons each, with not a single character carrying over from one to another. Things then took a slightly different direction for Season 7, which was actually made up of three television movies called "Fire," "Pure," and "Rise." While these also had almost completely new casts, "Fire" featured appearances by three 2nd generation actors in Kaya Scodelario, Lily Loveless, and Kathryn Prescott, "Pure" had a 1st generation cast member in Hannah Murray, and "Rise" starred 3rd generation actor Jack O'Connell. 
The Walking Dead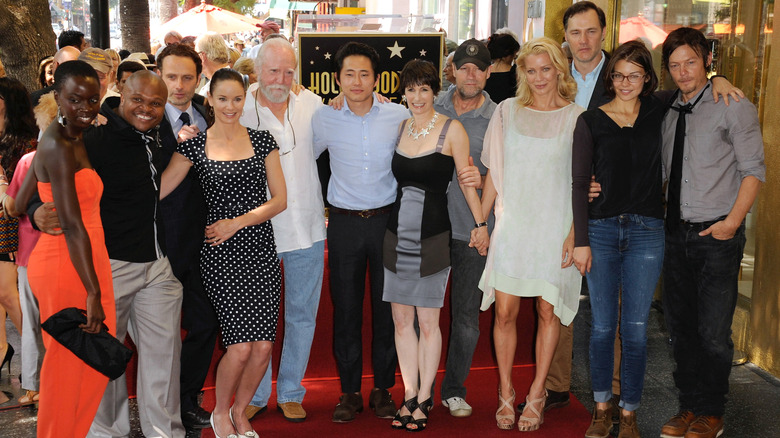 Albert L. Ortega/Getty Images
Like "Game of Thrones," AMC's adaptation of the comic book "The Walking Dead" always presented itself as a show where no character was safe, and anyone — even lead characters — could die at any time. That being said, "Game of Thrones" still had nearly a dozen of its original characters survive through the final season. "The Walking Dead," on the other hand, had only two, and both of them were actually only just recurring characters in Season 1. 
Beyond Andrew Lincoln making a guest appearance in Season 11, not a single original main "TWD" cast member from Season 1 was still around by the end of the zombie apocalypse drama. The two aforementioned survivors were Daryl Dixon (Norman Reedus) and Carol Peletier (Melissa McBride). What's especially interesting in this case is that Daryl Dixon wasn't even a character from the comic books and was instead an original creation for the show, who was originally supposed to die after only appearing for a few episodes. 
But Daryl quickly became a fan favorite, which not only made him a series regular beginning with Season 2 and a survivor to the end, but the star of his own self-titled spin-off, "The Walking Dead: Daryl Dixon," set to debut in 2023.
Law and Order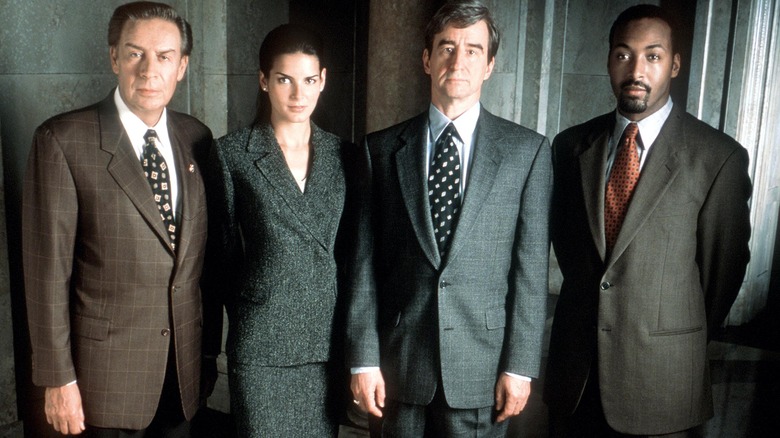 Getty Images/Getty Images
There's no denying how many lifers the "Law and Order" franchise seems to attract. There are two —  Mariska Hargitay and Ice-T from "Special Victims Unit" — who have put in over 20 seasons already, and a handful of others who have 10-15 seasons of a "Law and Order" show on their IMDb page. But what a lot of people forget is how different the main cast of the core "Law and Order" series looked at the beginning, versus where it ended up.
The hybrid police procedural/courtroom drama began Season 1 in 1990 with the characters Max Greevey (George Dzundza), Mike Logan (Chris Noth), Ben Stone (Michael Moriarty), Donald Cragen (Dann Florek), Paul Robinette (Richard Brooks), and Adam Schiff (Steven Hill) comprising its main cast. Greevey was out after Season 1, followed by Cragen and Robinette exiting in Season 3, Stone in Season 4, and Logan in Season 5. Schiff's exit in Season 9 marked the last of the original main characters to leave the show, at least initially — several would return later for just a single season as a main cast member or via guest spots. 
But the last appearance by a Season 1 regular in any form on "Law and Order" came by way of a Season 17 guest appearance for Robinette. Though Jack McCoy (Sam Waterson) has been onboard since Season 5, none of the rest of the credited series regulars for the show's 22nd and final season were around any earlier than Season 21.
The Bill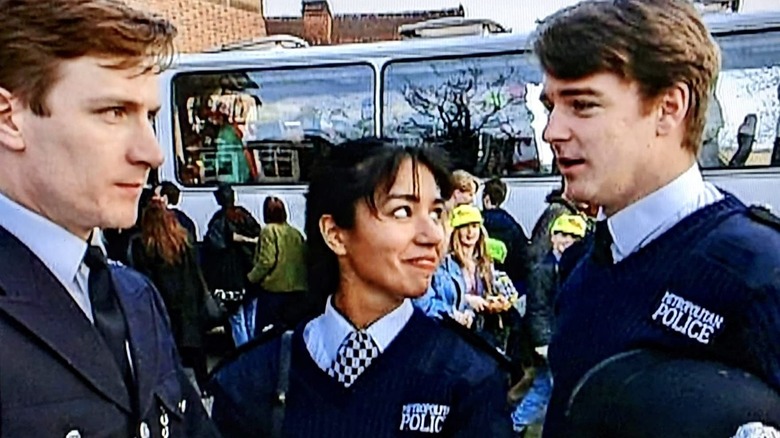 Thames Television
The U.S. isn't the only region that has police procedurals that last for decades. The U.K.'s "The Bill" debuted in 1983 and had an impressive 26-season run that took it all the way to 2010. While there are a number of actors who had literally hundreds of episodes of the show under their belts — such as Andrew Lancel, Lisa Maxwell, Cyril Nri, Alex Walkinshaw, Shaun Scott, Ben Roberts, Peter Ellis, and Christopher Ellison — none of the original cast made it beyond the year 2000.
The oldest of the cast members who were still regulars on "The Bill" during its final season was Simon Rouse, who began playing Superintendent Jack Meadows in 1990 and did so for an astonishing 884 episodes. Also joining Rouse in 1990 was the show's second longest-serving actor, Colin Tarrant, who portrayed Inspector Andrew Monroe for 704 episodes. But while there were definitely a few longtime veterans in the cast of "The Bill" when the credits rolled on its final episode, it had been a number of years since anyone from the show's first season had still been part of the program.
New Tricks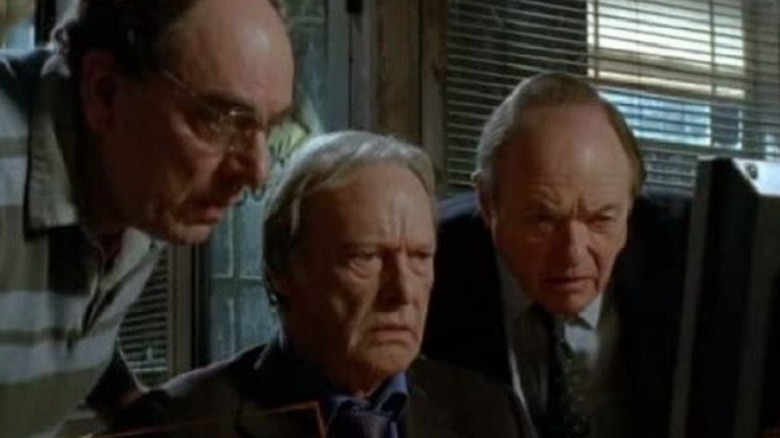 BBC One
Another U.K. police procedural, what sets "New Tricks" apart from similar shows on this list is that it was only on the air for 12 seasons, and it very nearly kept its original cast until the end. Its initial ensemble consisted of only four actors: Alun Armstrong, James Bolam, Amanda Redman, and Dennis Waterman. That foursome stayed intact for nine full seasons, with Bolam only appearing in a limited capacity for Season 9. But his full exit from the show after the end of that season set off a domino effect that had Armstrong and Redman also gone before the start of Season 10.
While Waterman stuck it out until the end, his co-stars for Seasons 11 and 12 were Denis Lawson, Nicholas Lyndhurst, Tamzin Outhwaite, and Larry Lamb, who all joined the show at various points between Seasons 9 and 12. "New Tricks" was definitely unique in having the main cast stick around for about 85% of its run, while still going ahead and doing two more full seasons after losing three of the four original actors.