The Real Reason Anthony Edwards Left ER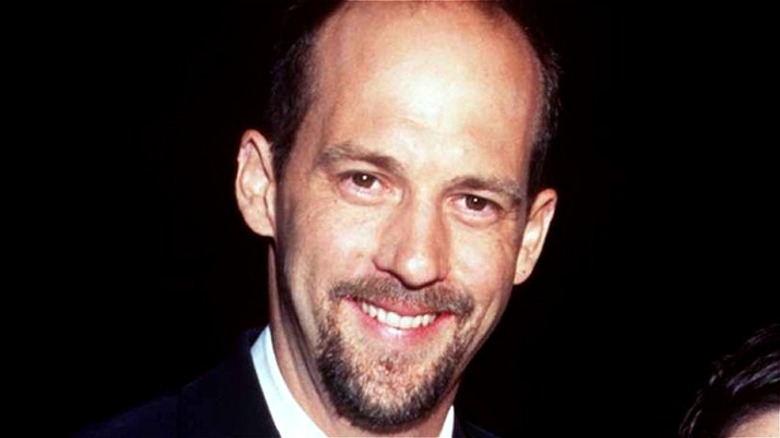 Ron Wolfson/Getty
NBC's "ER" captivated audiences for nearly two decades and, along the way, there's been some legendary names and faces to walk through the doors of County General. One of those memorable faces was arguably the show's second most iconic cast member: Anthony Edwards, aka Dr. Mark Greene. 
Appearing as a series regular for Seasons 1 through 8, Edwards was an "ER" staple until his 2002 departure. He remained on the show for three seasons after its biggest star, George Clooney, aka Dr. Doug Ross, exited following Season 5. Edwards wound up taking over as the leading man on "ER" during that time, with his Dr. Greene serving as a leader and mentor to the staff at the fictional Chicago-area hospital.
But, as with all good things, the life Edwards had built around "ER" would eventually come to an end. However, things didn't go down the way viewers may think when it came to writing Dr. Greene — and, by extension, Edwards — off the show. Here's the ultimate reason why the "ER" alum wound up leaving after nearly a decade as an integral member of the NBC medical drama.
Edwards left ER to spend more time with his family
Getty Images/Getty Images
Despite what fans may think, Anthony Edwards' decision to step away from "ER" after eight seasons was one that not only benefited him but his family as well. Speaking to The Associated Press (via ABC News) back in 2001, the father of four said: "I think [the 2001-02 season] will be it. It's been eight years of my family working around my schedule. It's been a long time playing Dr. Greene."
Since its debut in 1994, "ER" has fallen victim to several high-profile exits by some of its biggest cast members, including George Clooney, Julianna Margulies, Gloria Reuben, Eriq La Salle, and Alex Kingston, who all left after a few seasons. In fact, according to IMDb, there is not one single actor who appeared on all 15 seasons of "ER." Edwards' Dr. Greene wound up being killed off by the showrunners, who gave him an inoperable brain tumor in a move that left viewers devastated.
"They knew that I would be leaving the show, so they had two years to tell the story of someone going through this life transition," Edwards recalled to Yahoo TV in 2017. "By the time we got to that goodbye, it was a goodbye that they had been setting up for two years," he added. The "ER" alum went on to say that, for many viewers, the experience of losing a loved one may have helped make Dr. Greene's death "a little understandable." He went on to say, "It's why we listen to music or why we watch TV shows ... we still want to be told a story and have it relate somehow to our lives."