Actors Who Played The Same Character For Decades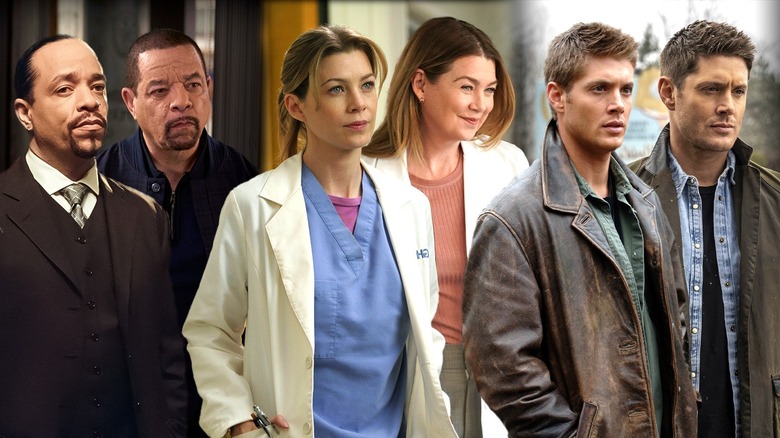 Static Media
The entertainment industry is a cut-throat business that's not easy to navigate, even for the most talented individuals. Finding any modicum of success not only requires hard work, but also a huge amount of luck. Just look at all the television shows that are canceled within their first season, or the many, many actors who never quite make it in Hollywood. What's even more difficult is sustaining success over a long period of time — something that a select few actors have managed to do in spectacular fashion.
Portraying the same character over any length of time can be a challenging task and at the very least requires a show to remain on the air for a long time. Yet, the actors we're talking about today have all beaten the odds and remained in their jobs for a surprising amount of time. All of these stars managed to keep coming back, playing the same character over and over again across numerous seasons. Let's look at some TV actors who played the same character for decades.
Ice-T & Mariska Hargitay - Law & Order: SVU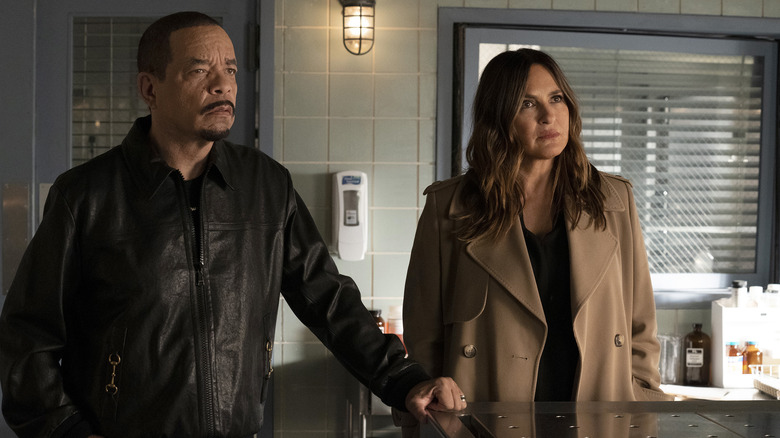 NBC
It shouldn't come as much of a surprise that one of the longest television acting stints belongs to "Law & Order: Special Victims Unit." The crime drama has been on the air since 1999 and is still going strong 24 seasons later, with no sign of it coming to an end anytime soon. The show follows the same basic formula set by its predecessor, but "SVU" differs in the specific kind of crimes it focuses on.
Having been on the air for so long, "Law & Order: SVU" is home to many actors who've appeared in hundreds of episodes. Ice-T holds a TV world record for his long-running role on the show as Fin Tutuola, who's been present since the final episode of Season 1 and has gone from a junior detective to a sergeant at the New York Police Department. As a mainstay of the show, the former rapper is likely to continue to rack up many more episodes, extending his reign as the longest-tenured male actor in TV history. Even still, he isn't the longest-running actor on the show — a title that belongs to his co-star Mariska Hargitay. As lead protagonist Olivia Benson, Hargitay has appeared in well over 500 episodes.
Noah Wyle - ER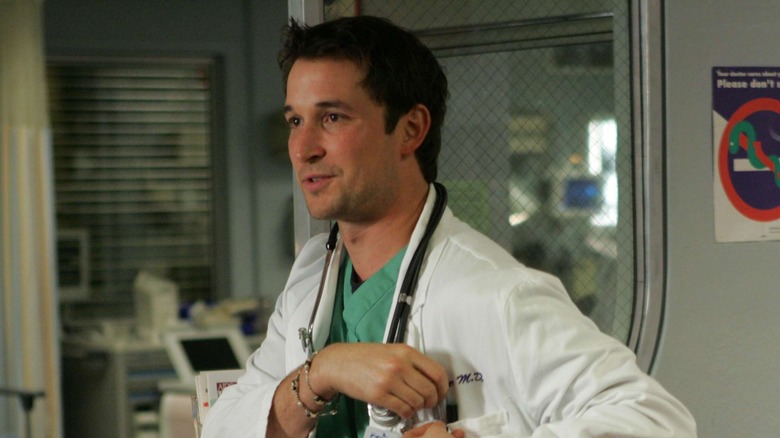 NBC
Developed by "Jurassic Park" author Michael Crichton, "ER" is one of the longest-running medical dramas ever made. First broadcast in 1994, the show continued for 15 seasons until 2009, when it eventually came to an end. A huge ratings success, "ER" proved to be a commercial hit and maintained a huge following throughout its run. The series primarily tells the story of the staff employed at the emergency room of Cook County General Hospital as they deal with a wide range of medical and operational issues.
The initial cast was made up of George Clooney, Sherry Stringfield, Anthony Edwards, Eriq La Salle, and Noah Wyle. All of them put in strong performances and helped propel the show to numerous Primetime Emmy Awards and nominations. However, Wyle is perhaps the star most associated with the series. He was a regular cast member up until season 12 and appeared in the final season along with most of the original cast. In total, he featured in more than 250 episodes as Dr. John Carter over a span of some 15 years, making him the actor with the most appearances in the medical drama.
William Roache - Coronation Street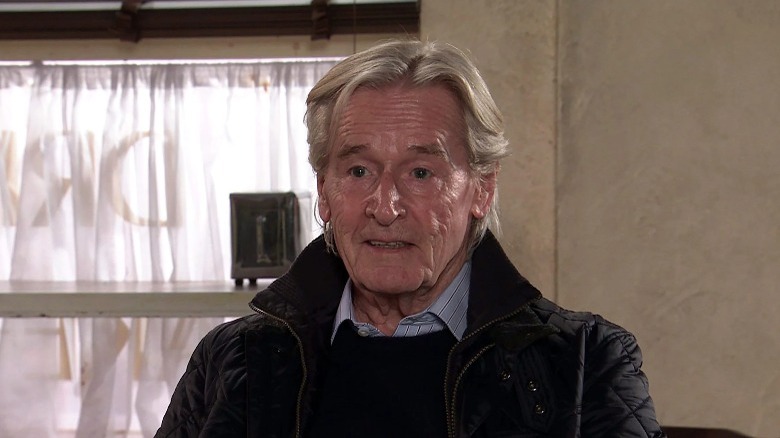 ITV
Soap stars are often some of the longest-serving actors on television. After all, it's not unusual for actors to play a particular character pretty much exclusively for years, becoming a constant presence on television screens. That's certainly the case with William Roache, who's played Ken Barlow on the British soap "Coronation Street" for more than six decades — a role he continues to this day.
"Coronation Street" is broadcast on ITV in the UK and has been on the air since 1960, meaning Roache has been on the soap since it first began. It charts the lives of various characters in a working-class community in Manchester. With multiple episodes shown every week, the series has moved past the 10,000-episode mark and isn't likely to come to an end anytime in the near future.
Officially recognized by Guinness World Records as the longest-serving television star in a continuous role, the 90-year-old actor has had few parts outside of the soap and is one of the most recognizable figures on British television.
James Arness - Gunsmoke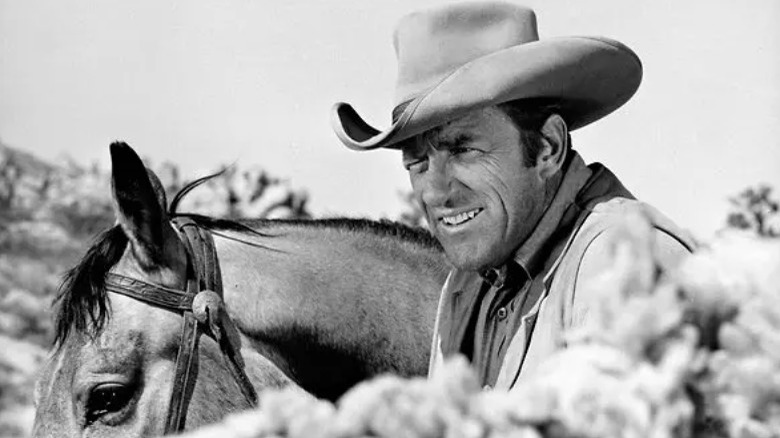 CBS
"Gunsmoke" may not be a series that many modern TV viewers will be familiar with. In fact, the original series wasn't even on television, as the show began as a radio drama that notched almost 500 episodes between 1952 and 1961. The success of the program led to a television series, which made its debut on CBS in 1955 and ran for a similarly long time. When it came time to cast the main character, a United States Marshal named Matt Dillon operating in the Wild West, producers didn't want to stick to voice actor William Conrad. Instead, they cast James Arness in the role, an actor who'd been involved in a number of other Western productions during his career.
The show made Arness a household name in the U.S. and around the world. He played Dillon from his debut in 1955 for all 20 seasons of the show until it ended in 1975. The actor later returned to the Western world in 1987 for the television movie "Gunsmoke: Return to Dodge" and starred in four more in the early and mid-90s, making his final appearance as the character in "Gunsmoke: One Man's Justice."
Angela Lansbury - Murder, She Wrote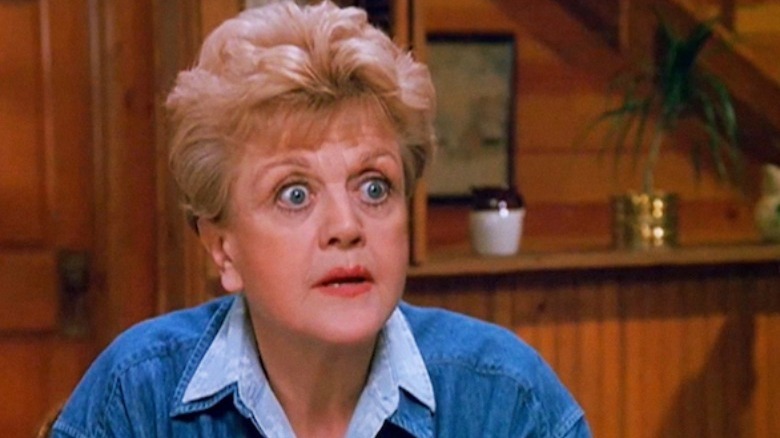 CBS
The late, great Dame Angela Lansbury is associated with a diverse set of television and movie productions. She had a role in the live-action Disney film "Bedknobs and Broomsticks" and went on to voice Mrs. Potts in the animated movie "Beauty and the Beast." She's also well known for her work in the likes of "The Manchurian Candidate" and "Anastasia," as well as the Broadway musical "Mame." Perhaps more noteworthy than all that, however, is Lansbury's longstanding role as Jessica Fletcher in "Murder, She Wrote."
A mystery writer and widower, Fletcher often finds herself at the center of difficult criminal cases, assisting the police in gathering evidence and pinpointing suspects. Having first played the character in 1984, Lansbury appeared in some 264 episodes over the course of 12 seasons up until 1996 when the series came to a conclusion. She later returned to the role of the former English teacher in 1997 for the television movie "Murder, She Wrote: South by Southwest," along with three more one-off outings until her final time playing Fletcher in the 2003 movie "Murder, She Wrote: The Celtic Riddle."
Leslie Charleson - General Hospital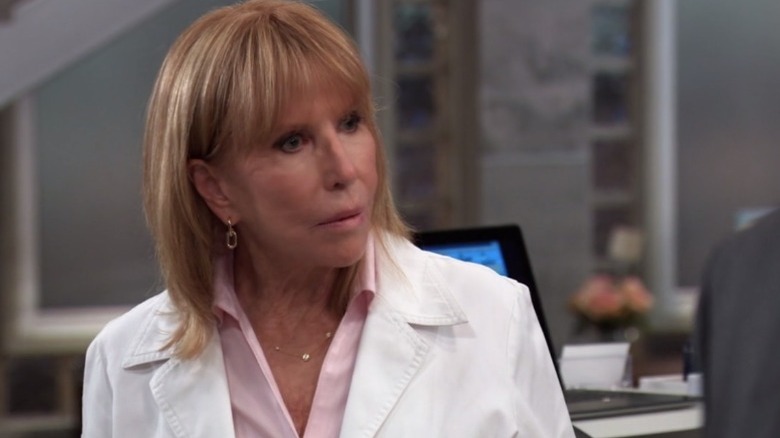 ABC
With American daytime soap opera "General Hospital" having been on the air since 1963, it shouldn't come as a huge surprise that many of its actors have been in their roles for decades. The ABC show is still on the air today, and it's long been a staple of daytime television in the U.S. Set in the fictional New York city of Port Charles, the story revolves around the large hospital at the center of the town, although other locations such as the Metro Court hotel, Kelly's Diner, and the Floating Rib bar also feature prominently.
Leslie Charleson has been involved as a main part of the "General Hospital" cast since 1977, continuing into the present day, although in a slightly reduced capacity. In fact, during her 45-year stint playing the character of Monica Quartermaine — who was originally played by Patsy Rahn — Charleson has only had one significant break between 2010 and 2011. She joins other long-serving members of the cast such as Rachel Ames, John Beradino, and Emily McLaughlin, having appeared in more than 1,000 episodes of the soap.
Jon Cryer - Two and a Half Men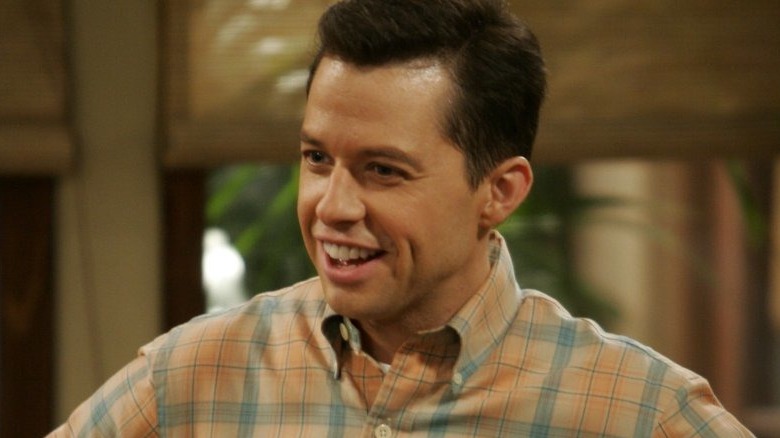 CBS/WB Television Network
"Two and a Half Men" had what some might describe as a troubled history during its 12-season run. Lead actor Charlie Sheen had his contract terminated prior to Season 9 after a series of controversies, and he was replaced by Ashton Kutcher. Alongside those two actors, Jon Cryer and Angus T. Jones also had starring roles as a father and son duo who join Sheen's character in his Malibu mansion following a divorce. The two later bond with Kutcher's Walden Schmidt when he purchases the house and continues to live there at his insistence.
The complicated situation involving Sheen and Kutcher meant that both star actors didn't appear in as many episodes as either Cryer or Jones. In fact, only Conchata Ferrell, Cryer, and Jones made appearances in more than 200 episodes. However, Cryer has the distinction of being involved in every single episode of "Two and a Half Men," becoming a household name because of his role in the sitcom. Following the conclusion of the show, he has continued to have a regular presence on television, most notably playing Lex Luthor in several "Arrowverse" shows.
Sam Waterston - Law & Order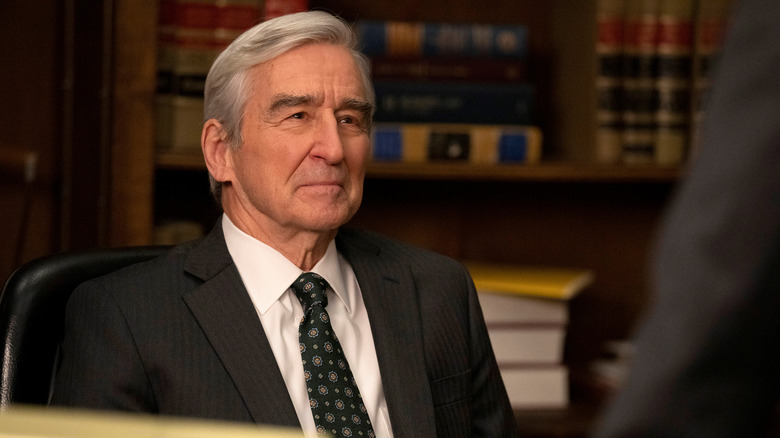 NBC
Sam Waterston is a veteran actor who's won or been nominated for almost every major award over the course of his career. With almost 100 screen credits to his name, the actor has had roles in the likes of "The Killing Fields," "The Great Gatsby," and "Serial Mom" among many others. Yet, he is probably best known for his work in "Law & Order."
The police procedural began in 1990 and ran for a total of 20 seasons until being canceled in 2010. Waterston joined the show during its fifth season in 1994, portraying Assistant District Attorney Jack McCoy. When NBC revived the show in 2021, Waterston returned to the role and has continued to play the character to the present day.
An important part of the series, McCoy makes it clear early on that he's determined to put criminals behind bars. He's willing to do whatever it took to achieve this, often bending rules and being ruthless in pursuing those he's tasked with prosecuting.
Ellen Pompeo - Grey's Anatomy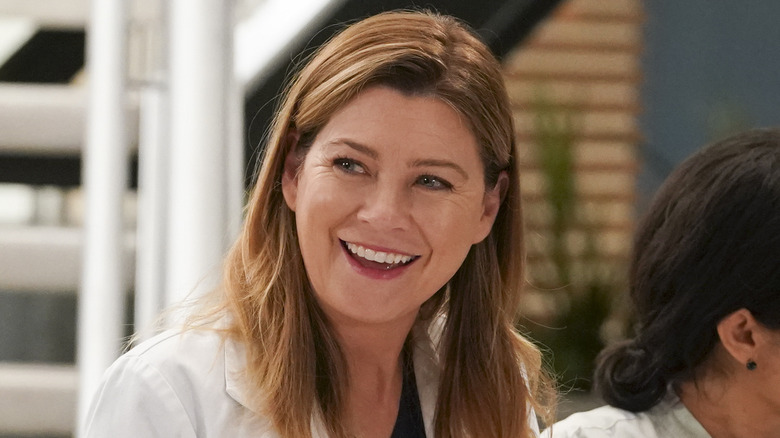 ABC
"Grey's Anatomy" quickly became a phenomenon after hitting television screens in 2005. The show follows the lives of the medical staff at Seattle Grace Hospital. Created by Shonda Rhimes, it features a large and diverse cast that's included Patrick Dempsey, Katherine Heigl, Sandra Oh, Justin Chambers, and Kevin McKidd, among others, over the 18 years it's been on the air. The show has even launched a number of spin-offs, including "Private Practice" and "Station 19," along with crossover episodes between them.
Yet, the most important of all the characters is undoubtedly Meredith Grey. Portrayed by Ellen Pompeo, the doctor lends her name to the show and is the central figure of the vast majority of the storylines. The success of both the show and the Meredith character has made Pompeo one of the highest-paid television actors of all time and ensured that she has become a household name.
Jared Padalecki & Jensen Ackles - Supernatural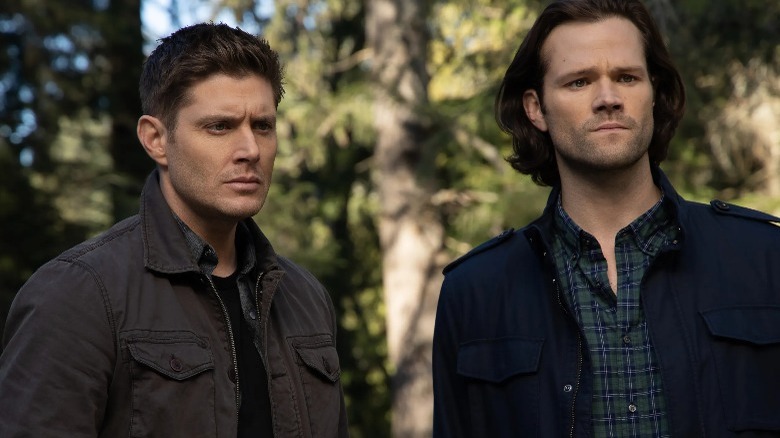 Warner Bros. Television Distribution
Premiering in 2005, "Supernatural" is a fantasy drama series that aired for 15 seasons up until 2020. With more than 300 episodes in total, it became one of the most successful shows on television in recent times. The story follows the Winchester brothers — Sam (Jared Padalecki) and Dean (Jensen Ackles) — who are hunters of supernatural beings such as ghosts, vampires, and demons. The series begins with them setting out to locate their missing father. By the time the story ends, they've discovered numerous supernatural conspiracies and saved the Earth from destruction many times.
Padalecki and Ackles play Sam and Dean in all 15 seasons, and it's their chemistry that makes the show work so well. Padalecki previously had roles in "Gilmore Girls" and "Friday the 13th" before being cast in "Supernatural," while Ackles was best known for his portrayal of Eric Brady on "Days of Our Lives." Traveling across the country in their signature Chevrolet Impala, the Winchesters captured the imaginations of viewers, ensuring that "Supernatural" ran for many years.
Kelsey Grammer - Frasier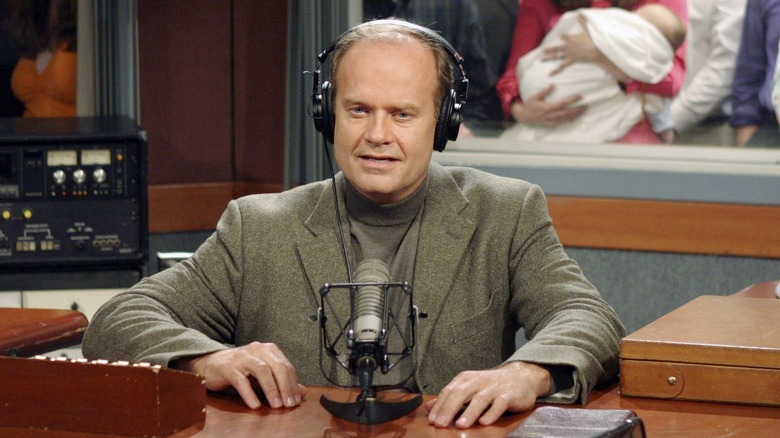 NBC/Paramount Global Content Distribution
Kelsey Grammer became one of the most famous comedy actors on television when he joined the cast of the NBC sitcom "Cheers." The actor played the character of Frasier Crane, a psychiatrist who was first introduced during Season 3 and quickly became a regular part of the supporting cast of the show. Throughout his time on "Cheers," Frasier notably had a number of love interests, including Diane Chambers and Lilith Sternin — the second of whom he eventually married and had a child with.
After "Cheers" came to an end in 1993, producers immediately began production on the spin-off series "Frasier," which features the titular character as one of the three main protagonists. This new sitcom sees Dr. Crane move back to Seattle to work as a radio host following his divorce from Lilith. It proved a commercial and critical success, winning dozens of awards in a run of 11 seasons. In total, Grammer portrayed his legendary character for 20 years across both "Cheers" and "Frasier," and he'll soon extend that number with the impending "Frasier" revival.
Peter Falk - Columbo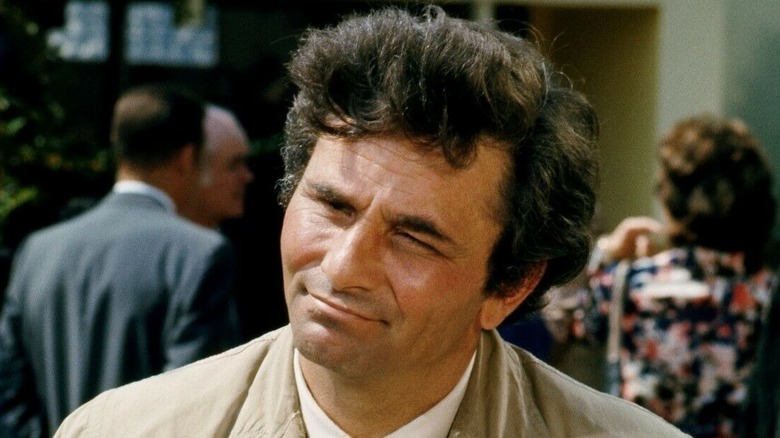 NBC
Starting his acting career in the 1950s, Peter Falk found quick success on both the big and small screens. He was nominated for Academy Awards for his roles in "Murder, Inc." and "Pocketful of Miracles" while also receiving Emmy nominations for performances in shows like "The Dick Powell Theatre." Yet, despite this stellar and varied career, Falk is almost exclusively remembered for his role as the brilliant detective Columbo in the show of the same name.
The actor was first cast in the role of Lieutenant Columbo, a homicide detective within the LAPD, in 1971. An unmatched police officer, Columbo is a working-class detective who's able to solve seemingly impossible crimes using unusual methods, tricking criminals into admitting their crimes or incriminating themselves with their testimony.
Falk starred in the crime drama for seven years and later returned to the character in 1989 for two more seasons. He reprised the role again for a collection of specials that were released sporadically until 2003. By the time of the final episode, Falk had been playing the character for almost 35 years in total.
Gillian Anderson & David Duchovny - The X-Files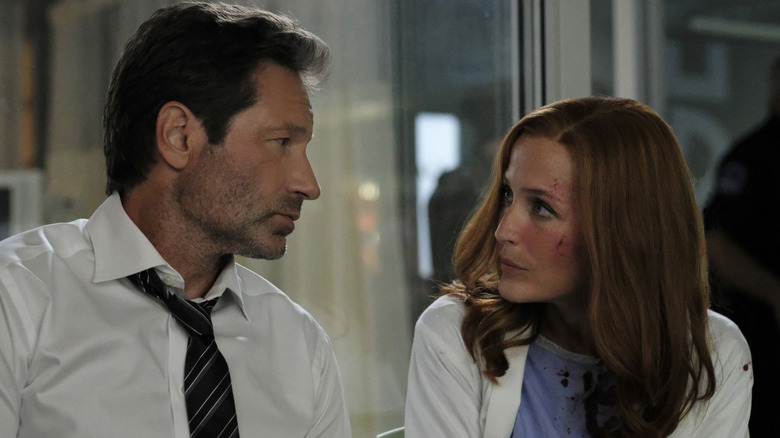 Fox Broadcasting Company/20th Television
One of the most famous and longest-running science fiction shows ever, "The X-Files" follows FBI agents Fox Mulder and Dana Scully as they investigate a series of unsolved paranormal events. The two main protagonists are played by David Duchovny and Gillian Anderson. Although Mulder is a firm believer in the supernatural and extraterrestrial life, Scully is a more rational and skeptical figure who tries to put her scientific background to good use in their investigations.
Over the course of the series, which ran from 1993 until 2002, the pair become embroiled in a government conspiracy and are exposed to many secrets that have been purposely hidden away from the public. The plot features a complex mythology involving a future alien invasion and an alliance with powerful humans, with Scully and Mulder progressively unearthing more and more hidden pieces of the puzzle. 
As Scully, Anderson appeared in all but a few episodes of "The X-Files." This is in contrast to Duchovny, who missed many episodes in Seasons 8 and 9. However, both actors returned in the 2008 feature film "The X-Files: I Want to Believe," and in a revival that lasted for two seasons between 2016 and 2018.
Mark Harmon - NCIS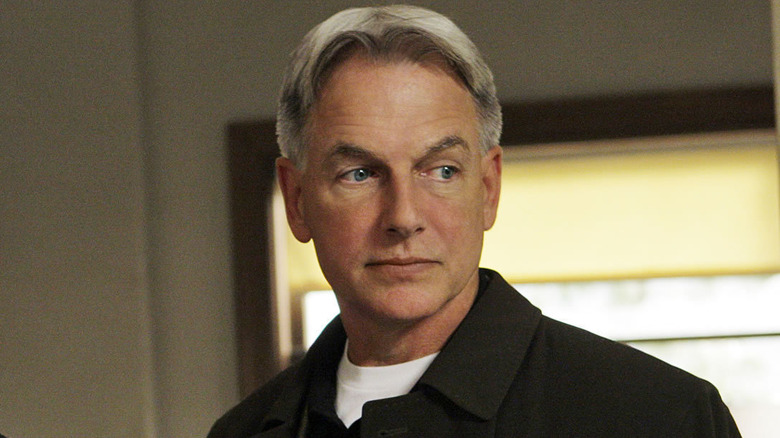 CBS
Mark Harmon didn't get his big break in television until 2002, when he became a central character in four episodes of "The West Wing" playing a Secret Service agent. He was then cast to portray the character of Leroy Jethro Gibbs in "JAG" in a two-episode arc that acted as a backdoor pilot for "NCIS." A former U.S. Marine Corps scout sniper, Gibbs leads a team at the Naval Criminal Investigative Service. He's a stoic man who holds military personnel to a far higher standard than civilians and expects them to always act within the law and to set an example for everyone else.
Harmon portrayed Gibbs from 2003 until 2021, making 435 appearances in the main series as well as a handful of roles in the various "NCIS" spin-offs. He departed the series during its 19th season, with the character finally finding peace after struggling with the murder of his family. Viewers last got a chance to see him fishing in Alaska as he passed over the baton to Timothy McGee as the new leader of the team.