Captain Marvel Trailer 'Still A Few Months' Away, Says Kevin Feige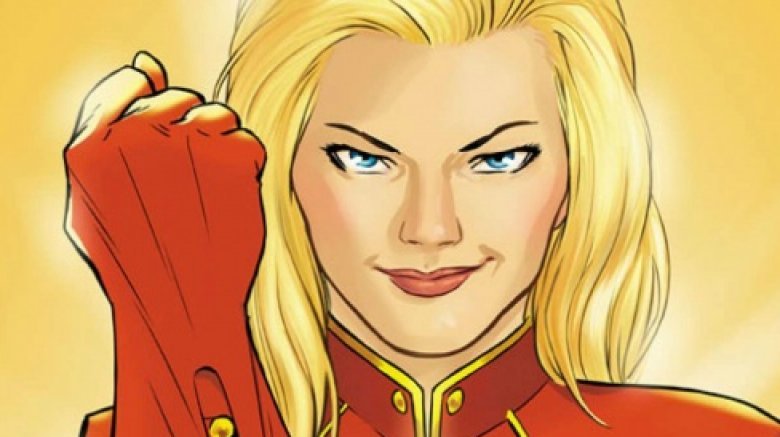 Sorry, Captain Marvel fans: it's going to be a while before you get your first glimpse at the film. Marvel Studios head Kevin Feige said in a recent interview with Comic Book that he thinks there are "still a few months" before we'll get to see a trailer for the Brie Larson-starring movie, adding that they're "still figuring it out."
Larson is set to play the title character in Captain Marvel, which will be set in the 1990s. The film will follow Larson's Carol Danvers as she takes on her heroic identity and gets caught up in an intergalactic conflict between two alien worlds. The film will also feature Samuel L. Jackson and Clark Gregg reprising their roles as Nick Fury and Phil Coulson, respectively. Djimon Hounsou and Lee Pace also reprise their roles from Guardians of the Galaxy.
"You already know as much as you need to," Feige told Comic Book of the movie's plot. "We've got Skrulls, we've got the Kree, it takes place in the '90s, you have Sam Jackson with two eyes and Carol Danvers, a unique telling of Carol Danvers origin story. We are about two weeks out from completion of principal photography." Feige, who had previously described Captain Marvel as one of the most powerful characters in the MCU, added that she and other newcomers like Black Panther (Chadwick Boseman), Spider-Man (Tom Holland), and the Wasp (Evangeline Lilly) will be "very important" to the franchise's future.
"I mean, all of the things you've seen throughout Phases 1 and 2 and now through much of 3, the new characters always are important going forward in driving, shaping the future of the MCU," Feige said. "I think it would be amazing, another 10 years; another 20 films or so. We only focus on one step at a time but that's all about continuing to surprise with the stories, go unexpected places, continue to play with new, fresh, unexpected genres and then introduce characters that people might have heard of or a beloved big fan base like Captain Marvel or characters like Guardians where before we made that, people had never even heard of them."
Captain Marvel will also feature Jude Law as Carol's mentor Mar-Vell, Annette Bening as a scientist, and Gemma Chan as a Kree geneticist. Ben Mendelsohn, Lashana Lynch, Algenis Perez Soto, Rune Temte, McKenna Grace, Robert Kazinsky, Kenneth Mitchel, Vik Sahay, and Colin Ford also star in the film, which is co-directed by Mississippi Grind's Boden and Fleck based on a script from Liz Flahive (GLOW), Meg LeFauve (Inside Out), Carly Mensch (Weeds), Nicole Perlman (Guardians of the Galaxy), and Geneva Robertson-Dworet (Tomb Raider).
Captain Marvel is set to hit theaters on March 8, 2019.