Gotham City Sirens Screenwriter Tapped For Captain Marvel Rewrite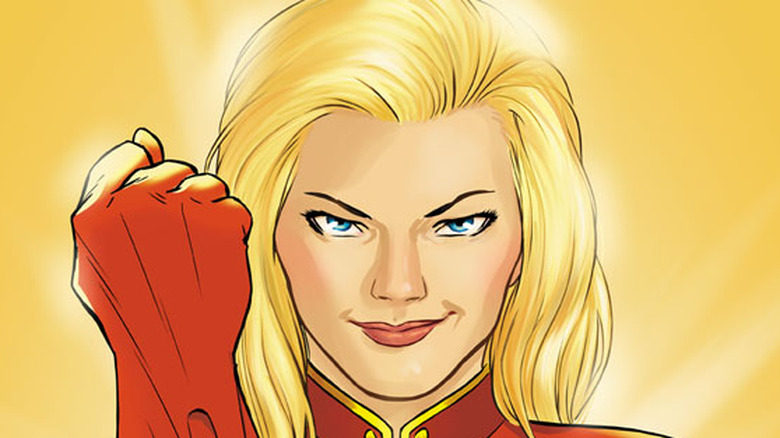 Captain Marvel will be getting a rewrite from the mind behind the upcoming Tomb Raider reboot. According to Deadline, Geneva Robertson-Dworet has been tapped to do a new draft of the script for the upcoming superhero flick, which is set to star Brie Larson in the title role.
Marvel revealed at San Diego Comic-Con that Captain Marvel will be an origin story for the powerful character set in the 1990s. A two-eyed Nick Fury (Samuel L. Jackson) is set to join Carol Danvers on her adventures, which will include taking on the Skrulls, a shape-shifting alien race. Mississippi Grind duo Anna Boden and Ryan Fleck are set to direct the film.
Inside Out's Meg LeFavue and Guardians of the Galaxy's Nicole Perlman were initially set to write the script, but LeFauve had to leave the project due to her commitment to co-directing the upcoming Disney Animation movie Gigantic. 
While Robertson-Dworet has yet to have a film make it to theaters, she is already in high demand, being tapped to write Gotham City Sirens for Warner Bros. and DC, as well as Sherlock Holmes 3 and the upcoming Dungeons and Dragons movie. Robertson-Dworet has made the Black List twice, most recently for her film Ares, which Underworld: Blood Wars' Anna Foerster is now set to direct for MGM.
Larson has previously said how she looks at Captain Marvel, describing the character as someone who balances power and humor. "She's a believer in truth and justice and she is a bridge between two worlds, Earth and space," Larson said. "She's fighting between the flaws that are within her and all this good she wants to try and spread and make the world a better place. She can also fly and shoot things out of her hands. And she's really funny!"
Robertson-Dworet's resume to date certainly suggests that she knows how to write powerful female characters. It will be a while before we get to see what her take on the character entails, as the movie isn't due out until March 8, 2019. For now, see some of the other movies that will blow you away that year.