Small Details You Missed In Poker Face Season 1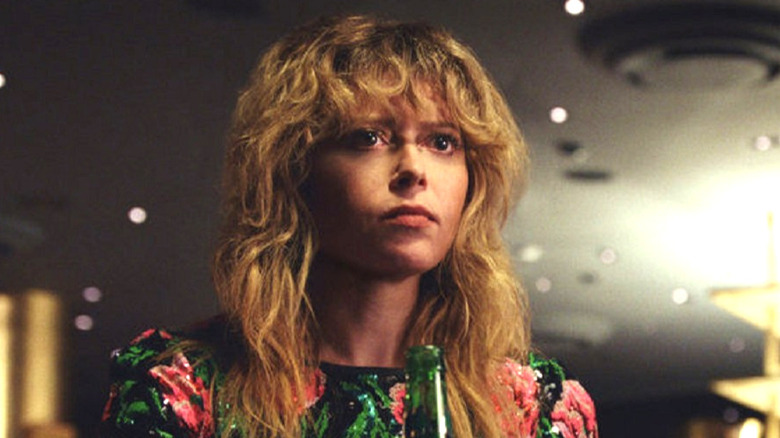 Peacock
"Poker Face" is a mystery series that takes the "howcatchem" format that makes "Columbo" a classic and twists it into something fresh, funny, and for fans of breezy viewings and obsessive freeze-framers alike. The show, created by mystery maestro Rian Johnson of the "Knives Out" movies, "Brick," and "Looper" fame, is co-showrun by screenwriting sisters Nora and Lilla Zuckerman. Natasha Lyonne ("Russian Doll") partnered with Johnson to build Charlie Cale, an amateur detective with a knack for trouble, a heart of gold, and an eye for bull@#$%.
The cast is starrier than the night sky over an Albuquerque Subway, and the show's roster of writers, directors, composers, decorators, and designers is just as brilliant. "Poker Face" is a creative collaboration bar none and a rewatcher's delight. For example, in "The Hook," did you notice Charlie cracks her phone screen so no one can use her face to open it? She's likely inspired from the trick used by the villain in "The Orpheus Syndrome," and her own hacking into Natalie's iPad in "Dead Man's Hand."
The devil might be in the details, but in "Poker Face," the details are also what trip the devils up. Little Easter eggs also reward audience attention, be they cameos from famous musicians, send-ups of Nordic mystery shows, or consistent cutaways to "Burn Notice." Let's go on the run through a spoiler-heavy landscape to rescue an evil dog ... and all the small details you missed in "Poker Face" Season 1.
That Subway lied to you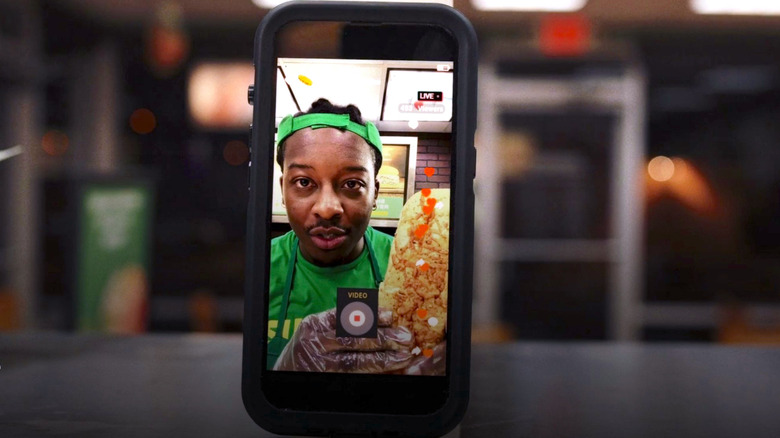 Peacock
Sweet, doomed Damian (Brandon Micheal Hall) slings sandwiches and motivational TikToks during his time alive in "The Night Shift" written by Alice Ju. However, Damian works at what Charlie might describe as a "bull@#$%" Subway. Production designer Judy Rhee and her "Poker Face" crew built the fake Subway as a set outside Albuquerque, New Mexico.
Rian Johnson tweeted that instead of riding the meat-and-cheesy high of product placement, the show's creative team had to beg Subway to use their logo. Johnson wanted the shop Damian worked at to be a place viewers recognized as a real-life road trip stop, "not a movie-fied one."
Nora Zuckerman also tweeted that the production crew did such a great job making the Subway look and even smell legit by stocking it with sandwich ingredients that locals tried to walk in and order. Eagle-eyed viewers might also recognize the landscape surrounding the Subway from Rian Johnson's early directorial work on "Breaking Bad."
The Hook was a oner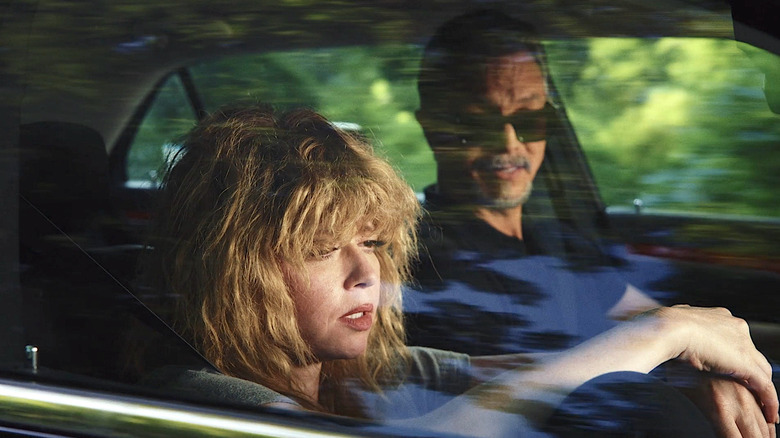 Peacock
Benjamin Bratt plays Cliff Legrand as a lean, mean, stalking machine. Part efficient and clean apex predator, part "Burn Notice" superfan, Bratt's Cliff is a man on a mostly silent mission. Until, of course, the Season 1 finale, where he gets to bust out "The Hook."
Cliff has captured Charlie after a long, hard year, and is en route with her back to Sterling Frost Sr. Charlie admits that she feels somewhat relieved by her capture, after having spent so much time trying to escape it. Cliff acknowledges that Charlie's fate is inevitable and launches into a smug and spooky spoken-word interpretation of Blues Traveler's 1994 hit "The Hook" all in one single take that is precisely what you see in the finished episode.
"The Hook" is directed by Janicza Bravo ("Zola") and written by Rian Johnson, and Bratt sort of brought on the Blues Traveler moment himself. Bratt told Vulture that in early discussions, he asked Johnson if Cliff would have an opportunity to go head-to-head with Natasha Lyonne's Charlie. According to Bratt, Johnson said, "Listen, I don't know what it's going to be yet, but I promise that opportunity will come your way." Both Bratt and Johnson delivered on the showdown serenade — and most likely John Popper's Spotify streams — and we ain't tellin' you no lie.
The show was a famous musician's first acting role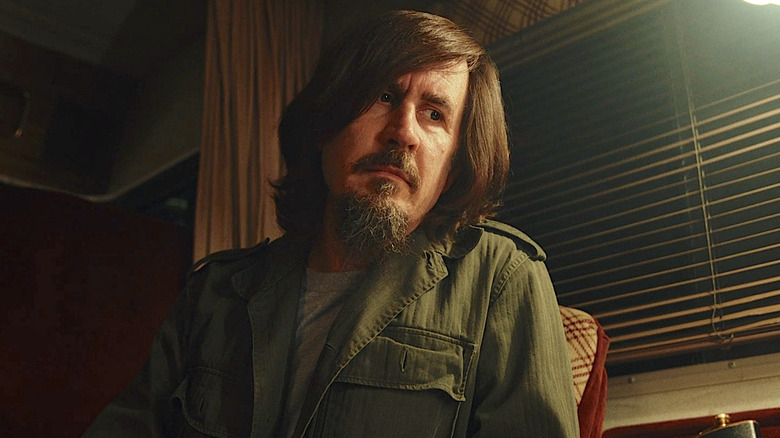 Peacock
"Poker Face" has more to its musical legacy than early-'90s blues rock. John Darnielle, lead singer of the Mountain Goats (and part-time horror novelist) counts "Rest in Metal" as his first acting role. If you're an alternative music fan or even just a millennial who has gone through a divorce, chances are you know the music of the Mountain Goats. Darnielle sends up his musical persona in his "Poker Face" appearance. Darnielle previously worked with director Rian Johnson on a concert film and a joke song inspired by "The Last Jedi," and also contributed music to the episode.
Darnielle told Vulture that he began his "Poker Face" role off-screen as a "full-time metal consultant" who would help keep the fictional band Doxxxology realistic. Darnielle ended up recruiting Hatebreed's Jamey Jasta to write music for the episode. In the same interview, Darnielle also said he wrote new lyrics for "Suckerpunch," but Johnson rejected them because the lyrics "had to be...something he has in his pockets."
While Darnielle is an accomplished musician and author, acting is a new experience for him, and one he won't rule out doing in the future. "It was a real treat to be in a place where I didn't have any confidence in what I was doing," he said. "As an artist, that's a place you want to go! ...You have to be doing stuff that makes you work harder." We hope Darnielle works harder on finishing "Merch Girl."
There's one episode where nobody dies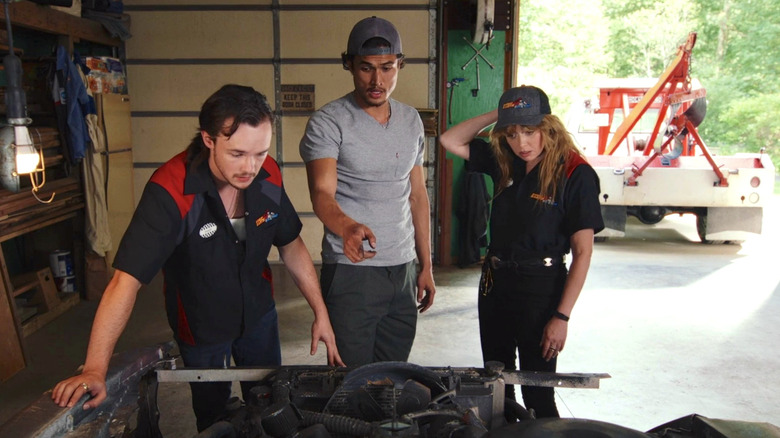 Peacock
Almost every episode of "Poker Face" operates with the same format that slightly shuffles time in the early part of the episode. We usually spend a bit of time with the episode's bad guy, witness said bad guy make their kill, then rewind time to see how Charlie is connected to it all, and then watch how she gets the bad guy where it hurts. Of course, there are slight variations on this format, but there's only one episode in Season 1 where nobody dies.
Episode 7, "The Future of the Sport" is a high-octane thrill ride (pun intended), but not a fatal one ... not for lack of trying, at least. Bad guy Kyle Owens (Tim Blake Nelson) fails at taking out the other bad guy, Davis McDowell (Charles Melton). Davis tries to kill Owens' kid, Katy (Jasmine Aiyana Garvin), but only manages to knock her into a coma. Davis also tries, and fails, to kill Charlie by running her off the road. It's a scary moment and a bit of foreshadowing for the events of Episode 9, "Escape from Sh*t Mountain."
Davis gets his just desserts in the end when Charlie pops by to let him know she knows what he did, and that Katy Owens will get healthy enough to beat Davis at his own game. "The Future of the Sport" mixes things up by shaking up who the audience sympathizes with, and sticking Davis with what might be a fate worse than death — losing his "flow."
Wood you listen to the music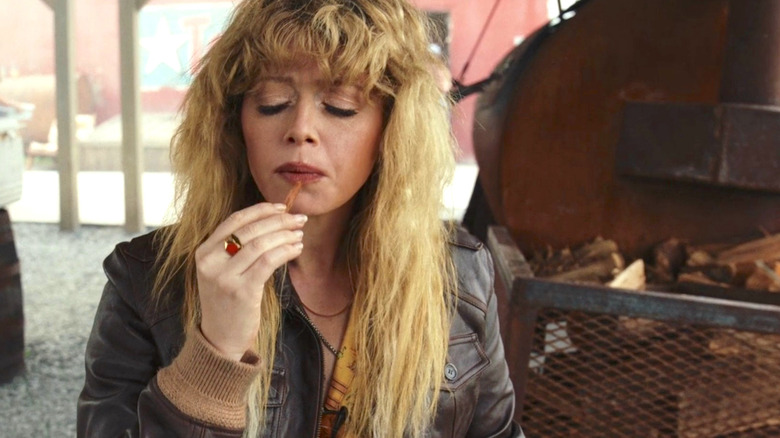 Peacock
In "Poker Face" Episode 3, "The Stall," Charlie gets to the bottom of a fratricide committed in the smoky haze of a Texas barbecue joint. She apprentices with grill-master George (Larry Brown), and before accidentally turning him into a vegan, she learns that every wood has a different taste and smell. The episode is co-written by Wyatt Cain and inspired by his love of BBQ, which in turn inspires a different set of cues for detectives watching along at home.
After Geroge's death, Charlie is able to detect shenanigans, plus the real murder method and murderer, using George's wood-tasting techniques. Different music cues are assigned to each piece of wood Charlie tastes. Assigning a sonic element to each group of flavors deepens the viewing experience and makes for a delightful bit of old-fashioned movie magic on TV.
The cues were created by Judson Crane, one of the show's two composers. An added little detail of "The Stall" that is music to our ears — it reunites "Bird Box" co-stars Lil Rel Howery and Danielle Macdonald as the episode's deliciously evil couple.
These killer actors are named after a famous movie couple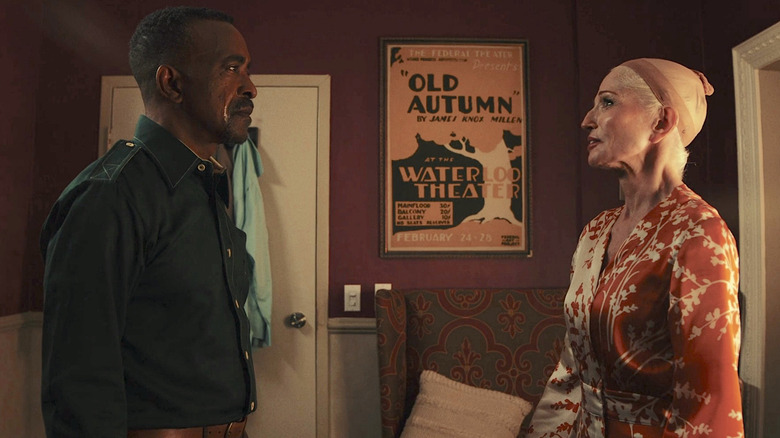 Peacock
The play's the thing in "Exit Stage Death." By "thing," we mean murder weapon. "Poker Face" Episode 6 is co-written by Chris Downey, and is a heartfelt yet bonkers send-up of theater people the world over. Naturally, the murderous stage couple at the heart of the story are named after stars of the silver screen.
Comedy legend Tim Meadows and movie royalty Ellen Barkin play Michael Graves and Kathleen Townsend, two actors and secret lovers who long to return to glory long lost since the days they starred in supernatural detective TV show "Spooky and the Cop." Co-showrunner Nora Zuckerman told Mashable the "Poker Face" writers decided to name the couple after Kathleen Turner and Michael Douglas — famous for playing lovers with a "rocky" connection.
She also mentioned to The Hollywood Reporter that this episode was the most "complex" to plot. It's also stuffed with blink-and-you'll-miss-them visual and musical gags, such as "Frankly, Franklin!" a "Hamilton"-esque musical with many songs written for it by Angela Parrish.
Charlie has her own theme music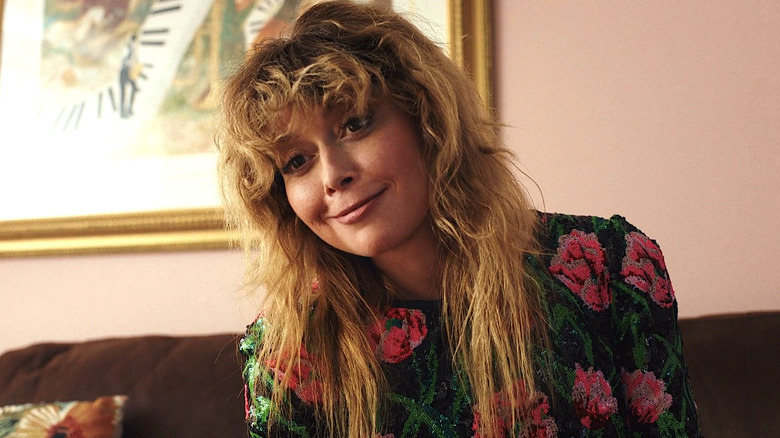 Peacock
Charlie Cale's bull@#$%-detecting ability is her detective superpower, so it only makes sense that just like any superhero worth their salt, she has her own theme song. It makes even more sense that composer Nathan Johnson created it using a banjo and a wine glass. Charlie's theme is a bit jangly, a bit spooky, and has a rambly little tune that calls to mind disarmingly charming half-smiles and friendly ghosts.
Charlie's theme doesn't play at the beginning of an episode like a traditional TV theme song — it plays when she makes her entrance, usually at the top of each episode's second act. Because the theme plays when Charlie shows up, it also acts as an ironic bottom note to the episode's bad guy, who is usually smirking about how they just got away with murder as the opening notes of the theme play.
As for the inclusion of the tuned wine glass, composer Nathan Johnson tells IndieWire, "It's just such a weird, beautiful sound that has been woven into my work all the way back to 'Brick.'...We used tuned wine glasses because we couldn't afford strings and used them to create those long atmospheric string-like beds." We suppose that even though "Poker Face" has much higher production value, it's still simply easier to tune a wine glass than a tallboy of Coors Light.
Now wouldn't you, Barracuda?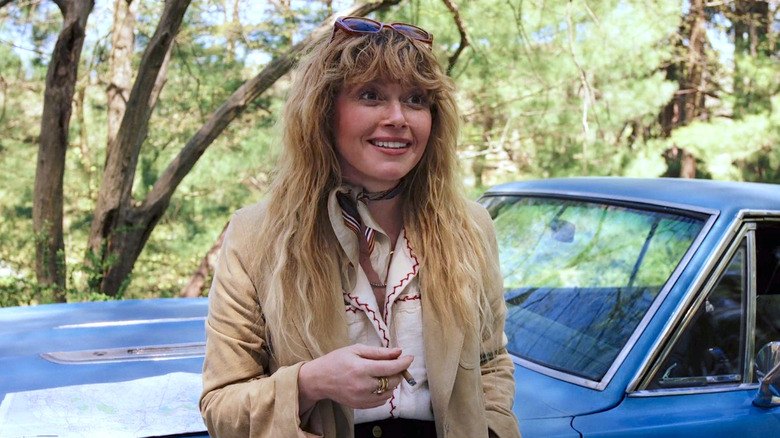 Peacock
Charlie Cale's classic muscle car is a throwback to the '70s and '80s episodic detective shows that inspired "Poker Face" and an homage to a famous cinematographer with links to the cast and crew of the show.
According to a tweet by Noah Segan, who frequently acts in Rian Johnson projects, the ocean-blue 1969 Plymouth Barracuda fastback that Charlie drives is inspired by a car once owned by cinematographer Tom Richmond. Richmond is known for his work lensing "Repo Man," "Monster," and "Nick & Norah's Infinite Playlist," and was a friend and collaborator of Segan, Natasha Lyonne, and Johnson.
Richmond gifted his blue Barracuda to Segan, who gave it a starring role in his own vampire flick, "Blood Relatives." In turn, Johnson wrote a role for a '69 blue Barracuda into "Poker Face." Richmond's original Barracuda is still in Segan's care — he tweets that he writes next to it daily, and that, "It is great to make stuff with people you love. It is also pretty great when you can keep the memories of those you love alive through making that cool stuff."
Flowerbombs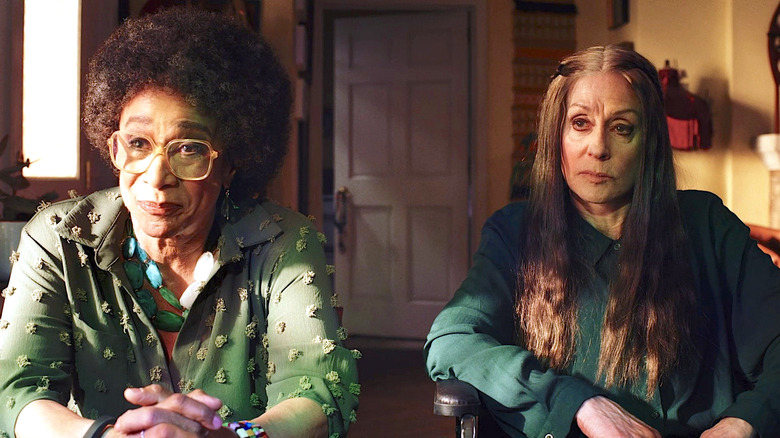 Peacock
"Time of the Monkey" is Episode 5 of "Poker Face" and an absolute gasp fest. We understand if you were too busy freaking out about Joyce (S. Epatha Merkerson) and Irene (Judith Light) trying to kill Charlie to notice a chilling detail shared in flashbacks. When Charlie first rolls up to the Mossy Oaks retirement home, she bonds with former flower children Irene and Joyce. The seniors are slyly funny, snappy dressers, and anti-establishment — just Charlie's style.
Their fast friendship blinds Charlie to any bull@#$% and when the hippies tell her about the betrayal they suffered at the narc hands of Gabriel (Reed Birney,) we see Charlie envision their flashback along with them — Irene and Joyce got thrown in jail, all for packing flowers into vases for a peaceful protest. However, once Charlie learns that she's being played by the murderous besties, she sees a fresh, corrected flashback — the flowers are replaced with pressure-cooker bombs.
It's a chilling visual that doesn't linger long and is soon forgotten when Joyce and Irene come for Charlie's neck. Judith Light did her own stunts in the climactic fight and told The Hollywood Reporter that her "Poker Face" episode allowed her to bond with Merkerson and reunite with Birney, her co-star in "The Menu," She also told THR, "Reed and I were friends before, and...when he got to New York to start filming...I said, 'In this one I get to kill you!'"
Episode 9 was the first episode shot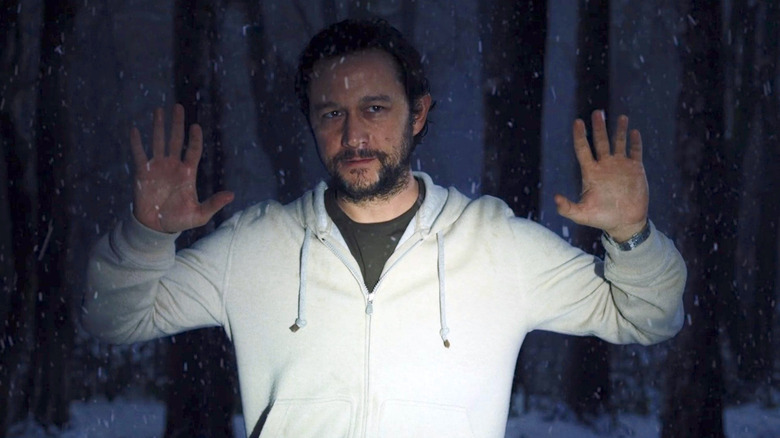 Peacock
We know not even the keenly observant Charlie Cale could detect the order in which a series was shot, but the fact that "Poker Face" shot its highly dramatic, heart-wrenching slasher-esque Episode 9 before any other scene in the series boggles the mind ... at first.
"Escape from Sh*t Mountain" has a title that author Stephen King praised as the best-ever for a TV episode, and a story that sees Charlie undergo more physical punishment than she endures in any other episode so far. Joseph Gordon-Levitt – star of Rian Johnson's first film, the indie and arty noir "Brick" — stars as her would-be murderer, a spoiled brat with a killer instinct and a body-hiding spot. Gordon-Levitt has made at least a cameo in pretty much every Johnson production since "Brick," and having him present at the start of a new creative venture makes the show's vision and team's cohesion kick off warmly, even in all that snow.
"It was like being invited to a family reunion, doing this episode," co-showrunner Lilla Zuckerman told The Hollywood Reporter. "It really did set the tone moving forward in terms of how we're going to make this show and cultivate all of those relationships. It was such a gift." Another fun fact? While on set, the Zuckermans discovered they shared a hometown and a high school drama teacher with Stephanie Hsu, the Oscar-nominated "Everything Everywhere All at Once" actress who played Episode 9's charming klepto, Morty.
Natasha Lyonne directed The Orpheus Syndrome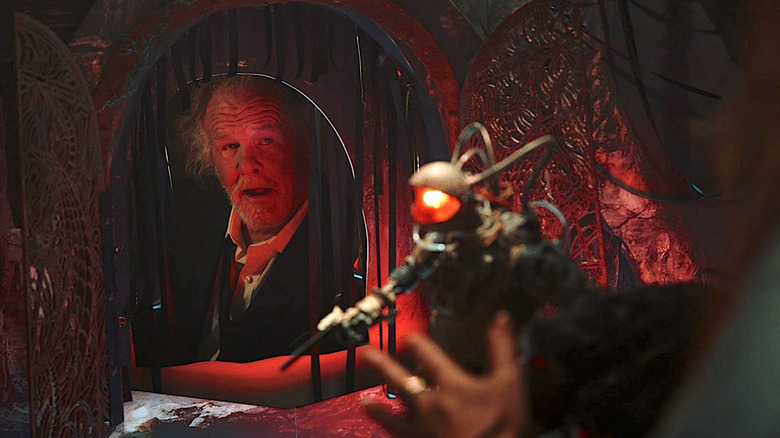 Peacock
Bags of hair, movie monsters, and heart-wrenching moments with puppets and Nick Nolte — is it any wonder that "Poker Face" star Natasha Lyonne directed the jaw-dropping Episode 8? "The Orpheus Syndrome" is a love letter to cinema, co-written by "Russian Doll" collaborators Natasha Lyonne and Alice Ju. It's also, according to a tweet from Rian Johnson, "a love letter to Phil Tippett," a visual effects master, creature designer, and stop-motion animator whose legacy includes work for "Jurassic Park" and "Star Wars."
Nick Nolte's Arthur is inspired by Tippett, who even contributed animations from his studio for use in the episode, according to a tweet from model maker Kayte Sabicer. The title of the episode is a nod to French filmmaker Jean Cocteau's film "Testament of Orpheus," and that film is also the inspiration behind the horse costume Charlie wears while trying to outsmart the episode's villain played by Cherry Jones.
Jones describes her role as fulfilling the requirements of a "Hitchcockian horror," and praises Lyonne's directing style. She described the tragedy of her character Laura's impact on Charlie's happiness to The Hollywood Reporter, saying, "Had Laura not killed Arthur, Charlie could have lived there happily the rest of her life with Arthur and learned to do what he does and pass it onto the next generation." It's hard to imagine Charlie Cale not out on the road cracking cases, but if she had to be anywhere other than our TV screens, we hope it's somewhere making movie magic.