Fans Truly Can't Get Enough Of Natasha Lyonne In Poker Face
The first half of Rian Johnson's debut TV series "Poker Face" — which dropped on Peacock in late January 2023 — has blown Natasha Lyonne fans away, with many calling it the pinnacle performance of her entire career. And it's hard not to agree with them. 
"With the incomparable Natasha Lyonne as an ace up its sleeve, Poker Face is a puzzle box of modest ambitions working with a full deck," says the show's Rotten Tomatoes Critics Consensus. Packed with a star-studded cast and Lyonne's delicious acting chops, "Poker Face" has been welcomed with open arms by television streamers.
Those looking for another great whodunnit from Johnson — in wake of his "Glass Onion: A Knives Out Mystery" release on Netflix — have been happy to find solace in his "case-of-the-week" TV series and Lyonne's depiction of casino worker and human lie-detector Charlie Cale. "Poker Face" ultimately follows the character on the road as she meets new people and solves strange crimes. The 10-episode series released four chapters on January 26 and another episode on February 2, and there will be one airing every week until March 9 (via Newsweek). So for fans, Thursdays are now officially Natasha Lyonne day. 
'Natasha Lyonne has never been better'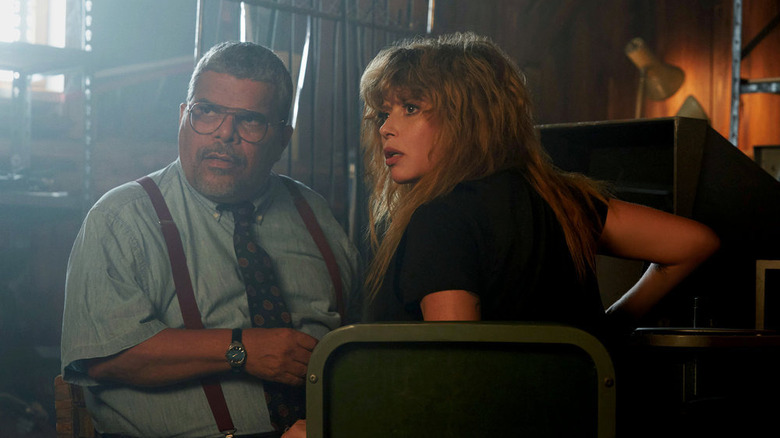 Karolina Wojtasik/Peacock
Judging from what is being said on social media, "Poker Face" is shaping up to be one of Natasha Lyonne's best projects. Twitter user @senoritav76 said: "#PokerFace is officially one of the best new shows on TV right now. Original, funny, and addictive. Natasha Lyonne has never been better." Similarly, user @m_elnoble said: "Natasha's performance is just exquisite!" 
When it comes to playing Charlie Cale, Lyonne has said that she's felt happier than ever portraying the wisecracking sleuth. The role reportedly fell into her lap thanks to a shared love she has with Rian Johnson for Raymond Chandler novels and, more specifically, his rugged private eye protagonist Philip Marlowe. "It's such an iconic character type," Lyonne told Time magazine in January 2023. "I've never been happier in my whole life."
According to the "Russian Doll" star, much of what we see from her in "Poker Face" originates from Lyonne's own personal experiences and methods of acting. "I'm very self-taught," she told Time. "As much as I love Bette Davis and Mae West and Gena Rowlands, I often found myself identifying with the Peter Falks and the Joe Pescis and the Jimmy Cagneys — all the boys." 
For Johnson, making "Poker Face" was something that was entirely geared toward Lyonne's talents and abilities as an actor, which impressed him highly. The "Star Wars: The Last Jedi" director told The Ringer: "The whole thing is a bespoke suit, cut entirely to her ... Everything about it was trying to harness and even amplify everything that I love about watching Natasha on screen. The whole thing is completely cut to measure for her."