Stephanie Hsu Had The Daniels Announce Her Weirdness To EEAAO's Crew For A Scene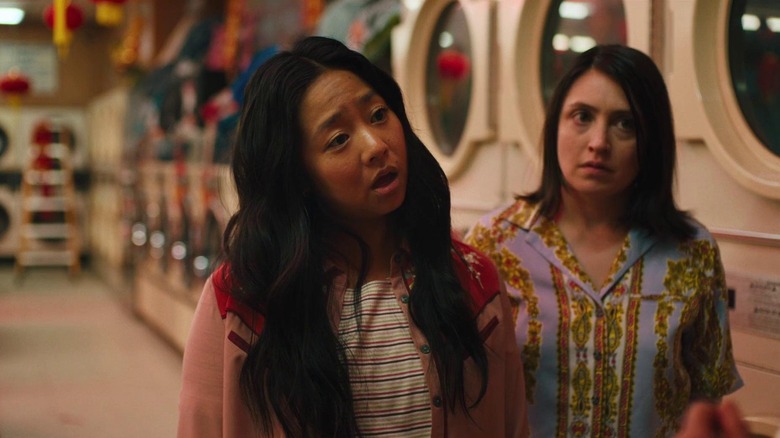 A24
There's no denying that "Everything Everywhere All at Once" is an extremely weird movie. People give themselves papercuts and eat lip balm and then gain multiversal skills and powers. There's a giant everything bagel that has every feeling ever felt on it as well as poppy seeds and salt. Michelle Yeoh's Evelyn Yang is, throughout different universes, a hibachi chef, a movie star, a kung-fu master, and an exhausted laundromat owner just trying to get her taxes done. Whatever you think "EEAOO" might throw at you at any given moment, you're probably going to assume incorrectly; for example, did you think you'd meet and fall kind of in love with an animatronic puppet known only as "Racacoonie" throughout the film's run time? Probably not!
That doesn't mean that the actors involved in "EEAOO" didn't feel a tiny bit self-conscious about the totally bonkers stuff they were doing on set — and apparently, Stephanie Hsu felt weirder than most. Here's why "the Daniels" — Daniel Scheinert and Daniel Kwan, the movie's directors — provided a warning to her fellow actors about just how weird Hsu would get on the set of "EEAOO."
Stephanie Hsu had the weirdest role in EEAOO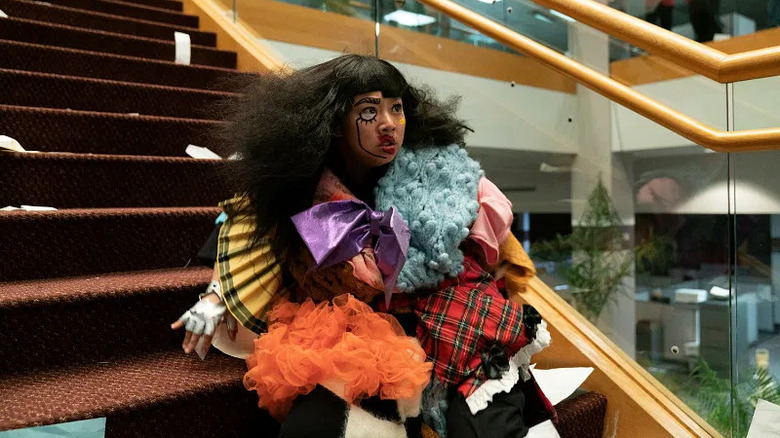 A24
Stephanie Hsu — who made a name for herself in Broadway productions like "The Spongebob Squarepants Musical and "Be More Chill" — is, perhaps, one of the weirder characters in the film. As both Evelyn's daughter Joy Wang and Evelyn's multiversal nemesis Jobu Tupacki, Hsu has a lot to do in this film, donning countless over-the-top costumes and using, ahem, unmentionable objects as weapons, and apparently, she was pretty stressed about getting that weird on set in front of her fellow cast members.
Working with legendary, beloved actors like Yeoh, Jamie Lee Curtis, and Ke Huy Quan for the very first time would be stressful enough without adding in every bizarre thing the script required of Hsu. As she told Jimmy Fallon during an interview on "The Tonight Show," her main concern was that her colleagues would think she was "the worst actor on Earth." With that in mind, she asked the Daniels to simply announce her weirdness (this might make it more weird to some, but, all the power to Hsu for taking control of the situation). "Hey everybody, this is Stephanie," Hsu said, quoting her directorial team. "She's gonna be kinda weird, but we told her to do that."
Clearly, Hsu's weirdness paid off; the double role netted her an Academy Award nomination, and the movie's ensemble took home the top prize at the recent SAG Awards. In any case, next time you're worried you're being too weird, just think about how it turned out for Hsu and forge ahead with your weird self.