Why We Haven't Seen The Full Shazam! Suit Yet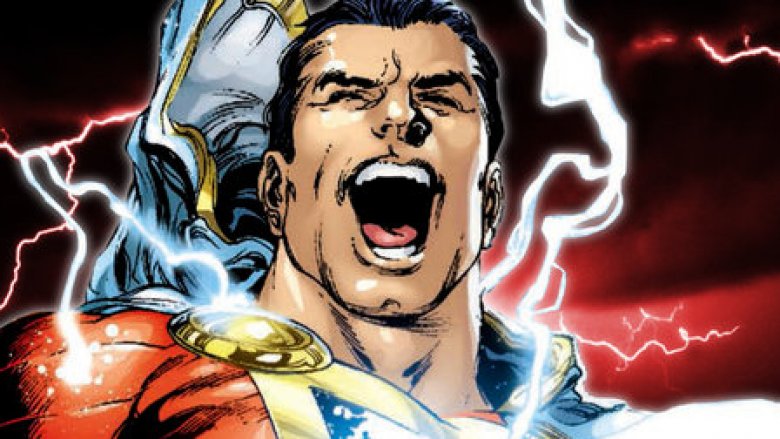 It's been several months since Zachary Levi was cast as the titular character in DC Films and Warner Bros.' Shazam! movie, since a set photo revealed Levi rocking the superhero's red-white-and-gold costume, and, most importantly, since director David F. Sandberg promised that a full reveal of the suit was "right around the corner."
All this time passing by has fans going stir crazy, sitting at the edge of their seats to finally see a studio-issued snap of Levi in the Shazam! suit. So what gives? Why haven't we seen an official image? 
Sandberg cleared the air on Twitter, responding to a fan who asked these very questions. "Plans changed from what I'd been told. I don't know what the current plans are," the director wrote. "I'm now just focusing on making a good movie and trying not to talk about things before I'm supposed to talk about them."
Despite the studios not yet unveiling a formal photo of the Shazam costume, many have already formulated opinions about the suit – some of which aren't so pleasant. One person in particular lodged their complaint directly to Levi, asking him during an Instagram Live event, "Why the crap suit?" Levi kept his cool after hearing the remark, calmly explained that there are multiple designs of the Shazam suit, and stated that he's pleased with the version director Sandberg and the film's creative team chose to use. The actor then mentioned that he knows some people really will dislike the suit, but he hopes everyone can be understanding of the fact that others may love everything about the way it looks. 
"I don't think it's a crap suit. I think my suit is f***ing bomb, to be perfectly honest. I know there hasn't been an officially released photo yet, but there have been incredibly high quality photos that have been released," Levi said. "I think that any of you people out there who are still hung up on what the suit looks like are just wanting to be angry for angry's sake ... I do think that you should probably take a second and reflect on why you are as negative as you are about maybe anything in life, and then re-look at the suit and go, 'Actually, hey, you know what? They're trying really hard to make something that's awesome and that pleases a lot of different people.'"
With Sandberg now completely unaware of when a bonafide suit snap will surface, it's difficult to predict when fans will get the first genuine look at the film. If the universe is on the side of Shazam!, the reveal could come during San Diego Comic-Con later this year. That hypothetical would mean two more months of waiting, but we'd like to think it would be well worth it. 
Alongside Levi in Shazam! are Asher Angel (Andi Mack) as Billy Batson, the teen who discovers he can turn into the superhero Shazam by uttering a single word; Mark Strong (Kingsman: The Golden Circle) as the nefarious Dr. Sivana; and Grace Fulton (Annabelle: Creation) as a friend of Billy's. 
Described as Superman meets Big, Shazam! is set for an April 5, 2019 release.