Deadpool 2: Ryan Reynolds' Merc With A Mouth Graces Cover Of Entertainment Weekly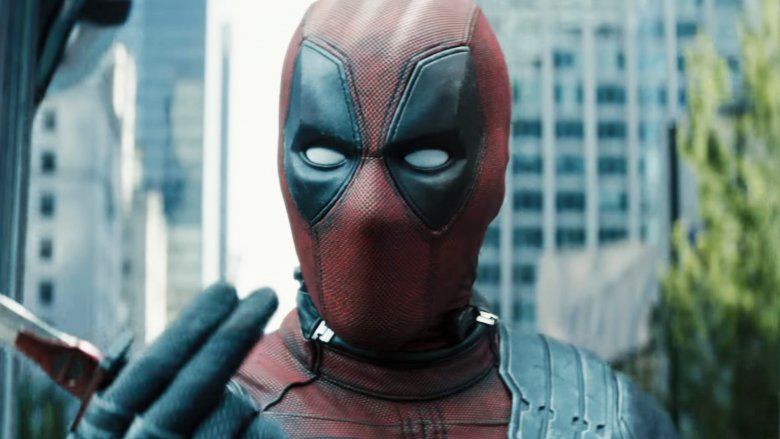 The world is a little over two weeks out from Deadpool 2, and studio 20th Century Fox is kicking the end of the sequel's marketing cycle into overdrive. The most recent bit of Merc with a Mouth-related goodness comes courtesy of Entertainment Weekly, who just rolled out its exclusive Deadpool 2 magazine cover.
But it isn't just the "filthy, foul-mouthed" Deadpool who stands smug in the center of the cover; the actor behind the leather-rocking, villain-slashing anti-hero also gets his moment in the sun. The cover features Deadpool holding a photo of Ryan Reynolds over half of his masked face, promising that he's filled with "30 percent more Yentl" this time around, when he slips back into his red-and-black suit "because ... sequel money."
Take a peek at the cover at the bottom of this article.
Speaking with EW for the cover story, Reynolds joked that he doesn't think Deadpool particularly likes him. "I feel like Deadpool can't stand Ryan Reynolds," the actor said of his unfiltered vigilante counterpart. "He can't defend the decisions he's made, right down to, like, the shirt-tie combo. I feel like he just doesn't agree with Ryan Reynolds' DNA." However, Deadpool 2 producer Simon Kinberg had a different opinion, saying that the cinematic version of Deadpool wouldn't exist with the same magnitude if it weren't for Reynolds. "Ryan is the keeper of the Deadpool flame," said Kinberg. "It's extraordinary how much he fully invests in Deadpool."
Reynolds then touched on how different Deadpool 2, which sees Wade Wilson form the X-Force to protect a young mutant named Russell (Hunt for the Wilderpeople's Julian Dennison) from the vicious Cable (Avengers: Infinity War's Josh Brolin), will be compared to its predecessor: "The first movie is a love story masquerading as a comic book movie, and this one is kind of a family film masquerading as a comic book film again." 
A major thing will remain the same in the sequel, though, and that's Deadpool's suit — which Reynolds isn't too pleased about. "You know, when ... your phone gives you an update, but it's only like [the] font or something. It's not going to give you some awesome thing. It was kind of that. My shin guards are shinier. I mean f***, who cares," Reynolds laughed. "God forbid we should just put a normal f***ing zipper in it."
Directed by David Leitch (Atomic Blonde), Deadpool 2 also stars Zazie Beetz as Domino, Terry Crews as Bedlam, Lewis Tan as Shatterstar, Brianna Hildebrand as Negasonic Teenage Warhead, Morena Baccarin as Vanessa, Stefan Kapičić as Colossus, Leslie Uggams as Blind Al, Karan Soni as Dopinder, and Rob Delaney as Peter. Shioli Kutsuna, Eddie Marsan, and Bill Skarsgård top off the cast, though details on their characters haven't been revealed at the time of writing.
Here's the totally-real-yet-still-fake synopsis for Deadpool 2: "After surviving a near fatal bovine attack, a disfigured cafeteria chef (Wade Wilson) struggles to fulfill his dream of becoming Mayberry's hottest bartender while also learning to cope with his lost sense of taste. Searching to regain his spice for life, as well as a flux capacitor, Wade must battle ninjas, the yakuza, and a pack of sexually aggressive canines, as he journeys around the world to discover the importance of family, friendship, and flavor — finding a new taste for adventure and earning the coveted coffee mug title of World's Best Lover."
Entertainment Weekly's Deadpool 2 cover will hit stands on May 4. The film is set to arrive in theaters shortly after, on May 18.