1923: BTS Facts About The Yellowstone Prequel Only Real Cowboys Will Know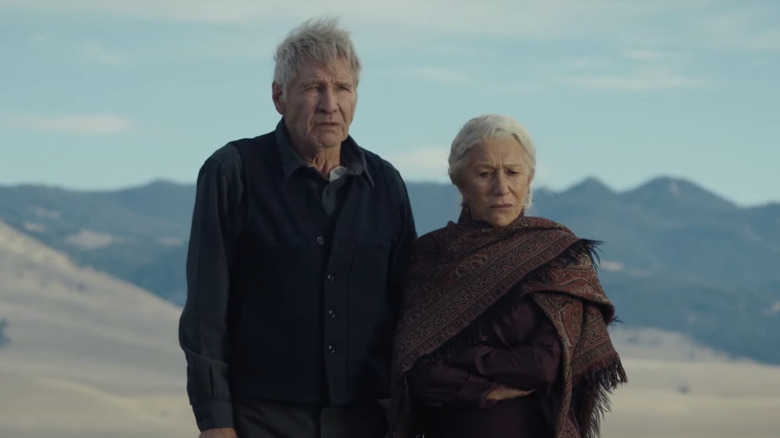 Paramount+
Prequels can be a real hit or miss depending on who's behind them and what sort of story they're hoping to tell. There's always the potential for a prequel to meaningfully contribute to the larger narrative; there's also the potential for it to simply retread or retcon what we already know. After the success of his flagship series "Yellowstone," Taylor Sheridan has built quite the television empire, making him one of the most prolific and sought-after writer-producers in Hollywood. To further continue the "Yellowstone" universe, Sheridan hasn't been content to stay in the present — instead, he's traveling to the past to expand on his greater world.
Beginning with "1883," Sheridan dove head-first into the Dutton family's inaugural journey to Montana, and from there the possibilities have become endless. "1923," the franchise's second prequel series, takes place during a time when progress began to change the landscape, igniting the fire that "Yellowstone" would one day see burn. Starring Harrison Ford and Helen Mirren, the latest prequel series continues the Dutton legend into the 20th century.
Of course, the mainline "Yellowstone" series isn't everyone's speed, but if you like classic Westerns, Harrison Ford, Great Depression-era epics, and globe-trotting adventures, then "1923" is the tale for you. Aside from the incredible production value and superb direction, "1923" also features some of the most interesting characters in the entire "Yellowstone" franchise, making us anxious for new episodes. So, until the next one airs, here are some fascinating behind-the-scenes tidbits that'll hold you over until we see the Dutton clan again.
It's the first Yellowstone spin-off to earn a sophomore season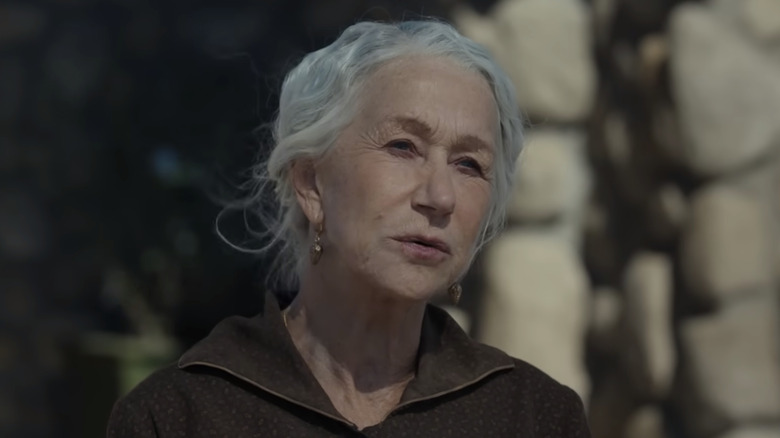 Paramount+
Though the flagship "Yellowstone" series has been on the air for five seasons, each more intense than the last, not every spin-off has received a second round. "1883" was a one-and-done limited series that Sheridan himself described as a "10-hour movie with an ending" (via Deadline). So, instead of opting to continue the "1883" story, "1923" skips forward four decades to witness the now-established Duttons fight for survival during Montana's Great Depression. 
But unlike its predecessor, "1923" earned a second season with the promise to continue the exhilarating story of Jacob (Ford) and Cara Dutton (Mirren) into another year. While this isn't the first Paramount-Sheridan co-production to find itself with more stories to tell — both "Mayor of Kingstown" and "Tulsa King" are also two-seasons deep — it is the first "Yellowstone" spin-off to earn a direct continuation.
When talking with Deadline about the renewal, Sheridan revealed that the second season would also consist of eight episodes. "I need to do this in two blocks," he said after explaining why the "1883" follow-up would be more than a single season. "An eight-episode block and a second eight-episode block to wrap this up...For [Paramount], it is great because they get more content. For me, I get more runway." One thing's for sure, we can't complain about more Dutton adventures.
It was originally titled 1932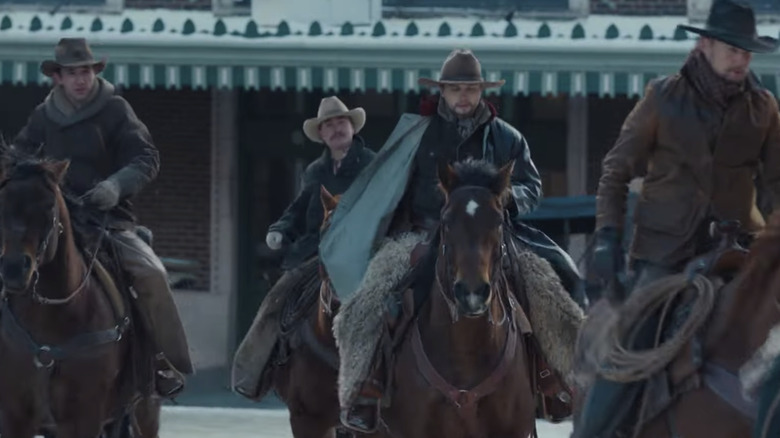 Paramount+
When Sheridan first announced his new wave of "Yellowstone" spin-offs — including the yet-upcoming "6666" series set on the historic Four Sixes Ranch in Texas — "1923" was originally billed as a different series altogether. Wanting to tell the story of Montana's Great Depression, which began before the economic catastrophe hit the rest of America in the 1930s, Sheridan had initially titled the series "1932." But a deeper dive into Montana's history changed that.
By the time the series entered production, the last two digits in the title had swapped. Rather than chronicling the nationwide Great Depression, the series tackles the fallout of World War I, the 1920s Prohibition era, and Montana's own Depression, which started nearly a decade earlier and involved a host of cattle and range wars. While the premise of a Great Depression-era tale is interesting in and of itself, "1923" is unique in that it can cover multiple eras of American (and world) history at once all while invoking the works of John Steinbeck in the process.
No doubt, the change served the series well in the long run, allowing for it to include Spencer Dutton's (Brandon Sklenar) post-War voyage to Africa as a hired gun. This has been one of the more impressive storylines on the series and has stretched the "Yellowstone" franchise into international waters. In addition, the commentary on the impulsiveness of the 1920s mixed with the desperation of a depression makes for some instantly dramatic content.
Two characters bridge the gap between 1883 and 1923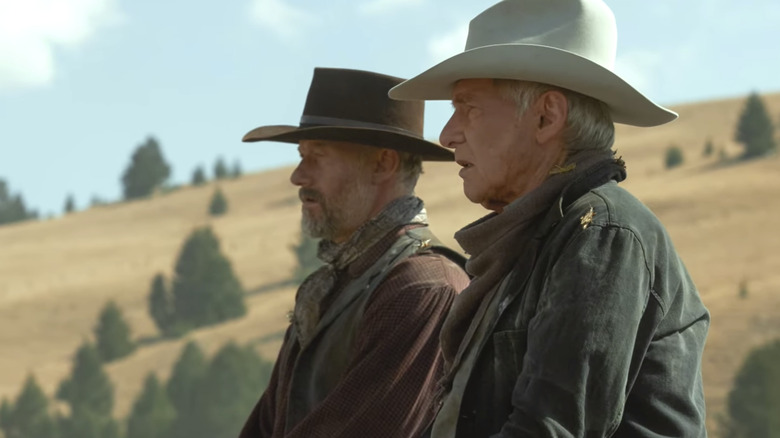 Paramount+
It's no secret that the years 1923 and 1883 are more than a couple decades apart. Since most of the "1883" cast is killed off by the limited series' end, that leaves very few options for the Dutton family to continue their bloodline. Because of this, James Dutton's (Tim McGraw) older brother Jacob and his wife Cara take over the Dutton homestead and carry on the family legacy in "1923." Though Ford and Mirren headline the series, there are two others who bridge the gap from the first prequel and this one. 
For starters, the series is narrated by actress Isabel May, who played Elsa Dutton — the firstborn daughter of James and Margaret (Faith Hill) – on "1883." Though Elsa dies in "1883," her spirit still haunts her family's land, and intends to watch over the Dutton legacy from afar. May herself is the only cast member from "1883" to lend her talents to Sheridan's latest prequel, vocal or otherwise.
Of course, a young John Dutton Sr. (James Badge Dale) was present during the events of "1883" as well, played then by Audie Rick. Though Rick doesn't return, John Sr. is the only character from "1883" to physically return in "1923," though not for long. The character is survived by his brother Spencer, who has been introduced via flashbacks on "Yellowstone," and his son Jack (Darren Mann), who will likely carry on the Dutton line leading up to Kevin Costner's John Dutton III.
The cast signed on without a script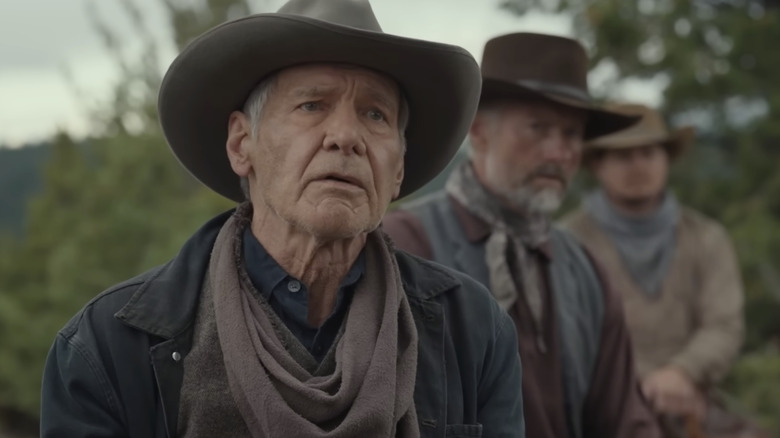 Paramount+
While most actors prefer to see a script before signing onto a commitment like "1923," neither Harrison Ford nor Helen Mirren did so. Though he'd planned all of "1883" out beforehand, Taylor Sheridan had only a rough idea of where he wanted "1923" to go, though he knew exactly who he wanted to cast. "I need to know who I'm writing for," Sheridan told Deadline in 2022, "I'm done wondering who I'm writing for, and I have to go try to chase the person I had in my mind and I can't get the person because they're doing some [other] Netflix show."
This wasn't so with Ford and Mirren. In that same interview, Sheridan explained that Ford flew himself down to Texas to meet with him at his own private ranch, and he talked the movie star into it over a bottle of wine. "Then came Helen [Mirren], and same thing," he continued. "Have a glass of wine." Sheridan has quite a reputation in Hollywood, one that flocks big names towards the "Yellowstone" universe.
In an interview with The Hollywood Reporter, Ford explained why he took roles on both "Shrinking" on Apple TV+ and Sheridan's latest prequel. "I took the job without a script on both of them, on faith that the people who created the projects were going to deliver me a good script." Ford went on to describe just how much work the Western series was in hindsight, but that it was "absolutely worth it."
It's the most expensive Yellowstone production yet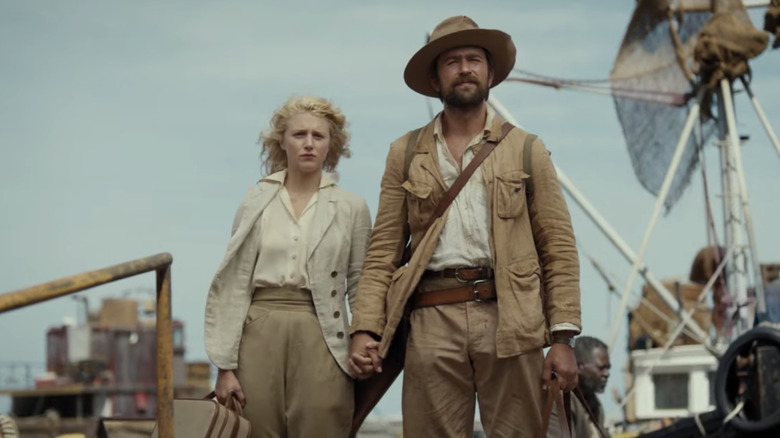 Paramount+
Would you believe that "1923" is one of the most expensive television projects ever? With Harrison Ford and Helen Mirren on board, not to mention the immaculate set design and production value that tosses us backwards a century, there's no denying that the latest Taylor Sheridan "Yellowstone" series is putting its money where its mouth is. In fact, Sheridan told Deadline that he believes "1883" was the most expensive first season ever made, only for "1923" to exceed that.
"I don't know what the 'Game of Thrones' budgets were, but I don't know how they could have been more than this," Sheridan continued. In the same interview, the filmmaker estimates they're spending around $22 million per episode. "I didn't do very good in math in school," he told Deadline. "But I can multiply eight and three and add a bunch of zeros and realize I just asked for 150 million dollars." No doubt, "Game of Thrones" averaged $15 million per episode by its final season, meaning that the budget for "1923" quickly surpassed it.
When compared to the flagship series, "1923" cost more than the first three seasons of the Kevin Costner-led production combined. According to The Salt Lake Tribune, "Yellowstone" spent somewhere around $80 million in Utah during the series' first few years back when they used to film there rather than in Montana. With the show's success, that budget has no doubt gotten larger, but certainly not as large as $150 million total.
The show was shot across four continents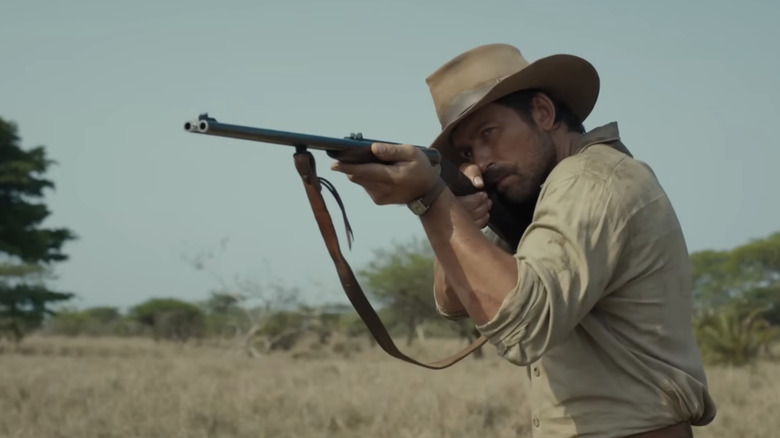 Paramount+
Though the "Yellowstone" saga is most well-known for shooting primarily in Montana — a change the franchise made after a few years of filming in northern Utah — not every plotline in "1923" revolves around the Dutton family ranch. Though the flagship series primarily shoots in Missoula, Montana (ironic, considering the series is set closer to Bozeman, Missoula's college rival), and "1883" split time between the Last Best Place and Sheridan's home state of Texas, "1923's" time in Montana was mostly centered in Butte. 
A historic mining town, Butte lies about halfway between Bozeman and Missoula and gives off a turn-of-the-century vibe that lends itself well to the 1920s time period. But not every "1923" character resides in Montana. As Spencer Dutton spends the majority of the series away from the family homestead, his adventures with Alex (Julia Schlaepfer) take him across Africa and into international waters in hopes of reaching the United States. But these scenes weren't shot in some Hollywood studio.
Unlike the other "Yellowstone" series, which exclusively film within the U.S., "1923" branched out with on-location shooting in Africa. The show's first season made its way into a few different countries across the globe, including South Africa, Kenya, Tanzania, and Malta, which is considered part of Southern Europe. The production even stopped briefly in Kabul, the capital of Afghanistan, which is technically part of Asia (via Deadline). Including North America, that's four continents touched by "1923."
It's the most successful show on Paramount+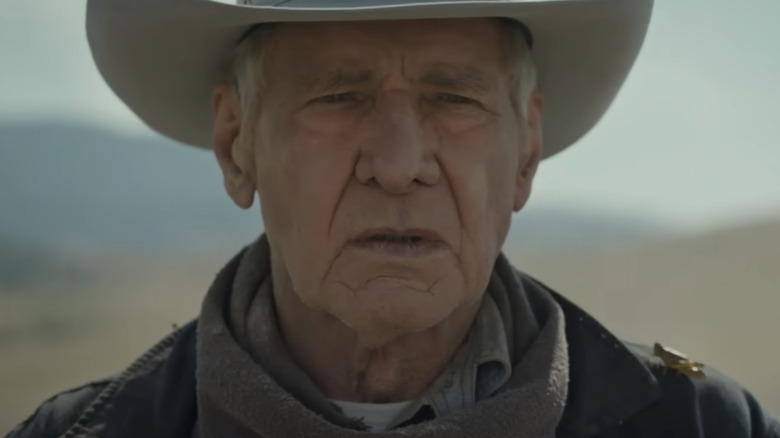 Paramount+
Ever since "Yellowstone" became the Paramount Network's breakout hit series, the long-running Hollywood studio has given Taylor Sheridan free reign when it comes to the "Yellowstone" universe and beyond. Launching four different series since the flagship series' success — which only skyrocketed after "Yellowstone" landed on Peacock — Sheridan has quite the catalog of Paramount-produced content that only seems to keep growing. Between the "Yellowstone" spin-offs and his other unrelated stories, Sheridan's got it made.
When the first episode of "1923" debuted on Paramount+, it instantly broke every record as the streamer's biggest series debut. After "1923" garnered upwards of 7 million viewers, Paramount Media Networks' CEO Chris McCarthy deemed it "the #1 new cable premiere of the year" (via Variety), making the second season a sure-fire thing. As the story of the 1920s band of Duttons continues, the intrigue and mystery surrounding Donald Whitfield's (Timothy Dalton) land-grabbing plot grows, and will no doubt continue to bring more viewers in.
"[Sheridan's] scripts attract not only the best actors working today but the best crew around," said David C. Glasser, 101 Studio's CEO. He added, "...we are so fortunate these huge audiences tune in to be a part of his universe every week." Between the globe-trotting spectacle, the gorgeous cinematography, and the powerful performances by Harrison Ford, Helen Mirren, and the rest of the phenomenal cast, it's obvious why audiences continue to show up for "1923."
The Dutton family tree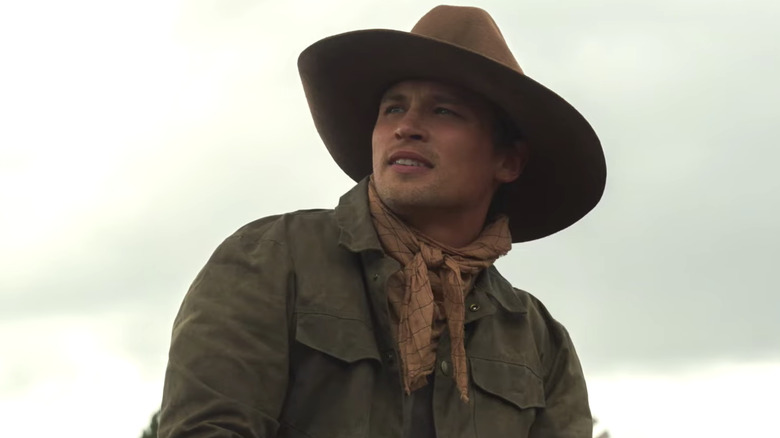 Paramount+
When "1923" first aired, there was a lot of initial confusion as to who the characters are and where they land on the Dutton family tree. To set the record straight, Harrison Ford's Jacob Dutton is the older brother of Tim McGraw's James, the family patriarch from "1883." Though Jacob and his wife Cara don't have children, they've come to see James' sons John and Spencer as their own. Though John dies early on, his son Jack continues on the Dutton name and legacy with his wife Liz (Michelle Randolph).
Fans of "1883" and "1923" might've been a bit confused by the addition of Spencer Dutton, who doesn't appear at all on the former series since he hasn't been born yet. But flashbacks to the year 1893 — as seen during "Yellowstone" Season 4 — reveal that Spencer was born sometime after the death of his older sister Elsa. Though there's some debate as to whether Spencer or Jack will father John Dutton II (played on "Yellowstone" by Dabney Coleman), it's possible that Jack is actually a younger John himself, though only time will tell.
Sebastian Roché apologized to the cast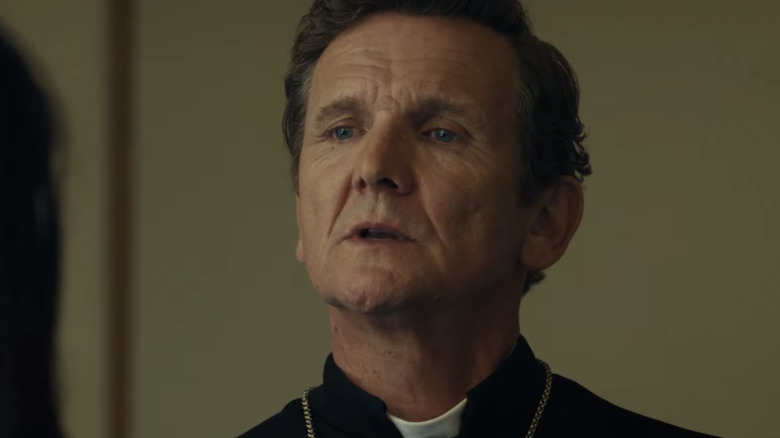 Paramount+
There's no doubt that the works of Taylor Sheridan are highly praised by audiences across the country, but his content isn't exactly for the faint of heart. His 2017 movie "Wind River" features a horrific rape scene that highlights the plight of many Native American women, and many episodes of "Yellowstone" have shed light on the same. Though nothing can prepare audiences for the brutality of the Indian boarding school scenes in "1923," which really push the envelope.
Prior to shooting, actor Sebastian Roché, the man behind Father Renaud, reportedly apologized to his Indigenous castmates, not wishing to sugarcoat this dark chapter in North American history. When talking with TV Insider, Roché explained, "...in 1923, those residential schools were a blight on our history. I think it's a very important subject matter to talk about, because it's something that we really don't know about."
Roché believes that, as storytellers, their goal shouldn't just be entertaining audiences, but challenging them with the truth. "I felt a responsibility as an actor to be as truthful as I could," he continued, explaining that it's a different thing playing a character based in history, rather than a vampire or an angel. It's true that the residential schools were beyond awful, and as recently as May 2022, the United States alone has found 53 different burial sights associated with them (via Al Jazeera). Now is certainly the time to shed some light on this horrific period in history.
Harrison Ford is a ranch owner himself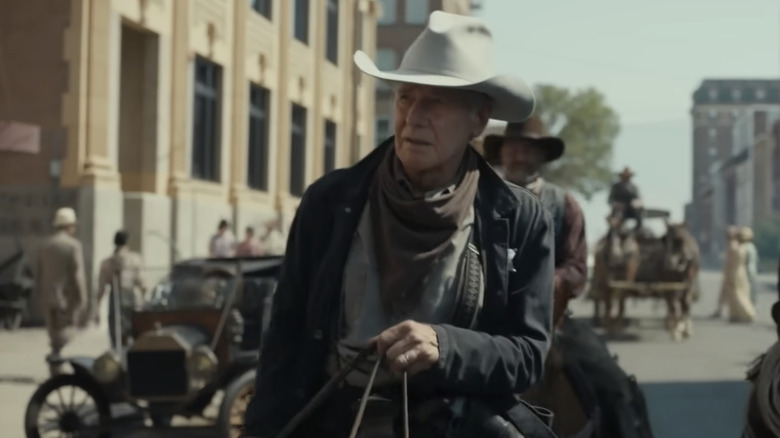 Paramount+
Many of the cast members of "1923" were forced to endure Taylor Sheridan's "cowboy boot camp" to prepare them for the harsh conditions of Montana ranch life. Sheridan has a history of making his worlds feel authentic by hiring real-life cowboys hands like Forrie J. Smith as members of the "Yellowstone" cast (via Country Living). Brian Geraghty, who plays Dutton ranch hand Zane, revealed to E! News that Sheridan's "boot camp" wasn't exactly a walk in the park.
"We were running on horses, lassoing, I learned how to use an old six shooter," Geraghty explained. "It's a whole different world." But one cast member wasn't forced to endure the rigorous training prior to production. Harrison Ford got out of it, but only because he's a ranch owner himself. "I've owned horses for 40 years. I lived in Wyoming for 40 years," Fold told The Hollywood Reporter. "I'm still living there part-time. It's just getting back in contact with horses, really."
According to The Land Report, Ford's owned his Jackson-based ranch since the 1980s, which is all the necessary qualifications he needs to play a Dutton. As something of a cowboy himself — though, don't call him that — Ford's real-world experience as a Western landowner makes him perfect for the role. If anyone knows what it means to preserve what's yours, it would be Ford, who keeps both his treasured land and his personal life pretty close to the chest.