1923 Will Be Back For Season 2 On Paramount+ (But We May Be Approaching Peak Yellowstone)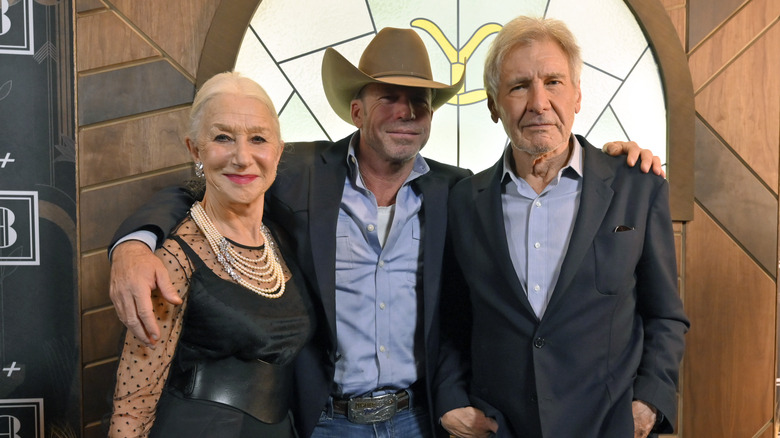 David Becker/Getty Images
People can't get enough of the Dutton family's escapades. The original show from Taylor Sheridan, "Yellowstone," proved to be such a success that it has spawned what can only be described as an entire franchise. The LA Times highlights just how popular "Yellowstone" has become by illustrating that the Season 5 premiere of the show garnered well over 20 million viewers, which is considerably more than any other cable television show at the time and only behind NFL broadcasts. Pretty impressive, considering the fanfare and draw of national sports.
Due to the popularity of "Yellowstone," the Dutton family has seen not one but two direct spin-offs called "1883" and "1923," and there will be more on the way that are Dutton-adjacent, like the adaptation of Bass Reeves' life and "6666." Speaking with Entertainment Tonight, Sheridan explained how important truth is in his creative process by saying, "The rarest thing in our business is honesty in storytelling and I don't know that I'm a good storyteller, but I'm an honest storyteller, and if you're an honest storyteller then an audience is going to react to it." This statement is perhaps why some people can't get enough of Sheridan's works, and it looks like "1923" fans didn't have to wait long for a confirmation of its continuance. However, some may wonder, when will audiences reach maximum "Yellowstone" franchise saturation?
Season 2 of 1923 has now been confirmed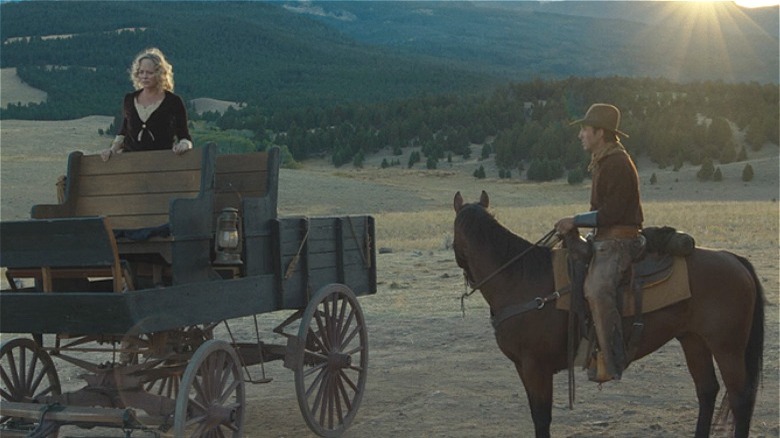 Paramount+
As confirmed by the Hollywood Reporter, it looks like Paramount is wasting no time in giving the go-ahead to Season 2 of "1923." However, this really shouldn't come as a surprise considering the reception of the show and its absolutely stacked cast of actors, which includes Helen Mirren and Harrison Ford. What is surprising is how quickly this news came out since "1923" is currently in a mid-season break, and there are still four more episodes to go. However, this may be a smart move because it allows audiences to get invested and not expect the show to be over in the next month. Some may speculate at what point viewership will begin to drop for the "Yellowstone" franchise, and the answer might be farther off than some might predict. Still, with two current shows, "Yellowstone" and "1923," one limited miniseries in "1883," and two upcoming spinoffs, one has to wonder when people will have their fill of Taylor Sheridan.
Besides audiences getting their Dutton family fix, there is also Sheridan's workload to consider. Sure, he has crafted a plethora of Dutton-related shows, but he also has series that aren't even connected, like "Mayor of Kingstown" and "Tusla King." Some might wonder if Sheridan will reach a creative breaking point, or perhaps he will become the next Dick Wolf and simply churn out show after show. Only time will tell, though it certainly appears as if nothing is currently stopping Sheridan's prolific retinue and expansion of shows.
Sheridan always wanted a second season of 1923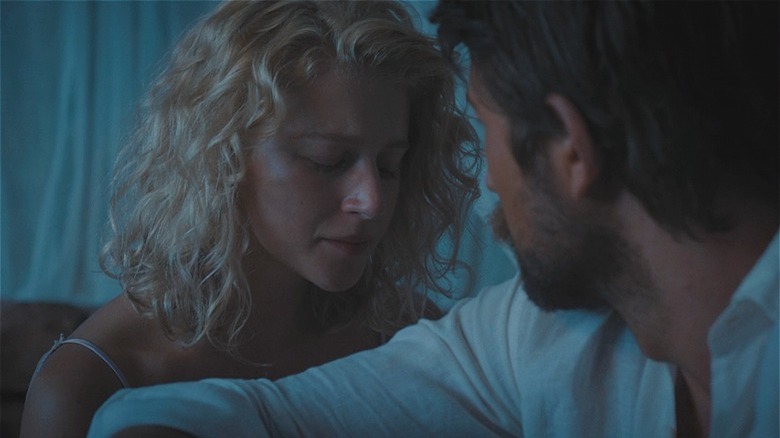 Paramount+
Although there is currently nothing slowing down Taylor Sheridan's creative onslaught and constant greenlights from Paramount, it seems as if Sheridan had always intended for "1923" to have a second season. In an interview with Deadline, Sheridan explained that "1923" was different than "1883" because the latter already had a specific start and end point in the creator's mind. Sheridan continued and said that he wasn't entirely sure how or when he wanted to end "1923," but he went on an inner journey and eventually called Paramount to ask for more episodes to finish the story.
Sheridan added, "I need to do this in two blocks. An eight-episode block and a second eight-episode block to wrap this up. I can't wrap it up in two episodes and do the story justice. For them, it is great because they get more content. For me, I get more runway." This statement illustrates two different things. The first is that Paramount allows Sheridan tremendous personal freedom, which is really smart on their behalf because Sheridan continues to bring them tremendous success. The second is that Sheridan sometimes lets the story develop naturally and doesn't force his creative endeavors into a simple eight-episode arc if it doesn't feel right. This is still fantastic news for those that have been enjoying "1923," and it will be fascinating to see what 16 episodes of "1923" will look like when it is all said and done — that is, unless Sheridan has a change of heart and asks for a third season.