13 Best Cameos Of The Yellowstone Universe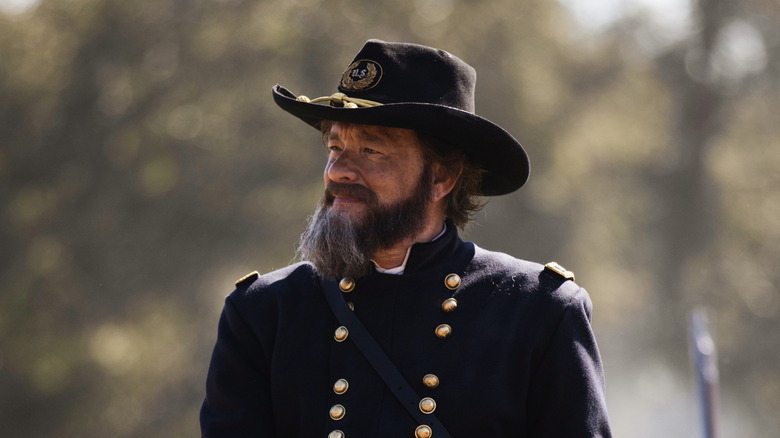 Emerson Miller/Paramount+
Saying that "Yellowstone" has become something of a phenomenon would be an understatement. As the popularity of the flagship Paramount series has grown, creator Taylor Sheridan has expanded his empire by producing more prestigious television spin-offs than we can count. So far, Sheridan has helmed two "Yellowstone" prequels — "1883" and "1923" — and is currently developing a third on top of the upcoming "Yellowstone" sister series "6666."
Headlined by Kevin Costner, the "Yellowstone" franchise has attracted numerous stars from all walks of life, including Gil Birmingham, Sam Elliott, Harrison Ford, Helen Mirren, Tim McGraw, Faith Hill, Neal McDonough, LaMonica Garrett, and Timothy Dalton. As the franchise continues to expand its reach, it'll likely attract even more heavy hitters. This has proven true through other Sheridan-produced stories set outside the "Yellowstone" universe, including "Tulsa King" and "Mayor of Kingstown," which are led by Sylvester Stallone and Jeremy Renner, respectively.
There's no doubt that Sheridan has been incredibly successful in building the "Yellowstone" franchise, bringing lots of familiar faces into the fold along the way. While we can't mention every single notable guest appearance, we can highlight some of the most outstanding. These are the best cameos in the "Yellowstone" universe.
Tom Hanks – 1883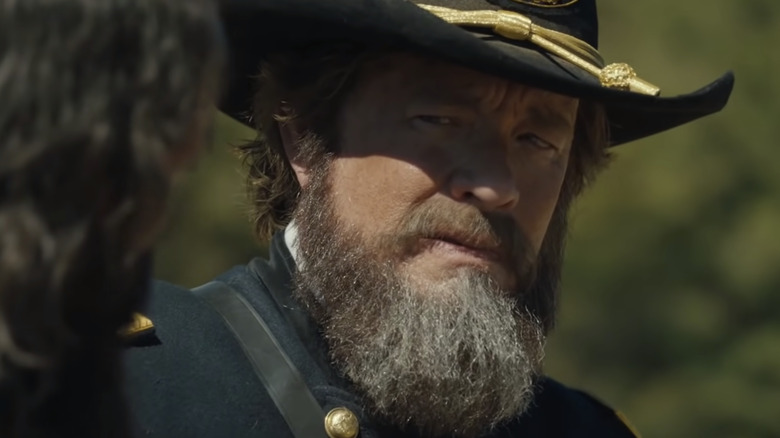 Paramount+
Just about everyone was pleasantly surprised when Academy Award winner Tom Hanks appeared in the "Yellowstone" prequel "1883." Though he isn't on screen long, Hanks plays General George Meade, famous for defeating General Robert E. Lee in the Battle of Gettysburg at the tail end of the American Civil War.
In Episode 2, "Behind Us, a Cliff," Hanks appears in a flashback to the Battle of Antietam. The scene is brutal, and as Elsa Dutton (Isabel May) explains that her father never spoke of the war, the Union general befriends and consoles a young James Dutton (Tim McGraw). It's explained that James spent the next three years in a Union P.O.W. camp. After that, we never see or hear from General Meade again.
Hanks was certainly a surprising addition to the "Yellowstone" universe, and according to an Entertainment Weekly interview with McGraw, he only showed up because they're friends. "I knew that there was this part in there," McGraw said, "and I gave him a call said, 'Hey, would you be interested in showing up doing a cameo in this show that we're doing?' And he goes, 'Tell me when to be there,' and he just showed up." We're so glad he did.
Billy Bob Thornton – 1883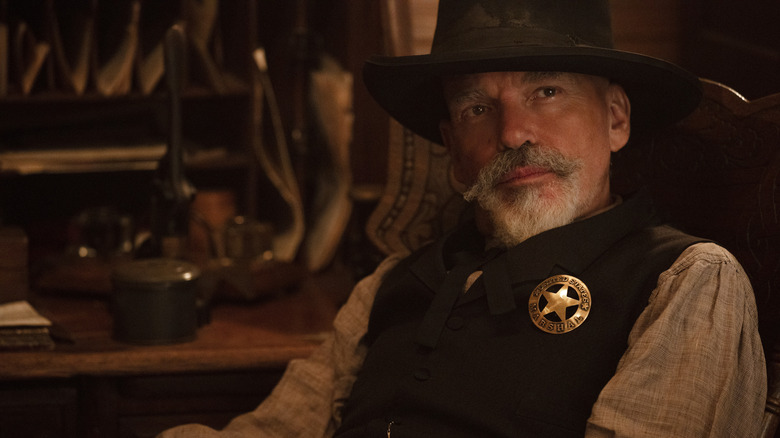 Emerson Miller/Paramount+
Billy Bob Thornton might not scream "Western" at first glance, but he's perfectly cast as the tough-as-nails sheriff in Episode 2 of "1883." Policing Fort Worth, Texas, Thornton's Marshal Jim Courtright isn't exactly the sort you'd want to mess around with. His "no killing" policy doesn't exactly apply to him, as he mercilessly guns down anyone who uses lethal force. After their wagon train is attacked, leaving plenty of their companions dead, James Dutton and Shea Brennan (Sam Elliott) team up with Courtright to track down those responsible.
Like Tom Hanks' character, Thornton also plays a historical figure. The real Marshal Jim Courtright earned a fearful reputation for effectively halving the murder rate in his Texan homeland. Unfortunately, Courtright was also a bit of a criminal himself, taking "protection" money while on duty. Unlike Thornton, who's nearing 70, Courtright only lived to be 39, as he was shot down in the middle of town (via Field & Stream). The "1883" version seems to have a better deal.
Though his appearance in "1883" is Thornton's only venture into the "Yellowstone" universe, that doesn't mean he's done working with Taylor Sheridan. For a while, Sheridan and Thornton have been developing a series called "Land Man," set to chronicle the West Texas oil boom. Not much is known about the series, but here's hoping we see these two reunite soon.
Graham Greene – 1883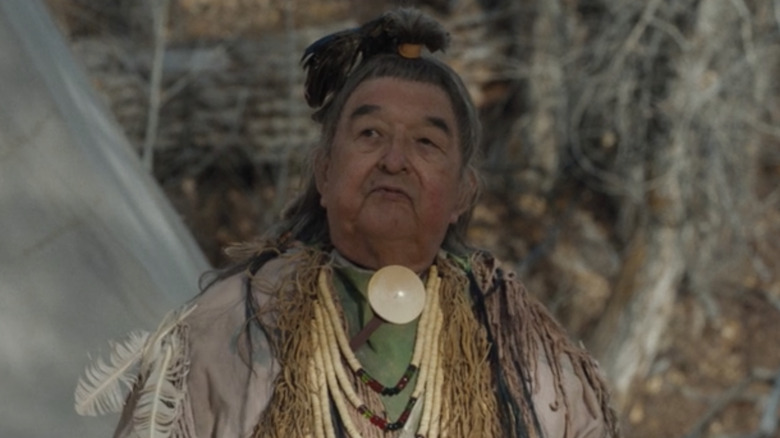 Paramount+
Only appearing in one episode (so far) of the "Yellowstone" saga, the famous Graham Greene shows up in the final episode of "1883," ominously titled "This Is Not Your Heaven." As always, Greene — known for his work in "The Green Mile" and Westerns like "Dances with Wolves," "Longmire," and even the video game "Red Dead Redemption I" — doesn't disappoint. The veteran star plays Spotted Eagle, a Crow elder who helps the traveling Dutton family find their way to what eventually becomes known as Paradise Valley, Montana.
When speaking with the Dutton patriarch, Spotted Eagle prophecies that his people will one day reclaim the stolen land for their own. It's unclear how "Yellowstone" will end, but this prophecy could have something to do with it.
This isn't the first time Greene has worked with Taylor Sheridan. In the Western scribe's 2017 film "Wind River," Greene portrays an indigenous police chief who helps Jeremy Renner and Elizabeth Olsen's lead characters catch a group of killers. Though it would have been great to see Greene spend a little more time on screen, there's always hope that he may return to the world of "Yellowstone" in the future.
Rita Wilson – 1883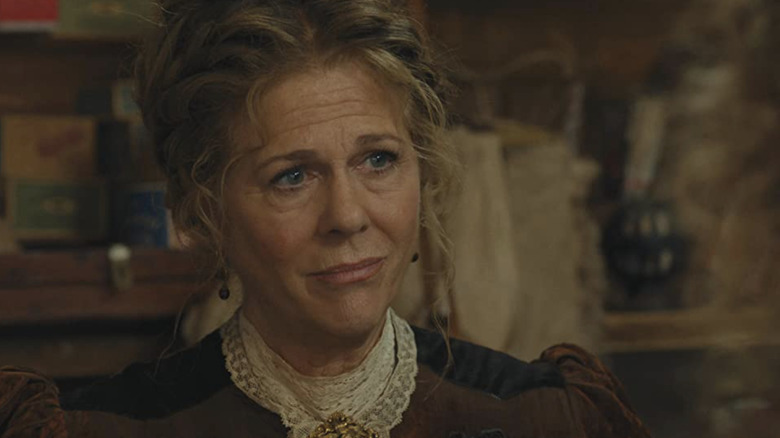 Paramount+
"1883" is something of a family affair, with both Tom Hanks and his wife Rita Wilson popping up alongside their married friends Tim McGraw and Faith Hill. Wilson appears in Episode 6, "Boring the Devil," in which she plays a storekeeper named Carolyn who lives on the Texas/Oklahoma border. Naturally, she quickly befriends Hill's Margaret Dutton, and their scenes together leave no room for doubt that the two actors are friends in real life.
The pioneer women bond over their shared experiences and the challenges of raising daughters in a violent and tumultuous world, providing a respite from the harshness of the larger story. With so few friendly interactions between characters in "1883" outside of romances, the moments between Carolyn and Margaret are a much-appreciated reprieve.
Sadly, Wilson's appearance is another one-and-done. With the Duttons continuing their journey north toward Montana, Carolyn isn't seen again. Like many of the stand-out characters in the limited series, Carolyn is pushed into the background by the hardships and atrocities seen on the Dutton's migration to the Northwest. However, viewers can take solace in the fact that, unlike plenty of other characters in "1883," she isn't killed off on the journey.
Gretchen Mol – Yellowstone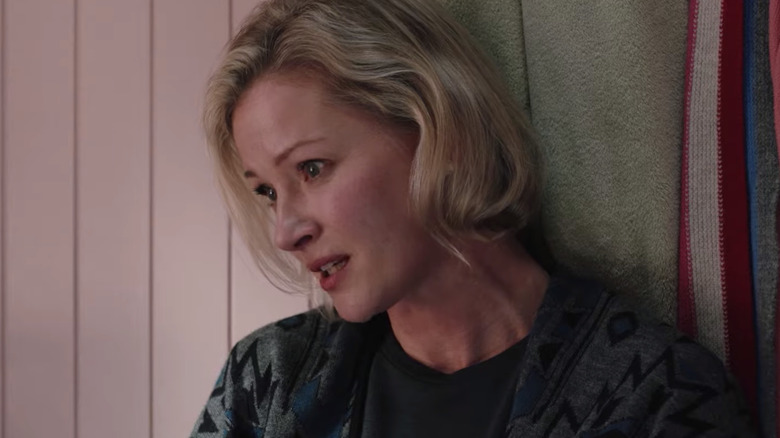 Paramount Network
Gretchen Mol may be best known for her work in "3:10 to Yuma," "Manchester by the Sea," "Boardwalk Empire," and 2022's "American Gigolo," but her work in "Yellowstone" is some of her most intense. She plays the role of John Dutton's (Josh Lucas) wife Evelyn, one of the more complicated characters in the series. Let's just say, there's no question as to why Beth Dutton (Kelly Riley) turned out the way she did. 
Appearing via flashbacks in two episodes of Season 1, Evelyn explains to Beth that she'll have a hard time as a woman in the world. She says that she's going to be tough on her in order to turn her into "the man most men will never be." Evelyn's intentions are good enough, but they clearly have mixed results for her daughter. Matters are only made worse when Evelyn falls off her horse, resulting in her death. In her final moments, instead of comforting her daughter, Evelyn blames Beth for her demise, adding a few more layers of trauma to her already growing pile.
Despite Evelyn's more vile behavior, Mol's performance is incredible. Though we don't see much of her relationship with her husband — which is pretty unfortunate given John's battle with grief over the years — her time with Beth is some pretty intense stuff that's not easily forgotten.
Robert Patrick – 1923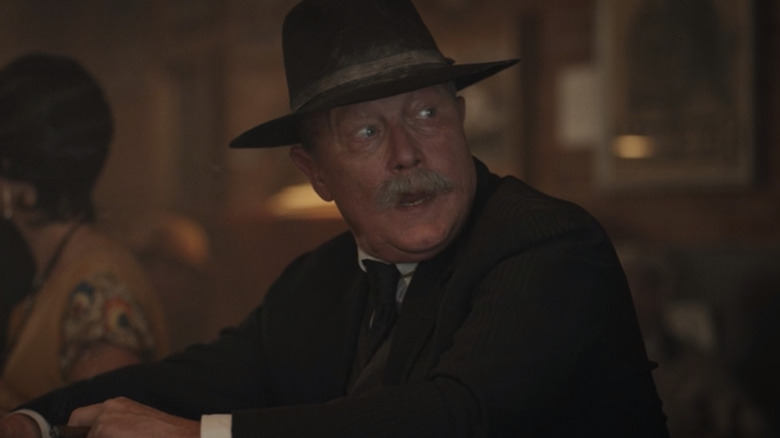 Paramount+
Robert Patrick is something of a recurring presence in "1923," but since he isn't a particularly highlighted character, he's worth a mention here. The former "Terminator 2," "X-Files," and "Peacemaker" star plays Sheriff William McDowell, the elected official over all of Montana's Gallatin County.
Throughout "1923," Sheriff McDowell is been shown to be a good friend and supporter of the Dutton family, often by either Jacob Dutton (Harrison Ford) or Cara Dutton's (Helen Mirren) side during local disputes and meetings. Unlike many of the real historical characters seen in "1883," McDowell isn't based on any real-life Montana sheriff, as the actual elected official at the time would've been either Charles C. Esgar or James Smith, depending on which part of the year the series takes place during (via Montana State University).
While Robert Patrick isn't exactly known for his Western work, his stoic presence lends itself well to the genre and his role as a Montana sheriff. The actor has had an impressive career spanning numerous feature films and episodes of television, making his appearance in "1923" something to write home about. Though we wish Patrick was emphasized a bit more, he still manages to play an important role in the Duttons' somewhat rocky (and controversial) foundations.
Dave Annable – Yellowstone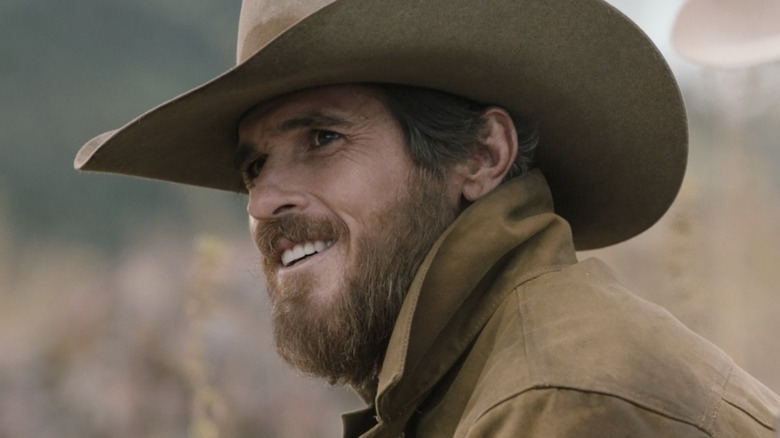 Paramount Network
There isn't a more tragic end to a character in all of "Yellowstone" than Dave Annable's Lee Dutton. Not only is John Dutton's firstborn son the rightful heir to his empire, and arguably the hardest worker of his children, but Lee actually wants the job. Sadly, he's killed off in the very first episode of the series — by his brother Kayce's own brother-in-law, no less. After his death, Lee only appears once in a flashback sequence in Season 2, albeit briefly.
In fact, Lee is often absent from Dutton family photos, and the character is essentially forgotten until the Season 4 finale when Kayce goes on a vision quest and encounters his brother's spirit. Rightfully, this apparition of Lee is angry at being forgotten, and while it's understandable that the Dutton family would scarcely mention their fallen brother and son, it's unforgivable that Lee goes years without so much as a passing mention.
Though Annable was written off of "Yellowstone," he didn't leave ranching behind. On another contemporary Western series — The CW's "Walker," headlined by former "Supernatural" star Jared Padalecki — Annable plays a man named Dan Miller whose family inherits some land outside of Austin. Though things didn't work out for him in Montana, Annable has thankfully found some success as a recurring character on the Texas-based series, proving his chops as a cowboy.
Bruce Davison – 1923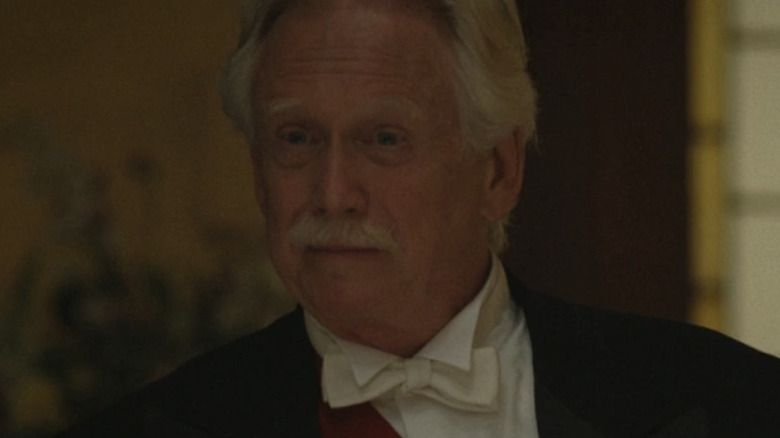 Paramount+
Appearing only in one episode of "1923" titled "Nature's Empty Throne," veteran actor Bruce Davison plays Arthur, who seems to be the father of Alexandra (Julia Schlaepfer), a young British woman set to be married against her will. While in Africa celebrating her coming nuptials, Alexandra meets the young Spencer Dutton (Brandon Sklenar), a WWI veteran and adventurer hunting wild game. While Arthur only appears on screen for a brief scene, giving a toast to Alexandra and her fiance, his speech makes an impact on the young woman.
Bruce Davison has worked in Hollywood for a number of years, accruing credits that include Senator Robert Kelly in "X-Men," his stint on "Ozark" as Senator Randall Schafer, and his Academy Award-nominated role as David in the feature film "Longtime Companion." Though Davison might not be the most famous actor on this list, his vast filmography and talent make him one of the better, albeit brief, cameos in the "Yellowstone" saga.
It doesn't seem like we'll see Davison return as Arthur in "1923," but it's entirely possible that — like Dawn Olivieri from "1883" — he may be cast in an entirely new and recurring role on the flagship series moving forward. It certainly wouldn't be the first time that a recognizable "Yellowstone" actor has been used more than once.
Buck Taylor – Yellowstone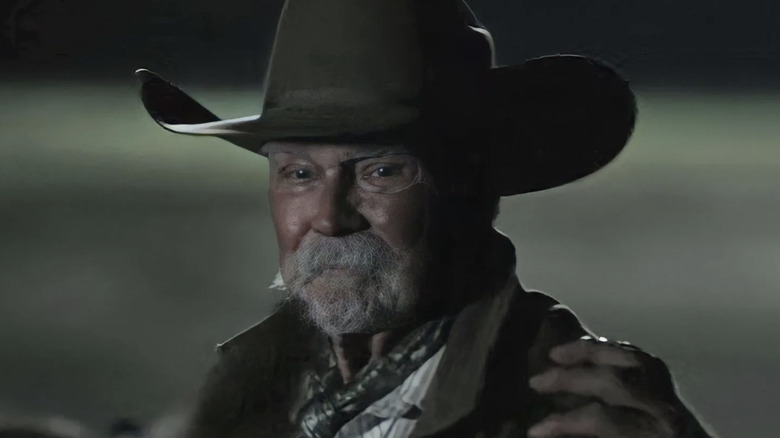 Paramount Network
Is it really a cameo appearance if you make eight of them throughout the series? Well, if Stan Lee is any indication, we'll still count it, especially given Buck Taylor's extensive history with the Western genre. Appearing in the very first episode of "Yellowstone," Emmett Walsh is introduced as a close friend and confidant to John Dutton, and also serves as the former chairman of both the Stockgrowers Association and Montana Fish and Game. Needless to say, he's a very powerful friend who's helped steer Dutton on a better path more than once.
From Season 1's "Daybreak" until the Season 5 episode "Cigarettes, Whiskey, a Meadow, and You," Taylor makes a total of eight separate appearances on "Yellowstone," and while he isn't exactly a main character or even a driving force throughout the series, he nevertheless makes an impact on the show. In his final Season 5 appearance, Walsh dies doing what he loves while in the open fields of Montana. A lifelong cowboy couldn't ask for much more than that.
Taylor himself is a Western legend, having appeared in eight seasons and 173 episodes of "Gunsmoke" as Newly O'Brien and reprising his role in the 1987 TV movie "Gunsmoke: Return to Dodge." Outside of television, Taylor has appeared in "Tombstone," "Cowboys & Aliens," and the Taylor Sheridan-penned film "Hell or High Water."
Shane Smith & The Saints – Yellowstone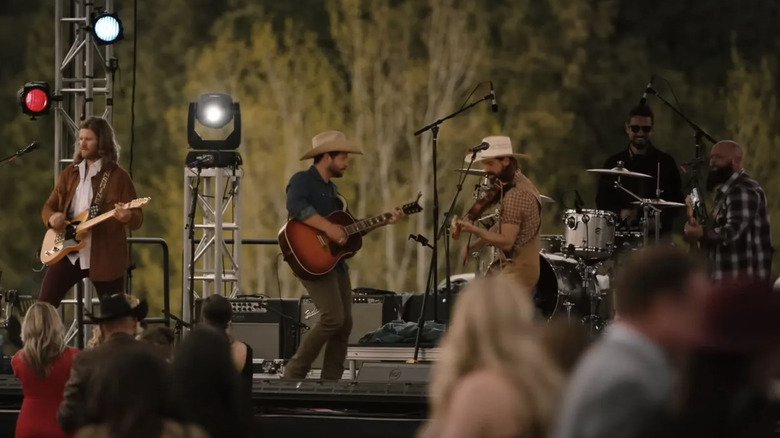 Paramount Network
After a passing mention in Season 4, followed by their most famous track "All I See Is You" being played twice that season (including in an episode of the same name), Shane Smith & The Saints finally made their way to "Yellowstone" in the Season 5 opener, "One Hundred Years is Nothing." Playing at the celebration at the Dutton Ranch after John is elected Governor of Montana, the band performs their single "Fire in the Ocean" to get the rowdy crowd going.
This Austin, Texas-based band is clearly a favorite of "Yellowstone" creator Taylor Sheridan, as his character, Travis Wheatley, is the one who introduces them in the first place. Since their song's debut on "Yellowstone" and their own appearance on the Montana-based series featuring their most recent single, this group has become even more popular with fans of rock, country, and folk music alike.
Interestingly, Shane Smith & The Saints aren't the first musicians to make their way to the Yellowstone. Singer-songwriter Ryan Bingham, known for his role as the Dutton ranch hand Walker, initially started out as a recurring character before joining the main cast in Season 4. Who knows if we'll ever see Shane Smith & The Saints again, but there's no doubt that "Yellowstone" will continue its musical legacy in the future.
David Midthunder – 1883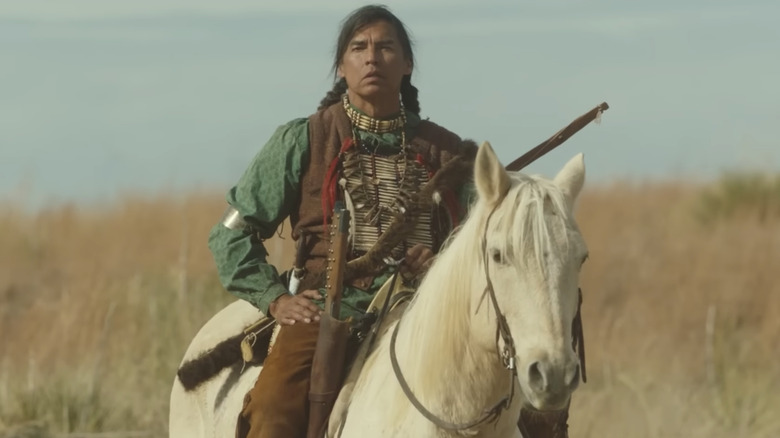 Paramount+
David Midthunder plays Two Feathers in the "1883" episodes "Lightning Yellow Hair" and "The Weep of Surrender." A friend and companion of Sam (Martin Sensmeier) — the Comanche warrior who eventually becomes the husband to Elsa Dutton — Two Feathers helps to judge the race between Elsa and Sam and travels on with Sam when they leave the Dutton clan. Though he isn't much of a presence in the series, Midthunder's inclusion in the "Yellowstone" universe was certainly overdue.
Like Graham Greene, Midthunder was featured in a recurring role on "Longmire" and has made himself well-known within the Western genre. His other work includes the films "Hostiles" and Disney's "The Lone Ranger" remake, as well as the television shows "Westworld" and "Dark Winds." Midthunder is also the father of actress Amber Midthunder, known best for her starring role in the "Predator" prequel "Prey."
Like some other actors within the "Yellowstone" universe, it's entirely possible that we'll see Midthunder show up in a different role in the flagship series. Maybe Two Feathers could even return in the "Bass Reeves" prequel series, set around the same timeframe as "1883."
Buster Welch – Yellowstone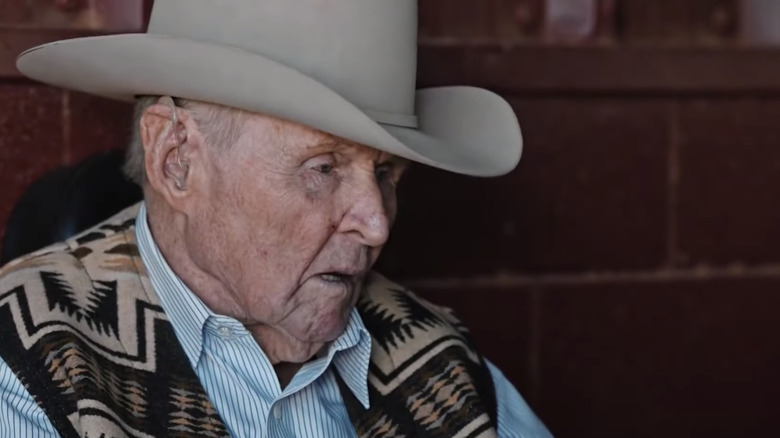 Paramount Network
Though most of the cameos we see in "Yellowstone" are actors playing original or historical characters, there is one major non-musical cameo that has nothing to do with acting at all. In the Season 4 episode "Under a Blanket of Red," Jimmy Hurdstrom, who'd been sent to the Texas-based Four Sixes Ranch, encounters an elderly cowboy. This man is none other than Buster Welch, one of the most famous horse trainers of all time and something of a cowboy legend.
While most historical figures in the "Yellowstone" universe are played by actors, this is the real Buster Welch who shows up to help Jimmy. The Texas Cowboy Hall of Famer (just one of his many accolades) is briefly seen swapping stories with a cowboy named Ross (played by "Northern Exposure" star Barry Corbin). Though Jimmy doesn't interact with the older man, he's told that Welch is one of three gods in all of Texas next to God Almighty and George Strait.
Welch's cameo in "Under a Blanket of Red" aired in November of 2021, just eight months before the famed horse trainer died at 94 (via SNBC). Throughout his many years, Welch worked for plenty of ranches, including the Four Sixes Ranch (as seen on the series) and King's Ranch, the South Texas cattle ranch that's larger than Rhode Island and the real basis for the Dutton Ranch on "Yellowstone."
Taylor Sheridan – Yellowstone, 1883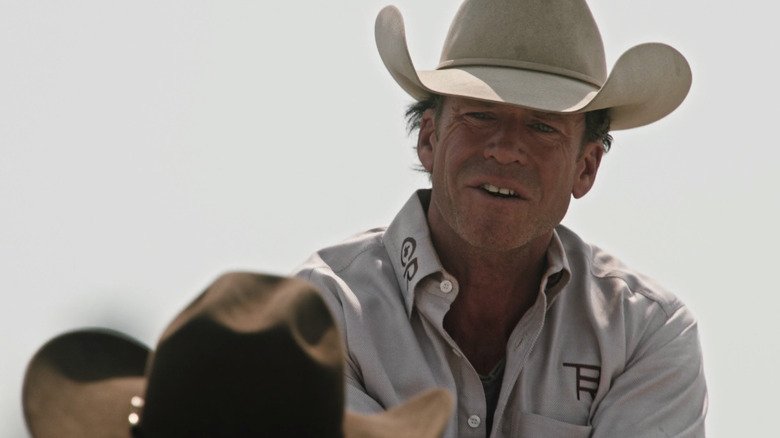 Paramount Network
Though Taylor Sheridan has spent the vast majority of his time in the world of "Yellowstone" behind the camera and in the writer's room, he also brought his own acting chops to Season 1. Sheridan appears in the series' fifth episode, "Coming Home," as Travis Wheatley, a horse trader who often does business with the Duttons.
Travis returns for a two-episode stint in Season 2, and in Season 4, he has an even bigger role. Travis helps Jimmy Hurdstrom (Jefferson White) migrate south to Texas for a time as the up-and-comer earns his spurs on the legendary Four Sixes Ranch — which Sheridan actually owns (via Texas Monthly).
Sheridan also makes a cameo in "1883" as the historic rancher Charles Goodnight. The series creator dons a scraggly beard for a two-episode arc in the back-half of the limited series in which he encounters the migrating Dutton family on their journey to what would eventually become Paradise Valley, Montana. Chances are, we'll see Sheridan on screen again soon.