Legends Of Tomorrow: Jes Macallan Promoted To Series Regular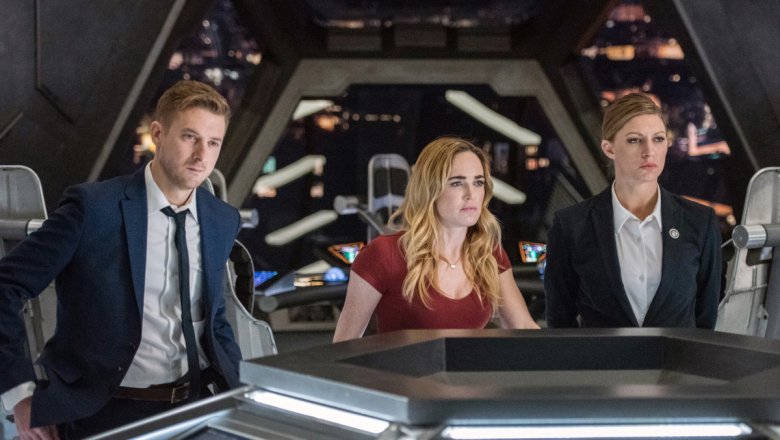 It looks like the Legends of Tomorrow have gained a permanent new member. According to Entertainment Weekly, Jes Macallan, who joined the series in its third season as Time Bureau agent Ava Sharpe, has been promoted to series regular for the show's recently ordered fourth season.
Macallan's character has made waves on the show as a love interest for Caity Lotz's Sara. That, in addition to her new position as head of the Time Bureau, should make her a big part of the fourth season. "Jes has a power to captivate in person as well as on screen," said executive producer Phil Klemmer. "She had been guest-starring on Legends for all of two days when one of our teamsters, the guy who had been driving her to set, told me that we ought to make her a series regular. He wasn't wrong."
Klemmer went on to say that they were looking for a love interest for Sara for season three, but had trouble dreaming up a character who was "worthy of our fearless captain's love." Once they'd jumped that hurdle, they had to find an actress who was capable of playing the role. "The door had barely closed on Jes, having just finished her chemistry read with Caity Lotz, that we all turned to each other and agreed that we had found our Ava," Klemmer said.
Legends of Tomorrow juggles quite a few characters, which might be why Klemmer admits that Ava had a bit of a "slow burn" character arc over the season. Still, though, he noted that each episode revealed a new "facet" of the character, who has been "alternately funny, poignant, engaging, endearing, and kick-ass this season." "Yet I know for a fact that we haven't hit all of Jes's hidden gears as an actor. We are lucky to have a whole new season in which to find them," he said. 
Macallan won't be the only new series regular for Legends' fourth season. Matt Ryan is set to reprise his role as Constantine as a permanent fixture on the show, which also recently brought in The Flash's Keiynan Lonsdale. The group helps to replace former cast members Victor Garber, Franz Drameh, and Wentworth Miller, all of whom left the show at some point during its third season. 
Legends of Tomorrow airs on Mondays at 8 p.m. on The CW. Arthur Darvill, Dominic Purcell, Brandon Routh, Maisie Richardson-Sellers, and Nick Zano also star on the series.