Star Trek 4: A 'Couple Of Scripts' Reportedly In Development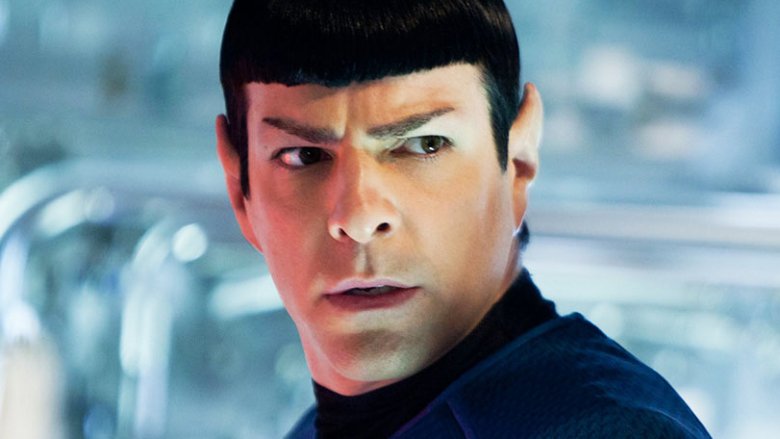 Paramount Pictures
Sounds like Paramount Pictures wants to get Star Trek 4 just right.
It's no secret that the future of the Star Trek franchise is little up in the air, what with original director J.J. Abrams having momentarily switched sides to helm Star Wars: The Force Awakens and the upcoming Star Wars: Episode IX and Quentin Tarantino starting work on his own installment of the space saga. Film series star Zachary Quinto, who plays the half-Vulcan, half-human Commander Spock, has now offered a bit of respite and given an update on how the next sequel, Star Trek 4, is coming along.
Chatting with Entertainment Tonight Canada (via Dark Horizons), Quinto revealed that multiple Star Trek 4 scripts are potentially in development as we speak. 
"First of all, I think there [are] a couple of scripts, because there was a script being written before Quentin Tarantino came up with his idea for a potential film. And so I think they are kind of developing more than one," the actor stated. "So I don't know what is going to happen."
Quinto added that Tarantino is "off doing another movie," his Leonardo DiCaprio and Brad Pitt-starrer Once Upon a Time in Hollywood, which has sparked up a "state of anticipation" amongst the Star Trek series cast. 
"All of us are really excited about the idea of working with Quentin on a Trek film, but I know Simon Pegg and Doug Jung, who wrote the last film [Star Trek Beyond], are writing a script and there [is] another set of writers writing a script," Quinto said. He was quick to reiterate that he "[doesn't] know what's going to happen."
It's assumed that one of these scripts will see Chris Hemsworth return to the Star Trek franchise to play George Kirk, the father of Chris Pine's Captain James T. Kirk from the 2009 film, and effectively stitch up the alternate timeline caused by the collapse of his ship the U.S.S. Kelvin. There's obviously the Tarantino movie as well, which will reportedly be R-rated. Tarantino previously met with screenwriters Mark L. Smith (The Revenant), Lindsey Beer (Chaos Walking), and Drew Pearce (Iron Man 3) to brainstorm ideas for the film, and Smith was later confirmed as the sole writer.
Quinto's remarks here are a heck of a lot more promising than some of his past statements, particularly the ones that came in early 2017, when he admitted he wasn't sure if Star Trek 4 would even happen. "We're waiting. I know they're working on the script for another one, and we'll see how that plays out," Quinto said at the time. "But the nice thing about that experience is that the time in between those big tentpole films allows us to go off and cultivate a lot of different creative experiences for ourselves."
Fellow Star Trek actor Karl Urban, who plays Dr. Leonard H. "Bones" McCoy in the rebooted franchise, also expressed his doubts about Star Trek 4 last year. When asked about the status of the film, Urban revealed, "You know as much as I do, my friend. Listen, we'd all love to make another Star Trek movie. That's absolutely certain. But if we don't get that opportunity, then I'm really happy to have ended on such a good note. We had such a wonderful time shooting Star Trek Beyond. It was an amazing experience."
Here's to hoping that one of the many Star Trek 4 scripts sticks, and we can join the Starship Enterprise crew for another adventure soon.