Forget The Dance Scene, M3GAN's David Guetta Cover Has Fans Buzzing
"M3GAN" has been sashaying her way into the pop culture zeitgeist more and more as we head into the opening stretch of 2023. From the killer doll flick's impressive critical reception to the sizable box office haul of its opening weekend, it looks like there's a new horror icon in town — one who could probably beat the stuffing out of competitors like Chucky to boot.
All the same, "M3GAN" has a surprising amount of heart for a movie with such a campy tone and goofy premise. While the android definitely seems to be out for number one by the end of the movie, she also appears to genuinely care about Cady (Violet McGraw) and have her best interests at heart. This more amenable side of her is shown when she serenades the troubled Cady to sleep with an on-the-nose song choice in the film that had fans absolutely buzzing on social media.
M3GAN serenades Cady to sleep early on in the film
Early on in "M3GAN," the titular android seeks to assuage a traumatized Cady by singing her to sleep. Naturally, the song she chooses works both as a soft pop ditty to ease Cady's worries and fears as well as a declaration of the robot's fierce loyalty and unbridled mechanical strength.
Of course, fans might recall that Anna Kendrick sang the very same song in the musical comedy "Pitch Perfect," and in the same acapella style that M3GAN does. However, Jenna Davis, who voices the android, performs a double-sided take on "Titanium" by David Guetta and Sia that seems to be as much a threat as it is a comfort.
"M3GAN will singlehandedly send 'Titanium' by Sia skyrocketing to the top of the charts," tweeted @yosoymichael. Meanwhile, others were just happy to have another reason to fall in love with the movie. "She gave us an acapella of Titanium; she protected and killed without mercy, so camp, ridiculous and funny ... I loved this movie," tweeted @BlackWidow_221B.
Well, with "M3GAN" singing and dancing her way into everyone's good graces, it probably won't be long before the android returns to terrorize another family in the inevitable sequel. Until then, fans can listen to her rendition of "Titanium" on Spotify.
The song wasn't in the original script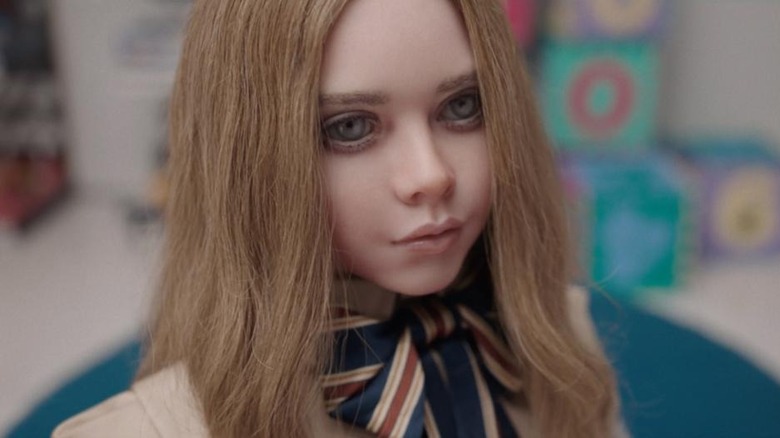 Universal Pictures
M3GAN is a singing, dancing sensation, but she wasn't always meant to be that way. One piece of movie trivia that's been making the rounds is that the iconic dance M3GAN does toward the film's finale wasn't in the original script. Director Gerard Johnstone told TooFab that he came up with the dance on the fly, and he was just hoping people would embrace it. Johnstone describes its development, "I thought it was one of those ideas you come up with when you just haven't had enough sleep. It just felt like this is the kind of fun we need."
However, now we know that M3GAN singing "Titanium" was also from the mind of Johnstone. He did an interview with Variety where he spoke about all things related to "M3GAN." He revealed that the musical number wasn't in the original script, but he was allotted enough creative freedom to the point he could have fun with the moment when M3GAN comforts Cady. He explained, "It was a scene where she was trying to reassure Katie. And I was thinking, 'Well, what's the best way to reassure her? A lullaby.' I don't know how that song ... maybe it was playing, or maybe it just made sense, because Megan was made of titanium. I just remember thinking, 'This would be really funny.'"
Whatever the source of inspiration was, it led to an instantly memorable moment that made M3GAN a great horror movie villain. With no shortage of songs with various metals in the title, there are plenty of other songs for M3GAN to perform in future installments.